2011 Election
City Election Preview: LaBonge vs. Box in CD4
12:37 PM PST on February 4, 2011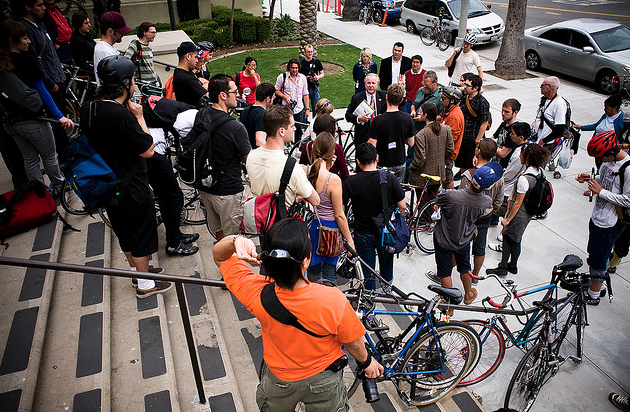 For those in the livable streets advocacy community, no city council race has taken on more significance than this one. Here, LA Streetsblog presents a rundown of the two candidates and the livable streets issues at the heart of the race, so that you can make an informed decision.
The Incumbent: Tom LaBonge is an avid cyclist who organizes rides throughout the city and is a regular presence during Bike Week.  He's also served as a stand-in for Councilman Huizar on the Metro Board of directors and has advocated for better bus only lanes on Wilshire Boulevard as well Olympic, San Vicente and Venice Boulevards.
The Challengers: Stephen Box was awarded LA Streetsblog's 2009 Livable Streets Person of the Year Award for his leadership in the movement to make Los Angeles a better place for pedestrians, bicyclists, and transit riders.  Tomas O'Grady is a second challenger and also has a strong record of community advocacy.   As Councilman, O'Grady will focus on improving L.A.'s crumbling infrastructure.
The District: Council District 4 is geographically diverse swath of Los Angeles in the heart of the city. Its physical center is the Hollywood Hills and Griffith Park, but its boundaries spill out erratically, capturing Toluca Lake, Universal City, and North Hollywood to the north, and bits of Hollywood, Hancock Park, Koreatown, Los Feliz, and Silver Lake to the south.
The Race: Over the last decade, a great deal has changed in the district. In 2000, the Metro Rail Red Line finally reached its terminus in North Hollywood, while advocates have spearheaded the transformation of 4th Street into a bike boulevard, and CicLAvia grazed the southeastern tip of the district.
Since elected to the City Council in 2001, Councilman Tom LaBonge has been a supporter -- albeit an inconsistent one -- of a sustainable transportation network that includes bikes.
Last April, LaBonge supported setting aside 10% of L.A.'s share of Measure R funds for bicycle and pedestrian projects. He also supported suspending the LAPD's bike licensing program that had been illegitimately used to ticket those participating on group rides.
At the same time, however, he's been more inclined to support education programs over tangible changes to the streets that would benefit bicyclists and pedestrians. In a committee hearing, however, LaBonge once pressed LADOT Bike Coordinator Michelle Mowery to "name three bike projects that have worked," a sign that LADOT had been slow to implement transformative bike projects.
LaBonge has been prone to his fair share of transpo head-scratchers too. A September 2010 op-ed in the Daily News detailed the councilman's hopes for rapid transit in Los Angeles. It read like a half-baked wish-list of projects, many of which were redundant with Metro's Long Range Plan or infeasible. It would have made more sense for LaBonge to use his standing to advocate for Mayor Villaraigosa's much-touted 30/10 plan, which would accelerate construction on a dozen transit projects already on the drawing board.
When the mayor wanted to raise curb-side parking rates to fill the city's budget shortfall, LaBonge advocated for cheaper parking. Perhaps because he'd rather raise parking prices to pay for expanded DASH service -- that's something most livable streets advocates can get behind.
And speaking of livable streets advocates, there's the matter of LaBonge's challenger in CD4, Stephen Box. Since LA Streetsblog's launch in October 2007, Box has been a leader in this grassroots movement. In the last year alone, Box has helped to shape a robust LADOT Bike Plan -- one that now features a backbone bikeway network -- and to usher it to the finish line.
When Metro's Transit Oriented Development project in Hollywood missed the mark on bike infrastructure, Box was there to ensure that the community bike room was done right.
From bike parking to sharrow placement, even the seemingly "small" details have gotten his attention. And this is important: By agitating for bicyclists' and pedestrians' interests, Box has kept elected officials, public servants, and developers honest.
And now he has the ear of the city's elected officials. When the mayor touted that L.A. was the second safest big city in the country, Box called him out for ignoring traffic related deaths and injuries. Even Police Chief Charlie Beck has taken notice.
The Big Picture: LaBonge has been a relatively solid councilman on livable streets issues -- he looks good compared to, say, Greig Smith -- but he's hardly staked serious political capital on realizing a more bike and transit friendly Los Angeles. On the other hand, you'd be hard pressed to find a single person in Los Angeles who has been as vocal, and successful, an advocate for livable streets as Stephen Box.
Stay in touch
Sign up for our free newsletter