environmental justice
Too Big to Miss: Confronting the Costs of Freight Transport at the Moving Forward Together Conference
12:07 PM PDT on October 28, 2010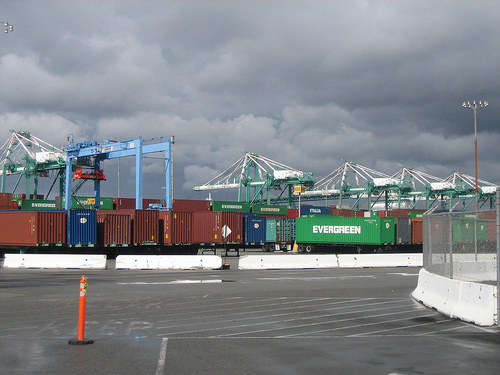 Community members, activists and researchers met at THE Impact Project's Moving Forward Together conference in Carson last weekend. THE (Trade, Health, Environment) Impact Project is a local collaboration of environmental justice organizations and academic institutions that banded together to fight pollution from the goods movement/ logistics industry in Southern California. http://www.theimpactproject.org/
'Goods' movement or logistics or freight transport is the transportation and storage of products by/in ships, rail, trucks, and warehouses. I put 'goods' in quotes because the toys and clothes and computers and food moved around the world leave a trail of harm that is invisible when we see the products on a store shelf. In particular, diesel particulates from the ships, trucks and trains used to move products is the number one source of deadly air pollution in greater Los Angeles and other communities with major ports or distribution centers – a  point driven home by presentations by teams of scientists who have been studying the health impacts of regional air pollution for more than 15 years.
The logistics and freight industries are also among the most powerful advocates for new and expanded highways in and beyond Southern California. The infrastructure used to move goods – mega warehouses, distribution centers and rail yards – and the road configurations to direct trucks between these transshipment points, are about as far as one can get from a human-scaled street.
THE Impact project organized the conference to link impacted communities from throughout the region and to network with representatives from 15 states and 5 countries. We knew that since corporations and governments were promoting policies and investments to massively expand trade and goods movement, we needed to connect to partners at each link in the global freight system chain. Otherwise, we risked winning some battles to clean up the industry locally, only to have trade shift routes and poison communities across the county or around the world who were less aware of the harms involved in moving products.
We tend to think of China as a villain in the globalization debate, an undifferentiated source of cheap labor and imports.  It was humbling to consider the human costs and clean-up challenges facing the Pearl River Delta region in China, where 37 million people live in close proximity to the three huge ports of Hong Kong, Shenzhen, and Guangzhou (which together have five times as much container traffic as the combined trade through the ports of Los Angeles and Long Beach). Hearing a Change to Win organizer describe Wal-Mart as a 'logistics company that happens to have retail stores' was another revelation. It underlines who or what is really driving the agenda for liberalized trade and transportation.
Discussion of the widening of the Panama Canal to allow larger container ships to pass through was also enlightening. This massive infrastructure program, which was 'explained' to the Spanish-speaking Panamanian public via a document dump of thousands of pages of technical documents written in English, has port authorities on the East coast of the United States salivating for a larger share of global shipping trade. It was interesting to learn that West coast ports will still be the shortest route for imports from Asia. Shipping lines and retail corporations want flexibility in the event of another labor action or strengthened environmental rules. In other words, corporations want a hedge against public accountability.
This is precisely why the conference was designed to expand a global network of goods movement activists. People need to export ideas and trade strategies so that corporations are regulated wherever they operate. Many of the best practices and policies discussed were drawn from work that local communities poisoned by ships and trucks and trains are doing to restrict harms. A sampling include:
Say no to the logic of rapid expansion of global trade and freight transport. Instead, reduce harmful impacts of existing freight flows and promote local economic development.
Mandate slower ship speeds, low sulfur fuel, cold ironing (plugging in at port rather than running engines) and high tech hull designs to reduce emissions from ocean going vessels. Banning highly polluting bunker fuel globally could be a potential easy-to-explain international campaign.
Require all ports to have and implement clean air action plans, greenhouse gas reduction plans, and clean trucks program with drivers as employees of trucking companies.
Support and mandate green technologies like electrified rail and trucks as alternatives to diesel machinery.
Conduct health impact assessments of projects to expand ports, railyards, freeways, and land zoned for warehouses.
Directly regulate diesel exhaust emissions, set stronger air quality standards for locations near highways and give local jurisdictions the right to regulate pollution from the railroad industry.
Use land use regulations like zoning and planning codes to create buffer zones to keep trucks, warehouses, and rail yards a safe distance away from where people live, study, and play (with a focus on protecting the health of people who are already in air pollution hot spots).
As the conference drew to a close a warehouse worker from Chicago, who had been fired for trying to organize her workplace, approached an open mike. She related how meeting other people impacted by trade had expanded her vantage point on the issue from her own job, to rights for all warehouse workers, to health for all residents everywhere. She ended her remarks with a parable: "David's brothers saw Goliath as too big to hit; David saw him as too big to miss."  Hopefully the stories, policy ideas and networking opportunities that emerged from the Moving Forward Together conference can be tools to strategically control or scale back globalized trade and finance for the benefit of sustainable and thriving communities for all.¸ZZZZ
Stay in touch
Sign up for our free newsletter