Bicycling
New Council Motion Could Increase Cyclists Rights in Crashes (Updated, 1:04 P.M.)
10:51 AM PDT on October 21, 2010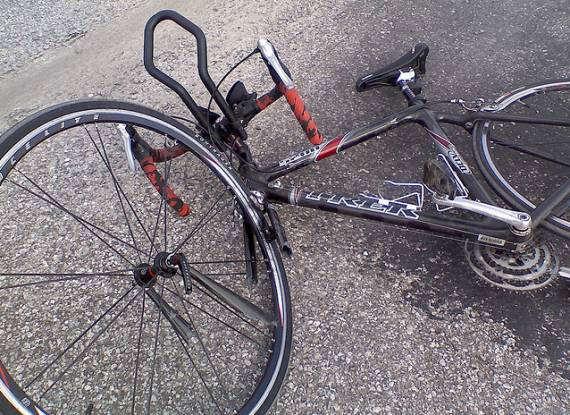 Earlier this year, the City Council ordered city staff to create a list of changes to city and state laws that could help cyclists see justice after crashes.  At the time, City Council Transportation Committee Chair Bill Rosendahl referred to the motion as an anti-harassment ordinance, and hopes ran high that the city could create a three foot passing law, or could somehow further criminalize unsafe and aggressive behavior by drivers.
After the Chief Legislative Analysts office spent six months looking at different routes the city could take, their proposal is to draft legislation that will increase cyclists legal rights after a crash by making it a civil violation of the municipal code to discriminate against a bicyclist by unlawfully assaulting, threatening, or harassing a bicyclist, and create a private cause of action with attorneys' fees for a violation.
Rosendahl explains the motion:
Cyclists are the most vulnerable users on our roads so we need to do everything we can to protect them. When a motorist feels aggrieved and engages in some type of senseless tit for tat behavior with another motorist it's never appropriate or safe. But when that same motorist is engaging in that behavior with a cyclist it's deadly. This proposal is designed to address that. It creates a private cause of action that allows cyclists who are victims of discrimination on the roadway to pursue the matter civilly rather than wait for law enforcement to act.
In plain English, this proposed legislation would give cyclists another legal leg to stand on and help them get legal counsel for civil suits.  Generally, people who sue for a tort in civil court cannot recover attorneys fees, and so unless there are very serious injuries or unless the person suing is wealthy, it is almost impossible to get an attorney to represent you.  By allowing for a recovery of attorneys fees, people might be able to get a lawyer to represent them even if they were only slightly injured, or  did not suffer physical injuries.
Update: Ted Rogers adds that the ordinance would allow cyclists to pursue civil actions against drivers without a police report.  I.E. that witness statements and other evidence would allow them to seek compensation.
Granted, this isn't the kind of change that's going to make streets safer for cyclists overnight, instead its aim is to help cyclists recoup some of their losses after the crash.  While this may increase the number of crash cases that go to civil court, and the size of judgments against unsafe drivers, the cases are still going to rest on properly written police reports.  And what about just trying to make streets safer for cyclists?  Wasn't that the original point of pushing an "anti-harassment ordinance?"
Rosendahl's office hasn't given up on the idea of pushing for a change in state law that would mandate a "three feet passing law."  Mayor Villaraigosa is on board with the idea as well, and cyclists around the city have seen the posters that beg drivers to "give me 3."  Rosendahl himself mentions that there's still a lot of work to do to make streets safe for cyclists, "It's not a cure all but it's one more step towards recognizing that our public streets are for all users not just the automobile."
The report from the CLA will be heard by both the City Council Transportation Committee at next Wednesday's meeting (October 27) and the following meeting of the Public Safety Committee (Monday, November 1) before heading to the full Council.  If the Council approves the report, the CLA could draft a formal motion that would make the law changes outlined above.
Back in January, the Public Safety Committee threw cold water on Rosendahl's efforts to push for an anti-harassment ordinance.  In particular, Councilman Greig Smith and Councilman Dennis Zine seemed to believe that the effort was a waste of time because assaulting anyone is already against the law and sent a different recommendation to the City Council than the one of the Transportation Committee.
If that were to happen again, the Council would receive the reports and any accompanying motions from both committees and then can choose to accept the recommendation of either committee or forge a third path.  In January the two committee chairs, Smith for Public Safety and Rosendahl for Transportation, reached a compromise before the full Council heard the reports and different committee recommendations.
(Tip of the helmet to everyone's favorite Dude on a Bike, Ross Hirsch, for helping explain the impacts of this proposed legislation to me.)
Stay in touch
Sign up for our free newsletter