Santa Monica
Metro Westside Subway Talks Take a Different Turn in Santa Monica
4:44 AM PDT on September 30, 2010
Note: If you choose to share your thoughts at the bottom of this article, I would also urge you to "make it count" and put it on the official public record by sending your comments directly to Metro by October 18th 2010.  Instructions on how to comment can be found at the end of the article.
Relishing the fact that evening ocean breezes were taking back the air from the day's stagnant heat, a packed audience filed into the downtown Santa Monica Public Library auditorium on Wednesday night to review the status of the planned Westside subway extension and to make official public comments on it.
Just two days ago, the prevailing aim of comments at Metro's subway hearing in Beverly Hills was to slam a proposed route that would tunnel under a residential area, which would occur if a station were built in the heart of Century City at Constellation Boulevard.  By contrast, at Wednesday's hearing each person who commented on the proposed Century City station supported locating it at Constellation Blvd., citing that location's improved access to jobs and entertainment, as well as the higher projected ridership.
More broadly, the comments in favor of the Westside subway extension advocated building as much subway west of the 405 Freeway as soon as possible.  Under the current schedule, an extension of the subway would only reach Westwood or the VA in the next 30 years (assuming no 30/10 project acceleration).
Undeterred, several speakers urged Metro to push forward on subway Build Alternatives 3 and 5 (PDF: EIR Executive Summary, pp. 15-21).  Both of these would have the Purple Line continue down Wilshire from Westwood and terminate in downtown Santa Monica at 4th Street.  Although Metro currently lacks the funding to build the line past a Westwood or VA station, adding a "segment to the sea" would boost ridership on the whole extension by 28 percent and likely add an four more stations.
In contrast to those who commented on how they want the subway to be built, six speakers from the Bus Riders Union voiced strong support for the two non-subway alternatives for transit on the Westside, the "no-build" and "Transportation Systems Management" options.  The former is literally what it sounds like, and the latter (TSM) entails increasing the frequency of existing bus service on the Wilshire Corridor.
The main objections to the subway boiled down to three points.  First, the money that would be spent on this extension (roughly $4 billion) would be better spent on other capital, service, and infrastructure improvements, namely more buses, more night and weekend services, and more Wilshire-style bus-only lanes throughout LA County.
Second, the expense of building and operating the subway would benefit a predominantly white and affluent part of Los Angeles County at the expense of transit service in working class non-white neighborhoods.
And third, picking up on the LA Times and LA Weekly's attempted controversy, BRU representatives argued that the subway extension's inability to reduce road congestion several decades from now made the project unsupportable.
While I deeply value the BRU's advocacy for socially equitable transportation and view them as an ally, I want to add some caveats to their arguments.  Regarding the first, while all of those transit improvements they mentioned are critical to building out a complete transit system in Los Angeles County, the voter-approved Measure R funding for the subway has to be used specifically for rapid, mass transit on the Westside.  I too am on a mission to get bus lanes on Olympic Blvd, Venice Blvd, Ventura Blvd, Whittier Blvd, Foothill, La Cienega, and all the rest.  But that's a different battle (mainly with LADOT and other cities agencies).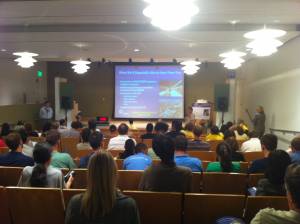 Regarding the second point, while residents of the entire Westside are more white and affluent than the rest of LA County, I think it would be a mistake to conflate the demographic profile of the whole region with the profile of those who use transit to get around it.  Indeed, only 25% of Metro Rail riders in Los Angeles County are white (source) compared to the overall populations of Santa Monica (72% white) or Beverly Hills (85% white), for instance.
Granted, with no existing Metro Rail in West LA, it's hard to make an apples-to-apples comparison.  But in all likelihood, those who will use the subway, even on the Westside, will still mostly be typical LA area transit users.
While I don't have data specific to overall Westside transit ridership demographics, my own daily experience riding the Big Blue Bus suggests that we riders are a diverse lot that reflects Los Angeles County as a whole (with a bunch of SMC students sprinkled into the mix).  Additionally, a subway that allows people to travel from Union Station – with its rail, bus, and Metrolink connections – to Westwood in 25 minutes will benefit transit users coming from every corner of LA County to jobs and schools on the Westside.
Which brings me to the final point: if you accept the fact that the subway extension will not reduce local road congestion in the long run because it won't get people out of their cars, then doesn't that necessarily mean that the subway would primarily continue to serve existing transit users, the majority of whom are working class and non-white?  The fact that some LA Leaders promised that the subway would reduce traffic – even though the data never really supports that – should not discredit the entire project, especially in light of its benefits to transit riders.
Again, I would hate for this piece to be construed as an attempt to discredit the BRU; their members do an exceptional job keeping Metro honest and focused on those who depend on transit.  However, I do believe that building this subway is truly compatible with those goals.  The extension will serve the densest corridor in LA County, where the 60-foot buses on the 720 Rapid Line look like this at 10pm, even with buses arriving every ten minutes.  At rush hour, they look the same with buses coming every three minutes.
Of course, please let me know if I've gone astray in my analysis.  I look forward to reading your thoughts and criticism in the comments section.
Lastly, I'll give a shout-out to the Santa Monica resident who biked to the meeting from Westwood and managed to stay ahead of one of those very 720 buses the whole way over.  His account is distressingly plausible.  As this was the final Metro meeting for public comment, from here on out you'll have to turn to your email, phone, or favorite postcard of Los Angeles.
All official public comments on the Westside Subway Extension, specifically the preliminary Environmental Impact Report, are due to Metro by October 18th.  Don't forget to tell 'em Streetsblog sent you!
Update: Metro has now posted the presentation it has given at these public comment hearings online, here - September 2010 Public Hearings Presentation [PDF]
Online: Complete our electronic Comment/Question Form

By US Mail:David Mieger, Project DirectorDEO, Countywide Planning & DevelopmentMetro1 Gateway Plaza, 99-22-5Los Angeles, CA 90012

Tel: 213.922.6934Phone messages are retrieved at least once every business day.

Email: WestsideExtension@metro.netPlease be sure to include all of your contact information in the body of your e-mail.
Stay in touch
Sign up for our free newsletter