Open Streets
Eight Things You Didn't Know About Arroyo Fest
Arroyo Fest 2023 will take place Sunday October 29 starting at 7 a.m.
4:13 PM PDT on October 12, 2023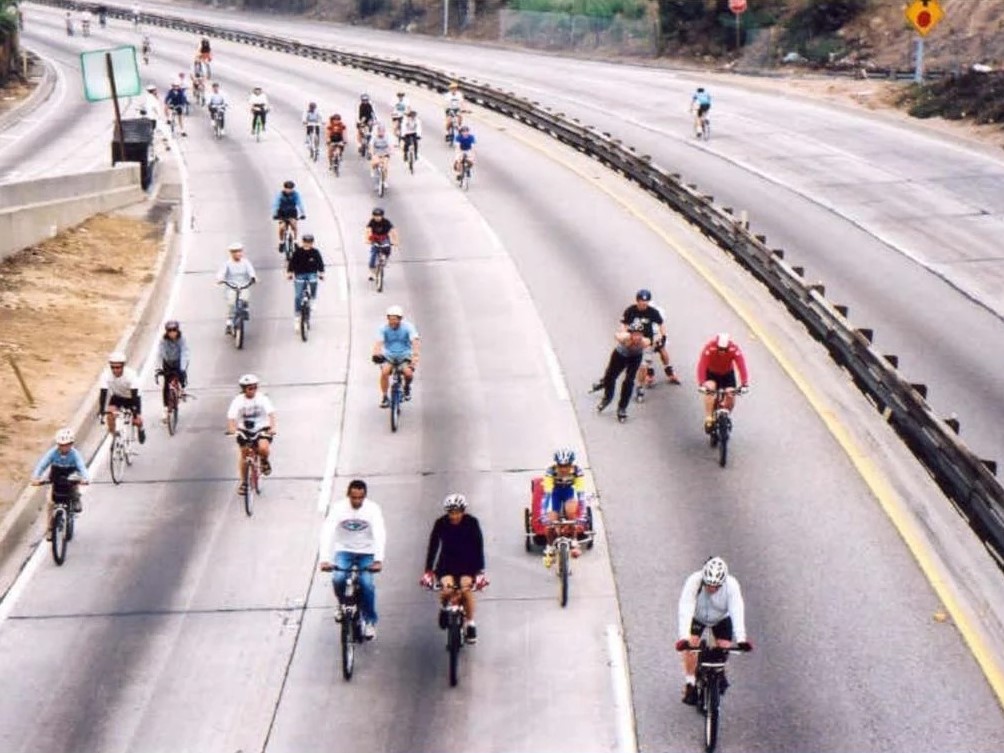 Have you ever taken a walk or a bike ride on a southern California freeway? This month is your big chance! At Arroyo Fest on Sunday October 29 - just over two weeks away - cars will be temporarily banished from the 110 Freeway, called the Arroyo Seco Parkway. Tens of thousands of Angelenos will descend on the freeway to experience it on bike, on foot, on skates, and on scooters.
The Arroyo Fest event is free, fun, and family-friendly. It's very much like a CicLAvia open streets event, but actually a different brand: 626 Golden Streets. The event is produced by the nonprofit ActiveSGV, with funding from Metro's open streets grant program.
Arroyo Fest is not a race (though there is an optional run - see below). At open streets events, participants start anywhere along the route, and walk/bike/etc. as much or as little as you please.
Below are eight things you probably didn't know about Arroyo Fest:
1 - The Open Freeway is EARLY: 7 a.m. to 11 a.m.!
If you want to bike/walk/run/etc. on the 110 Freeway, set your alarm clock! The 110 will be open to human-powered modes for just four hours - just 7 a.m. to 11 a.m. You read that right: SEVEN a.m.!
If you like to sleep in then casually make your way down to open streets events in the middle of the day, you might miss the spectacle!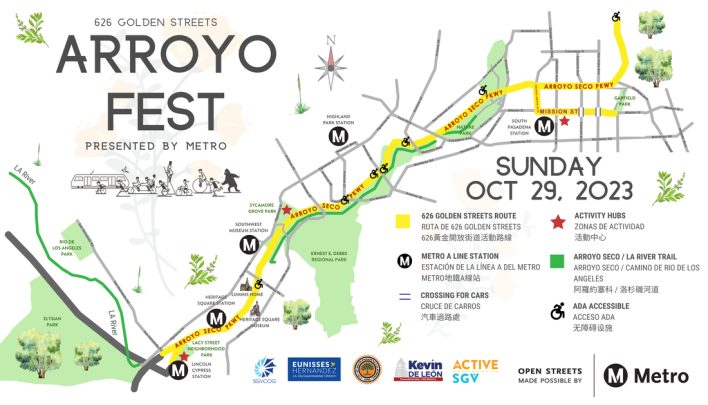 The off-freeway street closure in South Pasadena does continue until 2 p.m. - but get there early to frolic on the freeway.
2 - There's a 10K "Run the 110" Event at Arroyo Fest
If you're into running, sign up and arrive early for the Run the 110 event. The chip-timed 10K point-to-point run will start promptly at 7 a.m. at the north end of the route - in South Pasadena. Runners need to arrive at the starting line by 6:30-6:45 a.m.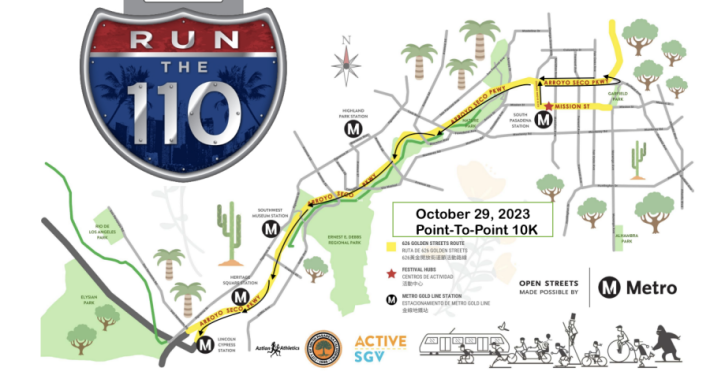 Runners will go one-way, slightly downhill, from South Pasadena to the finish line in Lincoln Heights/Cypress Park. From there runners can take the Metro A Line light rail back to the start, or can make their way back walking (or running more!) on the freeway.
Sign up to "Run the 110" today. This unique 10K run will sell out soon.
3 - Volunteers Get All the Cool Stuff!
If you volunteer for Arroyo Fest, you will receive some exclusive swag, including a special T-shirt, a highly-collectible TAP card, and a not-particularly-collectible free breakfast.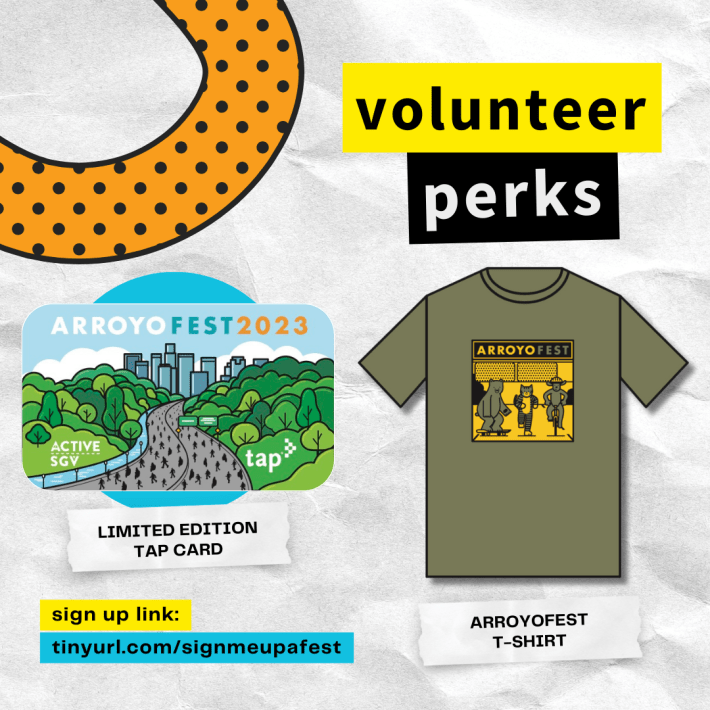 Having trouble deciding between participating and volunteering? Don't fret - you can easily do both! Work an early or late volunteer shift, and spend the rest of your day living it up in the middle of the 110.
Sign up to volunteer at Arroyo Fest.
4 - SGV Residents Can Reserve an E-Bike
No bike? No problem. Via the GoSGV electric bike-share program, San Gabriel Valley residents can rent an e-bike for Arroyo Fest. See GoSGV bike reservation details.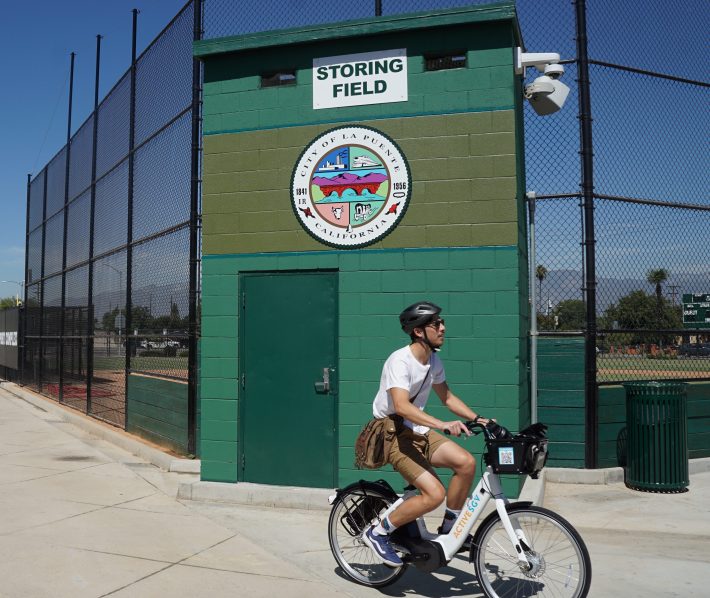 Act fast. The e-bike reservation deadline is Saturday October 21, unless reservations sell out sooner.
And if you don't have or don't get a bike, just walk, jog, run, cartwheel, etc.!
5 - Arroyo Fest and Lummis Day are Joined at the Hip
Lummis Day - an annual celebration of Northeast L.A. culture and history - will take place smack dab in the middle of Arroyo Fest... or maybe Arroyo Fest will take place smack dab around Lummis Day! Lummis Day will go from 10 a.m. to 3:30 p.m. mainly at Sycamore Grove Park in Highland Park - but also at the nearby historic El Alisal (or Lummis Home) at 200 E. Avenue 43.
Lummis Day will feature a 10 a.m. kick-off ceremony, followed by live music, dance, community resource fair, cultural exhibitions, and food trucks. Track and share via the Facebook event.
6 - Keep in the Right Lane
Foot traffic on the 110 Freeway will be divided up, with pedestrians on the west/southbound side, and wheels on the east/northbound side.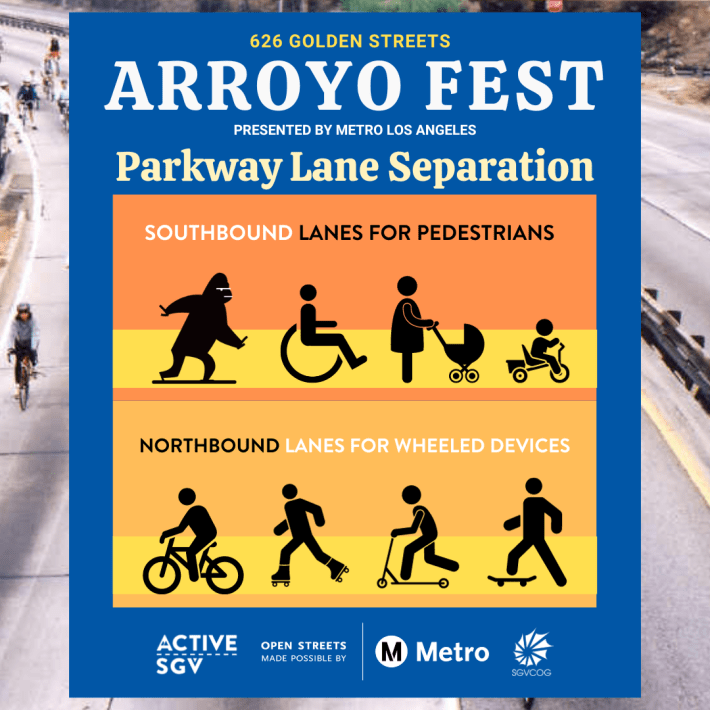 Each side of the freeway will have people moving both northward and southward - so there are sort of four "lanes" overall. Faster moving participants - cyclists, skaters - will go both north and south in the freeway's northbound lanes. Slower moving participants - pedestrians, wheelchair users, joggers - will go both north and south in the freeway's southbound lanes.
If this is at all confusing to you, it will be pretty obvious when you get there.
7 - It's Easy to Get There on Metro Rail
The Arroyo Fest route parallels the A (former Gold) Line light rail through northeast Los Angeles and South Pasadena. The Metro A Line runs from Azusa to Long Beach (see full A Line map/schedule).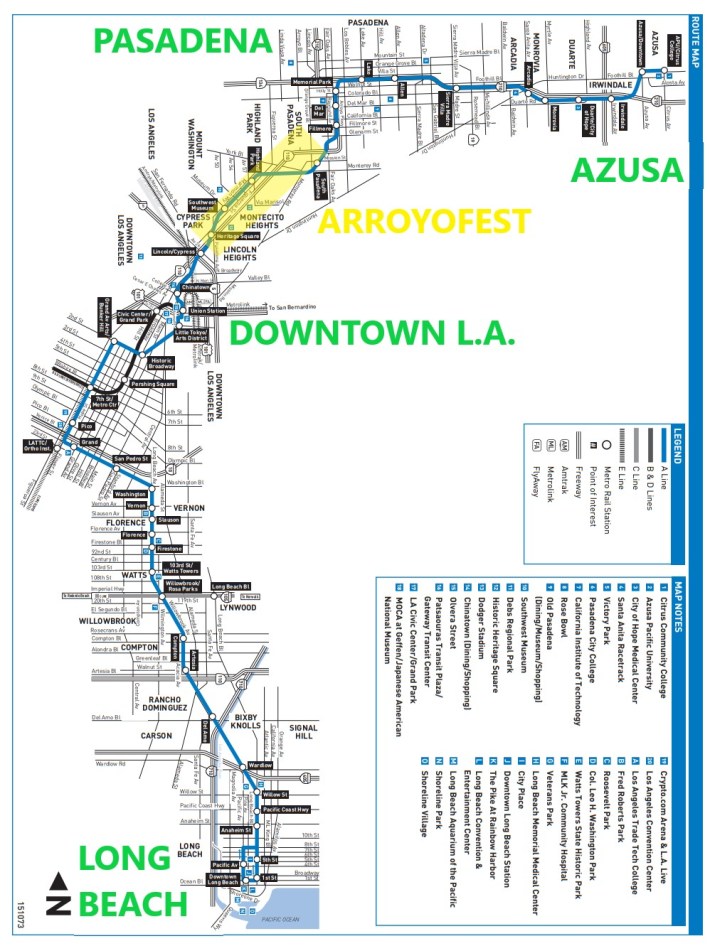 Notes for Metro newbies: find basic ride instructions at Metro webpage. For schedules, use Metro's trip planner or use Google maps, etc. Metro fare is $1.75 per trip, with transfers free. To ride Metro rail, you need a $2 reusable TAP card, which you buy at a vending machine at a station - or alternatively use a TAP app. Bring your bike on the train for free. Read bikes on Metro tips - but mainly don't block aisles/doors and just be nice.
From the east - Azusa, Pasadena, Monrovia, etc.
Ride the Metro A Line westward (toward Long Beach)

If you need to park at a station, see options at Metro park-and-ride page. Pro-tip: lots of free parking at Sierra Madre Villa Station at 149 N Halstead Street in Pasadena. Paid parking available at numerous stations.

Disembark at the South Pasadena Station
From the south or west - Long Beach, South L.A., downtown Los Angeles, etc.
Ride the Metro A Line northward (toward Azusa)

If you need to park at a station, see options at Metro park-and-ride page. Pro-tip: lots of free parking at Willow Station (in Long Beach) and at Del Amo Station (just north of Long Beach). Paid parking available at numerous stations.

Disembark at the Lincoln/Cypress Station for Arroyo Fest (or South Pasadena Station for Run the 110).
Metro transfers are free, easy. Nearly all other Metro rail connects to the A Line (except the new K Line - from there you connect to the E Line to the A Line).
8 - You Might Not Get to Ride or Walk on a Freeway for 20 Years
The last Arroyo Fest took place in 2003. Listen to event history at this SGV Connect podcast.
There are no plans for any future freeway events like this one. It isn't easy or cheap to close a freeway for a day. So take advantage - enjoy it while it lasts!
See you on the 110 on October 29! Bright and early!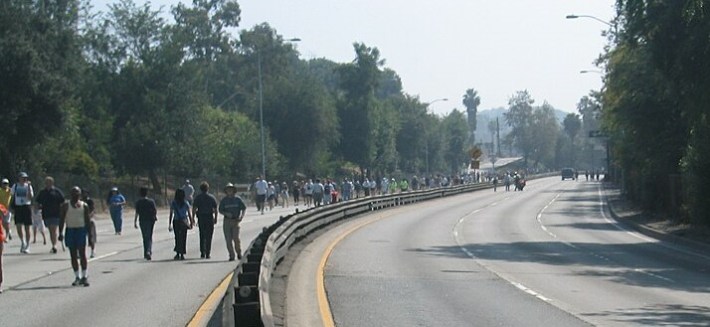 Streetsblog's San Gabriel Valley coverage is supported by Foothill Transit, offering car-free travel throughout the San Gabriel Valley with connections to the Gold Line Stations across the Foothills and Commuter Express lines traveling into the heart of downtown L.A. To plan your trip, visit Foothill Transit. "Foothill Transit. Going Good Places."Sign-up for our SGV Connect Newsletter, coming to your inbox on Fridays!
Stay in touch
Sign up for our free newsletter