Bicycling
Mixed Results from L.A.'s 'BLAST' Bikeway Initiative
Of 24 projects announced, so far: 4 sweet new bikeways, 4 traffic circles, and not much else
3:58 PM PDT on June 7, 2023
Announced by then-one-foot-out-the-door Mayor Eric Garcetti late last October, L.A.'s Bike Lane Acceleration and Safety Team "BLAST" initiative was supposed to deliver twenty-four "precise surgical" bikeway improvements to "close gaps" in the bike network.
BLAST is a much needed collaboration between the city's Transportation Department (LADOT), which designs the lane striping that goes on city streets, and the Bureau of Street Services (StreetsLA), which maintains city streets, including ongoing repaving. StreetsLA crews scrape and resurface streets, leaving them all smooth black asphalt. Then LADOT puts down thermoplastic striping to show where drivers are supposed to go, turn, park, etc. - and often DOT does crosswalks and bike lanes as part of striping.
Under BLAST, StreetsLA basically set aside some repaving program mileage for sites LADOT identified as bikeway priorities. BLAST was supposed to deliver 15 miles of resurfacing, with about 12 new lane-miles of bike lanes.
Two caveats: First, L.A. measures resurfacing differently than bike lanes, essentially double-counting bikeways. Adding bike lanes to one mile of resurfacing would result in two lane-miles. Adding bike lanes in both directions on all 15 miles of BLAST would total 30 lane-miles of bike lanes. But even with "Bike Lane" in the BLAST program name, just under half of the 24 segments appeared to be appropriate spots for straightforwardly adding bike lanes, and some segments already had existing bike lanes. Nonetheless, departmental coordination for about 12 new miles of bike lane and 15 miles of new smooth asphalt could be worthwhile, and perhaps the start of an improved coordinated project delivery method that could grow over time.
Second, the fiscal year isn't over until June 30, so this post is a closing-in-on-the-finish-line report re on-the-ground conditions, not a final judgement. (Though SBLA went to most of the 24 BLAST sites, this editor didn't get around to visiting the following four segments yet: Avenue 60, Glenoaks Boulevard, Grand Boulevard, and Windward Circle; nor has SBLA spoken with city staff. This post is about the other 20 BLAST segments investigated.)
As of the beginning of June, StreetsLA and LADOT appear to have delivered about a third of pledged BLAST repaving: 5 miles of 15. These have included a handful of good bikeways, including about eight lane-miles of new bike lanes.
The good news is that BLAST has completed four bikeway projects that do live up to October's press event billing as "strategic large street segments" that "close [bikeway network] gaps." There are few places where these projects might have been improved (see photo captions below), but if all 24 BLAST segments had been like these four, Streetsblog would be celebrating.
Four BLAST Bikeways:
Anaheim Street (Wilmington) - Figueroa Street to Alameda Street
Avenue 19 (Cypress Park/Lincoln Heights) - San Fernando Road to the 110 Freeway

Central Avenue (Watts) - Imperial Highway to Century Avenue

San Vicente Boulevard (Mid-City) - La Brea Avenue to Olympic Boulevard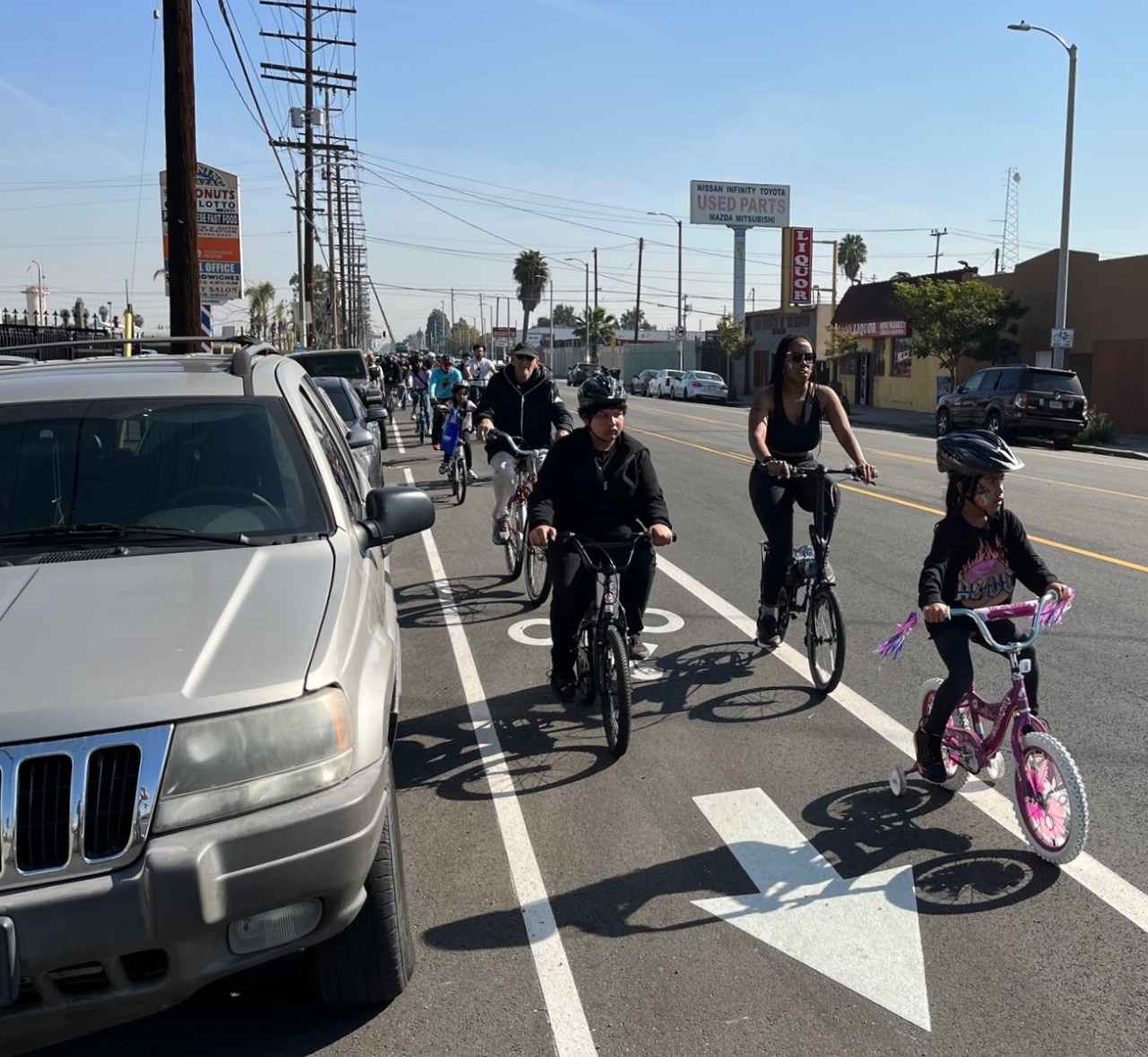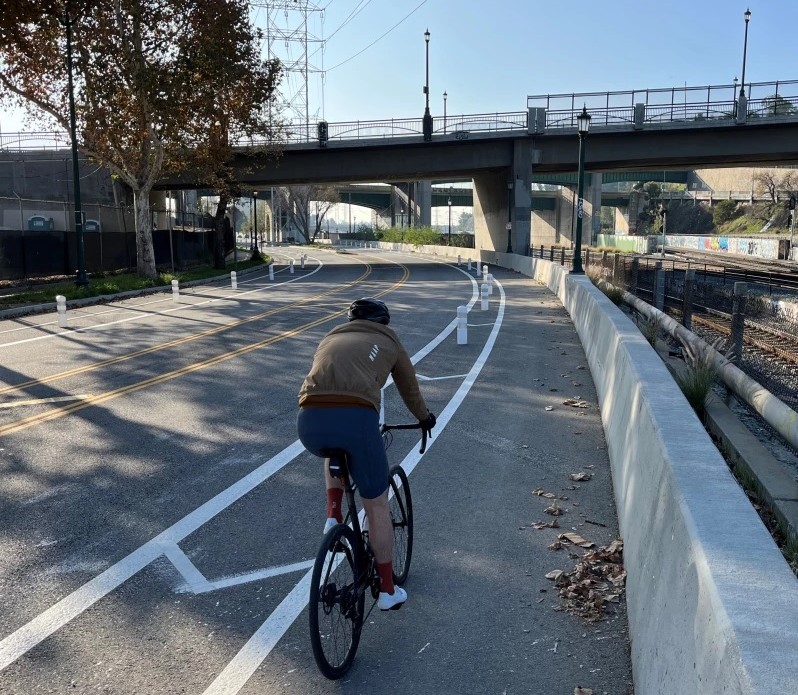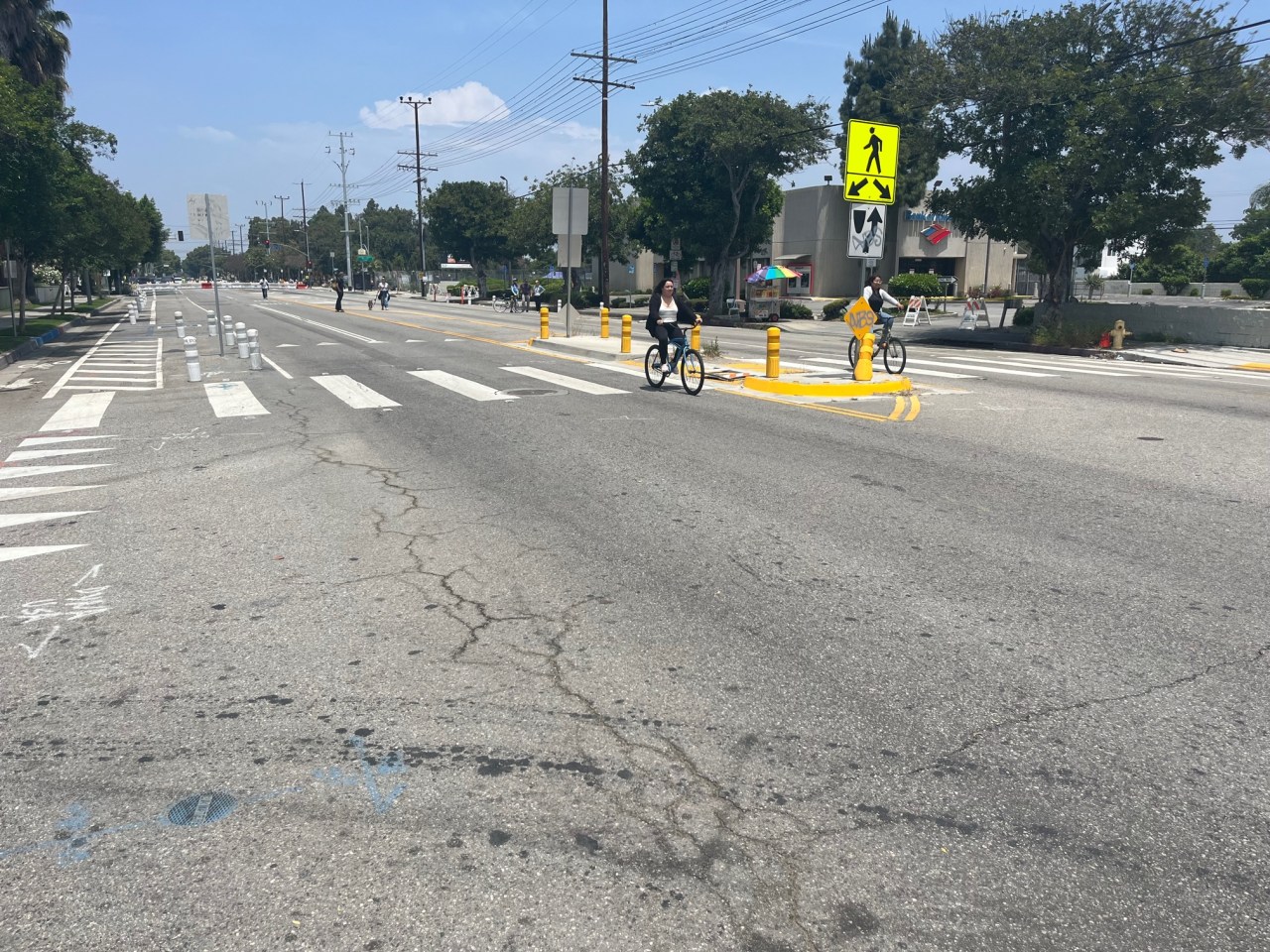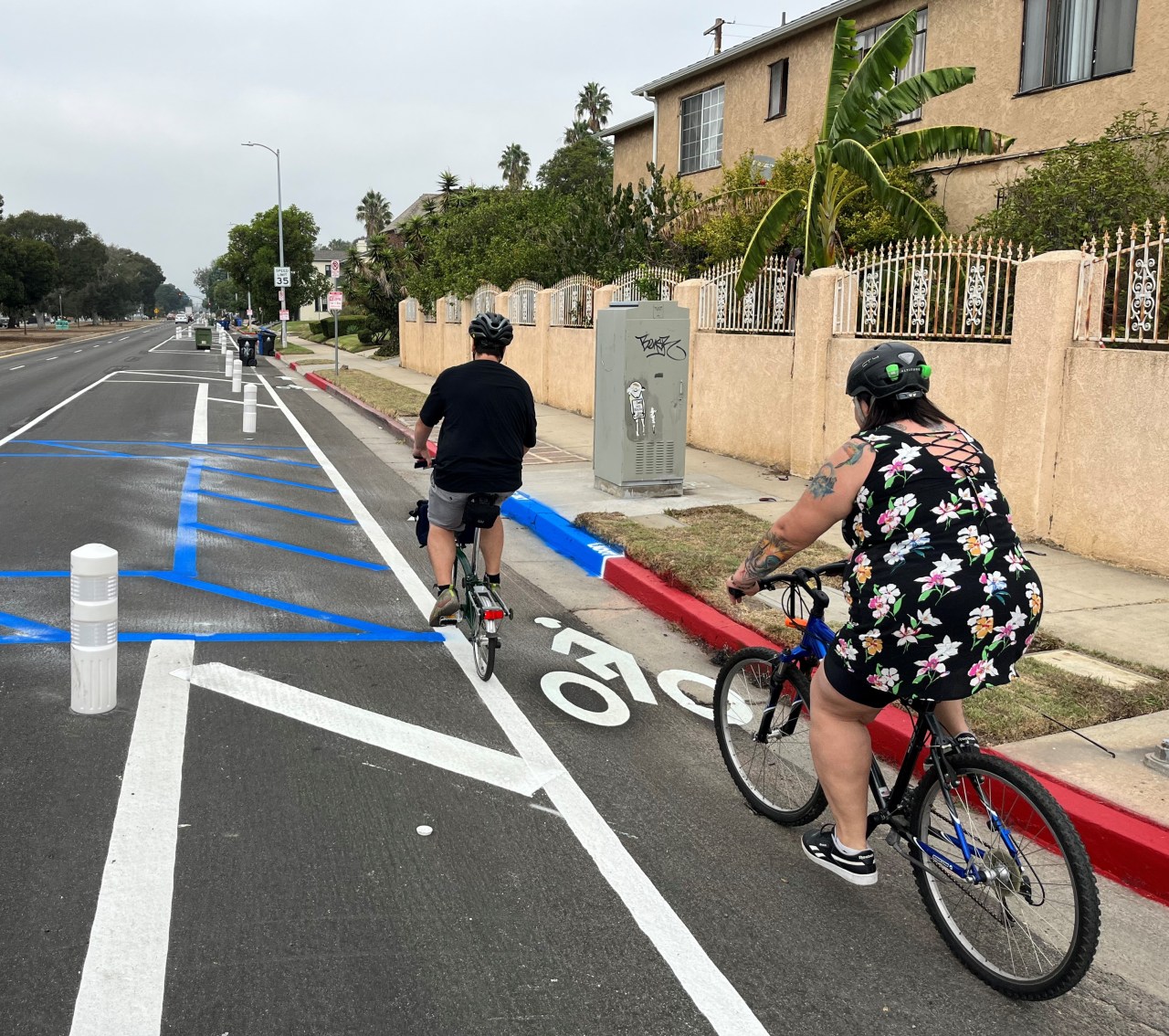 From there, the quality drops off somewhat.
BLAST also implemented four new small traffic circles (three done, one under construction). Though these are not literally bike lanes, they're worthwhile. They do calm traffic; that calming helps make streets safer for walking, cycling, and even driving. One shortcoming of these welcome circles is that the repaving is nowhere near as long as what was announced in October. LADOT's descriptions specified that each traffic circle intersection would be accompanied by several blocks of smooth pavement in each direction, but the actual result so far is the new paving ends about ten feet from the intersection, so in some of these locations there is a nice new circle surrounded by cracked failing asphalt.
Four BLAST Traffic Circles:
88th Place and McKinley Avenue (South L.A.)

Avenue 50 and Meridian Street (Northeast L.A.)

Martel Avenue and Rosewood Avenue (Mid-City)

Telfair Avenue and Montague Street (Pacoima)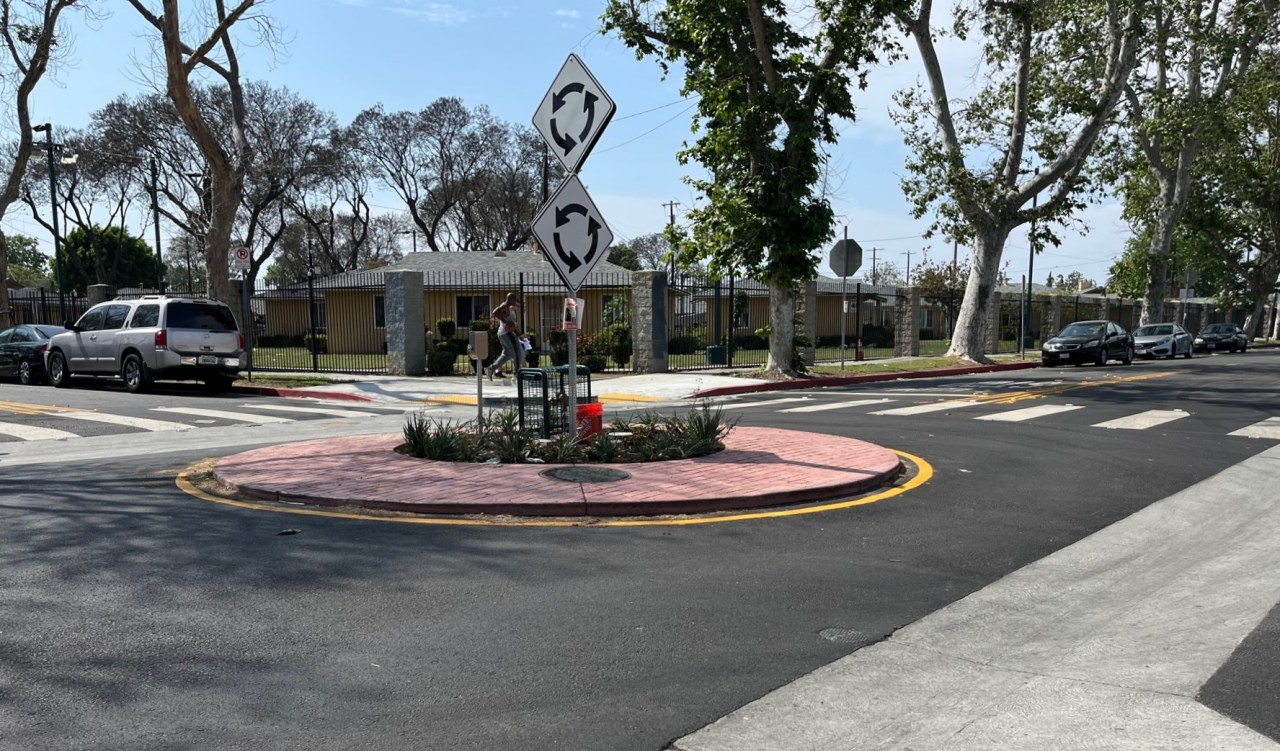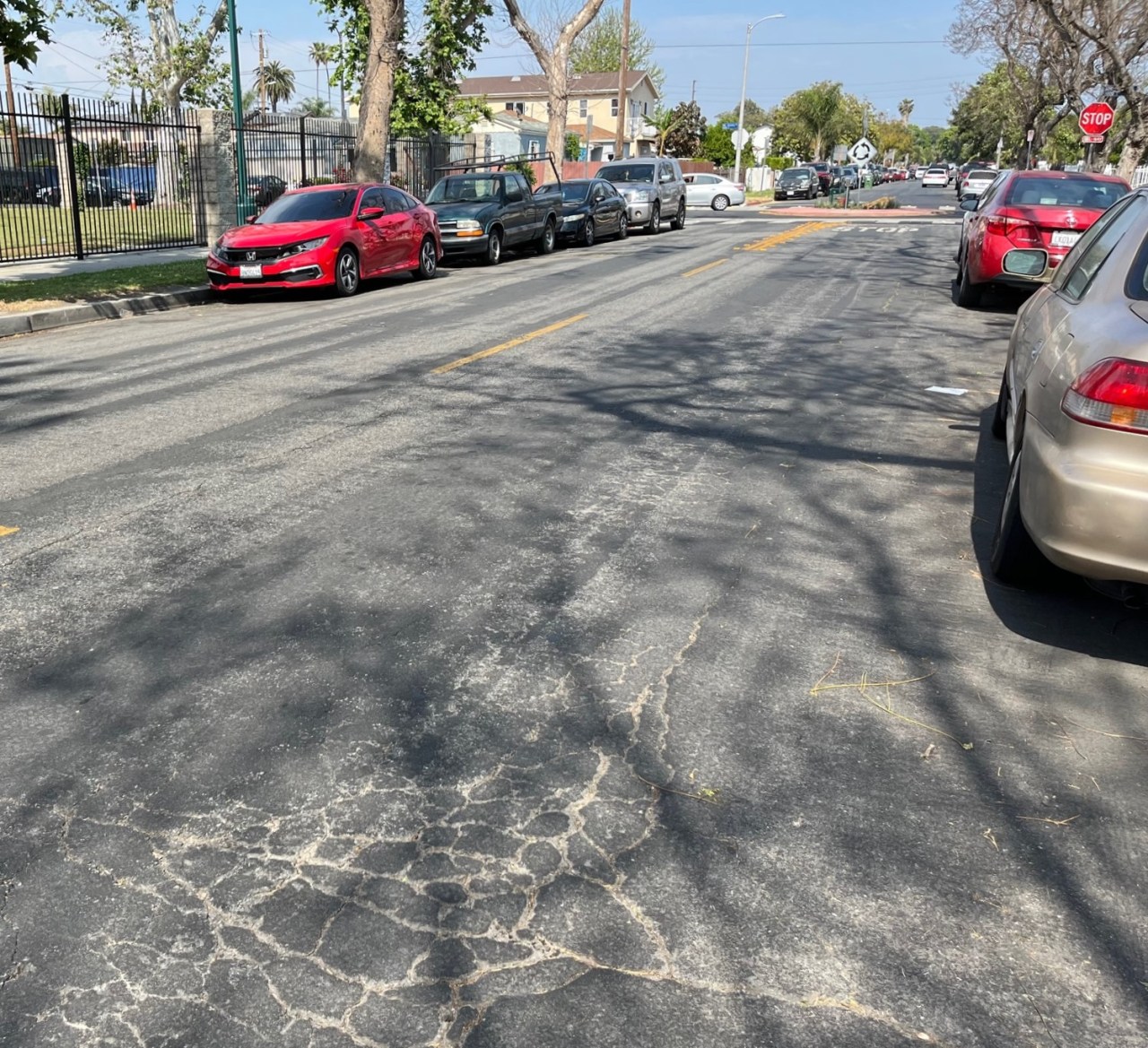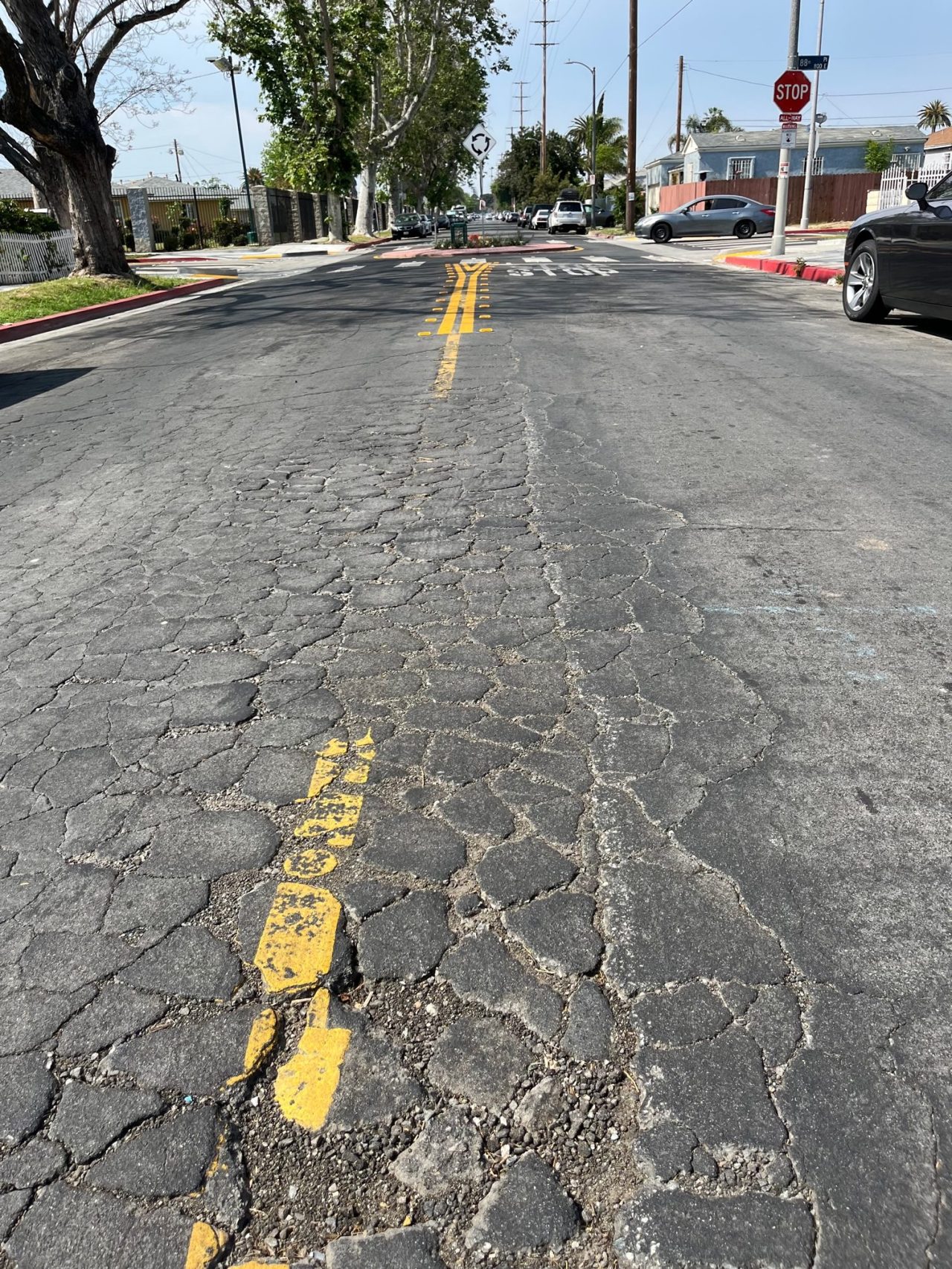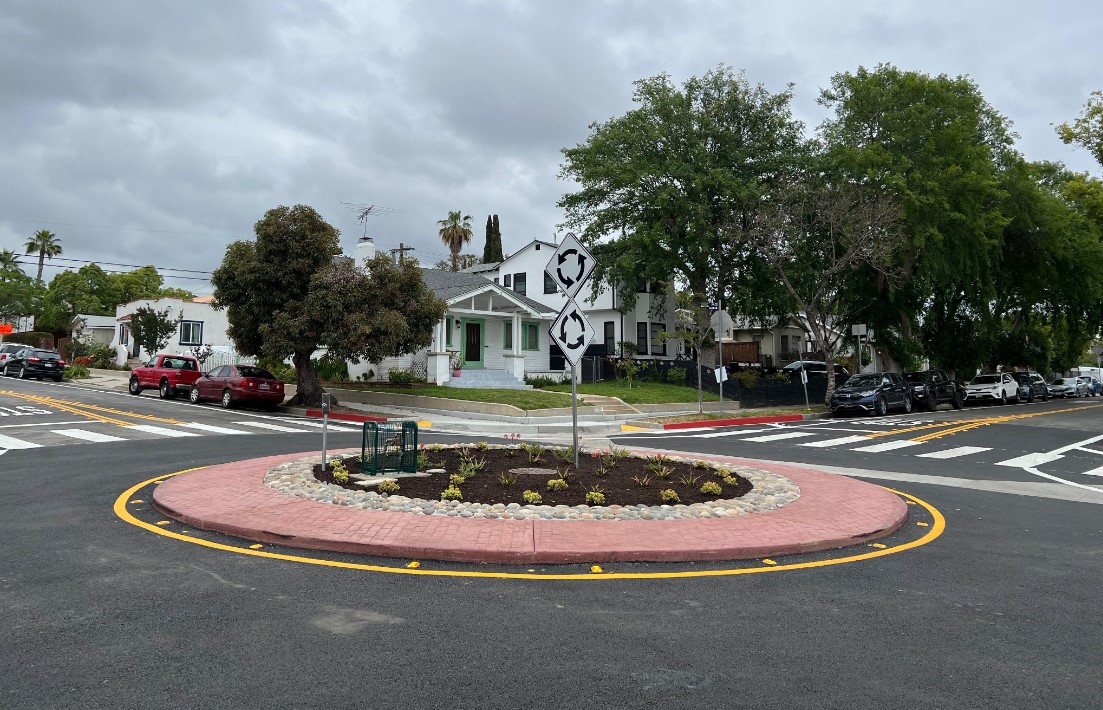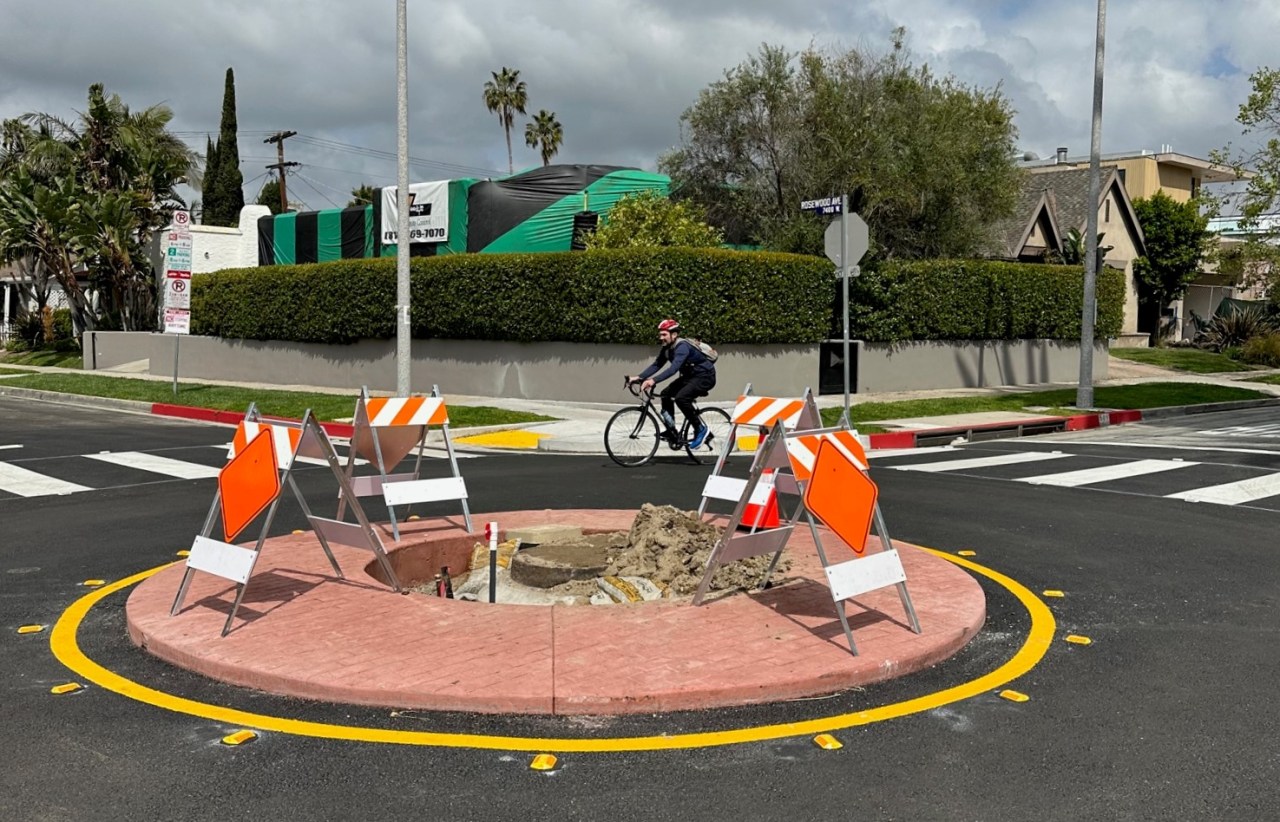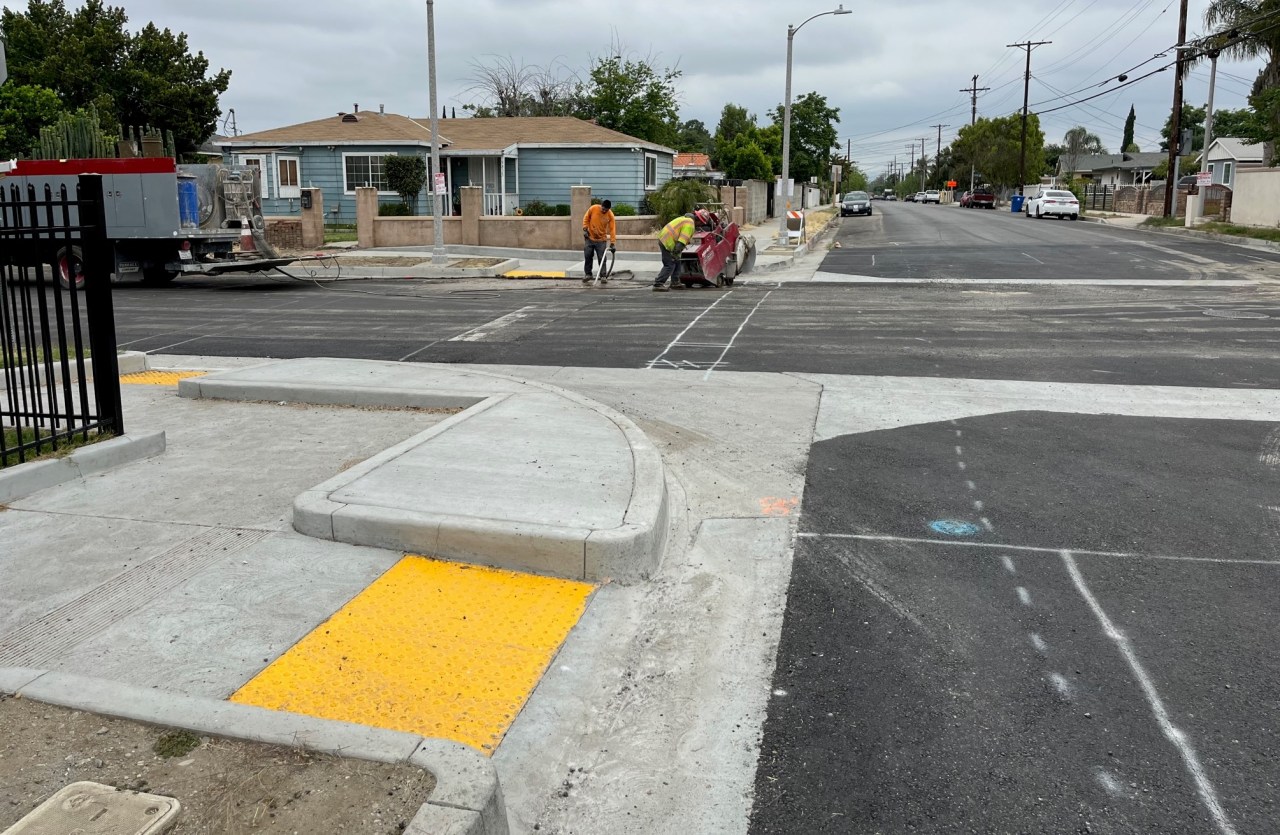 The above 12 projects (the traffic circle intersections count as 2 street segments each) comprise the half of BLAST that appears done or nearly done.
The rest of the list (at least the eight SBLA checked - of twelve remaining) hasn't seen any repaving. The lack of progress is especially disappointing in Watts, where BLAST pledged six newly repaved segments (103rd Street, 108th Street, Central, Compton Avenue, Willowbrook Avenue, Wilmington Avenue) and only delivered about half of one (Central - shown above). Also no repaving yet on the Hazeltine Avenue or Stratford Road.
Below are some photos of BLAST street segments where repaving has not happened yet.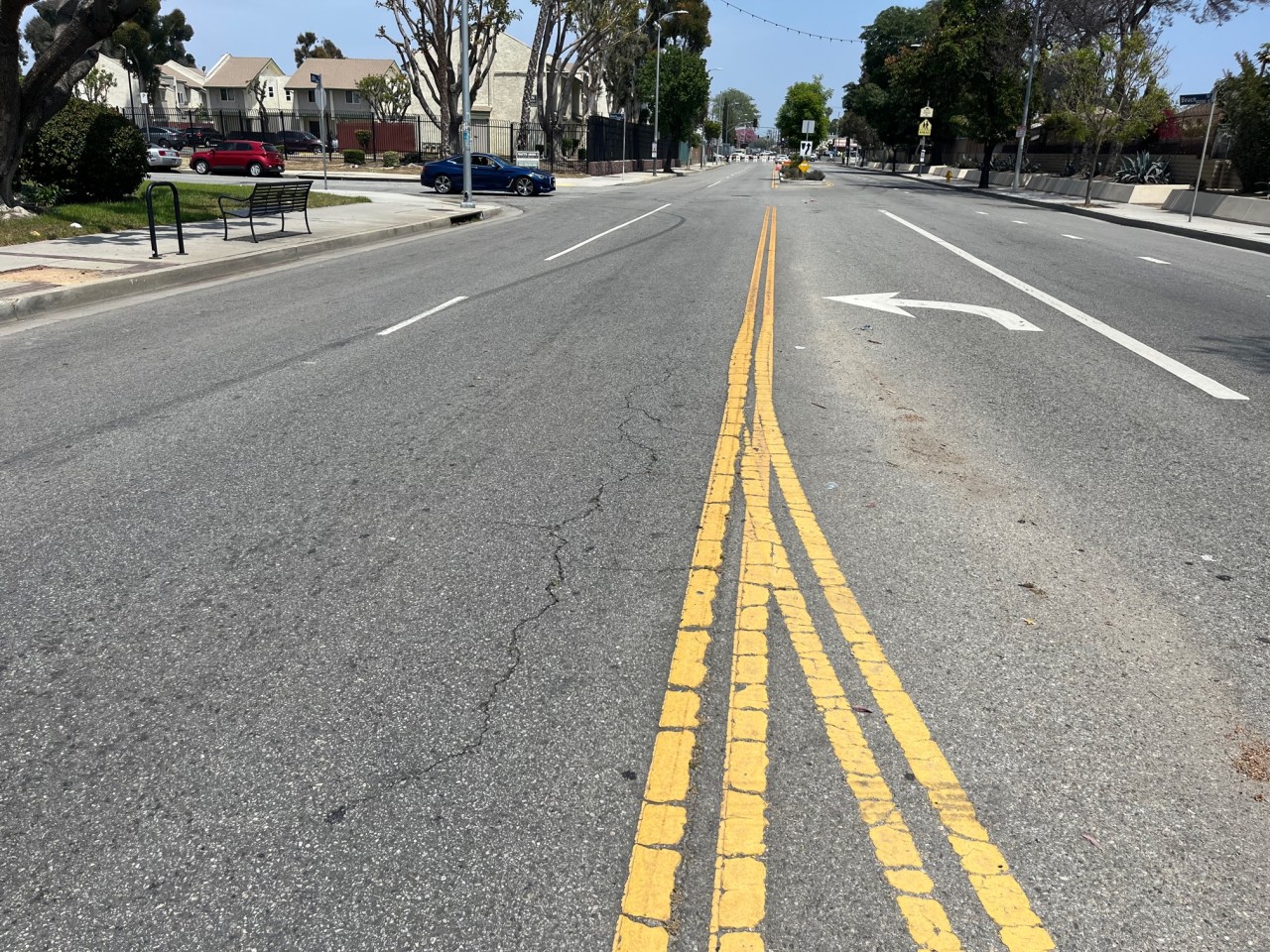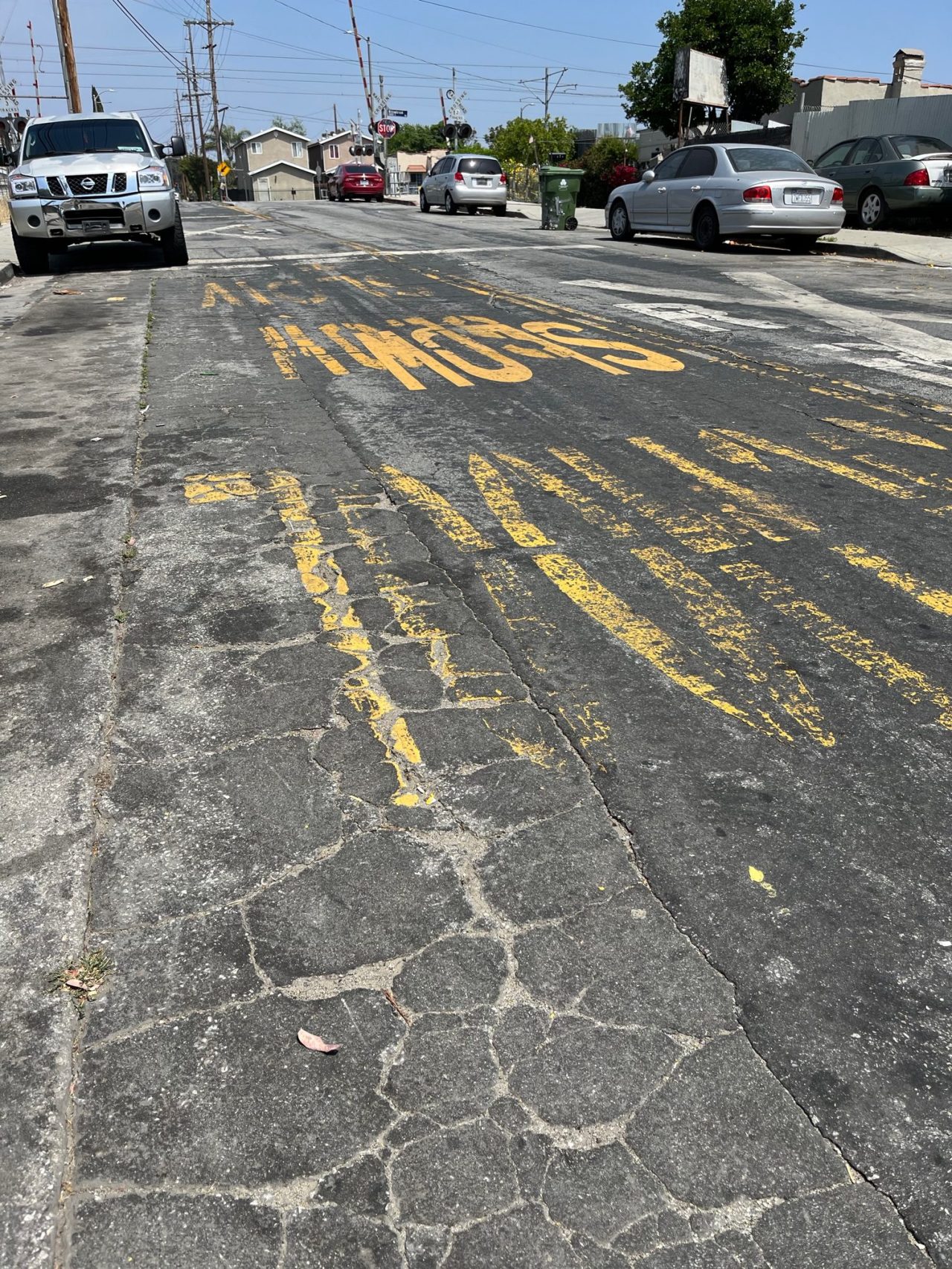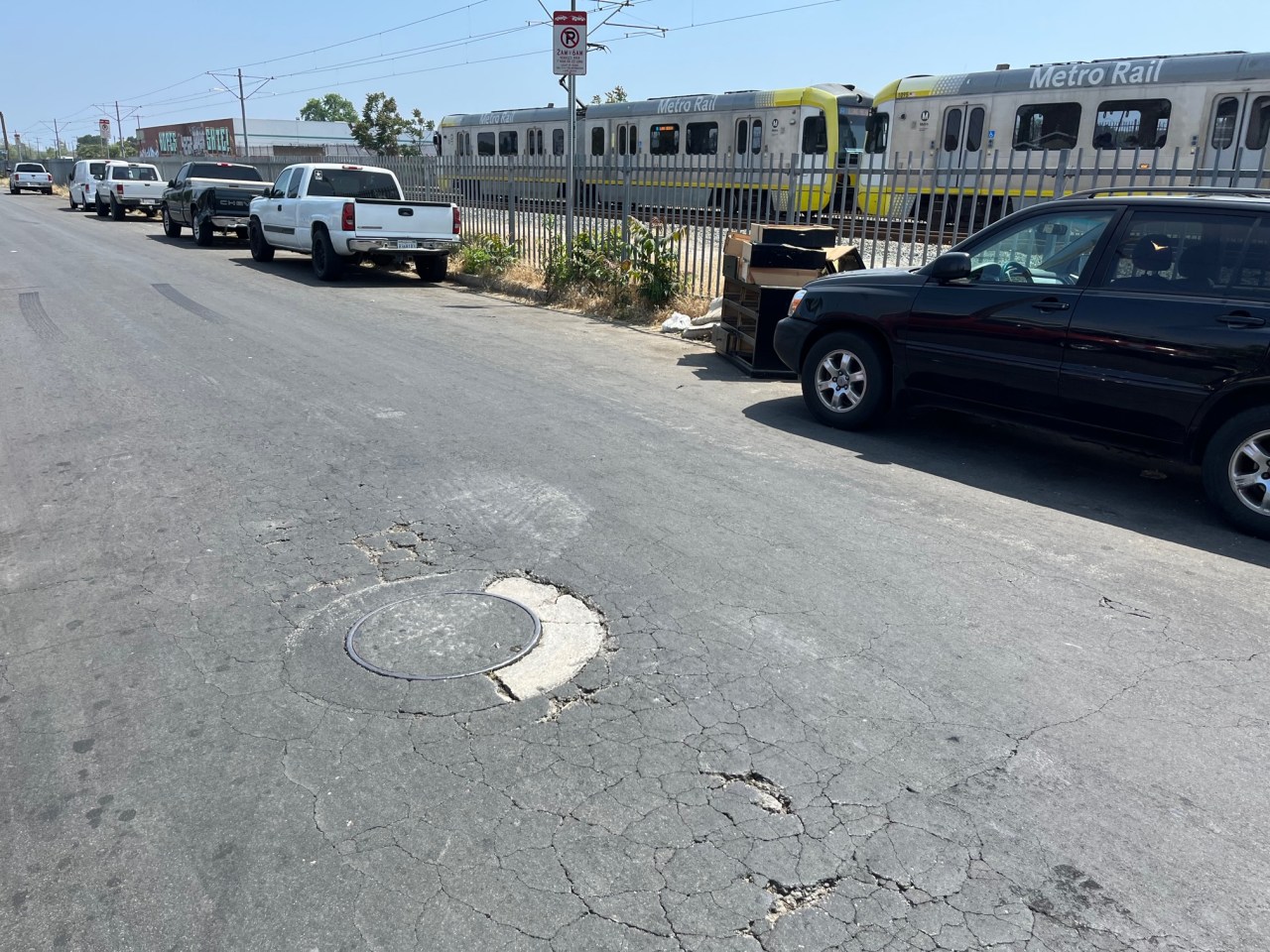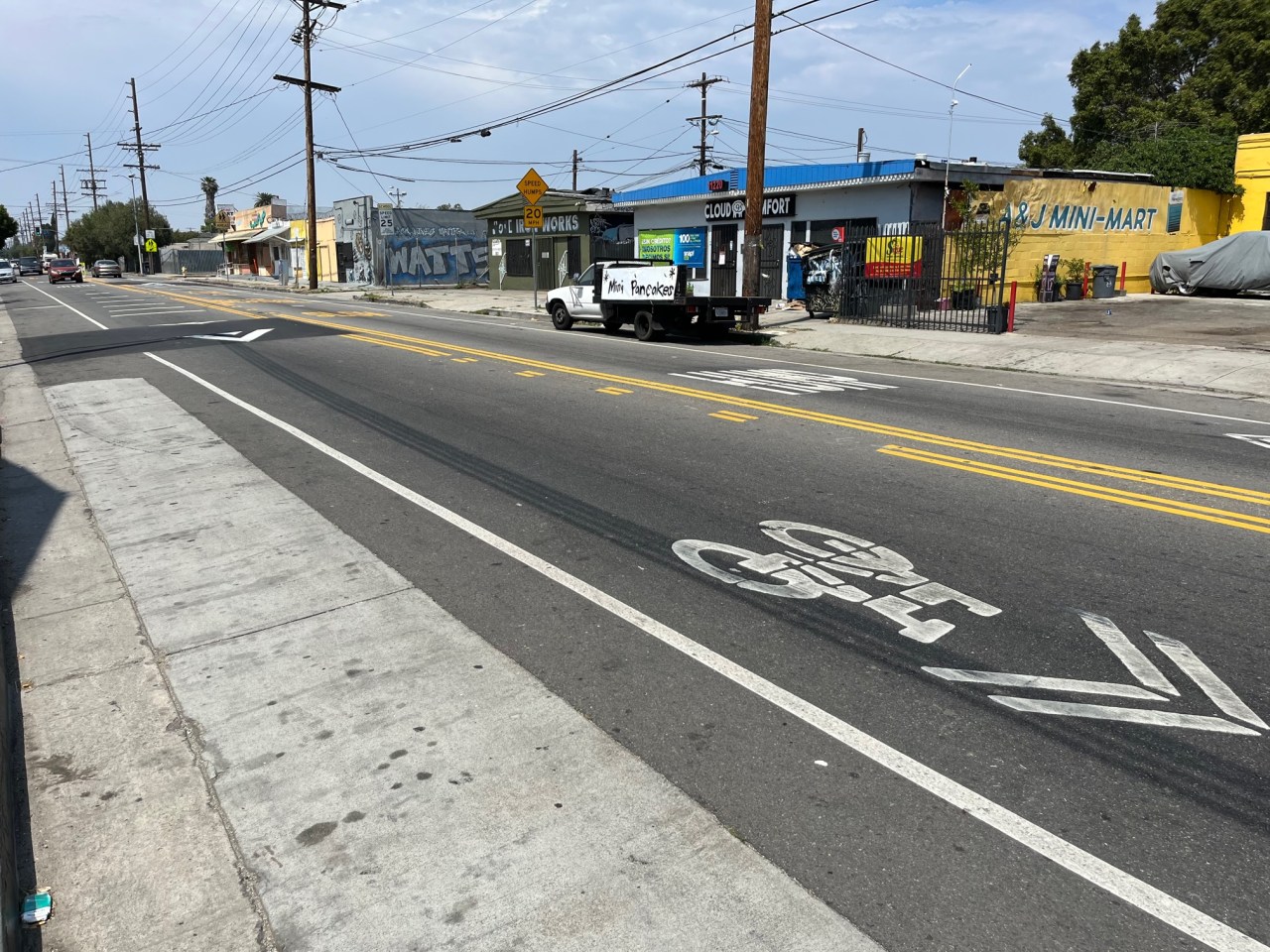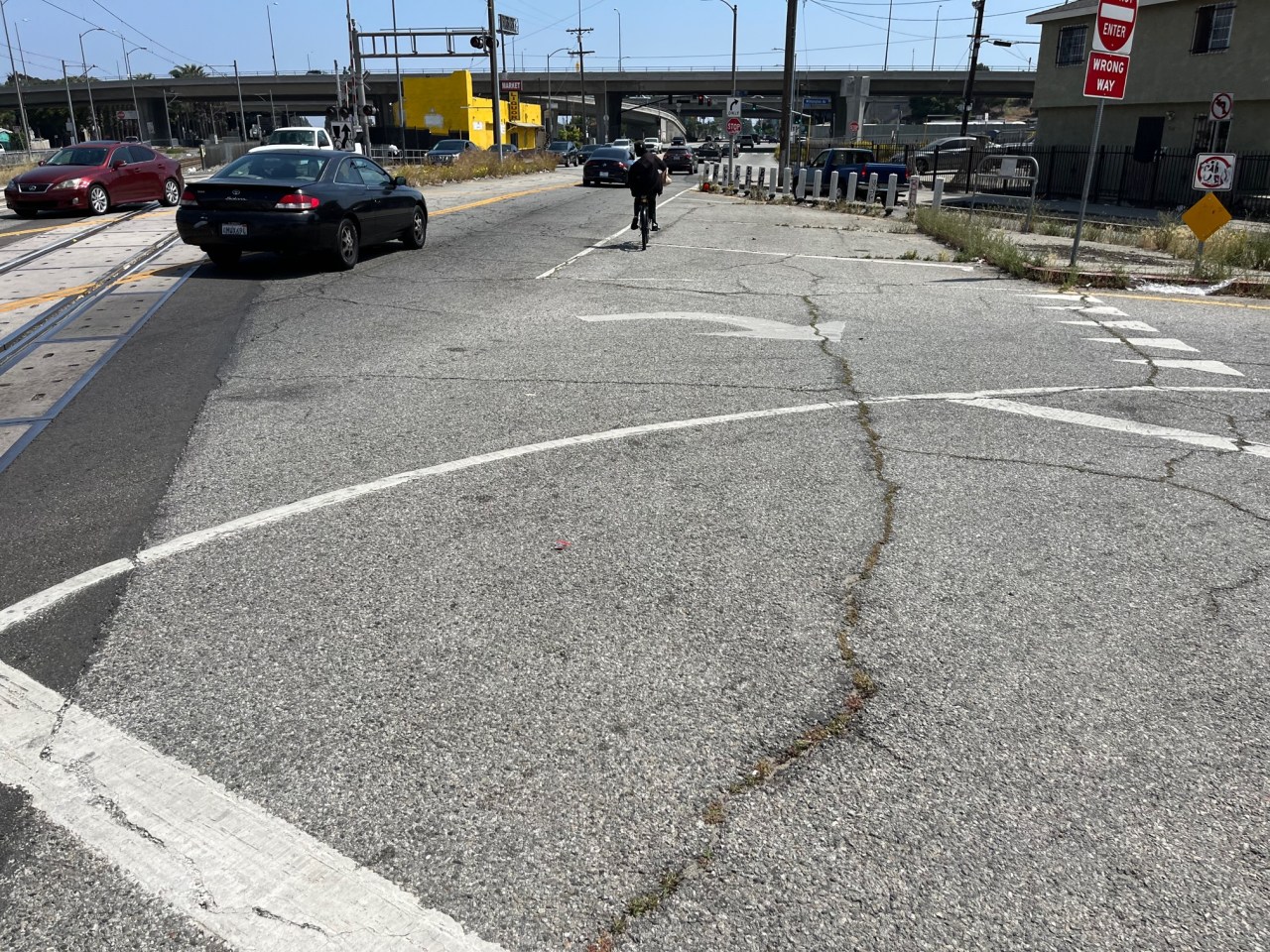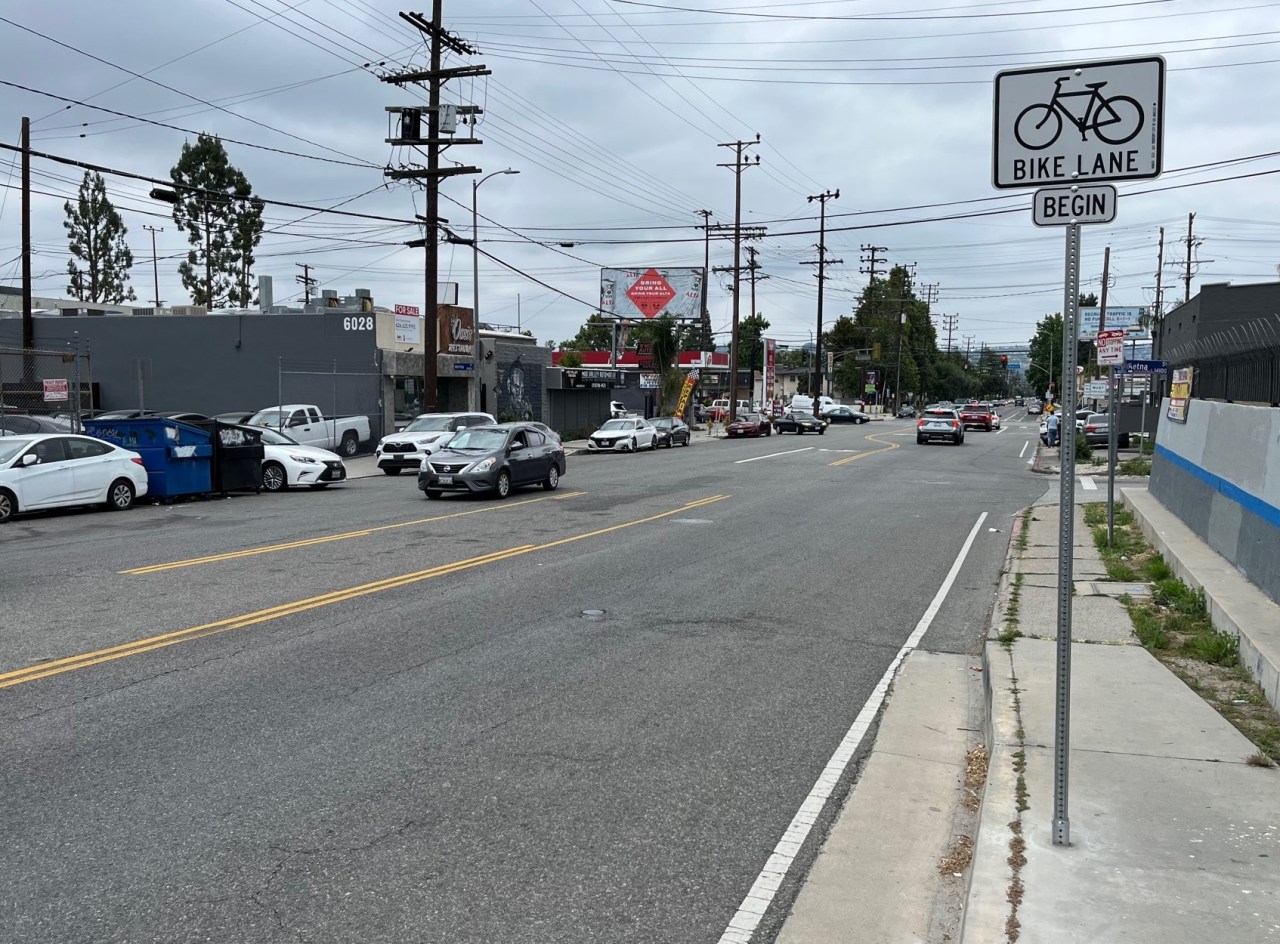 With preliminary results mixed, should L.A. continue to do BLAST?
In this editor's opinion: yes. Though there appear to be some kinks to work out, BLAST helps city departments coordinate better. Adding and upgrading bikeways - and traffic calming, crosswalks, etc. - requires LADOT and StreetsLA to collaborate. These two city bodies are already working together quite a bit, resulting in a modest uptick in bikeway mileage in recent years. BLAST can help accomplish more and better bikeways, and can be a tool to focus some repaving and safety upgrades where they are most effective and most needed, including siting them in underserved communities.
Streetsblog will continue to track BLAST bikeway implementation and resurfacing, and will report more after the initial program concludes at the end of this month.
Stay in touch
Sign up for our free newsletter