equity
Rezoning Proposal for Avocado Heights Riles Residents and Activists
2:29 PM PDT on May 24, 2023
Avocado Heights residents are on edge about the future of their equestrian lifestyle after a zoning change proposal in January and a rash of code enforcement ticketings in April (some in the thousands of dollars). The Los Angeles County Department of Regional Planning held a webinar on May 11 to answer questions about rezoning from the community activist group Avocado Heights Vaquerxs. Their president, Samuel Brown-Vazquez, summarized the group's concerns.
"We are very passionate because agricultural zoning is very rare. And to see it unilaterally just being replaced with something that you might characterize as 'not a significant change' is actually something that raised our eyebrows, especially given the aggressive code enforcement. We have long-standing concerns about developers wanting to come in and use the larger lots that we have here [half acre to full acre residences] either for industrial manufacturing or for luxury condominiums," he said. "And so we want to preserve a zoning that we hope maintains the integrity of that community."
Avocado Heights is an East San Gabriel Valley equestrian community, adjacent to and often conflated with La Puente. Its local culture and architecture is styled after a rural Mexican village -- not by planners, but by the residents themselves. Its main park is home to many ranchero parties, and a horse arena.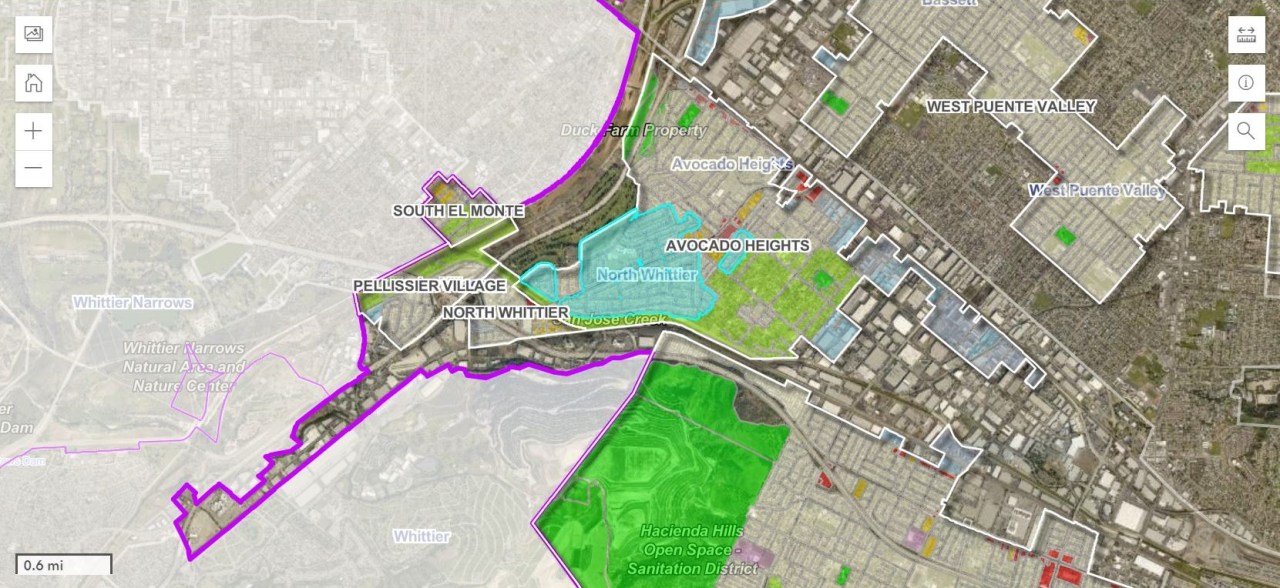 The East San Gabriel Valley Area Plan
During the webinar, L.A. County planners repeatedly assured residents that this rezoning plan is still just a proposal, and that none of the residential zoning categories proposed in Avocado Heights would exclude equestrian use. The planning proposal they've been working on for five years is the East San Gabriel Valley Area Plan (ESGVAP). The plan's website describes it as "an extension of the General Plan focused on the unique needs and characteristics of 24 unincorporated communities within the East San Gabriel Valley Planning Area."
"This is a very broad project, impacting about a quarter of a million of unincorporated residents," said James Drevno, Senior Regional Planner. 
One of the rezoning project's objectives is "to encourage diverse land use, housing options, and affordability" according to Supervising Regional Planner Mi Kim. As such, the ESGVAP must fulfill its housing element – the mandate for the county to meet the state's anticipated housing needs. 
To that end, the plan includes some higher density and mixed-use zoning, but most of the zoning changes prescribed are for changing the neighborhood's legacy A-1 Light Agricultural zoning into various forms of Residential Agricultural zoning (R-A, R-1, R-2, R-3). However, the zoning for the neighborhood's Equestrian District (EQD) will remain unchanged. There are several important differences between zoning outside and inside the EQD.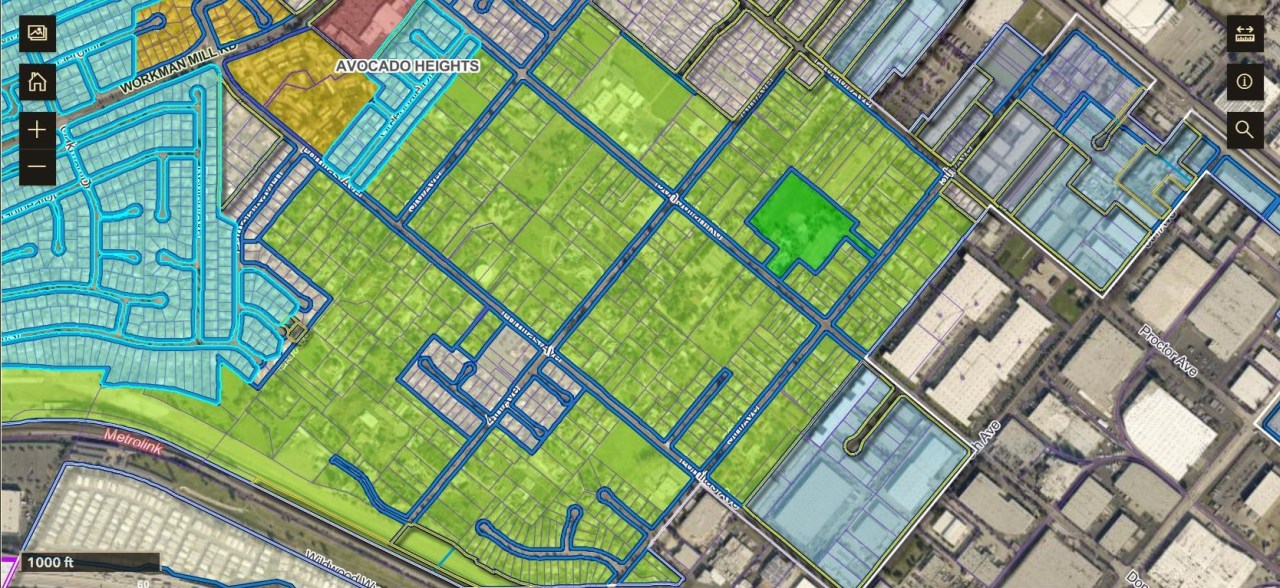 Outside the Equestrian District
The planners said the rationale for rezoning lots outside of the Equestrian District – the majority of the neighborhood – was to bring them into conformance with their actual, current use. 
Kim said, "40-50 years ago, this area was largely avocado groves or orange groves. In the late 50s/early 60s, there were residential subdivisions that were built, but zoning was never updated to reflect that it's now residential subdivisions instead of an agricultural area." Of course, many of the present-day residents of Avocado Heights have agriculture on their lots though, in the form of small orchards and keeping goats, chickens, and other farm animals.
Kim suggested the change outside of the Equestrian District is also for residents' protection. "There may be some uses that are allowed in agricultural zones that may not be compatible in a single family residential zone." For example, the use of pesticides and frequent visits from large trucks on a lot with a nursery.
The majority of zoning changes in the community are A-1 to R-A. Drevno assured residents that all of the residential zoning suggested in the plan for Avocado Heights will allow for horse keeping (R-A Residential Agricultural, R-1 Single-Family Residence, R-2 Two-Family Residence, R-3 Limited Density Multiple Residence). The catch is that outside an Equestrian District, lots must be at least 15,000 square feet to keep one horse. Each additional horse requires an additional 5,000 sq ft on top of the minimum. How feasible that will be on some R-2 or R-3 lots remains to be seen. Lots are much smaller outside of the Equestrian District.
Another key difference outside of the Equestrian District is the applicability of S.B. 9 to allow lot splits for Accessory Dwelling Units (ADUs). Though S.B. 9 does not apply to A-1 zones, in residential zones fully separate ADUs can be split into a separate property lot for a new owner to take primary possession. The lot can only be split in two, with a ratio between 50-50 and 60-40, and it can only be done once per single family residence. According to Drevno, the applicant must reside in one of those homes for at least three years. 
Higher density is being proffered around Workman Mill Road and Don Julian Road. Kim said this would be the project's "main street" or "village center" with Mixed Use zoning (MXD). Near this intersection, just north of the Arco station on Don Julian, would be an R-3 zone with a Land Use Plan (LUP) of H30 – allowing up to 30 units per acre. The majority of the planning area would retain its LUP of H9 – 9 units per acre. Immediately west of the intersection, there would be an R-2 (duplex) zone.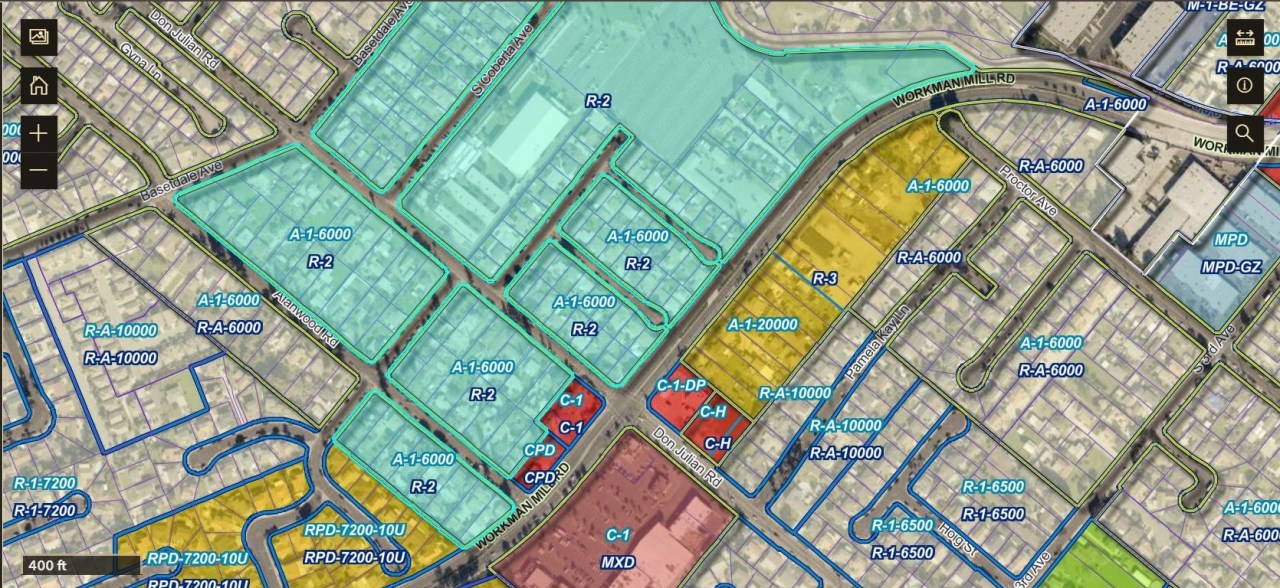 "The idea here is to focus additional housing types near Workman Mill Road, where access to services and amenities is already high. And then in addition to that, is to enhance Workman Mill Road as that pedestrian and equestrian oriented village corridor," said Drevno. New parks and preserved open space are suggested along both of these streets, as described in the presentation slide below.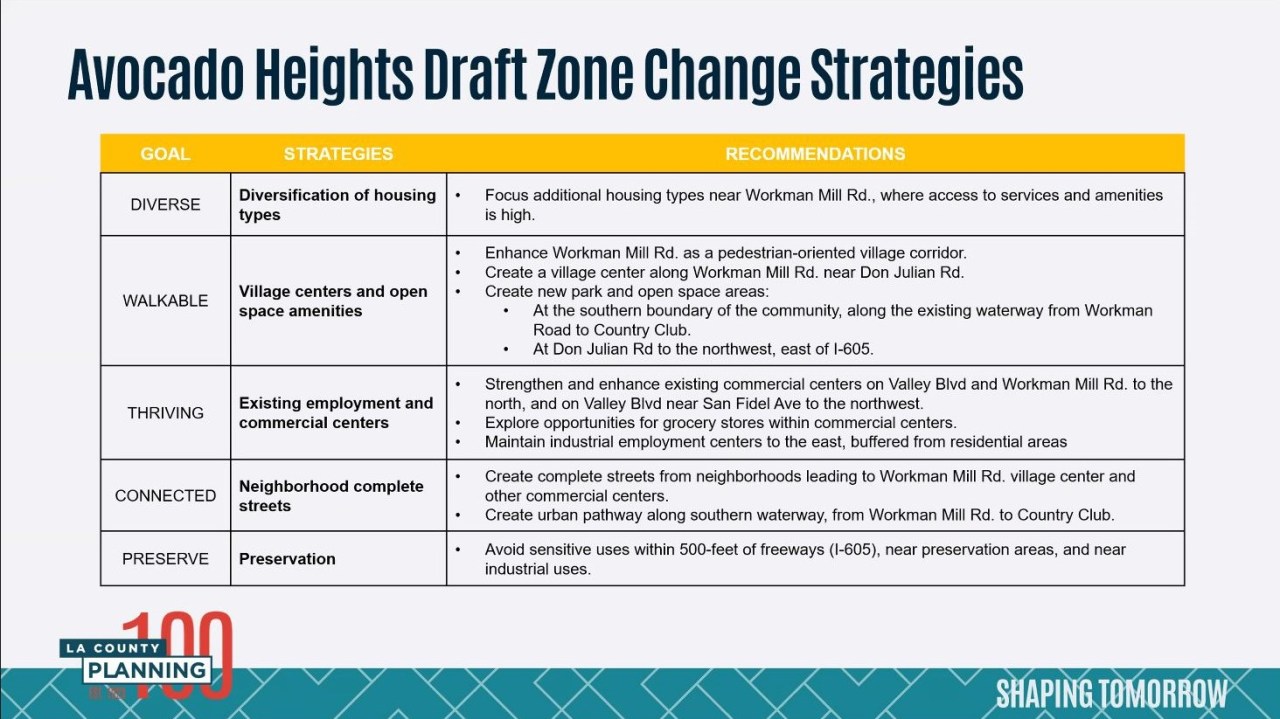 Resident Marilyn Kamimura took issue with the proposed density increase, and was skeptical that any future housing projects would actually be affordable to locals, while developers might be able to circumvent height limits if their project is categorized as "affordable."
"This community really likes things the way [they are]," Kamimura said at the webinar. "We put down a Lennar [luxury homebuilder] project, it was dense housing, where the Evergreen property is [...] but there always seems to be a way they can stray from the Avocado Heights standard. So it's unfortunate, but we have found living here that it is a constant. But we'd like to keep things actually the way [they are], the way the equestrian is. It's not so much we want all the business."
Kim added that the ESGVAP is "not making any zone or land use changes in Pellissier Village." This is another, smaller unincorporated neighborhood on the other side of the 605 Freeway, also considered part of Avocado Heights in terms of county planning. Pellissier Village has existing R-A and R-1 zoning. "Aggressive" code enforcements from the county's Nuisance Abatement Team were also reported there on Avocado Heights Vaquerxs' social media and it's worth noting that some homes there are marked for demolition in Metro's 605 Corridor Improvement Project.
Inside the Equestrian District
Inside the Equestrian District, A-1 zoning is being preserved. This calls for single-family residences, and S.B. 9 is not in effect. Space here is meant for horses and other livestock. Residents would be able to keep two animals on a 10,000 sq ft lot, and an additional animal per additional 5,000 sq ft (this is per the proposal described two paragraphs below). Equestrian Districts must be at least 5 acres large. Just like outside the EQD, stables and stalls must be set back at least 35 feet from any dwelling, and 100 feet from any school or hospital.
There are actually two Equestrian Districts in Avocado Heights proper – Avocado Heights EQD and Trailside Ranch EQD. They are adjacent, and both are mostly contained between Proctor Ave to the North, the San Jose Creek to the South, 3rd Street to the West, and 5th Street to the East.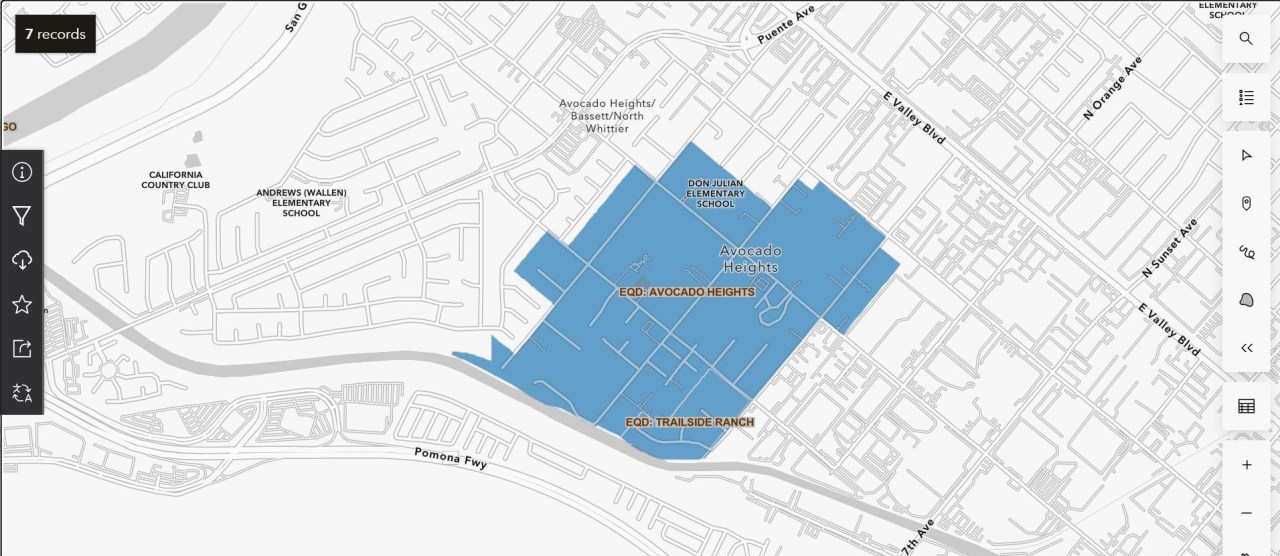 Drevno said the two EQD's will be consolidated into one with uniform standards. Trailside Ranch's standards allow for more horses on smaller lots than Avocado Heights' standard, and Drevno told SBLA that Trailside's standards are what they're proposing for the consolidated district.

He added that the Department of Regional Planning also proposed expanding the district. "We worked with the Equestrian Joint Council to reach out to folks to expand the Equestrian District by three parcels in the southeast. We sent letters to those property owners, however, [...] we did not receive that consent that could have been sent via mail or email."
There are two more EQD's nearby in the planning area: Pellissier Village and Rancho Potrero de Felipe Lugo (in South El Monte).
Why Change at All?
Despite assurances from the planners that all of this prospective zoning would be subject to the same height limits (45 feet) as any other building in Avocado Heights, and that residences would be buffered from industry by the Green Zone Ordinance, the Vaquerxs' Brown-Vazquez remained very skeptical about the rezoning project's purpose for a variety of professed reasons. 
He's concerned about the density planned: "One of the things that we're struggling to wrap our heads around is how are you going to maintain the equestrian and agricultural characteristics of our neighborhood – one of the last accessible agricultural communities for working class residents – if you have a situation where the adjacent property is now having nine units per acre, or 18 units per acre? The Equestrian District allows us to have horses, but you have to have a certain amount of set-aside. So if you're increasing the number of units on a parcel, then you're decreasing the amount of space that exists between the horse stalls and that property that's adjacent to that property. So what you are actually doing in effect, is reducing the characteristics that allow equestrian use in the first place." 
With that, he also worries about affordability: "North of the Arco station right there on Don Julian and Workman, you have that slated to be 30 units per acre. That is an incredibly difficult number for us to wrap our head around if there is no protection for all those units being affordable. I am not against housing, I believe in affordable housing and addressing the real housing scarcity. But what I'm seeing is that all the way through North Whittier, all the way through Alanwood Rd and Basetdale Ave, you're increasing the housing density with no guarantee of the affordability of the housing."
Then there are pollution issues in the area: "Avocado Heights, Pellissier Village, and unincorporated South El Monte are dealing with cumulative environmental impacts." Brown-Vazquez also said the area's open space offsets the impacts of climate change and helps sequester groundwater.  
Of course, he repeatedly mentioned the right to agricultural activities: "A-1 zoning allows us to do some agricultural commercial activity, such as owning a nursery. What is to prevent members of our community from being able to engage in those appropriate uses as designated under the current agricultural zoning that we are now going to be precluded from when we're under the residential agricultural zoning?"
And Brown-Vazquez's most emphatic point was about equity: "The quota to fulfill housing is something that is being pushed on every community really in the county. But the problem is that our community traditionally was excluded on issues of land use planning, and that's how City of Industry came into being in the first place."
Victor Valle's history book, City of Industry, recounts how the city's founder, Jim Stafford, under the guidance of two time L.A. County Supervisor Herbert Legg (1934-1938, 1950-1954), secured large portions of the La Puente Valley for an industrial/railroad-serving city with precious few residents able to live there in order to control the electorate. Valle says Stafford's maneuvering resulted in a much smaller city area and lower tax base for La Puente and its resource-starved unincorporated satellites: Avocado Heights, Valinda, West Puente Valley, and South San Jose Hills. Valle also states that Stafford was partially motivated by racial animus toward Latinos.
From his book, "Nine years after securing Industry's incorporation, Jim admitted to funding and participating in the incorporation campaign and to attempts 'to block La Puente's incorporation.' The bitter deposition he gave in a 1969 lawsuit filed against the city revealed his personal reason for wanting 'to stay the hell out of a place called Puente.' He construed the idea of being forced to pay taxes for schools and libraries that served a growing Latino community as an infringement on his personal liberties: 'Doesn't a man have a choice in this country anymore?'"
Brown-Vazquez continued, "And so, while our community is being asked to now accept these land-use classification changes that allow for higher density with no guarantee on affordability, City of Industry, as far as I'm concerned, is not being asked to shoulder any of that burden, and they have plenty of commercial space. So in the City of Industry, theoretically, you could do all kinds of mixed use developments, including at the failing Puente Hills Mall."
Going Forward
For the time being, the East San Gabriel Valley Area Plan has not yet been adopted as part of L.A. County's General Plan. It is still "just a proposal," as the planners repeatedly stated. The ESGVAP was supposed to go to public hearing at the Regional Planning Commission this June, but Drevno told SBLA that this will now tentatively take place in early August. From there, it would need approval by the Regional Planning Commission and the L.A. County Board of Supervisors. "So there's a lot of opportunities to provide public comment," Drevno said during the webinar.
Drevno also said, "The only person that has control over what gets developed on [a] property is ultimately up to those individual property owners. As a planning department, we do not build housing [or] mandate [development] – this project doesn't demolish or build any housing. This is really just changing rules to allow those property owners to use their property in the way that they wish."
In the meantime, the Avocado Heights Vaquerxs announced that they will be organizing a petition to stop any rezoning of the neighborhood.
Streetsblog's San Gabriel Valley coverage is supported by Foothill Transit, offering car-free travel throughout the San Gabriel Valley with connections to the Gold Line Stations across the Foothills and Commuter Express lines traveling into the heart of downtown L.A. To plan your trip, visit Foothill Transit. "Foothill Transit. Going Good Places."
Sign-up for our SGV Connect Newsletter, coming to your inbox on Fridays!
Chris is the San Gabriel Valley Reporter for Streetsblog LA and co-host for SGV Connect. He's been a La Puente native since 1991, and a radio journalist since 2014. He hosts the podcast SGV Weekly.
Read More:
Stay in touch
Sign up for our free newsletter