Streetsblog CA
High-Speed Rail Needs Federal Support. It Also Needs Loud Champions in California
8:42 AM PDT on April 7, 2023
Former U.S. Secretary of Transportation and Congressional representative Ray LaHood penned an op-ed for CalMatters urging the federal government to "go big" and fund California's High-Speed Rail Program.
He points out that the amount the feds have invested in high-speed rail nationally so far - $10 billion - is minuscule compared to federal investments in aviation ($777 billion) and highways ($2 trillion). And the California project only got $4 billion of those $10 billion total.
"The federal government can't expect transformative results with piecemeal funding," he writes.
The federal government may not expect transformative results at all, since it continues to invest in old ways and highways at such high levels. For all the many reasons frequently sited about the need to change the U.S. (and California's) reliance on cars for transportation - climate, congestion, and energy security among them - "We urgently need to get serious about high-speed rail," writes LaHood.
Costs for the California High-Speed Rail Program have risen along with costs in general. Delays and other setbacks have also contributed to those cost increases and given opponents of California's high-speed rail program fuel for attack. The constant drumbeat from former LA Times writer Ralph Vartabedian, who still takes every opportunity to rip into the program's troubles and has zero interest in offering solutions, has driven the public to hold a false impression that the program is failing.
California high-speed rail is definitely in a tight spot right now, but according to LaHood, "the real impediment to progress is a long-term lack of federal support for high-speed rail."
While the U.S. government has unhesitatingly invested money in roads and highways, it has left it up to states and private entities to figure out how to build rail. "The state of California has shouldered 85 percent of the project's costs, compared to only fifteen percent covered by the federal government," writes LaHood. "Compare that to Interstate Highway Projects, where the federal government covers ninety percent and has done so in every state across America for decades."
LaHood recommends the government grant California's request for $8 billion from the Bipartisan Infrastructure Law, which would help complete the 171-mile initial operating segment in the Central Valley, and "spread the burden a bit more — 65 percent for California and 35 percent for the federal government."
CAHSRA needs a stable, reliable source of funding to get it built - and no, Prop 1A funds were never meant to be enough to build the system and that was never "a promise made to voters." The thinking was that about one third of the total funding would come from private investments, about one third from the state, and one third would come from federal support.
"It turns out private money will not appear until the project is up and running," pointed out Louis Thompson of the California High Speed Rail Peer Review Group at a recent, sparsely attended legislative update on the high-speed rail program. "We started out with some federal money, but the Trump administration took it all back," he said. "The only stable source we can depend on is our own money."
Even the potential $8 billion from the federal government can't be counted on, warned the Legislative Analyst at that hearing. Both Thompson and the LAO representative said that California needs to figure out its funding sooner than later, because the lack of stable funding causes delays, contributes to rising costs, and puts off other investors - including the federal government.
California just needs to decide what it wants, said Thompson to the few committee members who stuck around. This is not a new message from Thompson, who has been saying this for years.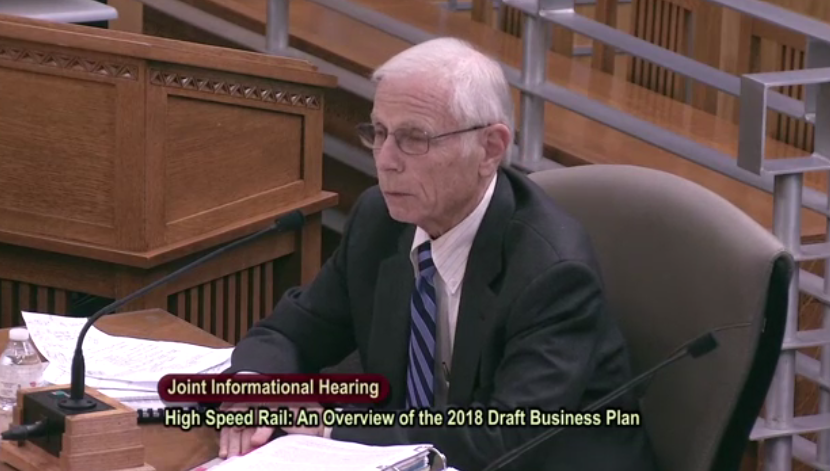 "If we want to do the project, we should be prepared to pay for it. And if we think it's worth it, we can afford it. There is enough money; Apple has a larger cash balance than this project will cost," he added.
"We need to think carefully about what we're trying to do. We're building a business, and we expect that business to operate without losing money. But we're also talking about massive public benefits to the state - for which we should pay," he said.
"In the time that we've started this project, the government of China built twenty thousand miles of rails. I'm not saying we should follow China's lead, but note that [China's rail project] was not conceived as an economic engine but for a whole series of benefits, including connectivity. Then they put together a stable, dependable financing program so that the railroad wouldn't have to come back begging for money every year."
The fact that so few members of the Senate Transportation Committee remained to discuss these concerns is perhaps a matter for deeper concern. California high-speed rail is opposed by loud and repetitive voices who seem to enjoy watching the program struggle. What is missing is equally loud and engaged support - and more enthusiastic champions within the California legislature.
There may be champions for high-speed rail in California leadership, but they are too quiet.
Streetsblog California editor Melanie Curry has been thinking about transportation, and how to improve conditions for bicyclists, since her early days commuting by bike to UCLA long ago. She was Managing Editor at the East Bay Express, and edited Access Magazine for the University of California Transportation Center. She also earned her Masters in City Planning from UC Berkeley.
Stay in touch
Sign up for our free newsletter