Eastside
Boyle Heights Jogger Detained, Cited During Hunt for Suspect that Drove into Metro Tunnel
1:17 PM PST on February 27, 2018
On the scene of the pursuit that ended in a Metro tunnel in Boyle Heights last Tuesday, NBC4 reporter Robert Kovacik turns to look at the young jogger detained in the back of a squad car. He is reporting from across the street, he explains dramatically, because "Sheriff's deputies made sure to keep NBC4 at a great distance back from this car."
And while he says he still has no confirmation of what is going on, Kovacik reports that the "suspect" in question "seems to be giving a lot of lip service to the deputy in the driver's seat and they're doing quite a bit of talking."
The jogger, a life-long area resident, says he wasn't offering anyone any "lip service."
Having been detained and cuffed by officers at least 50 times while growing up in East L.A. despite never having done anything wrong, the jogger explains, he was more than prepared to navigate a tense situation with law enforcement in a respectful and disarming way.
But he had just detailed for officers how he was out doing the same three laps he had been running for the past 15 years around Evergreen Cemetery. He had just watched officers ignore the men on the corner who had seen him running there for years and who tried to vouch for him as he heard the words "detain him" crackle over the police radio (below).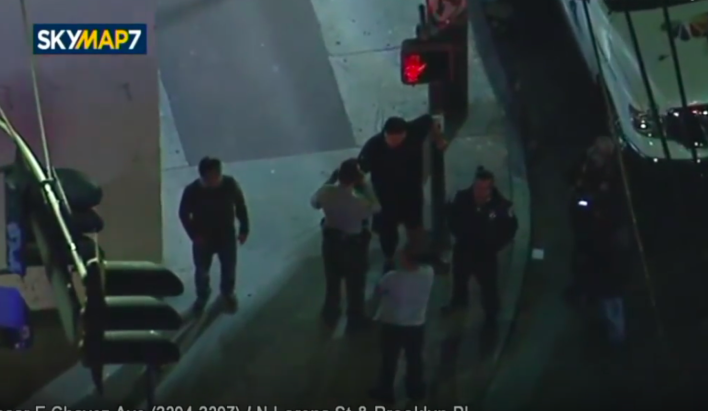 He had also just been surrounded by officers from three separate departments (LASD, LAPD, and Huntington Park) who all had their hands on their service weapons as he was searched and who he said treated him (with the exception of a lone Sheriff's deputy) as if he were a major threat.
Despite having answered all their questions and offered up his ID number (he didn't have his ID on him) to make their job as easy as possible, he spent 45-plus minutes in the back of a squad car, being interrogated and threatened with being taken to jail.
So, of course he was talking to the officer while in the back of the squad car: he just wanted to get home to his toddler son.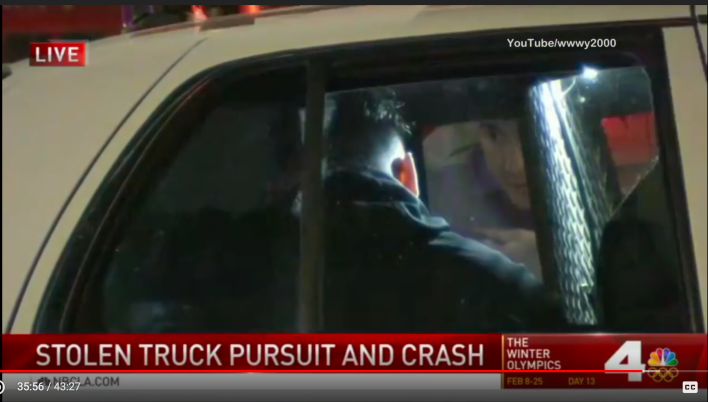 Then, to add insult to injury, police handed a him a citation before sending him on his way.
He had originally thought it was something related to interfering with police work, since no explanation was given - he was simply handed the ticket and asked to sign. He since figured out the citation was for an unrelated issue - one he had thought was resolved long ago when he had paid the requisite fines and gotten his paperwork in order. He's still not sure how the issue remained unresolved or why it would have come up while officers were supposed to be searching for the pursuit suspect.
But that seems par for the course - little about the way he was treated made much sense.
Half the city, it seemed, watched breathlessly as the driver of a stolen vehicle, Rafael Lopez, and his female passenger led police on a wild pursuit on the evening of February 20.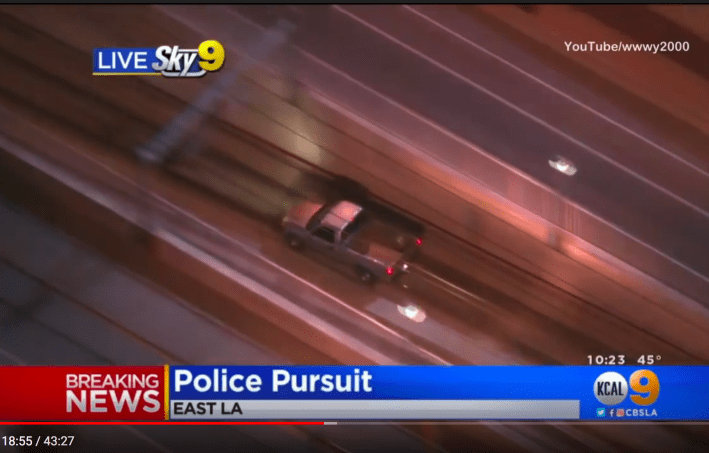 What started out as a run-of-the-mill car chase got progressively hairier as Lopez sped from Huntington Park to East L.A. and then to Boyle Heights, jumping up on sidewalks, blindsiding a taxi at Lorena and Cesar Chavez, careening along on the train tracks, and ultimately darting straight into the Metro Gold Line tunnel at 1st and Lorena.
Jokes about the driver having played too much Grand Theft Auto racked up under the Facebook-streamed video feeds of the pursuit. That is, until reporters flying above the scene relayed news that officers feared one or both of the suspects had escaped through a hatch found open on the sidewalk.
Area residents who were tuned in watched with growing concern as the choppers zoomed in on a man jogging north on Lorena towards Cesar Chavez (below) and ABC7's J.T. Alpaugh mused on whether he was really a jogger or someone who was "playing off like he's jogging" by ditching his jeans and black hoodie with white detailing for shorts, running shoes, a leg compression sleeve, a plain black shirt, and headphones.
They scoffed at speculation that the jogger was the suspect - he was obviously just someone exercising on the Evergreen jogging path, as so many in the neighborhood did, they explained.
Their input clearly went unheeded.
As the jogger pulled his arm away when the officer tried to put hands on him, Alpaugh exclaimed excitedly, "Oh, oh, he seems like he's getting a little what they call 'froggy' - not going with the program!"
The jogger was not getting "froggy."
He was trying to be heard.
There was no cause to cuff him for jogging.
He'd been running around Evergreen Cemetery while the chase was still making its way through East L.A.
Everyone knew him.
He lived down the block.
This was his home.
His son was waiting for him.
Watching his friend shake his head and try to reason with the cop in real time, Erik Sarni, well-known in the community for his chronicling of area sports events, chimed in on Facebook to vouch for the jogger, typing, "That's my homie!"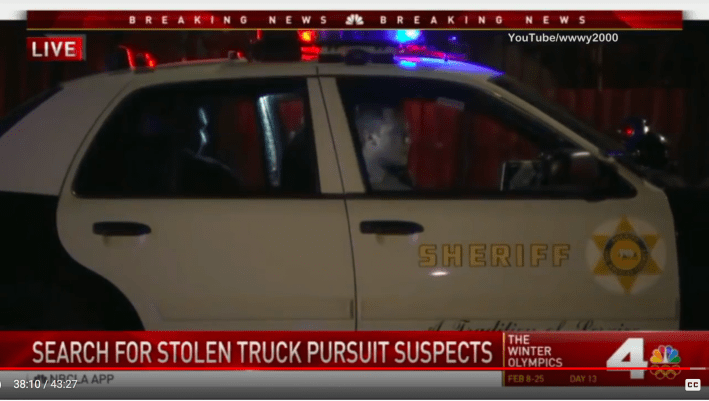 That he would not be listened to was not surprising to the jogger.
Actually, he said, he was surprised it had taken officers so long to cuff him. Usually when they stopped him, it was the first thing they did - even before they asked any questions.
And, he said, he understood that they had to check folks because of the unusual circumstances.
But their unwarranted aggression with him had left him shaken.
They knew he was unarmed - they had searched him. His confusion must have made clear that he was wholly unaware of what had gone on around him. And he was being as accommodating and as agreeable as he possibly could be.
There was no need for the prolonged intimidation. Or the interrogation that dragged on long after they pulled Lopez - the actual driver of the truck - from the tunnel (Lopez was found within 10 to 15 minutes of the jogger being detained).
And there was absolutely no call for law enforcement to use the stop as an opportunity to see if the detention could be justified in some other way.
It was the worst experience he had ever had with law enforcement, the jogger said.
To some degree you get used to it growing up in East L.A., he shrugged. And because there were a couple of kids on his block that ran drugs on their bikes, he said, the cops seemed to be ramping up their efforts to stop anyone and everyone on a bike in his neighborhood these days, too.
But it doesn't make anybody safer or make the streets more accessible, he suggested. Instead, it makes law enforcement's job harder by sowing more distrust and ill will within communities. And with gentrification squeezing the community from all sides, harassment only made the streets feel that much more unwelcoming to long-time residents.
"They look at us as criminals," he said. "But we're families. We're men. We're women. We're sons and daughters. We're human."
*The jogger has preferred that his name not be used. Efforts were made to contact LASD regarding the decision to detain, interrogate, and cite the jogger. No response has been received as of this publication.

Sahra is Communities Editor for Streetsblog L.A., covering the intersection of mobility with race, class, history, representation, policing, housing, health, culture, community, and access to the public space in Boyle Heights and South Central Los Angeles.
Stay in touch
Sign up for our free newsletter