Bicycling
Three New Ped/Bike Bridges Coming to the L.A. River
9:14 AM PDT on September 15, 2017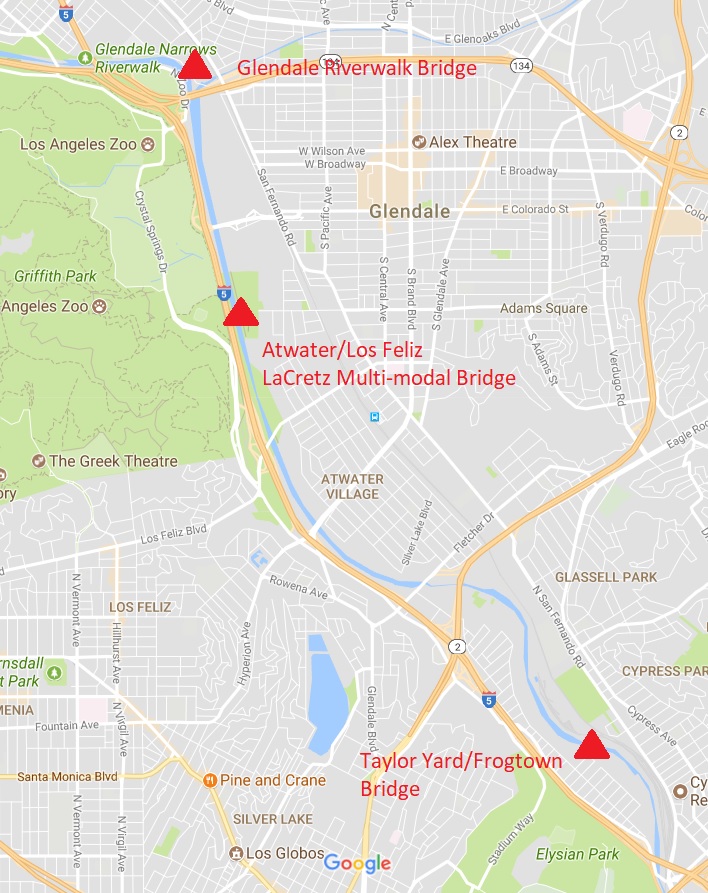 There are three promising active transportation bridge projects underway to connect bike and walk trails along the central natural-bottom Glendale Narrows stretch of the Los Angeles River. These bridges will encourage walking and bicycling, bring together communities long divided by the river, and set the stage for great non-motorized access to planned river revitalization and naturalization.
1. Glendale Narrows Riverwalk Bridge
This week, California Assemblymember Laura Friedman announced that efforts are moving forward to fund a bicycle-pedestrian bridge connecting Glendale to Griffith Park. The project is known as the third phase of the Glendale Narrows Riverwalk. The initial Riverwalk phase is already in place with a linear park and bike/walk path extending along the north side of the river about 0.6 miles from Bette Davis Picnic Area to Flower Street.
The bridge will be located at the elbow of Flower Street, just downstream from Dreamworks and very near the intersection of the 5 and 134 Freeways.
This week, Friedman was successful in inserting a $20 million allocation for the new bridge into a bond measure expected to go to voters for approval in 2018. The ballot measure is State Senate President Pro Tempore Kevin De León's S. B. 5 the California Drought, Water, Parks, Climate, Coastal Protection, and Outdoor Access for All Act of 2018, which still needs to be passed by the state legislature.
Assemblymember Friedman, a former Glendale City Councilmember and a champion for active transportation there, emphasizes the link between Glendale and Griffith Park stating:
We've worked for years to get this project off the ground. Thousands of residents on the Glendale side live in the shadow of Griffith Park with no way to get there without braving the freeway or driving for miles on city streets through Burbank or Los Angeles. The bridge isn't just a link between neighborhoods, it's connecting people with open space, miles of bike paths, and economic opportunity, all while creating jobs and reducing greenhouse gas emissions and congestion on our streets and freeways.
Friedman's press statement quotes support from L.A. City Councilmembers Mitch O'Farrell and David Ryu, the later of whom expressed excitement over connecting more people to "one of L.A.'s greatest treasures... Griffith Park."
If approved by California voters in 2018, the start of construction would likely be 2019 or later.
2. North Atwater Bridge 
SBLA readers may recall that, in May, the Los Angeles City Council approved filling the final funding gap to proceed with construction on a multi-modal bridge connecting North Atwater Village with Griffith Park. The handsome innovative bridge combines public and private funding, and is designed to be shared by equestrians, pedestrians, and cyclists.
L.A. City Bureau of Engineering spokesperson Mary Nemick reports that on-site construction is expected to begin in April, 2018. Per Nemick:
The Bureau of Engineering's project team and the contractor have been working together to finalize submittals required for fabrication of the bridge's steel components. Due to the wet weather restriction of October through April imposed by regulatory agencies with jurisdiction over the L.A. River, major construction activities in the L.A. River for the bridge pier and abutments will start next April.
3. Frogtown to Taylor Yard Bridge
In June, the city of L.A.'s Public Works board approved the environmental studies (Mitigated Negative Declaration - MND) for a planned bike/ped bridge connecting Elysian Valley (or Frogtown) with Taylor Yard, a former railyard site that is key to the city's river revitalization plans. In January, the city voted to purchase the remaining undeveloped 41-acre Taylor Yard G2 parcel, assembling public lands for a roughly 100-acre 2-mile long riverfront park.
The Elysian Valley bridge will be located near the end of Elysian Valley's Dorris Place.
The bridge was funded through a 1992 lawsuit against Metro, as community mitigation for construction of the Metrolink rail yard at the downstream end of Taylor Yard. In July, the Metro board approved $21.7 million for the bridge.
According to the Bureau of Engineering's Nemick, design of the Taylor Yard bridge is currently scheduled to be completed by early 2018, with construction anticipated to start summer, 2018, and be completed in late 2021.
Stay in touch
Sign up for our free newsletter