safe streets
City Tests Out Low-Cost Fixes to Enhance Pedestrian Safety in South L.A.
10:38 AM PDT on May 25, 2017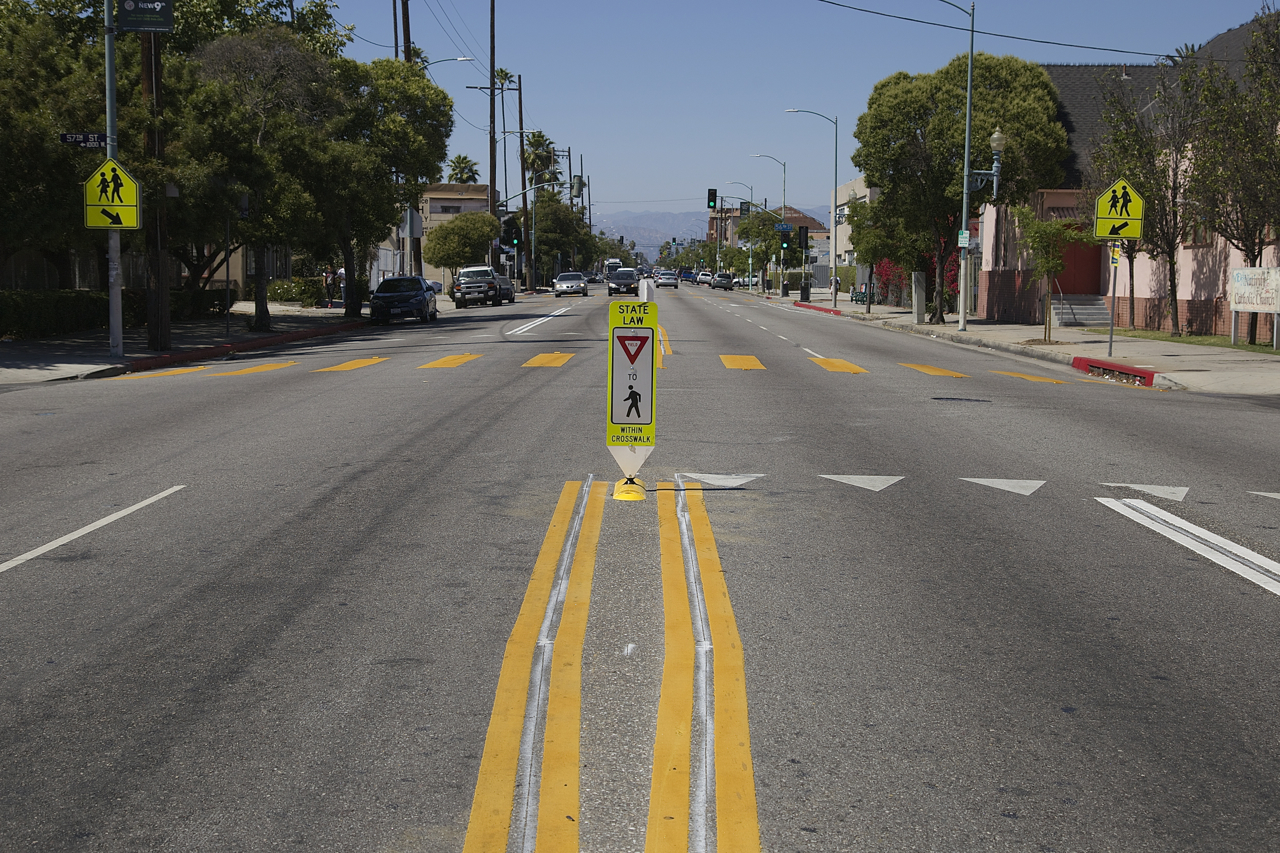 Recently, the city has been busy testing out a number of low-cost fixes aimed at enhancing pedestrian safety along some of Los Angeles' high-injury corridors as part of the push to implement Vision Zero.
Seeing changes materialize on the streets is somewhat heartening, given that the city's pledge to reduce traffic fatalities to zero has gotten off to such a rocky start. Between the rise in pedestrian and cyclist deaths last year and the divisions within the city council over how much money should go toward Vision Zero and how and where that money should be spent, the rhetoric around safer streets seemed to be distancing itself from the reality all too quickly.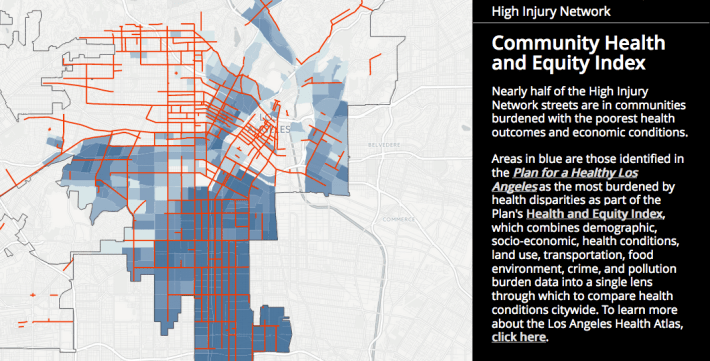 It's not clear that the fixes that are popping up around town are going to do much to bridge that gap just yet, but they are a sign that the city is beginning to experiment with ways to intervene on some of its more dangerous streets.
In Little Bangladesh and Koreatown, the city has striped vertical delineators and put raised pavement markers at intersections to create a buffer between pedestrians and drivers looking to make right turns.
In South L.A., the city appears to have taken a few more steps, adding solid stripes to lane dividers, restriping crosswalks, adding signage to indicate the presence of crosswalks, and giving drivers visual reminders that the law requires they stop for pedestrians (see top photo). I spotted crosswalk fixes along Vermont, Hoover, and Normandie (and at one site on Central, which still appears to be taking shape), all just north of Slauson.
Other fixes I came across built on the delineator design to include bollards as a more substantive deterrent to those looking to turn right. These are found along Vermont, between Vernon and Gage.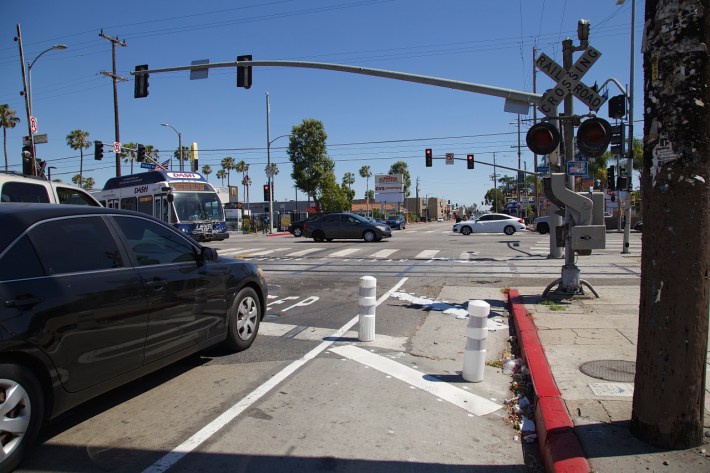 The design of the fixes is still something LADOT is experimenting with, according to transportation engineer Tim Frémaux. Once a design is settled on, they will be expanded to other corridors. Eventually, they will be made permanent by replacing the thermoplastics with concrete.
In the meanwhile, engineers are looking at how and where to place bollards, reflective markers, striping, etc., and are testing out how easily cyclists can get around them.
My own experience with the fixes has been a bit mixed. I see their value in giving pedestrians a potential fighting chance against right-turning drivers. But as a cyclist - even one who is extremely comfortable riding with traffic - I find them a bit of a struggle to navigate. In the above photo, the positioning of the left-most bollard discourages a cyclist from riding alongside traffic, pushing them instead to take more of the lane. And while the two bollards are placed far enough apart that a cyclist can roll through them, the close placement of the pavement markers has the potential to trip cyclists up.
In an email conversation, Frémaux noted that the intention is that cyclists not ride through those spaces - cyclists should be in the travel lane. That makes sense on paper, but it is much less comfortable to do in practice. Cars often speed up moving through intersections to beat the light or begin edging right toward the curb (and now, the buffers) if they're planning on making a right turn. With the buffers and the bollards, cyclists have a shortened space within which to make a decision about positioning and less room to navigate it.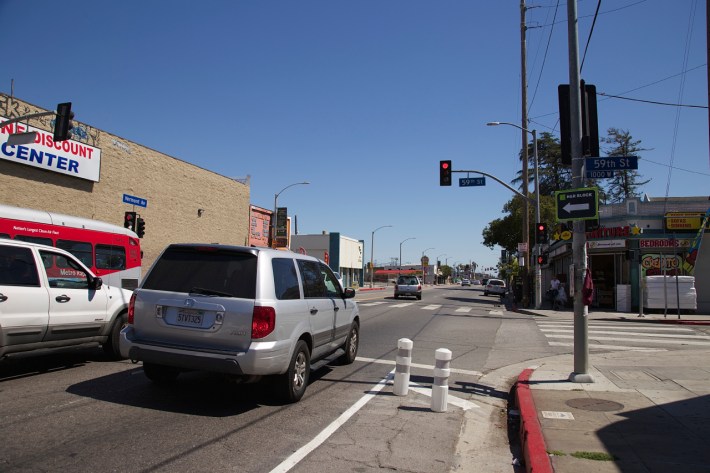 At 59th Street and Vermont, above, the placement of the bollards communicates the idea that cyclists should stay in the travel lane even more clearly. Which, again, makes sense on paper, but can be complicated in practice. Cars exiting the busy shopping center (at left, out of frame) often make wide swings across Vermont either to turn right on 59th or to drive in the right lane. So, even though the pavement is in abysmal condition at that spot, a cyclist on the road might seek to stay right just to keep out of the way of cars moving at odd angles.
None of which is to say the intervention isn't welcome. It actually is - cars tend to take the corner at 59th rather quickly.
But the striping has done little to slow down what is an otherwise really fast and chaotic section of Vermont. Earlier this week, a man was killed just outside the shopping center when a driver went out of control, smashed into another vehicle, and sent one of the cars flying into the bus stop where he was standing.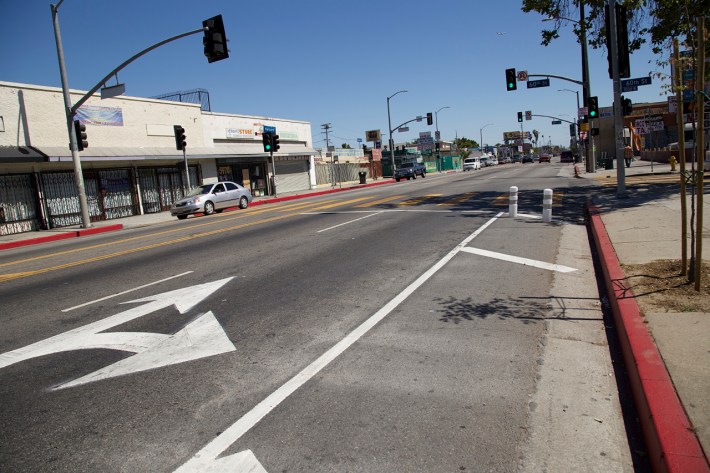 The buffer above sits at 60th and Vermont and should help shelter youth moving back and forth between John Muir Middle School (at right) and the popular market on the other side of 60th. Considering that between 2002 and 2013 there were sixteen pedestrian collisions there, including one fatality (and probably many more unreported collisions), the potential for positive impact is high.
It remains to be seen, however, whether that impact will actually be measurable.
For one, driver collisions with pedestrians and cyclists tend to be heavily under-reported in South L.A. I can't tell you how many people who are wholly reliant on biking and transit have told me they've been hit at least three or four times while walking or biking. None ever reported those incidents - even when the damage to the bike or the person was significant. Which means a fix like the ones seen above might cut down on some of the more mindless and less injurious collisions (which is great, of course, given that these can still be very disruptive to people), while doing little to deter someone who has a need for speed or who is impaired by alcohol or some other substance (which makes them less effective against fatalities, unfortunately).
Second, when it comes to unsignalized crosswalks, people are less likely to stop for folks of color, and particularly men of color. And the white double line striping - intended to discourage drivers from trying to swerve around the stopped car ahead of them - doesn't seem to extend far back enough for a fast-approaching driver to heed it (see top photo). While the restriping is more than welcome, the issue of visibility, particularly at night, remains a problem. A flashing signal will still probably be the best, if most costly, option on busy corridors.
Finally, as a cyclist, I found that some of the reconfigurations made me feel less safe. Much like I find with bulb outs in general, I have to move more to the left in the travel lane as I approach an intersection. Obviously, the intention of the new buffers is that drivers will slow down, making navigation easier and safer for everyone else, cyclists included. But it doesn't always feel safer on two wheels - intersections actually feel a little more hectic. Which might end up acting as a deterrent to all but the most confident of cyclists. It also looks less welcoming to cyclists - like they're not supposed to be on the road. Given that so many of South L.A.'s cyclists are sidewalk riders, the buffers may serve them better, just as they do pedestrians. But they may not be helpful in encouraging anyone to get off the sidewalk and onto the street.
It is, of course, important to remember that these are experimental fixes and that they aren't the only things LADOT has in the works. We recently highlighted LADOT's effort to install 150 speed feedback signs on Vision Zero High Injury Network's forty priority corridors and test out other technological fixes, like smart feedback signs, which can signal downstream traffic lights when drivers are speeding. And now that the city has approved a $27 million budget for Vision Zero, hopefully there will be more complete treatments in the pipeline.
Have thoughts about Vision Zero in South L.A. or about these new treatments? Attend the open house to discuss needs and potential solutions on June 8th, details forthcoming, or visit the Vision Zero website.
Sahra is Communities Editor for Streetsblog L.A., covering the intersection of mobility with race, class, history, representation, policing, housing, health, culture, community, and access to the public space in Boyle Heights and South Central Los Angeles.
Stay in touch
Sign up for our free newsletter