K Line - Crenshaw/LAX Line
Metro Construction Committee Pushes Rail Votes To Board Meeting Next Week
4:53 PM PST on January 19, 2017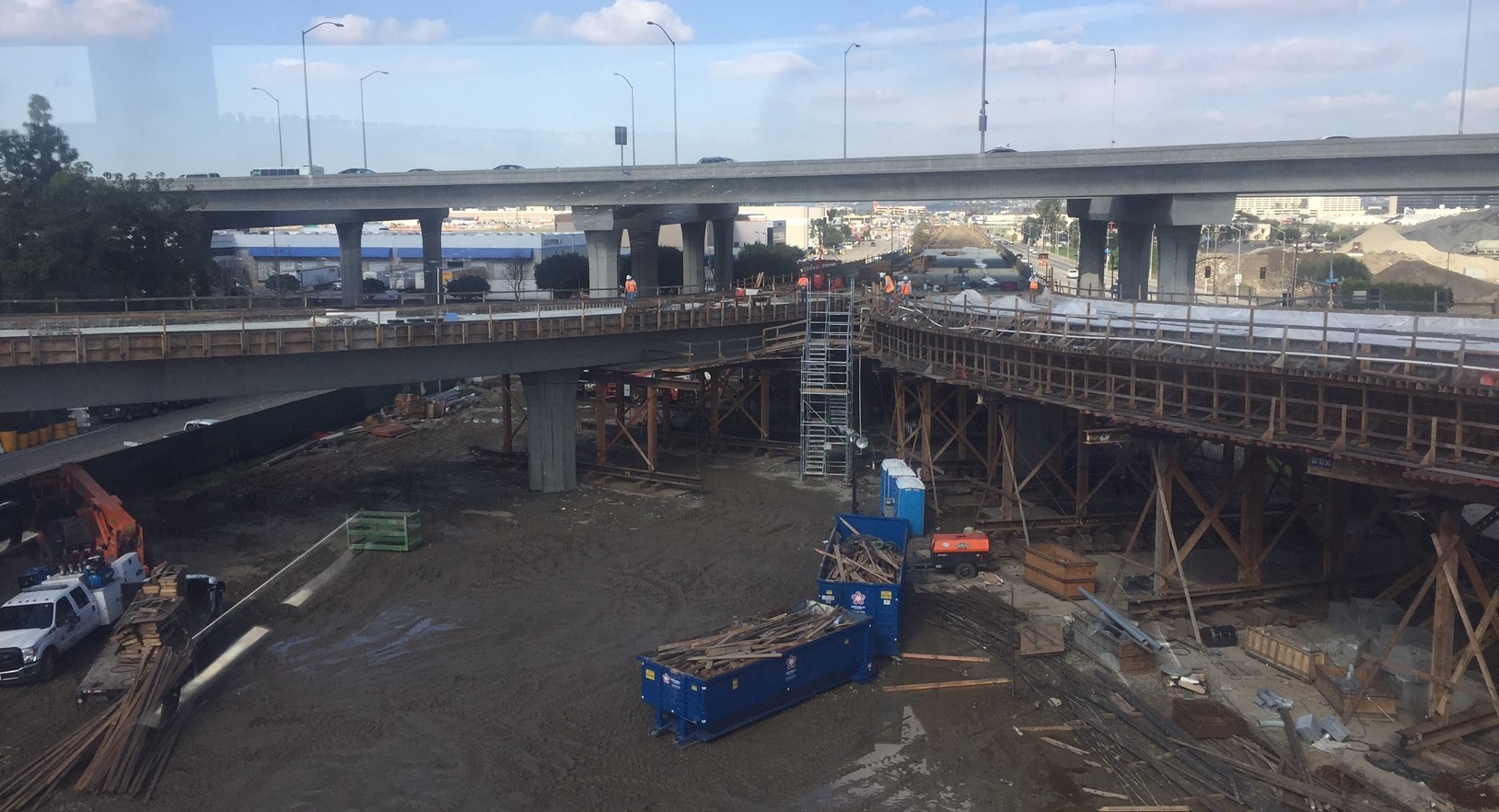 At its meeting next week, the full Metro board of directors will consider four big proposals on future Metro rail construction. These are all likely to be approved by the board, though, due to conflicts of interest and concerns, the three high-dollar proposals were not approved at today's Construction Committee meeting, so they are forwarded to the full board without recommendation. A fourth rail item regarding downtown L.A.'s Arts District was approved by Metro's Operations Committee.
Metro is considering the following rail proposals this month:
Adding $59 million to the $1.31 billion budget for Crenshaw/LAX light rail - bringing the budget to $1.37 billion
Adding $199 million to the approved $1.55 billion budget for the downtown L.A. Regional Connector subway - bringing the budget to $1.75 billion
Awarding a $1.37 billion contract to Tutor Perini/O & G for design and construction of the Westside Purple Line Extension phase 2, with an overall budget of $2.44 billion
Assessing downtown L.A. Arts District subway stations
Crenshaw/LAX
Though the new Crenshaw light rail line is already about 60 percent complete, the specifics for the line's LAX station have just been finalized. The 96th Street LAX station will be a major landmark station connecting to LAX's planned people mover, as well as a hub for bus, bike, and car-share connections.
The final 96th Street Station scope adds $28.6 million to the overall "Life of Project" budget. In addition, Metro staff and the contractor, Walsh Shea, negotiated $30.5 million to resolve existing construction issues. Metro staff described this as "horse-trading" to get the already slightly delayed project back on track for a Fall 2019 completion.
The proposed additional $59.1 million, along with proposed greater authority for CEO Phil Washington to negotiate and execute further change orders (see below), failed to get the needed two-thirds majority in committee, so it is up to the board to approve at next week's meeting.
Regional Connector
The 25 percent completed downtown Regional Connector light rail subway project is tunneling beneath one of the oldest parts of the city of Los Angeles. The project has already been difficult and costly, in large part due to unforeseen difficulty identifying and relocating underground utilities, but also due to lawsuits and other complications. In 2016, the Metro board approved a nine percent ($132 million) budget increase. At that time, the opening date had already been delayed 10 months, from 2020 to 2021. Today, CEO Washington stated that he "plans to beat" that 2021 date.
The proposal before the Construction Committee would add $199 million to the Regional Connector budget. Phil Washington portrayed this expansion of the Life-of-Project funding as "right-sizing" a project budget that was "not priced correctly in the first place." The funding, and CEO Authority, will be decided by the full board next week.
Westside Purple Line Extension phase 2
Earlier this month, Metro and the Federal Highway Administration announced that full funding had been secured for the second phase of the Purple Line Subway extension which will get the line to Century City.
This month, the proposal is to set the overall Life-of-Project budget to be $2.44 billion, and to award a $1.38 billion design/build contract to its Metro's selected contractor Tutor Perini/O & G. The funding was not approved by the Construction Committee today due to too many members having conflicts of interest.
Greater CEO Authority To Approve Future Contract Modifications
In order to make the agency more nimble in building "fast-moving" "mega-projects" CEO Phil Washington is requesting that the board grant him broader authorization "to negotiate and execute project-related agreements, including contract modifications up to the authorized Life-of-Project budget." Modifications here pretty much always means increases.
Washington bemoaned that Metro's monthly governmental decision-making delays cost the agency three to five million per month, and asserted that greater CEO authority was consistent with industry best practices.
The broadened authority would apply to Crenshaw/LAX, Regional Connector, and Purple Line Extensions phases one and two. Washington was initially requesting the authority for the roughly-decade-long life of these projects, but quickly backpedaled to proposing a one-year pilot.
Boardmembers Sheila Kuehl and Janice Hahn expressed that they felt "heartburn" at relinquishing board authority and oversight. They expressed the concern that not having to go to the board for contract change orders could mean burning quickly through reserve contingency funding, and then coming back to the board sooner for additional funds.
While there appeared to be some board support for a year pilot, the question of additional CEO authority will also go to the full board for approval.
Arts District Subway Station/s
Metro has already been studying the possibility of adding new "revenue service" to the downtown L.A. Arts District. Metro Red/Purple Line subway trains already go to the Division 20 yard there. As part of Metro's Purple Line extensions, the agency is already planning upgrades to its maintenance facilities there, so adding a station or two would be a fairly low-cost way of expanding Metro rail service.
Metro's System Safety, Security and Operations Committee today approved a motion supporting Metro service to the Arts District. The motion, authored by directors Eric Garcetti, Hilda Solis, and Mike Bonin, directs Metro to "initiate a holistic assessment of MTA's needs at Division 20 and accommodation of future Arts District station access" and further to "design Division 20 so as to not preclude new stations." The CEO is directed to report back on all this in April 2017.
After more than 20 speakers testified in favor of the motion, it passed unanimously.
Metro has several past assessments regarding Arts District rail service. There is funding for upgrades to Division 20 as part of currently under-construction Purple Line extensions, but there is nothing in Measures R or M specifically set aside for the Arts District. It is possible to continue to build and "not preclude" future Arts District service, but the most cost effective solution should be to add this service right away with Purple Line upgrades. If Garcetti and his colleagues are serious about Arts District service, then they will need to seek out project funding, just as the federal pipeline for transit funding is likely to get more difficult, due to the new Trump administration. If the project is as inexpensive as it sounds like it could be, smaller sources of funding might suffice. These could include California greenhouse gas emission reduction grants.
With a new report due in April, the project costs should be clearer.
Stay in touch
Sign up for our free newsletter