Eastside
Committee Debates Framework for Sidewalk Vending Ordinance; Vending Takes Step Closer to Legalization
9:43 PM PST on December 13, 2016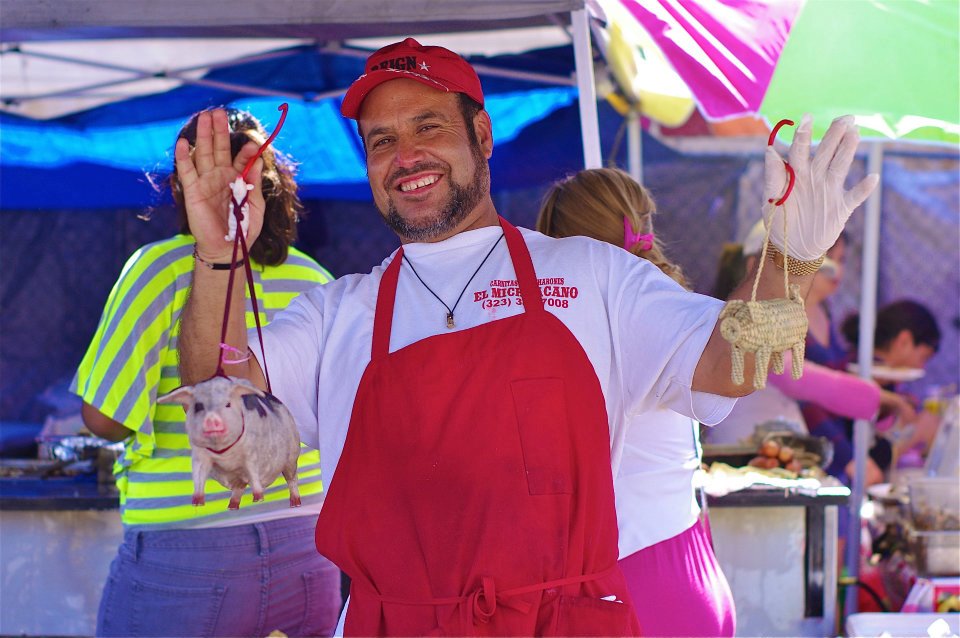 The authorities confiscated her friend's goods this past Saturday, an emotional Caridad Vasquez told the Public Works and Gang Reduction Committee yesterday.
She was there to speak in support of the effort to create an ordinance that would finally legalize sidewalk vending in Los Angeles - one of the last major cities to take that step. We're still not there yet - the committee's role was that of recommending the City Council take the step of approving a framework for the legalization of sidewalk vending. And Vasquez wanted to be sure the challenges vendors faced were acknowledged in that framework.
A long-time street vendor herself, seeing her friend's goods confiscated had left Vasquez very upset and fearful for her own family's welfare.
The worst part about it was that this sort of thing happened every year at this time, she declared. And when vendors' merchandise was confiscated, she said, they had to start over from scratch, requiring an outlay of funds from their already tight personal budgets. Which meant that vendors would be forced to choose between buying goods or food to sell to other people and the Christmas gifts they had hoped to give their children.
Every year we suffer around this time! she said in Spanish, angrily. They come and they take everything! What are we going to give our kids?
Vasquez' plight was representative of so many of the vendors that had shown up yesterday to ask that councilmembers take their unique needs and vulnerabilities into account while considering how to regulate sidewalk vending.
Most of L.A.'s vendors are immigrants or other folks of color, most live on the margins and have limited options open to them with regard to employment, most feel they are contributing to making their families, communities, and streets stronger and more vibrant, and most live with the fear that they could lose everything at any time.
For undocumented immigrants, in particular, their fears are exacerbated by the fact that citations or arrests could eventually lead to deportation. And for those just scraping by, as a veteran living in MacArthur park detailed in her comments yesterday, a citation for selling a few personal belongings or things given to her by friends could result in her not being able to pay rent and losing her home.
Los Angeles has lagged behind other major cities in creating a sidewalk vending ordinance, despite having as many as 20,000 vendors on its streets.
In 1989, the city created a task force to study street vending, but the task force didn't get very far. Even though just one year later, the council had moved toward allowing special vending districts (where no more than two vendors would be allowed per block) and, in 1995, approved a MacArthur Park Special Sidewalk Vending District (allowing for up to 50 vendors), the MacArthur Park district failed shortly thereafter and sidewalk vending continues to be illegal. The process of creating the vending districts had itself been plagued with problems, giving rise to more problems than it seemed to solve. It fueled infighting between factions of vendors, saw non-permitted vendors spring up outside the district and undercut those working within it, left out the growing pool of taco, hot dog, and other hot food vendors, and appeared to inspire an "unprecedented" crackdown on immigrant vendors across the city. [For more of the legislative history on the topic, see reports from the Chief Legislative Analyst, here and here.]
Although the topic of vending would resurface from time to time as the number of vendors grew, movement on the issue had essentially stalled.
Finally, in 2013, Councilmember Jose Huizar introduced a motion to take stock of where the establishment of vending districts stood and to explore options for the regulation of sidewalk vending of both food and merchandise. [See his motion here.]
Even with Huizar's advocacy, the motion seemed to go nowhere. A quick look at the council file on the motion suggests why that might be: neighborhood council after neighborhood council filed impact statement after impact statement offering their support for the decriminalization of vending but often opposing any ordinance that did not promise rigid enforcement and that would deny stakeholders the opportunity to "opt in" to having vendors on their streets and in front of their businesses in the first place.
The vendors themselves seem to have been lost in the shuffle.
Then came the election and fears that folks operating in the shadows would be more easily targeted for deportation.
It was time, Huizar said at the L.A. Street Vendor Campaign's press conference prior to the DPW committee meeting yesterday, to allow "these hard-working men and women...to provide for their families" and to bring "these people from the dark side of the economy into the light."
"We are in the midst of creating more pedestrian, walkable streets in the city of Los Angeles with Complete Streets," he told the crowd of vendors and their supporters that had gathered on the steps of City Hall. "This fits that program because we want active, alive streets, and our street vendors have always been there, doing that for us."
Figuring out the right fit for a city as socio-economically diverse as Los Angeles, however, clearly presents a challenge.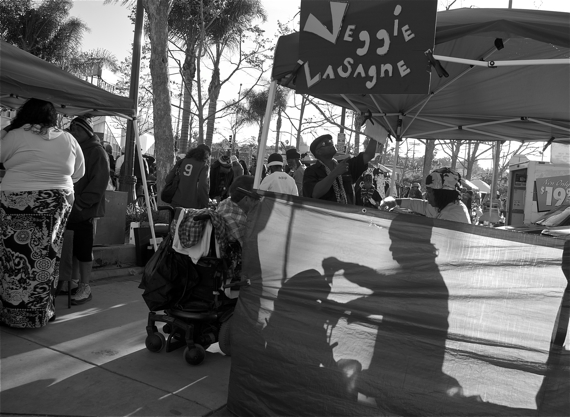 At the meeting yesterday, while the councilmembers were looking to hear testimony regarding the three options for the potential ordinance - establishing a citywide sidewalk vending program, creating specific vending districts, or creating a hybrid combination of the two that gave communities a choice in how they want to manage sidewalk vending - what they got was a glimpse at how deep (and occasionally ugly) the divide was between business owners, neighborhood councils, and vendors.
While they supported decriminalization of vending, the majority of the speakers representing neighborhood councils and small businesses said, they were very much in favor of robust enforcement and of the recommendations found in a November 22, 2016, letter from councilmembers Joe Buscaino and Curren Price to the council. Those recommendations included the restriction of vending hours to between 7 a.m. and 9 p.m., the prohibition of vending at event venues before, during, and after events, the allowance of no more than two vendors to a block, and the requirement that vendors get permission from the adjacent businesses to be there.
Many stakeholders went even further, citing the failure of the LAPD, Bureau of Street Services, and Department of Public Health (DPH) to enforce regulations at present as behind their unwillingness to support any ordinance that did not include the dedication of more personnel and resources to enforcement and a clear plan for how each agency would tackle their responsibilities. [Right now, for example, the LAPD doesn't have the capacity to store any confiscated goods, BSS can't confiscate food stuffs, and DPH has too few inspectors to respond in a timely way when called.]
To the vendors, these kinds of requirements seemed designed to ensure vending was practically impossible. Many stood to speak about the importance of being able to work very early in the morning or late in the evening to catch early or late commuters, families eating late together, or those stopping for a last bite of food before heading home from entertainment venues.
Others were concerned that restricting the number of vendors per block would actually put vendors at risk. Because so many vendors are women, there is safety in numbers, many argued. The vendors were able to watch over each other's merchandise when one took a break, serve as a deterrent to street crime or intimidation (either by criminals or the businesses themselves), and bring vitality to a street.
Where business improvement district representatives only saw chaos and clutter, vendors argued, they saw themselves as helping to draw business to the brick and mortar shops. People that came to browse for piñatas, for example, might stay a little longer and buy a little more if they could also get lunch while they were there.
Others opposing restrictions argued that giving brick and mortar businesses control over who could vend in the area created the potential for exploitation. As it was, one woman testified, many businesses already demanded vendors pay as much as $60 a weekend or $1,800 a month for a vendor to use the sidewalk space in front of their shop.
Instead, those representing vendors testified, they'd like to see fewer restrictions, amnesty for those who had received citations for vending in the past, technical assistance and education for those who wanted to comply with health regulations but might not be able to do so right away, the recognition of the vitality vendors contribute to L.A.'s streets (and parks - not currently under consideration in the ordinance), and more aid from the city (in the form of more trashcans, etc.) that would help vendors keep vending areas cleaner.
From the discussion had among the councilmembers, it was clear they understood there was still much to clarify with regard to how much say businesses and residents should have in where vendors are allowed to work, how binding agreements between a business and a vendor were, what constituted an "adjacent" business, what a non-competition agreement would mean in cases where new brick and mortar businesses arrived on a block where vendors with similar goods already existed, how "residential" would be defined in limiting where vendors could go in those neighborhoods, liability issues, what sort of citation regime would need to be put in place (and how it would be administered) to ensure that vending was decriminalized but still an enterprise that could be regulated, and the extent to which one size policy would or would not fit a city with such varied environments.
None of their positions on any of those issues had to be finalized yesterday. The role of the committee, as Buscaino reminded those in attendance, was to move the proposal for the creation of an ordinance forward on to city council. Once approved there, the real work of hammering out a proper ordinance would begin.
With an amendment from Councilmember David Ryu that the ordinance consider amnesty and a request from Councilmember Mitch O'Farrell that closer examination of how other cities navigated the relationship between vendors and adjacent businesses, the proposal was approved and sidewalk vending took one step closer to legalization.
Sahra is Communities Editor for Streetsblog L.A., covering the intersection of mobility with race, class, history, representation, policing, housing, health, culture, community, and access to the public space in Boyle Heights and South Central Los Angeles.
Read More:
Stay in touch
Sign up for our free newsletter