Bike Sharing
Plan Calls for Car-Share, Bike-Share, Ride-Hail to Reduce Cars in L.A. County
5:08 PM PDT on September 16, 2016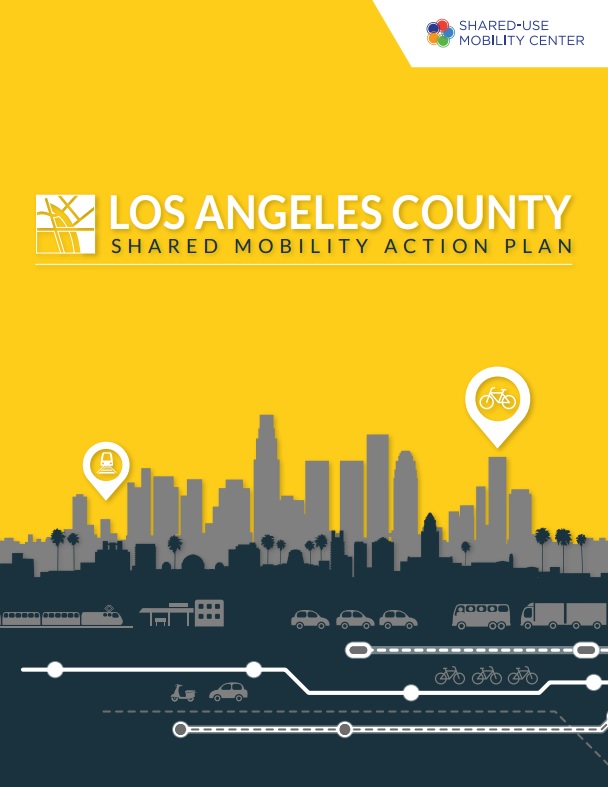 This week the non-profit Shared-Use Mobility Center released its blueprint for the future of Southern California. The Los Angeles County Shared Mobility Action Plan [PDF] outlines a future for L.A. County with expanded transit, car-share, bike-share, ride-hailing, mobility hubs, and more. The plan predicts that all this will lead to 2 percent less driving, meaning roughly 100,000 fewer private cars on L.A. streets in five years.
The new plan is more a vision than an adopted city plan, with no public agency imprimatur or funding behind it. Nonetheless, the plan lays out a series of recommendations, emphasizing expansion of shared mobility.
The vision is a compelling one: significant increases in transit ridership (34,000 new riders), bike-share (10,000 new bike-share bikes), car-share (8,400 new car-share vehicles) and carpooling/ride-splitting (16,800 new riders.) In order to achieve these increases, the plan prescribes relatively modestly increased funding for government agency programs: $16 million for car-share, $33-38 million for bike-share, $4-6 million for augmenting ride-hail, and $6-10 million for mobility hubs. These all complementing Measure M and existing funding streams for transit, active transportation, and the like.
After the jump, find bullet summaries of the key plan policies and programs, many of which building on existing efforts already underway.
Transit improvement policies and programs:
Integrate TAP car payment to provide seamless payment for car-share, bike-share, and carpooling.
Expand employer TDM (Transportation Demand Management) programs to encourage transit and shared mobility.
Expand shared mobility modes integrated with transit.
Use shared mobility to address late-night service needs.
Expand para-transit services using shared-mobility.
Expand car-share and bike-share, including at transit hubs in suburban areas.
Implement land-use policies that encourage transit and shared mobility.
Incorporate shared mobility into student transit passes.
Car-share improvements:
Provide dedicated street space for car-share.
Incentivize car-share in large residential developments.
Expand current car-sharing pilots.
Expand use of car-share in governmental fleets.
Bring peer-to-peer (P2P) car-sharing to L.A.
Bike-share improvements:
Expand bike-share to smaller cities.
Design bike-share systems to be more equitable.
Implement protected bike lanes.
Locate bike-share at highly visible sites.
Coordinate bike-share between jurisdictions.
Improvements to foster carpooling, ride-hailing, ride-splitting, ridesourcing, micro-transit, and vanpooling:
Dedicate pick-up and drop-off zones
Start micro-transit pilots, such as dynamic shuttle service to Rams games in Inglewood.
Design pilots to address job access for the service sector.
Encourage employee shuttles.
Use ride-hail to support carpooling and vanpooling, such as using Lyft/Uber for employer emergency ride home programs.
Pursue partnerships for transit first/last mile.
Implementation of mobility hubs:
Establish standards for mobility hubs.
Design BRT and rail stations to encourage multi-modal transfers.
Plan and build mobility hubs at transit stations countywide.
Implement universal trip-planning apps.
Implement integrated fare payment.
For the full details, see the Los Angeles County Shared Mobility Action Plan [PDF]. See additional plan coverage at Curbed and KPCC.
What do you think, readers? What roles will shared mobility play in Los Angeles' multi-modal future? Can shared mobility break out of its most common user to advance equity by serving low income neighborhoods? How can communities and government agencies ensure that sharing serves critical mobility, health, and equity goals?
Stay in touch
Sign up for our free newsletter