Walking
Los Angeles Sidewalk Repair Program Could Restore City's Public Stage
12:52 PM PDT on July 28, 2016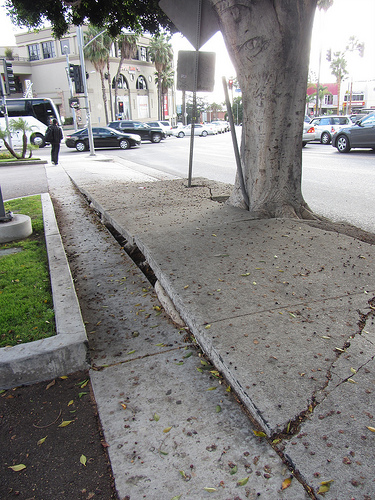 Under the seeming disorder of the old city, wherever the old city is working successfully, is a marvelous order for maintaining the safety of the streets and the freedom of the city. It is a complex order. Its essence is intricacy of sidewalk use, bringing with it a constant succession of eyes. This order is all composed of movement and change, and although it is life, not art, we may fancifully call it the art form of the city and liken it to the dance — not to a simple-minded precision dance with everyone kicking up at the same time, twirling in unison and bowing off en masse, but to an intricate ballet in which the individual dancers and ensembles all have distinctive parts which miraculously reinforce each other and compose an orderly whole. The ballet of the good city sidewalk never repeats itself from place to place, and in any one place is always replete with improvisations.
– Jane Jacobs, The Death and Life of  Great American Cities 
In 1961, Jane Jacob's The Death and Life of American Cities revolutionized urban planning policy with a pertinent lasting legacy for urban planners. Jacob's condemnation of the then-popular "orthodox urbanism" policies opposed the pragmatic modernity ideals of mid 20th century American planners with the notion that cities could be livable, sustainable, and enjoyable, supported by an artful "ballet" of social interactions supplemented by mixed-use planning and a supportive community structure. The stage of this ballet, to Jacobs, is the sidewalk – an integral and ubiquitous piece of urban infrastructure that connects city residents, community leaders, businesses, and property owners alike to a common shared public space.
While many variables are necessary for a vibrant, healthy, and walkable city, one obvious necessary factor are accessible and safe sidewalks – something that the city of Los Angeles hasn't particularly been known for. Writing in Access Magazine in 2010, Donald Shoup estimated that 4,600 of the city's 10,750 miles of sidewalks were in some need of repair. Shoup noted that between 2000 and 2008 the city averaged only 67 miles of sidewalk repair a year.
Despite a welcome but modest recent city-owned sidewalk repair program, the rate of sidewalk repair has not changed much in recent years. A 2015 Los Angeles Times analysis found that 40 percent of sidewalk damage complaint cases received no repairs, and that the city estimated nearly 5,000 miles of sidewalks were in need of replacement.
Until this year, the city was considered responsible for most sidewalk repairs. A 1973 ordinance gave the city responsibility for sidewalk damage caused by tree root growth, the primary cause of sidewalk disrepair. According to Shoup, at that time federal funding for sidewalk repair was readily available. Federal funds dried up decades ago and Los Angeles sidewalks have deteriorated into disrepair without significant dedicated revenue or consistent financial support.
However, a string of legal rulings forced the city to face its sidewalk disrepair and neglect. In 2002, the landmark Barden v. City of Sacramento ruled that the ADA (Americans with Disabilities Act) applied to public sidewalks. That decision led to the unprecedented Willits vs. City of Los Angeles settlement in 2014. The settlement terms require L.A. to spend $1.3 billion (the largest settlement of its kind) over thirty years to repair sidewalks that impede movement and access.
Confronted with the Willits settlement, city officials developed and approved a citywide sidewalk repair policy [PDF] last March, which dedicates sidewalk repair funding and attempts to ensure long term maintenance through a "fix-and-release" strategy. After initial repairs, the fix-and-release shifts sidewalk repair responsibility to property owners. Before this transfer of responsibility the city will coordinate a one-time repair to all root-damaged city sidewalks, with a 20-year warranty for residential properties and a 5-year warranty for commercial and industrial properties. Following the warranty, property owners will be responsible for sidewalk repair, consistent with California state law. To accelerate the one-time repair, the city will offer sidewalk repair rebates [PDF] for residential and commercial properties.
The "fix-and-release" policy appears promising in the short-term by finally addressing Los Angeles's massive sidewalk repair backlog. However, the transfer of sidewalk repair responsibility from the city to property owners raises many questions regarding the future sustainability, effectiveness, and efficiency of sidewalk repair. 
Sidewalks are a public space, yet dependent on private owners for repair and maintenance
Sidewalks are often tacitly understood as city-owned public spaces. However, sidewalk maintenance and repair will be the property-owner's responsibilities, consistent with state law. This has led to repair inefficiencies in other American cities. San Diego, with partial property-owner sidewalk repair responsibility, faces year-long repair backlogs as property owners are often unaware they are responsible for maintenance costs or repair.
A successfully policy will need to clearly communicate the transfer in sidewalk responsibility from the public to Los Angeles property-owners.
Alternative funding measures
Alternative funding mechanisms such as citywide bonds, assessment districts, Point of Sale, Point of Service, and Point of Permit funding mechanisms were all considered but eventually shelved by the city, as each would require electoral approval. An election would require resources and time, with no certainty of passage. Furthermore, it was noted Point of Sale, Point of Service, and Point of Permit programs would not result in contiguous blocks of sidewalk repair. City reports emphasized the need for a repair policy that acts as expeditiously as possible.
Additionally, officials may be wary of proposing tax increases to Los Angeles voters. Angelenos roundly rejected Proposition JJ in 1998, a property tax increase to authorize nearly $800 million in bonds for sidewalk repair.
Future of Los Angeles Urban Street Forestry
Furthermore, with property owners soon responsible for tree root damage to sidewalks, there will be less incentive or accountability to keep or care for city street trees. Fortunately, the city plan recommends a tree replacement program coordinated between the Bureau of Engineering and the Bureau of Street Services Urban Forestry Division to preserve the "environmental and quality of life benefits of the urban forest."
However future dedicated funding is necessary to ensure street trees can co-exist with property-owner responsible sidewalk repair. A 2016-2017 budget memo [PDF] notes a backlog of 8,000 dead trees waiting to be replaced. Additionally, the Urban Forestry Division's tree trimming program has drastically reduced service levels since the 2008-2009 recession and no longer provides a routine tree-trimming program. Currently, trees are trimmed on an emergency basis to address safety concerns.
As noted in Los Angeles City Council's conclusion, the program's details will evolve over time.
The attention to Los Angeles sidewalk repair, including serious funding, is long overdue. Time will tell if the policy will accomplish its goal of "comprehensive, cost-effective and equitable" repairs to sidewalks throughout the city.
Stay in touch
Sign up for our free newsletter