Bike Sharing
Bike-Share Updates: DTLA, West Hollywood, Santa Monica, and California
2:18 PM PDT on July 14, 2016
It has been a week since Metro Bike Share opened in downtown Los Angeles. The system is currently open only to members, who must pre-register online. So I figured it's time to take a ride and assess how bike-share is doing in various incarnations around the L.A. basin, including West Hollywood, Santa Monica, and downtown Los Angeles.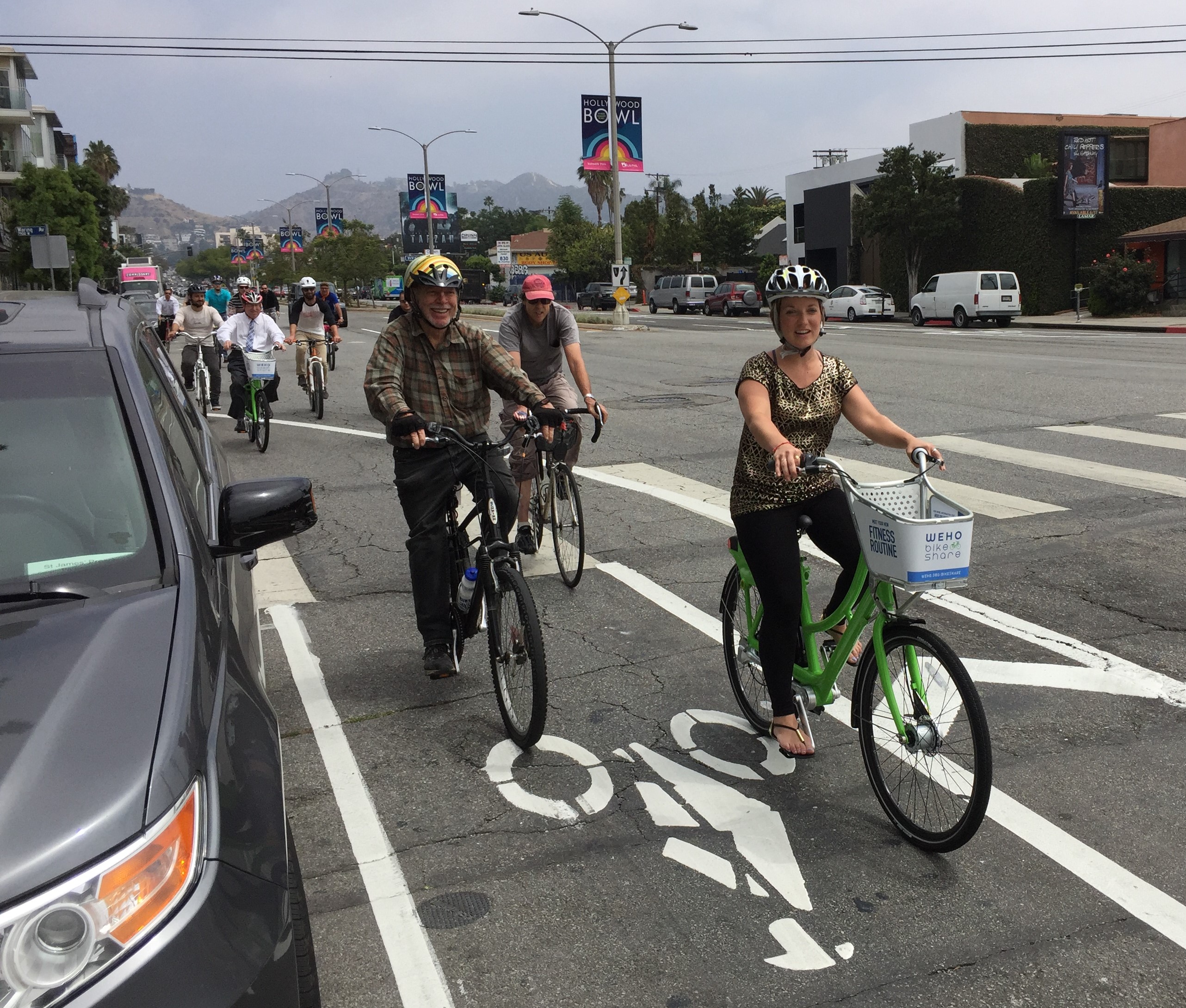 West Hollywood - WeHo Pedals
WeHo Pedals, the city of West Hollywood's smart-bike bike-share system, is set to soft launch on Tuesday, August 9. The initial phase will be a pilot with just four stations:
West Hollywood City Hall, 8300 Santa Monica Boulevard
West Hollywood Park, 647 N. San Vicente Boulevard
Santa Monica Boulevard between La Brea Avenue and Formosa Avenue at N. Crescent Heights Boulevard (location updated per WeHo)
Santa Monica Boulevard between Holloway Drive and N. Olive Drive
The city of West Hollywood will host a community preview event on August 9 from noon to 2 p.m. at West Hollywood City Hall.
The full system, tentatively set to launch with a ribbon-cutting on August 30, will feature 150 bikes, twenty bike-share stations, and a supporting website and app. Docking stations are less critical for smart-bike systems, as bikes can be locked up and retrieved anywhere inside system boundaries.
WeHo Pedals will be operated by CycleHop, the same vendor as Santa Monica's Breeze, Beverly Hills Bike Share, Long Beach Bike Share, and a planned UCLA bike-share system due this fall. If all goes well, the Santa Monica, Beverly Hills, West Hollywood, and UCLA systems will be seamlessly integrated under the banner of a "Westside Regional Bike Share" program.
The WeHo Pedals website is not live yet, but for more information see the city's bike-share page.
Santa Monica - Breeze
Santa Monica's Breeze bike-share recently approved a new simplified pricing structure which takes effect August 1. It is not a radical departure from previous rates, but monthly and annual members get a bit more bike for their buck. The changes also make student passes easier and hourly passes a little more expensive. Overall the new pricing seems to support more everyday use for people who spend a lot of time in Santa Monica.
I would like to see more in the way of unlimited rides, similar to a gym membership, a bus pass, or for that matter a freeway. Unlimited duration riding is available in many cities. It encourages more bicycling, but it is perhaps hard on the fiscal bottom line for bike-share providers. Hopefully these systems are socking away bundles of cash that they can use to expand geographically, which would probably be even better than expanding temporally.
Details on the new Breeze pricing at Santa Monica Next.
Downtown L.A. - Metro Bike Share
It's still very early, but I've been seeing lots of Metro Bike Share bikes at docks, but relatively few people riding bike-share on downtown streets. In fact, I have yet to see another person riding one of these bikes since last Thursday's opening kickoff, but I am not downtown every day. When I've ridden Metro Bike Share, pedestrians and drivers have been curious and asked me about how to "rent" bikes.
Riding around downtown a bit got me thinking about what sorts of trips bike-share will serve best.
It is clear that some parts of downtown, including skid row and the industrial areas east of the Piñata District, are essentially not included in the system. Downtown's Metro Red, Gold, Expo, and Blue Line stations are well-served. The system does a good job of connecting the Arts District with the rest of Downtown; that connection is somewhat difficult on foot or on transit.
Riding around, I found that Bunker Hill isn't well served by bike-share. Granted, this is probably deliberate, as few casual riders will pedal a relatively heavy bike up hills (making for a system re-balancing challenge), but when I headed for the downtown YMCA I couldn't dock within a couple blocks of my destination. There are plenty of docks around the low-lying periphery of Bunker Hill, but only one up on top of the hill; it's in front of the Museum of Contemporary Art - MOCA.
This brings up the issue of walkability. I've written before that I think walkability is bike-share's first-last mile problem, though it's more like a first-last couple blocks problem. Downtown L.A. is as about as walkable and walked as anywhere in southern California, and it is getting better, but it still is not all that walkable. Most DTLA streets remain optimized for car traffic. Crosswalks are missing. Sidewalks are blocked by construction. I am probably spoiled by my own bicycle's point-to-point flexibility, but when I see that I need to walk three blocks after I've docked my bike-share bike, I feel a bit discouraged. Can't I get this thing a little closer?
Perhaps this is just my getting used to the system. It shouldn't be a problem to walk a few blocks. The better I know where docks are, the less time I'll waste looking at the bike-share app on my phone to figure out where to go.
Lastly, here is a brief public service announcement for anyone new to the Metro Bike Share system. The dock directions say to "press the button below." On my first try, I kept pushing the square green bike symbol, which I thought looked like a button. The button to push is the bigger silver round metal below. Heed my instructions and you may save yourself a few seconds of frustration.
Statewide 
The California Air Resources Board recently agreed to include bike-share (and electric bikes) in its Car Sharing and Mobility Options pilot program. Cities can now seek state funding to make bike-share more accessible. Find details at today's Streetsblog California article.
Future Bike-Share Improvements
Readers, what do you think? How have you been using local bike-share systems? What works? What doesn't? What improvements would you like to see? If you haven't tried these, why not?
Stay in touch
Sign up for our free newsletter