Bicycling
New Griffith Park Traffic Plan Promising But Flawed
12:53 PM PST on January 21, 2016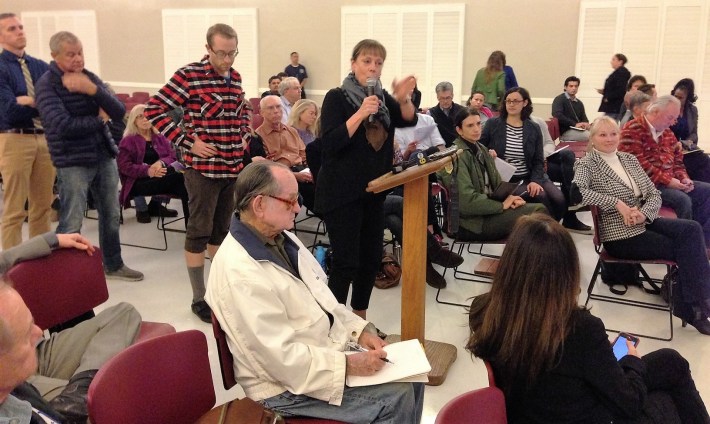 The L.A. City Department of Recreation and Parks has released a new "Griffith Park Action Plan" [PDF] designed to deal with car congestion primarily from Hollywood Sign visitors. Last night, DRP and City Councilmember David Ryu hosted a community meeting to receive public feedback on the proposal. Nearly 200 people attended the forum, where DRP and Ryu received over an hour of public testimony critical of many aspects of the proposal.
Griffith Park's car traffic woes have been exacerbated by former Councilmember Tom LaBonge catering to rich Beachwood Canyon homeowners pressure to reroute Hollywood Sign tourist traffic. Last year DRP attempted to resolve traffic problems by temporarily adding free parking on formerly car-free park roads; the trial was soundly criticized by park stakeholders.
DRP went back to the drawing board and came up with a new park traffic plan. The plan [PDF] was recently released in the form of Mitigated Negative Declaration documentation asserting DRP's right to proceed with plan implementation. The plan was profiled at the Los Feliz Ledger, CiclaValley, and KPCC.
What is in the Griffith Park Action Plan
DCP proposes a free "park wide shuttle" that would mostly take visitors from the Greek Theater parking lot to an official Hollywood Sign vista point about a third of a mile above the Griffith Observatory.
Shuttle operations would be paid for through parking revenue. DCP would add parking meters to East and West Observatory Road. Existing free parallel parking on the two-way Observatory Road would be converted to diagonal paid parking on a one-way loop.
The Good
Overall, DRP is looking in the right direction. The problem is too much car traffic; in the words of Ryu, Griffith Park is "being loved to death." Griffith Park Superintendent Joe Salaices emphasized that "reducing the amount of cars is the number one goal," later reiterating "I'd love to see no cars in the park." Tackling a "too many cars" problem means giving visitors better options to arrive by other means.
The DRP proposal to add parking meters sends the right message. Paid parking helps to disincentivize visitors arriving by car. Revenue from the 150 metered parking spaces, according to Salaices, is estimated to be $500,000 annually. All the revenue would be dedicated to Griffith Park purposes, including operating the shuttle and paying park staff.
Public comment on paid parking was mixed. Cyclist Don Ward testified that "charging for parking is long overdue" while another speaker opposed paid parking asserting the importance of parks being reliant on General Fund revenue.
The Bad
Overall, despite good intentions, DCP fell into a tired bureaucratic pattern of publish and defend. Though their plan was described as an initial phase, DCP staff largely defended decisions they had already been made in advance of public input.
The proposed shuttle shuttle service is unlikely to be sufficient to make a dent in Griffith Park traffic. According to Salaices, 390,000 visitors came to observatory-area viewing during the 2015 spring break. To deal with these visitors, DCP is proposing four or five 21-passenger shuttles. One public speaker opined that the "shuttle plan doesn't add up" by addressing only "one percent of the problem." 
The extent of the shuttle program is an issue, too. DCP's proposed shuttle routes attempt to solve area traffic problems with shuttles operating entirely within the boundaries of the park. Visitors would still mostly drive into the park and be diverted to free parking lots closer to park entrances. This could well reduce some observatory-area congestion, but does not address congestion in city streets leading to the park.
Many public speakers complained about car congestion on Vermont Avenue between Los Feliz Boulevard and Griffith Park. Vermont Avenue residents described this area as "the gates of hell" with traffic causing residents to be "held hostage in our homes." Numerous speakers pressed for shuttle service to serve areas below Los Feliz Boulevard, especially Metro Red Line stations at Sunset/Vermont and Hollywood/Western.
DCP and Ryu appeared sympathetic to concerns over shuttle plan limitations.
Salaices called the proposed shuttle route "phase one" of "a living project." Salaices stated that DCP is looking "to identify parking lots outside the park" that could be served by shuttle service. Ryu expressed his support for extending the shuttle sooner, stating he supported "phase one shuttle stops outside Griffith Park." Also, Ryu stated that he hopes to identify a shuttle parking lot outside the park.
The Ugly
In its current form, the plan calls for opening nearly a mile of currently car-free Mount Hollywood Drive. Since the 1970s, these car-free park backroads have been deeply loved by hikers and bicyclists, many of whom testified urging no cars and no shuttles on current car-free park roads.
Why open up this area? DRP apparently assumes that visitors can not make the one-third-mile walk to a newly established Hollywood Sign vista point. Only in Los Angeles would park officials assume that tourists who have traveled thousands of miles to L.A. would be unwilling to walk a third of a mile through a pleasant park setting to get to a Hollywood Sign viewpoint.
Ideally, DRP shuttle plans could drop visitors near the tunnel, and they could walk from there. It may be possible to enhance that last-third-mile gap by non-motorized transportation means: primarily walking, of course, but perhaps also bike-share and/or pedi-cabs. The route is already a wheelchair-accessible paved road.
Next Steps
Councilmember Ryu and DRP General Manager Michael Shull committed to reviewing public comment received and to revising DRP's proposal. According to Shull, a revised plan is expected to be available in roughly 30 days. DRP hopes to implement the shuttle and parking changes in Fall of 2016.
Stay in touch
Sign up for our free newsletter