Walking
An Interview with Emilia Crotty, New Manager of Los Angeles Walks
1:43 PM PST on January 19, 2016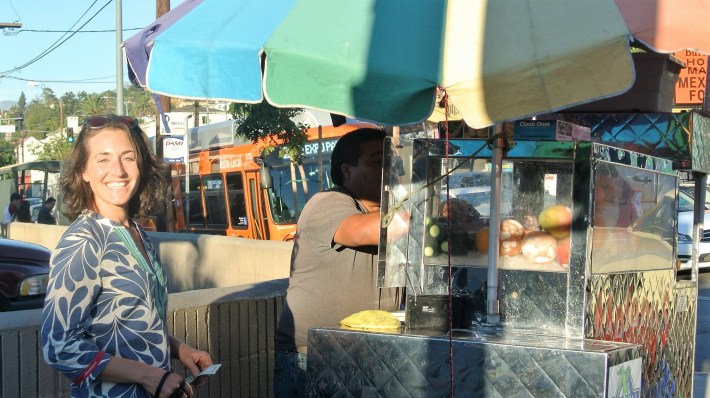 Los Angeles Walks has been around a while, but only recently hired its first staffer, Policy and Program Manager Emilia Crotty. Keen-eyed readers probably spotted her introductory interview at L.A. Walks' website last month. In conjunction with L.A. Walks hosting their annual Sidewalk Soirée awards dinner this Saturday, SBLA wants to introduce Crotty to our readership. If you are interested in supporting L.A. Walks, and meeting Emilia Crotty in person, there are still a few tickets available for the Sidewalk Soirée, which honors Los Angeles City Councilmember Felipe Fuentes and walking guide Bob Inman.
Tell our readers about yourself. What's your background?
Well, like many people here in L.A., I recently fled New York City, where I lived since 1999.
My academic background is in urban public health, but I usually tell people that my professional background is in bikes. In New York, I developed Bike New York's education program, helped start Bike to School Day with NYCDOT, and launched the city's bike-sharing system, Citi Bike, where I worked for about three years. I was a voting member of my community board for over five years, and in my spare time I lead bike camping tours for the Adventure Cycling Association.
In 2013, I adopted a dog and started pounding the pavement three times a day, and a lot of my attention turned from bike lanes and sharrows to walking infrastructure - curb cuts, crosswalks, lighting. I'm thrilled now to be focused on walking and accessibility issues with Los Angeles Walks.
Relocating from, was it Brooklyn? What do you miss the most? The least?
Nope, Queens, where I lived for 12 years! I miss the network of people from my block, who were such a constant fixture in my life - those weak ties that create a sense of belonging somewhere. But I do not miss the constant crush of people everywhere you turn in NYC. That place is so crowded all the time! There are many positive aspects to that kind of density, but it can also be pretty exhausting.
What are L.A. Walks' top priorities for L.A. for 2016?
Our top priority is to reduce the number of people who die or are severely injured while walking in Los Angeles. L.A. Walks is a founding member of the Vision Zero Alliance, a group of community-based and advocacy organizations working to help achieve the City's goal of zero traffic deaths by 2025. To that end, we are developing campaigns around walkability in Downtown L.A., where construction zones often create hazardous conditions for people walking, and campaigns that address safety for seniors and accessibility for those with physical disabilities.
How can Streetsblog readers get involved with L.A. Walks? Are there opportunities to volunteer? 
Absolutely! We welcome readers to lead a walk in their neighborhood, and right now are recruiting new Walking Ambassadors for a February 25 get-together and training. (More details coming soon.) Beyond that, sign up to receive our newsletter, which often includes calls to action and volunteer opportunities, which will ramp up once our 2016 campaigns get underway. And become a financial sustainer of Los Angeles Walks! Even a contribution of $5 a month will help us take on the projects that will make Los Angeles a safer, more vibrant place to walk.
The Willits v. City of Los Angeles settlement will be investing $1.4 billion in repairing L.A. sidewalks over the next thirty years. This should make a big difference for L.A.'s sidewalks. The city currently has proposed a "fix and release" strategy for repairing sidewalks and keeping them repaired. What are you expecting from the city's Willits compliance work? What's good in it? What's missing?
If I've learned anything in my short time here, it's that Los Angeles's roughly 11,500 miles of sidewalk are long overdue for repair. Sidewalks and crosswalks are an integral part of urban infrastructure, but it's been over 40 years since L.A. had a comprehensive sidewalk repair program. The Willits settlement offers the city a tremendous opportunity to set things right.
We believe that the city needs to claim sidewalks and paths of travel (like crosswalks) as a public amenity, just like our roads and bridges, and reconsider misguided policies like "fix and release," which places repair responsibilities on adjacent property owners. The settlement commits the city to a decent level of transparency, including a publicly-available database listing and mapping completed and requested repairs and improvements, which is good. But, it does not specify that the city will first develop a comprehensive inventory, something advocates from a wide range of organizations are pushing for. At the most basic level, the city needs to know where there are sidewalks and the condition they're in so that it can equitably prioritize repairs. Long story short, thanks to those involved in the Willits class action suit, good things are coming to L.A. sidewalks. We just want to make sure the city seizes this opportunity to do it right.
Metro is looking to put its latest "Measure R2.1" sales tax proposal to the voters in November. What do you want to see in R2.1?
Probably like everyone in this line of work, Los Angeles Walks wants to see significant funding dedicated to walking and biking in L.A. County's next transportation ballot measure.
Our friends and colleagues at the Los Angeles County Bicycle Coalition and the Safe Routes to School National Partnership have done a terrific job crunching the numbers, and recommend that 10 percent of the ballot measure be dedicated to active transportation projects and programs. As they explain, this is not unreasonable or unprecedented; Alameda County's Measure BB, adopted by voters in 2014, provides a great example and inspiration for us in Los Angeles.
This is the question we typically close our interviews with: if you had a magic wand to wave that would magically change one thing about Los Angeles, what would you change?
My Streetsblog-friendly answer is to bring back the trolleys!
But, my public health answer is to wave my magic wand and generate a high quality, well-paying job with good benefits for everyone of working age in Los Angeles. Stable employment in a safe environment has enormous health effects, as you can imagine, creates positive conditions for kids and builds stronger communities - all kinds of good stuff.
I have an idea! Let's bring back the trolleys and employ a ton of people doing so! Win-win.
(The interview was conducted by email earlier this month.)
Stay in touch
Sign up for our free newsletter