Bike Sharing
Gabe Klein's Advice for Los Angeles
2:25 PM PST on November 30, 2015
Gabe Klein is one of the United States' top livability leaders. From the private sector, he became a maverick city transportation department head for Washington D.C., then Chicago. In leading those DOTs, he championed innovative multi-modal approaches that activate streets. He embraces bicycling, walking, and new technologies. This year, he has a new book out titled Start Up City: Inspiring Public & Private Entrepeneurship, Getting Projects Done, and Having Fun.
Streetsblog L.A. caught up with Gabe Klein just over a week ago, after his inspirational closing keynote talk at the California Transit Association's annual conference in Pasadena.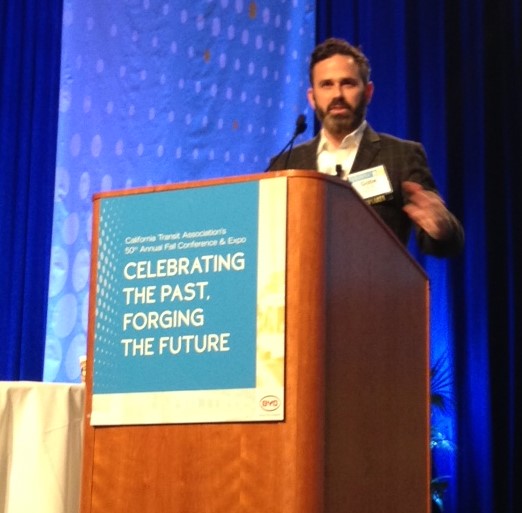 SBLA: Let's start with car-share. You led Zipcar expansion in Washington D.C. What's your advice for L.A. regarding car-share?
Klein: Whether it's taxis, that are limited here, car-sharing - it's going to be challenging as long as everybody needs to own a car. When you look at where companies like Zipcar do well, they do well in places that are pretty transit-oriented or car-lite. In D.C., 38 percent of people own a car - a little more than a third. So car-share not only encourages more people to give up cars, but it serves the existing population.
I think in L.A., you need more of this type of development [gestures to pedestrian paseo], more urban village type development. We can actually place Zipcars on premise. Being realistic, I think I would focus on people getting rid of a second car or a third car. In the early days of Zipcar, we saw that: people would go down to one car, and if they knew they had a backstop of Zipcars on premise [then some would give up that car].
The interesting thing about Lyft and Uber is they're providing that same security blanket that people need to give up a car.
So I think you need to embrace all the alternative options, whether there's a driver or not a driver. Whether it's Car2Go, Zipcar, bike-share - once people feel comfortable cutting that tether, they may give up their first car as well.
Of course, you need great public transportation, and L.A. unfortunately got rid of it all, in the 50s, like many cities. You have buses, but buses are not always as intuitive as rail transit. I think there's also probably a stigma around here around who rides the bus and who drives. And the car has become a status symbol.
There are lots of challenges. Geographically, and I'm not an expert on L.A., but this is a massive place, so I think you have to focus on places that are already dense that are also creative and open-minded to start to implement creative solutions: protected bike lanes, bike-share stations, more car-sharing vehicles, zoning - with maybe parking maximums instead of minimums. Go where it's easy to do, where you can prove concept - and after that you can take it to other places in L.A.
You need context-sensitive solutions. What we're seeing in D.C. now - after 20 years of working on these issues - is that the creative solutions, started in the densest parts of D.C. and started in Arlington County where they've reinvented themselves, are now spreading to Tysons Corner. Tysons Corner is worse than most parts of L.A. in terms of car culture. They're reinventing themselves as an urban village with Metro stops. If Tysons Corner can do it, anybody can do it.
You've got to start somewhere, so you start and you show people what the quality of life can be, then you use that example, that pilot project if you will, to then do it in other places. At that point you have other people saying: I want this here. I want that protected bike lane. I want my kids to be able to walk to school. I want more public safety, more retail activation.
L.A. is about to kick-off a thousand bike bike-share system in our downtown. What's your advice on bike-share?
I think you have to have a certain density of service, so if you place a station two miles away from the next station, it's going to be hard to make it work.
We've got politicians asking for those outlier stations already.
Use that to your advantage. We would tell people "look - we'll get there. You need to help us fill in in-between then we'll get there." So we'll get more money that way. Because it doesn't work to have a station out in the middle of nowhere. It just doesn't function. This is a nodal system; it's got to be compact. 
Once you explain that to people and you say no - we're not going to do that - but if we had more money we could fill in this neighborhood and this neighborhood and then we'll be there. You have to set some ground rules and understand how these systems work.
We have bike-share in the suburbs now, all over Chicago and D.C. We maybe have a gap, then we'll have a transit stop and we'll have bike-share extending from that transit stop, so it becomes an extension of your metro system, your bus rapid transit.
How should L.A. be planning for autonomous cars? As you mentioned in your talk, should we rip out 85% of our parking?
Over time, yes, I certainly hope so.
I think you guys are doing a great job: [LADOT General Manager] Seleta Reynolds, [LADOT Transportation Technology Strategy Fellow] Ashley Hand. You have people that actually are thinking more about this than most cities around the country. So I am very hopeful about L.A. because of the quality of the people that you have leading, because they have appointed somebody like Ashley to be a technology fellow that's really examining this issue.
There are so many cities out there that aren't even aware of it. They literally do not know that it's coming. They do not know that Teslas currently are autonomous. They do not know that we're not talking about 2030. We're seeing these on our streets.
You mentioned you have an 18-month-old daughter. How has your daughter changed your perception of transportation in cities?
Oh man, it's profound. I've always thought about why do I want to do this work. I've done it for other people's children, for other people's parents. I've done it for my neighbors, and for me.
But now that I have a daughter I feel so personally invested in the outcome. I feel almost like I'm on a mission to get the public and private sector to work together to make sure we get the outcomes in cities that we can have, because I want her to be able to live it.
Having kids for me has been a revelation. I don't know why I waited so long to do it. You care so much about them and when they're young they are so defenseless. I've always said we do this work because we want the most vulnerable citizens to be safe; if we design for the most vulnerable citizens, then we will have safe streets for all of us.
But, man, when you see a little kid - who doesn't even understand the difference a sidewalk and a street yet - start wandering towards the street, and you think: one false move and they will be dead. We have four-thousand pound vehicles zipping at high speeds around our cities, where our kids play. You realize it's got to change.
Here's the question we typically end with. If you had a magic wand that would grant one wish - that would change cities in one way - what would it be?
I would like to go back to the 1950s and not get rid of the streetcars. If I could do that, the culture, the world that we live in would be completely different, if we'd reinvested in our streetcar system and ground transit - and not gotten rid of it - and not driven freeways through our cities.
Maybe that's two wishes, but I feel like it's part of the same problem. So, if we didn't kill the streetcars and didn't do the whole urban renewal, then I think we would be a very different society - in lots of ways.
For more of Gabe Klein's perspectives, especially regarding autonomous vehicles, see also this recent L.A. Times interview.
Stay in touch
Sign up for our free newsletter