Buses
Foothill Transit's Class Pass: A Universal Bus Pass Success Story
11:09 AM PDT on October 1, 2015
Last week, Metro Board Chair Mark Ridley-Thomas set things in motion for a universal community college transit pass program. Today SBLA profiles one successful local college bus pass program. Foothill Transit's Class Pass is increasing ridership, helping solve parking problems, and giving students expanded and affordable mobility options.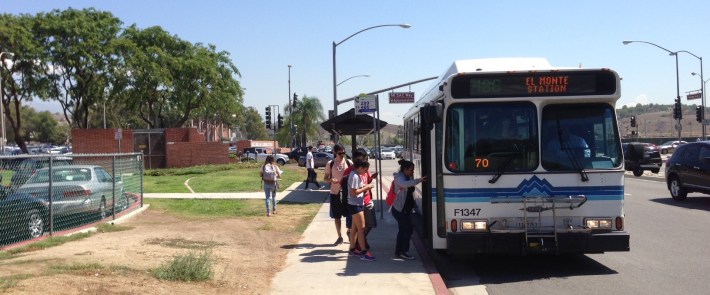 In March, the American Public Transit Association (APTA) released its annual aggregation of nationwide transit ridership trends. Though APTA figures [PDF - L.A. County Google spreadsheet] show that overall national transit ridership was at a 58-year high in 2014, the figures were not as promising for L.A. County. Metro ridership decreased 2.8 percent from 2013 to 2014. Metro is currently studying ways to reverse its decline, but the agency's budget forecasts an additional five percent decline in fiscal year 2015-16.
Most of the municipal transit agencies operating in L.A. County also saw similar decreases in ridership. Examples include Long Beach Transit down 0.5 percent, and Santa Monica's Big Blue Bus down 3.7 percent. Foothill Transit bucked the trend, showing a 3.6 increase in ridership.
What caused Foothill Transit's ridership uptick? Expanded Silver Streak freeway bus service as part of Metro's ExpressLanes program?
Foothill Transit Director of Marketing and Communications Felicia Friesema points to modest increases on a number of lines, including the Silver Streak, but the most substantive increases come from Foothill's Class Pass program.
Foothill Transit's Class Pass is an unlimited-ride student TAP card. Class Pass started as a trial at Mount San Antonio College (Mt. SAC) in 2013. At Mt. SAC, the pass is effectively free to students who ride the bus, with the program being paid for by all students through a $9 registration fee ($8 for part-time students.) The registration fee was approved by a vote of the Mt. SAC student body in 2014, making the program permanent.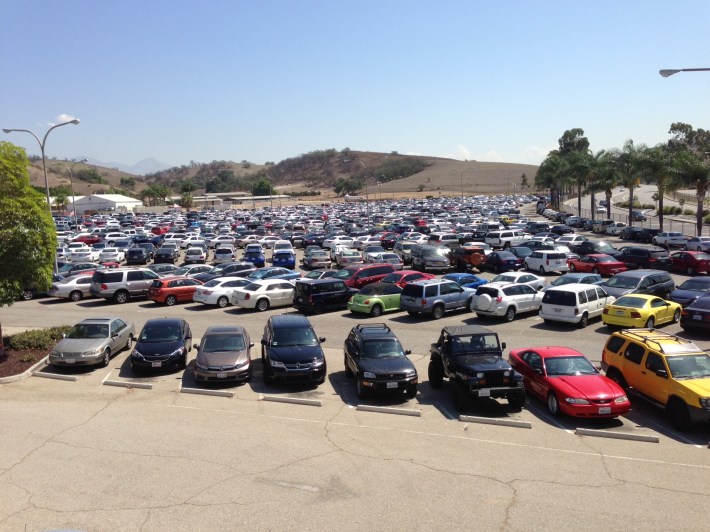 Mount San Antonio is a community college located in the city of Walnut, a suburb in east Los Angeles County, near Pomona. Mt. SAC is a commuter school, surrounded by numerous large surface parking lots. Somewhat unusual for a college campus, there's nearly no bicycle commuting in evidence.
Parking at Mt. SAC has been controversial as neighbors sued to prevent college construction of a new five-story parking structure. Students pay $50 for semester parking passes, or $4 for single day parking.
Uyen Mai, Director of Marketing and Communication for Mt. San Antonio College, reports that Class Pass "helps alleviate our parking crunch." According to Mai, Mt. SAC "found during our trial period that a significant number of students who would normally drive and park on campus decided to take advantage of the Class Pass."
According to Mai, today about 20 percent of Mt. SAC students (7,800 of  36,560) are utilizing the Class Pass, a very respectable number for a Southern California commuter campus.
Friesema further states how increasing student ridership has increased transit service:
Lines 289 and 486 serve both Mt. SAC and Cal Poly Pomona. Both have shown significant growth since the pass program was initiated. The 486 carries approximately eight times the number of customers as the 289, but both have seen double digit percentage growth this past year [2014], with the 289 breaking a record at 63.1 percent growth over the previous year this past July. Student interest in taking public transit, and avoiding all the costs and inconveniences of driving to campus (parking being one of the top reasons) play a big role in this.
On a recent weekday morning, Foothill's 486 bus carried around a dozen passengers as it made its way from the El Monte bus station though El Monte, Valinda, and West Covina. Once it got within about five miles of Mt. SAC, the bus swelled with students, and was standing room only upon arrival. A handful of student riders interviewed by SBLA found the pass program "good" and "convenient," and reported using their pass on trips other than just their college commute.
Foothill Transit expanded the program to the University of LaVerne in 2014, and is currently in discussions to implement a Class Pass at Cal Poly Pomona. Students at Citrus College have editorialized about bringing the program there.
Most students are millennials, generally driving less than recent generations. Student passes are one way of fostering a culture of transit ridership that may continue later in life.
At a time when Los Angeles transit ridership is declining, the Class Pass program shows one way to increase transit ridership while contributing to bus agencies bottom line. Time will tell what roles Metro and municipal bus operators can play in expanding these types of programs.
Stay in touch
Sign up for our free newsletter