Bike Sharing
Guest Opinion: Metro's Proposal on Bike-share Heads in the Wrong Direction
3:41 PM PDT on June 23, 2015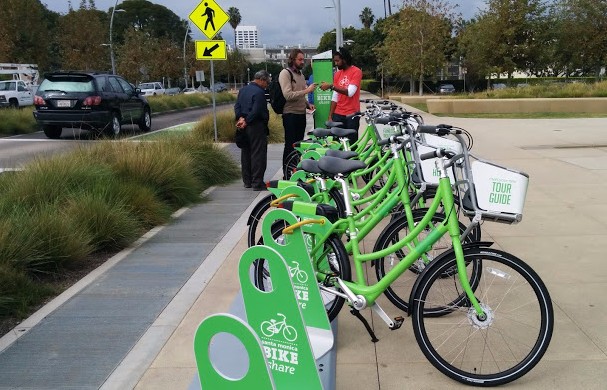 Greater Los Angeles is about to join cities and regions around the world that have implemented bike-share programs. But, in our complicated world of 88 cities and a county, will we get it right?
Bike-share provides residents and visitors with easily accessible, shared, short-term bikes, making it easy to get from point A to point B, whether or not those points are within a single city.
Bike-share has proven successful throughout the world. Residents like bike-share and it's good for business and tourism. Our environment benefits, too: it's a carbon-free mobility alternative for congested cities. Bike-share extends the reach of rail, bus, walking and carpool trips, increasing the efficiency of our public transportation system.
Thoughtful, coordinated planning is essential to make sure Bike-share works. Bike-share systems commonly span multiple jurisdictions. In every corner of the world, this has meant building truly integrated systems that are interoperable and have common characteristics, no matter where the bike or docking station is located. So, if you are visiting a friend in Venice, and want to shop on the Third Street Promenade in Santa Monica, then take the coming Metro Expo Line to Culver City, you should be able to do so by accessing one brand of bike and using one, easy to understand, payment system.
Seems obvious. But, Metro planners are advising their board to approve technology that is incompatible with systems already chosen and underway in Santa Monica, Long Beach and, likely to be implemented in other Westside cities. Departing from best practice, Metro is recommending a very different technology that will require two, parallel, systems. This is a bad deal for taxpayers and users alike. In a regional system that must mesh, Metro has failed to explain how these two systems would do so. Instead, they are deferring that discussion until after Metro selects a vendor which necessarily will be incompatible with existing Bike-share programs which are already operating in the region.
Metro staff seems comfortable that this means many, if not all, participant cities, including Los Angeles, would need to maintain two sets of "docks", two different kinds of bicycles and two different fare structures and payment systems. The resulting customer experience will be confusing and an embarrassment to our region. Instead of taking advantage of momentum already created by local cities, Metro is imposing an older technology over locally preferred systems.
What happened?
In 2011, Santa Monica received a Metro Call for Projects grant of $2 million for planning and implementation of bike-share. This allowed Santa Monica to jump-start planning. Santa Monica is a great place to start bikeshare. The city has excelled at building a multidimensional bike infrastructure. It has robust tourism and a bike-friendly culture. In addition, the arrival of the Expo light rail in early 2016 is an opportunity to create new connections to stations that will help increase ridership.
Long after Santa Monica began its planning and implementation, Metro inexplicably began its own plan. Understanding that regional operability would be a key to success, Santa Monica used its seed money wisely and reached out regionally during its thorough process. Broad input was received and incorporated into a request for proposals that, again, was circulated widely for input. Ultimately, Santa Monica selected a cutting edge vendor who will begin deploying bikes in just a few weeks. Long Beach has adopted the same technology. West Hollywood, Beverly Hills, and UCLA are not far behind.
If Metro insists on its own system, it should prioritize interoperability so proposing vendors must explain how they would achieve that key goal. Instead, the agency weighted its bid process by prioritizing other criteria. The result of Metro's process was three finalists, none of whom will produce a product that is compatible with the technology which will be used by Santa Monica and other Westside cities.
This week, the Metro Board will vote on implementing a system that is incompatible with existing systems and will ensure inferior experience for all bike-share customers.
There is an alternative. The Metro Board should delay its decision until the Santa Monica-West Hollywood-UCLA-Long Beach-Beverly Hills system is up and running. If that roll-out is successful, Metro can build on an existing successful system. If that initiative falls on its face, Metro can implement a new regional alternative. The hope and expectation is that the public embraces the Santa Monica-West Hollywood-UCLA-Long Beach-Beverly Hills bike-share program and it functions as well as expected. If that is the case, Metro should focus on what is best for users and taxpayers and work collaboratively to integrate other communities into a singularly exciting new transportation option.
* * *
Assemblymember Richard Bloom is a member of the California State Assembly representing Santa Monica, Beverly Hills, and West Hollywood and surrounding West L.A. areas. He is the former Mayor of Santa Monica.
Councilmember John Heilman is a member of the West Hollywood City Council and former Mayor.
Councilmember Dr. William Warren Brien is a member of the Beverly Hills City Council and former Mayor.
All three authors are former chairs of the Westside Cities Council of Governments, a regional agency focused on, among other things, on improving transportation on the Westside.
Stay in touch
Sign up for our free newsletter