Los Ryderz
South L.A. Voices Speak on Link Between the Arts, Recreation, Food, and Social Justice
6:07 PM PST on February 27, 2015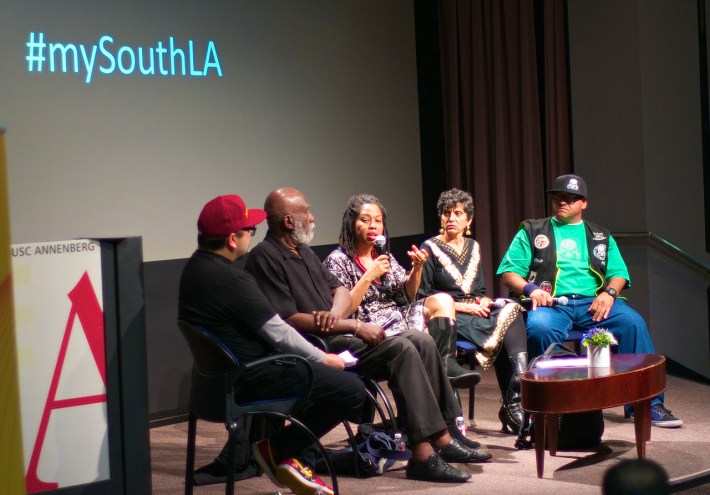 "Fun in the sun!" Watts resident William Fabian wrote under the prompt "My South L.A. is..." created by organizers of the Visions and Voices panel, "Food, Recreation, and the Arts as Social Justice and Civic Engagement," at USC last night. The panel was the second in a three-part effort by USC to engage some of the advocates doing work in the South L.A. area while taking stock of its role in the civic and community life of the area as it undergoes expansion.
"Fun in the sun" is generally not what first comes to mind for most people when they think about South L.A., much less Watts. But it helps illustrate why it is so important to hear directly from residents in marginalized communities, particularly communities that have been much maligned in the media.
Urban planners and others seeking to diagnose the problems facing communities like South L.A. sometimes seem to assume that the problem is, in part, one based in a lack of vision of what a functioning community or public space should be. And that "teaching people that their streets can be sites of recreation" is part of the remedy.
Panelists Ben Caldwell (artist and founder of the KAOS Network in Leimert Park), Karen Mack (of city arts organization L.A. Commons), Neelam Sharma (of food justice-oriented Community Services Unlimited, based near USC), and Javier "J.P." Partida (founder of Los Ryderz Bike Club in Watts), put those notions to rest by making it clear that reclaiming the public space has always been central to their efforts to nurture and celebrate culture, identity, community, health, artistry, and innovation. And that they and others in the community have been doing that work for quite some time.
For Karen Mack, who founded L.A. Commons in 2002, that work involves bringing people together to communicate their experiences via the arts in the public space.
There are many narratives about L.A., she said, but they have tended not to be inclusive. Instead, because the areas that are richest in culture are often the most resource-poor, those voices are generally not heard. By actively engaging those voices and empowering them to speak to each other -- as in the case of a mural project where Latino students interviewed African-American business owners about the Crenshaw community both now shared -- communities can grow stronger from within. And because the project outputs often include traveling murals, story-telling summits, and/or community walking tours, L.A. Commons offers outsiders opportunities to connect with both the home-crafted narratives and the residents that were responsible for bringing them to life.
Ben Caldwell, filmmaker, artist, ethnographer, local historian, and all-around creative, also believes the arts can be deployed to build more vibrant, healthy, and inclusive communities.
"People think we only have 'Boyz n the Hood,'" he said, chuckling.
While those youth are indeed present in South L.A., "we see them differently, too." They are part of the community and have something to contribute, when engaged properly.
His own work in establishing Project Blowed in 1994 helped give some of those youth an alternative outlet for their creativity and their pain -- they could speak it rather than fight it out. His work with other artists to create programming at local parks during the summer helped keep the peace during evenings kids were most at risk for being subjected to gang activity. And co-founding the Leimert Park Art Walk in 2010 has helped activate some of the spaces around the village that had become blighted, while celebrating the culture of the African diaspora that ties so many in the community together.
The focus on common bonds has helped make the many community celebrations Leimert Park hosts feel inclusive -- the poor, the wealthy, the artistic legends, and the everyday folk are all welcome. That inclusivity has helped to lend momentum to the current efforts of Caldwell and other stakeholders to re-brand the area as a cultural district and shore up its economic base before the new Metro station arrives in 2020. And the fact that so much of the activity that defines the culture of Leimert Park -- long considered the beating heart of the African-American community -- takes place in the public space, the community as a whole has sent the message that it is the people, their culture, and the environment they create when they come together that are the true secret to making a space come alive.
Neelam Sharma, a food justice advocate who has headed up CSU since 1996, finds that that most basic of needs -- food -- is key to unearthing common threads and connections between peoples.
"Food is an entry point into basically any social justice issue you can think of," she said. "Food is history" -- cultural history, community history, the history of economic development, and even the history of what has been imposed upon those on the margins. And those who don't have the ability to control their access to food, she continued, lose the ability to exert control over their own lives.
Which is why CSU -- an offspring of the Black Panthers -- works to create the infrastructure that will help give people back some of that control. Their Garden Gateway workshops are often used to teach people about the history of particular foods and practices in the region, both to connect people to the earth they are standing on and to help them understand how the current food system evolved. The youth recruited to participate in their From the Ground Up program aid with the workshops, as well as get their hands dirty in every aspect of what CSU does -- from running the produce stands (which offer locally-grown organic produce), to door-knocking to promote the Earth Day celebration, to aiding on the urban farm (at Exposition and Bill Robertson Ln).
Best of all, the youth are paid for their participation.
"Creating jobs, our own distribution network, [and] food infrastructure" as well as "creating green space and transforming food landscapes" are our responses to the pressure the community is under as USC grows and expands deeper into South L.A., she said. "The issues we're dealing with are systemic, [so] we need to come at things with a systematic approach."
For J.P. Partida, giving youth a healthy outdoor activity like riding bikes was his way of transforming the community.
It also was the only one he could afford.
To put together a set of teams for a sport like baseball or soccer would require that he go through a lengthy permit process and pay significant sums of cash to access local fields.
Bikes were easy. Easier, at least, thanks to some donations of old bikes and the many, many hours Partida spent building and refurbishing them. And, Partida felt, taking to the streets and reclaiming them would help kids transform their own relationships with the neighborhood (and the gang-bangers) that normally imposed heavy constraints on their mobility.
The kids weren't so convinced, he said.
Prior to taking a spin with Los Ryderz, the club he founded in 2012, most of the youth members refused to believe they would be able to ride unmolested through the streets of Watts.
Their fears were not unfounded. There are very few neutral spaces in Watts -- almost every square inch of territory is claimed by one gang or another. So much so that one of the first members of the club had never been to visit the world famous Watts Towers, despite the fact that he had lived only four blocks from them for 20 years.
But once Partida got them out on the road and they realized how great it felt to be free, they wanted to go everywhere. And, as they saw how positively the community responded to them, he said, they began to believe in themselves as well as in the importance of giving back. He was so successful in changing many of their lives, in fact, that the numbers of his club have dwindled as the youth head for college on scholarships or start new jobs.
Considering the slashing of budgets for arts and recreational programming in schools and parks over the last few years, particularly in lower-income communities, it is clear that the programs run by all of the panelists are filling an important gap.
In truth, however, that "gap" is more like a massive void. And these advocates can't fill it on their own -- they also need policy and investments that support their work by being more responsive to the socio-economic conditions of the communities they are working in.
People are still fearful of being out in the public space (i.e. parks), said Caldwell, and the effort of the city to resolve that problem by leading with gang-reduction strategies and increased policing has cut out space for artists and community members who can reach youth via inspiration (rather than intimidation). Or, as Partida noted, law enforcement agencies like the Sheriffs can be reluctant to engage troubled kids and prevent violence from escalating. Meaning that, even when you do have the presence of law enforcement at an event or park space, families still do not feel they will be adequately protected when they come out to play.
And advocates who mean well -- like many in the food movement, for example -- are not always able to see that the more mainstream or privileged approach to resolving health-related issues is not as welcoming of advocates from complicated socio-economic contexts who have no choice but to link food to justice issues.
"Probably we just live on different planets," sighed Sharma of the challenge of trying to communicate with some of the advocates she meets at food conferences.
The disparities, she said, are what "make our work so much harder."
"But also that much more rewarding."
* * * *
The Visions and Voices panel was organized by coordinators Alison Trope, Robeson Taj Frazier, and George Villanueva, and co-sponsored by the Environmental Student Assembly and the Black Social Work Caucus. The third installment will feature a walking tour of South L.A. on March 7, led by L.A. Commons (for more info, click here). And, independently of the series, the Los Ryderz Bike Club will be hosting a Tour de Watts on March 14, to which all are welcome. See their event page, here.
Sahra is Communities Editor for Streetsblog L.A., covering the intersection of mobility with race, class, history, representation, policing, housing, health, culture, community, and access to the public space in Boyle Heights and South Central Los Angeles.
Stay in touch
Sign up for our free newsletter