affordable housing
CA Adopts Guidelines for Cap-and-Trade Affordable Housing Program
2:14 PM PST on January 21, 2015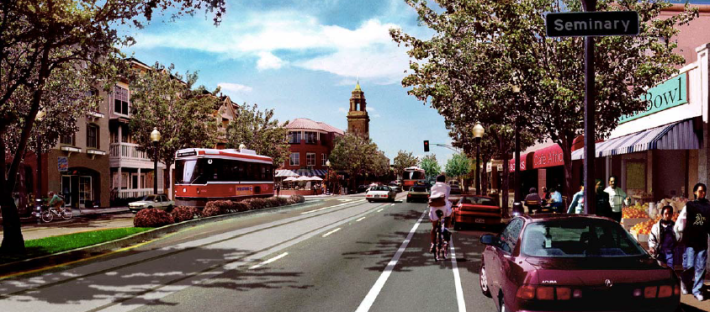 Yesterday the Strategic Growth Council adopted guidelines for the Affordable Housing and Sustainable Communities (AHSC) program and scheduled workshops for early February to provide technical assistance to potential applicants.
California's Strategic Growth Council is a state committee that coordinates a variety of activities by multiple state agencies, including efforts to improve air and water quality, increase affordable housing, improve transportation, and other issues related to quality of life in California. The Council was given the task of overseeing the AHSC program, created last year during negotiations on how to spend cap-and-trade revenue to reduce greenhouse gas emissions.
The AHSC is tasked with reducing greenhouse gas emissions by encouraging the development of affordable housing near transit and by creating walkable, bikeable communities that encourage few car trips.
There is $130 million in AHSC's first round, and staff estimate it will be able to provide partial support for between 15 and 25 projects. The second round of funding is slated to receive $200 million, pending how much revenue cap-and-trade raises this year as well as final budget decisions in June.
The AHSC is a new program, and the process of creating the guidelines has been on a fast pace. After a series of intensive public workshops held throughout the state, proposed guidelines were released in October. At yesterday's hearing, speaker after speaker remarked that SGC staff succeeded in creating a remarkable, important program in an extremely short time.
And almost everyone agreed it still needs work.
Nevertheless, the Council voted to approve the guidelines, incorporating one minor change that staff said was an oversight: projects that develop open, natural land as well as agricultural land will not be eligible for funds from the program.
Councilmember Diana Dooley used the Rolling Stones to explain her view, saying, "You can't always get what you want, but if you try really hard, you get what you need."
The AHSC program will allocate money to two types of projects: Transit Oriented Development and Integrated Connectivity Projects.
The TOD projects must include both affordable housing and transportation-related infrastructure, to be built within a half mile of high-quality transit. The transportation-related project can be station area improvements, sidewalks and dedicated bike paths connecting the housing to transit, or the like.
The second group, Integrated Connectivity Projects, will focus on corridors, and do not require affordable housing. These must include at least two uses as well, one of which is a capital project such as bicycle and pedestrian connections, affordable housing, a vanpool fleet, or something along those lines; the other use can be for building something like complete streets or station improvements, or for a program that supports the capital project, for example, one that encourages transit ridership.
The guidelines [PDF] are complex, because the program is trying to do many things: link affordable housing with transit, require interagency cooperation, and make the connections between all of these and greenhouse gas reductions. More than one commenter asked for the guidelines to be simplified in future rounds of funding.
The Council and its staff committed to ongoing efforts to refine the guidelines to accommodate some of the objections and questions raised at the meeting and in public comments submitted to them.
But some of the disagreements may be unresolvable. Very different housing needs between rural areas and cities create conflicting priorities. Rural housing advocates said that the current guidelines, including density requirements, make housing that is appropriate for some rural areas ineligible for the program. And representatives from larger municipalities, including Los Angeles Mayor Eric Garcetti's office as well as the Bay Area's Transbay Joint Powers Authority, urged the staff to remove the cap on amounts allocated to any one urban area, as that limits the participation of larger municipalities.
Another point of contention was about scoring criteria. Most of the emphasis on rating a project judges it on how well it delivers greenhouse gas reductions. The California Air Resources Board was given the task of choosing a method to quantify those reductions, and it chose the California Emissions Estimator Model, developed by the California Air Pollution Control Officers Association, for modeling greenhouse gas emissions from affordable housing.
Among the objections to this chosen method were several comments that pointed out that the model creates incentives to build only for the higher end of the low-income market. "Building for extremely low-income households would have a higher impact on greenhouse gas reductions because they have the lowest carbon footprint," said Megan Kirkeby of the California Housing Partnership.
Stuart Cohen of TransForm agreed, saying that the data used for the model is already outdated.
At this stage, given the very small amount of money available from this program compared to the very high need for housing dollars, these discussions are fascinating but largely academic. Future funding cycles, however, with more money available as cap-and-trade revenues increase, may have more far-reaching impacts.
To ensure high quality applications, and to help potential applicants navigate the process, Council staff has scheduled a series of meetings to offer one-on-one technical assistance. These will happen in early February, following which "concept proposals" will be due on February 19. In March, staff will invite the applicants with the most likely projects to apply, and applications will be due on April 15. This two-step application process is meant to save work for everyone, including applicants whose projects might not be quite ready yet and Council staff who must process the applications, which are complex and may run as long as 1500 pages, according to one staff member at the meeting.
Workshop registration details can be found here [PDF]. The schedule is:
Wednesday, February 4, San Diego
Thursday, February 5, San Bernardino
Friday, February 6, Los Angeles
Monday, February 9, Bakersfield
Tuesday, February 10, Stockton
Wednesday, February 11, Oakland
Also at yesterday's meeting, the Strategic Growth Council adopted guidelines for a similar, smaller program, the Sustainable Agricultural Lands Conservation Program, which aims to preserve open agricultural land to help sequester carbon, thus avoiding greenhouse gas emissions. That program was a lot less controversial, with every commenter, many of them from public land trusts throughout the state, unequivocal in their support.
Email tips, alerts, press releases, ideas, etc. to melanie@streetsblog.org.
For social media coverage focused on statewide issues, follow Melanie @currymel on Twitter or like our Facebook page here.
Streetsblog California editor Melanie Curry has been thinking about transportation, and how to improve conditions for bicyclists, since her early days commuting by bike to UCLA long ago. She was Managing Editor at the East Bay Express, and edited Access Magazine for the University of California Transportation Center. She also earned her Masters in City Planning from UC Berkeley.
Stay in touch
Sign up for our free newsletter