Metro
San Fernando Valley Prioritizes Freeways, Then Bemoans Lack of Transit
10:49 AM PST on December 23, 2014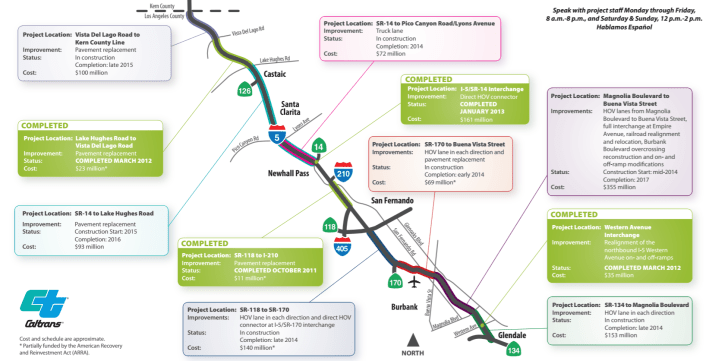 This seems to be the week that the news is that nothing happened in the San Fernando Valley. Last Thursday, SBLA reported that Metro Orange Line speed improvements are not happening yet. On Sunday, the Daily News ran a piece by Dakota Smith entitled, Lack of new San Fernando Valley rail lines draws complaints. Here's an excerpt:
"The Valley clearly has been shortchanged by Measure R," said Los Angeles City Councilman Paul Krekorian, who represents parts of the Valley and serves on the Los Angeles County Metropolitan Transportation Authority's board.

Narrowly approved by voters, Measure R launched a flurry of construction projects and helped raise federal dollars to pay for new rail lines. The sales tax is expected to raise about $38 billion over 30 years.

With the exception of a new Orange Line busway extension, which opened in 2012, no major Measure R projects have broken ground in the Valley. Instead, studies are being conducted on a rail or bus line along Van Nuys Boulevard. A new Sepulveda Pass transit line is in the early planning stages.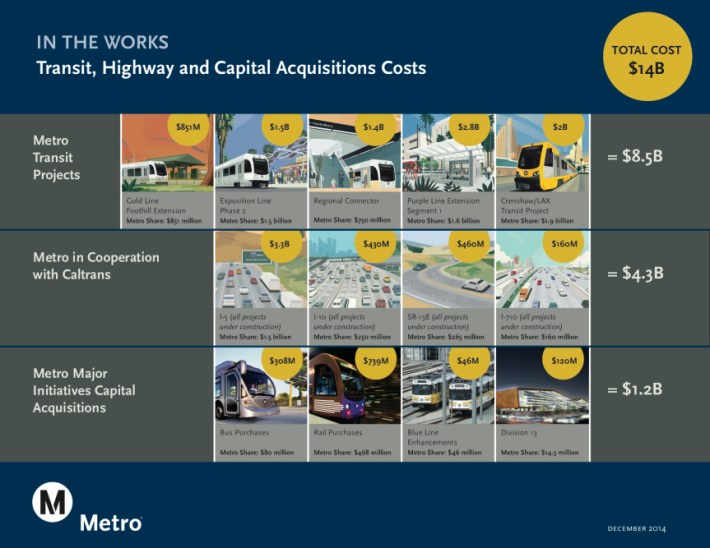 Clearly the article is about transit investment, but I'd like to debunk this "[Except for the Orange Line,] no major Measure R projects have broken ground in the Valley" a bit. Perhaps the editors removed the word "transit," making the sentence inaccurate?
Measure R has a reputation for being money for rail construction but, as many SBLA readers know, Metro rail capital is only 35 percent of the overall estimated $40 billion. Wholly 20 percent of Measure R goes to freeways. Metro is providing $1.5 billion to pay for 5 Freeway widening in L.A. County. Specifically, in the San Fernando Valley, according to Metro spokesperson Dave Sotero, Measure R contributes $271.5 million for the 5 Freeway improvements from the 134 to the 170, which total over $700 million.
According to Sotero, in addition to that $271.5 million, Measure R provides $90.8 million for the $161 million project improving the to the interchange between the 5 and 14 freeways.
Measure R is building transportation infrastructure in the Valley, just not so much transit infrastructure. 
While there are not so many major Valley transit groundbreakings, there are quite a few significant ways that Measure R funding serves the San Fernando Valley (see Metro Measure R Fact Sheet [PDF]):
Orange Line extension: The Orange Line, which the Daily News does mention, busway and bikeway were extended from Canoga Park to Chatsworth. This project was approved to get $182 million from Measure R, but Metro instead secured state funding. That $182 million remains available to be allocated by the Metro Board, which, theoretically, should keep the money programmed in the Valley.
Van Nuys transit corridor project: Metro is currently evaluating various options for the "East San Fernando Valley Transit Corridor," which has $68.5 million in Measure R funding.
Sepulveda Pass transit corridor project: Metro has $1 billion from Measure R to put toward a likely mega-tunnel connecting the Valley and the Westside, anticipated to cost "$6 billion to $8 billion... or maybe $20 billion."

Bus service improvements on

Van Nuys, Sepulveda, Reseda, and Lankershim, expected 2016-2018.

Various other miscellaneous Measure R funding going to Valley transportation: Metrolink rail capital improvements, bus capital and operations, and Red Line subway train capital and operations. The Valley also receives a portion of other countywide expenditures, including freeway soundwall funding, and "local return" spent by the cities of Los Angeles, Burbank, San Fernando, and others.
Additional sales tax and other Metro funding have gone to various Valley transit projects including more parking and a new tunnel at North Hollywood, and a new bridge at Universal City. These projects are not Measure R funded, so in many ways, Measure R isn't the whole story. As with the Orange Line extension, Metro, Metro's board, and other electeds seek and obtain outside funding through various federal and state programs. Sometimes Measure R funding is offset by other monies; sometimes Measure R funding acts a local match seed for securing additional state and federal dollars.
In the bigger picture, I find it a bit disingenuous for Valley interests to now say they were shortchanged. The way I see it, the Valley has received modest transit investments, because the Valley really prioritized its transportation investment toward car infrastructure.
When Measure R was negotiated, Valley politicians held firm on money for Valley highways. Not so much on funding for San Fernando Valley transit infrastructure. The same was true when local politicians sought and obtained $1.1 billion in Federal transportation funding to widen the 405 Freeway. Valley electeds have made highway spending a priority. Freeway money, lots of it, is what they got.
In some cases, Valley leaders actively worked against Valley transit infrastructure, including state legislators banning subway tunneling and banning rail on the Orange Line right-of-way. The Orange Line rail ban was overturned in July 2014, long after Measure R was passed.
It is good to see Councilmember Krekorian now making Valley transit investment a priority. Valley transit riders need champions who will fight to bring the Valley's transit system into the 21st Century.
I'll close with a point from Yonah Freemark's study on why U.S. light rail investments failed to shift higher percentages of people to riding transit. One of the things Freemark cites as being behind transit shortfalls is that cities building light rail also invested heavily in highways. The question I have for Valley leadership, including Councilmember Paul Krekorian and newly elected County Supervisor Sheila Kuehl, whom I anticipate will serve for a long time on the Metro board: Are you willing to prioritize Valley transit investment even when and if it means less funding for Valley freeways and roads?
Stay in touch
Sign up for our free newsletter