Metro
Times, ABC7, and Metro Parking Stories Are Wrong and Misleading
2:21 PM PDT on October 22, 2014
Yesterday, the L.A. Times ran Lack of Parking Drives Many Away from Mass Transit, an article by Laura Nelson.
The Times starts with the example of a San Fernando Valley Metro Red Line commuter nearly missing grabbing a parking space. This leads to assertions of "parking shortages" on "L.A.'s light-rail system [sic - Red Line is heavy rail]." The article goes on to quote various Metro representatives, then parking expert UCLA professor Don Shoup. Ultimately, Nelson characterizes Metro parking as a "key policy question."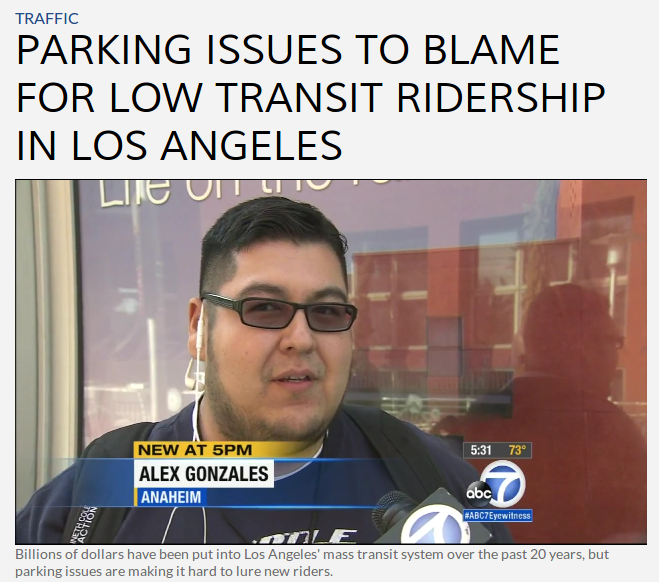 Like a sad game of telephone, ABC7 (KABC-TV) picked up the Times' assertions and stretched them to near absurdity.
ABC7's story, Parking Issues to Blame for Low Transit Ridership in Los Angeles, has the gall to interview a man-on-the-street from Anaheim, a suburb not even in L.A. County, who says, "if you can't park, then why would you take the train?"
It looks like he is riding the train in Pasadena but, honestly, couldn't ABC7 find someone who lives in L.A. County?
Sure, transportation issues cross political boundaries, but should Metro, a governmental agency with jurisdiction over L.A. County, prioritize limited funds to serve people who don't live here?
First two general points, then responses to Times article specifics:
1. Lots of People Ride Metro, Few Use Metro Parking 
Let me first note that lots and lots of people ride Metro buses and trains. About 1.5 millon every weekday. There's no "low ridership" issue here. Especially during rush hour, buses and trains are standing room only.
The vast majority of these Metro riders do not park. According to Metro's on-board surveys, more than 80 percent of transit riders arrive by walking. Fewer than 4 percent drive and park. Even when excluding buses, just looking at the Metro rail system, only about 15 percent of riders drive and park. That is roughly 1 in 7.
The system works. Mostly with most riders paying no attention to parking.
2. It Costs Metro Hundreds of Millions of Dollars to Build and Maintain "Free" Parking 
Free parking is not free for Metro to build and maintain. Metro has already spent more than $200 million to build station parking. As more parking comes on line, Metro pays more and more to operate and maintain it.
Multi-million dollar investments in parking come with trade-offs. As an agency with a limited taxpayer-funded budget, Metro can choose to fund more buses, more rail, more parking, more freeways, more walkways, bike share, etc. The difficult political job of the agency is to strike a balance between these competing public goods.
Responding to Various Erroneous or Misleading Points  
The Times, ABC7, and even Metro routinely just say "parking" when they're really referring to just "free parking." For example, the Times (apparently repeating a Metro assertion) states:
In North Hollywood, where the Red Line subway ends, the MTA estimates that it loses as many as 1,500 riders a day because the parking lot fills up by 7:30 a.m.
Below is a photo of the North Hollywood Red Line Station parking lot at 7:30 a.m. this morning.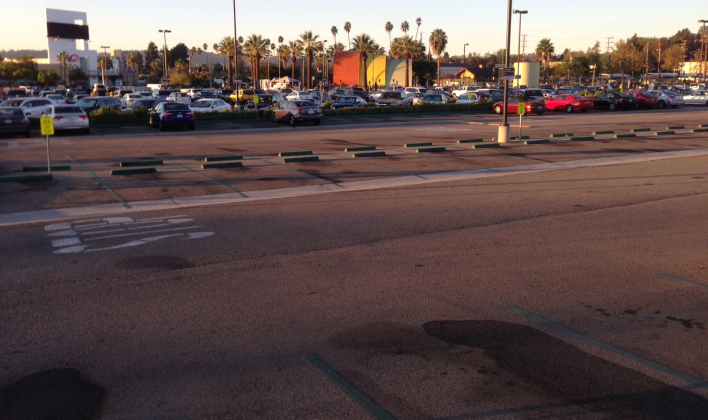 The North Hollywood station parking lot has 909 parking spaces. 451 are free. 425 require a paid monthly permit (currently $59, but sold out.) The free parking section is full, by about 6:30 a.m. The paid section never quite fills up. At 8 a.m. today there were still at least 200 empty spaces. Nonetheless that 'parking lot full by 7:30 a.m.' myth gets repeated frequently: L.A. Magazine, Zev's Blog, Metro board motions [PDF page 6], but the lot is not full. (Note: Laura Nelson responded via Twitter that "full" more-or-less meant "unavailable.") 
How about the rest of that Times quote of Metro estimating it's losing 1,500 riders a day? I think this figure from this Metro staff report [PDF] which reads:
Staff conducted a review of parking demand using Metro's Regional Transportation Modeling Program for the North Hollywood and Universal City stations. The unconstrained parking demand for both stations far exceeds supply. Unconstrained parking demand is defined as the number of spaces required if there are no regulatory or financial restrictions on use of the parking. The 2014 unconstrained parking demand at North Hollywood is 3,075 spaces. Metro provides 951 [sic - actual: 909] spaces, leaving an unconstrained demand of 2,124 parking spaces.
What is this "unconstrained demand" with "no financial restrictions"? It is meaningless nonsense. Ultimately nothing that exists on planet earth can exist in wholly "unconstrained" theoretical economic cartoon-fantasy-space. Metro needs to balance its constrained budget.
Metro dressing this mumbo-jumbo up in a scientific-sounding "Regional Transportation Modeling Program" is irresponsible. 
The Times reporting that "MTA loses ... 1,500 riders a day" is irresponsible.
What's the "unconstrained demand" for, say, free train rides? Is Metro "losing" tens of thousands of riders a day because they actually charge a fare?  Is the 405 Freeway "losing" cars because Caltrans can't afford to add a dozen more lanes? Is UCLA "losing" students because they charge tuition? Is the L.A. Times "losing" readers because they don't give papers away free? No - all of these real-world entities have constraints. Responsible staff reports and journalism should reflect this reality.
Back to the Times article, which asserts:
Metro has five new rail lines under construction. Only some suburban stations will have parking [...]
I don't know what definition of suburban is being used here. Mercifully, the Regional Connector and Purple Line subway do not add parking. Here are the "only some suburban stations" including suburban Inglewood and suburban West L.A., which will have parking:
Foothill Gold Line: parking at 100% of stations (6 of 6), 1,525 spaces
Expo Line phase 2: parking at 43% of stations (3 of 7), 580 spaces
Crenshaw/LAX Line: parking at 37% of stations (3 of 8), 330 spaces
The Times asserts:
One of the biggest barriers to attracting new riders to Metropolitan Transportation Authority trains is not the price of fares or the frequency of service. It's the lack of parking.
This sentence makes it sound like "lack of parking" is a bigger barrier than "fares" or "frequency" (Ok, technically, the sentence doesn't exclude the possibility that fares and frequency could be the biggest barriers, and parking would be third or so. It would be misleading to write "One of the five most populous cities in California is not L.A. or San Diego. It's Fresno." Technically it is correct; Fresno is CA's fifth most populous city). But what's a bigger barrier to attracting riders: fares, frequency, or parking?
Trying to compare these is a bit like apples vs. oranges -- actually it is mostly-capital vs. mostly-operations. The price of fares and the frequency of service both have an impact on 100 percent of riders. On the other hand, parking is only used by one rail rider in seven, according to on-board surveys mentioned above. Even if Metro budgets could support a huge parking construction boom, it is hard to imagine that the percentage of driver-riders would ever be a majority.
More from the Times article, quoting Metro:
"Our objective is not to make money on parking; our objective is to get people to ride the system," said Calvin Hollis, a Metro managing executive officer.
"Not to make money on parking" sounds kind of neutral, no? If Hollis were being clear, I think he should have said something more like "Our objective is to lose hundreds of millions of dollars building parking, and for parking operations to continue to be a loss leader every year."
Overall, transit systems, like freeways, bike paths, etc. operate at a loss. And they should, because the public has chosen to subsidize certain public goods. The balancing act is finding which mix of loss-leaders will be most cost-effective in furthering the objective of "get[ting] people to ride the system." I'd like to see Metro study what is most effective. I think it would likely include more frequency of service, technology, walkability, bikeability, etc.
Again, the Times, again quoting Metro:
Metro officials say they are trying to encourage alternatives modes of getting to stations, including adding more bike racks and adjusting bus routes to complement rail lines.
Groan. Through awareness is perhaps growing, with Metro adopting First Last Mile and Complete Streets documents, let's follow the money. Metro spends hundreds of millions of dollars to providing free parking, and is basically getting out of the business of funding bike and walk facilities. To date, "adjusting bus routes" has meant cutting bus lines that run anywhere near parallel to rail, to force bus riders onto the rail systems. So, when a new rail line is built, instead of keeping current bus service to allow flexibility and redundancy, bus service gets cut.
One insightful commentary on the Metro station parking policy issue arrived via The Source's transportation headlines. Steve Hymon quotes the University of Minnesota's Andrew Young:
You can build parking lots that [make] transit useful to those who live some distance away from stations or you can build housing and destination adjacent to that station that will be used by those in future who will work and live there.

The question is: do you want to build for an existing constituency or do you want to build for a currently nonexistent constituency that one day will live next to the station? In many places, building for the future is hard for current politicians….people like the status quo and people in the status quo are the ones who vote and it's always hard to change that.
I would assert that today's constituency is more like 6/7ths there, as opposed to "nonexistent," but I think that this commentary leads to the question of what kind of spaces do we really want around our transit portals? Will people "ride the system" if it is mostly surrounded by parking craters? Or if it is in a pedestrian-oriented mixed-use area, with convenient bus stops and bike-share kiosks? And, maybe, if we still need it, some very modest parking available at a very modest fee?
Stay in touch
Sign up for our free newsletter