cap and trade
CA Tackles the Question: What Is a "Disadvantaged Community"?
4:12 PM PDT on September 4, 2014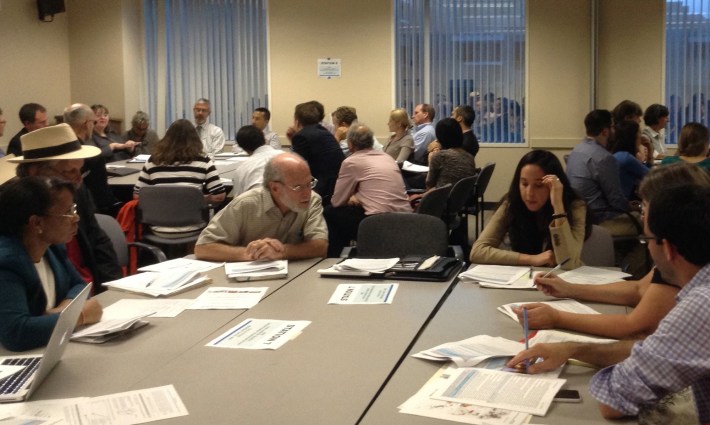 In a packed, airless room last night in Oakland, several hundred people grappled with the question of how to define those communities in California that shoulder a heavier burden of pollution than others.
The workshop was the third in a series of three—the other two were held recently in Fresno and Los Angeles--led by the California Air Resources Board and the California Environmental Protection Agency (CalEPA) to gather input on the question. The room was packed with experts and advocates from a wide variety of fields—emissions, housing, transit, recycling, you name it—and there may even have been a few members of disadvantaged communities present.
The question of how to define a disadvantaged community is not merely an academic one. Millions--potentially billions--of dollars are at stake. By law, a portion of all revenue generated from the auctions of pollution credits under the state's cap-and-trade system must be spent in, or for the benefit of, "disadvantaged communities."
The mayors of Richmond, Oakland, and Berkeley showed up, as did state Senator Loni Hancock. Invited to speak briefly, each brought up local concerns, with Oakland's Mayor Jean Quan quipping: "We're probably all going to say the same thing."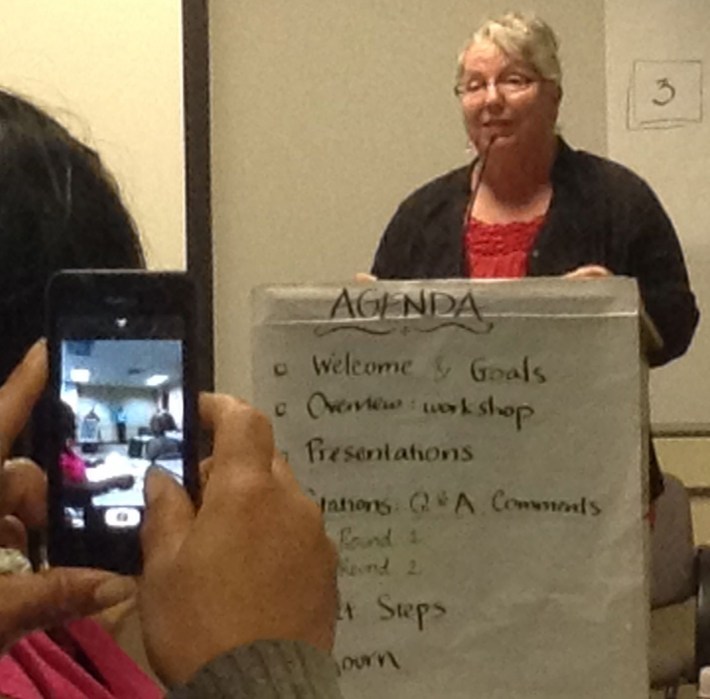 And indeed each mayor pointed out communities in their areas that bear a heavy pollution burden but did not show up on the preliminary maps of disadvantaged communities produced by CalEPA. Quan said she was surprised that several areas in Oakland were left out, including low-income tracts along the heavily traveled 880 corridor and East Oakland.
Richmond Mayor Gayle McLaughlin, noting her city lays claim to the state's largest emitter of greenhouse gas emissions, the Chevron oil refinery, added, "Our community has shouldered the burden of pollution and subsequent health impacts for 100-plus years. Those communities that suffer the most should be put front and center—not in the back, not in an appendix--for getting the resources that we need."
Those preliminary maps, included in the ninety-plus pages of material passed out at the workshops, were developed by the state's Office of Environmental Health Hazard Assessment as part of CalEnviroScreen. This was presented at the workshop as the state's chosen tool for defining disadvantaged communities. It combines twelve pollution factors (such as ozone, diesel emissions, and groundwater threats) with seven population factors that studies have found make people more vulnerable to the effects of pollution (for example, asthma rates and poverty). The data is available at the census tract level so the information can be mapped at a fairly detailed level.
It's a groundbreaking tool resulting from years of work, and is an impressive achievement. But as evidenced by the mayors' remarks, it's also just a starting point.
Because the data from CalEnviroScreen can be applied in any number of ways, and results vary depending how it is applied, one of the questions at the workshop was how best to do so. Should there be cutoff points? How should the factors be added together? CalEPA presented five potential methods of determining the definition. At the workshop, David Holstius of the Bay Area Air Quality Management District described a sixth one that his agency thought worked better. There may well be more.
Another question tackled at the workshops was what criteria should be considered when judging eligibility for funds. What exactly does it mean to spend funds "to benefit" a disadvantaged community? At one table, the group grappled with the question of money for low-carbon transportation—one of the categories of cap-and-trade funding. It was clear from the discussion that there were too many subjects to discuss and too little time to talk about them.
David Zisser of Public Advocates brought up concerns with interpretations of what the law means by "benefiting" a community. According to S.B. 535, a portion of all cap-and-trade funds must be spent "to benefit" a disadvantaged community, and another portion must be spent "in" a disadvantaged community. "We're somewhat concerned that the Air Resources Board is defining that first category geographically," he said. "It resembles the second category too closely."
In a later conversation, he elaborated. "We want to encourage the board to think more broadly, to think about benefiting disadvantaged households, and to think about what 'disadvantaged household' means. Requiring one to be within a half mile of a disadvantaged community may be too restrictive," he said.
At the workshop, he'd given the example of a program that provided transit passes to low-income people. "Those people may not be living in disadvantaged communities, but that kind of program should nevertheless count towards the requirements of S.B. 535."
Rick Ramacier of the County Connection, a transit agency in Concord, made several concise suggestions, each of which could have been the seed of a much longer conversation. For example, he pointed out that differences between federal and state definitions of disadvantaged communities could cause confusion and conflict. Federal Title VI rules requiring that projects not create an unfair advantage for one group over another could potentially conflict with California's definitions, he said.
Several participants, including Carmelita Miller of the Greenlining Institute, reminded the agencies that members of the disadvantaged communities themselves need to be included in the conversation.
"We appreciate your efforts to work with everybody, including community members," she said, "and hope that that effort continues throughout whatever refinements are made."
Two hours on a single evening was hardly enough time to begin to grapple with the questions put before the group. One could hardly blame one participant, who requested much simpler explanations of the process. "There is a lot of jargon here," he said. "It would be much easier for people if there were a simpler, visual explanation of all of this."
Of the many pieces of information passed out at the meeting [PDF] [and another PDF], perhaps the most important was a sheet explaining when and how to submit written comments. That one is not online, but here's the skinny:
Comments are due by September 15. Perhaps one comment ought to be that there is not enough time to absorb the material, let alone comment on it.
Comments are sought on the CalEnviroScreen tool and the way it identifies "disadvantaged communities" as well as the Air Resources Board's Interim Guidance to Agencies Administering Greenhouse Gas Reduction Fund Monies. This is the draft criteria for judging whether projects are eligible under SB 535 for cap-and-trade funds. Comments can be submitted here.
In addition, the Air Resources Board will meet on September 18 in Sacramento (1001 I St., time TBA, webcast here), and the Interim Guidance should be on the agenda. To have written comments included, get them in by September 15 to the link above. There should also be opportunity for public comment at the Board meeting.
Email tips, alerts, press releases, ideas, etc. about California transportation to melanie@streetsblog.org.
For social media coverage focused on statewide issues, follow Melanie @currymel on Twitter or like our Facebook page here.
Streetsblog California editor Melanie Curry has been thinking about transportation, and how to improve conditions for bicyclists, since her early days commuting by bike to UCLA long ago. She was Managing Editor at the East Bay Express, and edited Access Magazine for the University of California Transportation Center. She also earned her Masters in City Planning from UC Berkeley.
Stay in touch
Sign up for our free newsletter