Walking
An Underwhelming Sidewalk Repair Day at L.A. City Hall
2:02 PM PDT on August 20, 2014
A little less conversation, a little more action pleaseAll this aggravation ain't satisfactioning meA little more bite and a little less bark- song performed by Elvis Presley (words by Billy Strange, Mac Davis)
Elvis did not necessarily have Los Angeles sidewalks in mind when he asked for less conversation and more action, but that is certainly what I had in mind at this week's sidewalk repair session. Billed as "L.A. Sidewalk Day" it was, in fact, just a joint meeting of the Los Angeles City Council's Public Works and Budget committees.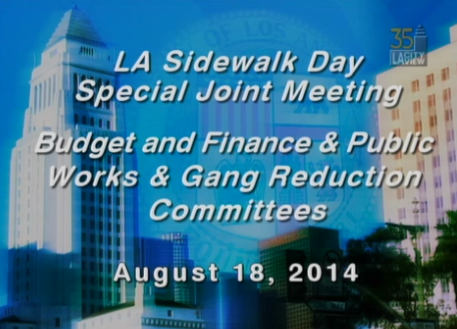 Five councilmembers -- Paul Krekorian, Joe Buscaino, Mike Bonin, Gil Cedillo, and Paul Koretz -- plus lots of testimony from the city's fiscal watchdog agency shot-caller City Administrative Officer Miguel Santana. The made-for-the-media day also included cameos by City Attorneys, Bureau of Street Services, and some public testimony.
Los Angeles faces a guestimated $1.5 billion sidewalk repair backlog. I say "guestimated" because the city does not actually keep track of the full extent of sidewalk repair needs. The assembled city family present at Sidewalk Day were not quite certain where the source of an oft-quoted statistic that 40% of city sidewalks need repairs. Bureau of Street Services Assistant General Manager Ron Olive stated that he thinks the figure is from a very limited late-1990s survey, but Olive testified "I've been looking for that survey and I just can't find it."
Last year's city budget allocated $10 million for sidewalk repair, but the City Council debated until April, nine months after the budget year started, on how to spend it. Disappointingly, they decided to only repair sidewalks on city-owned properties.
When the budget year ended on June 30, the city had only spent $3 million of the $10 million; completing sidewalk repairs at the L.A. Convention Center, parks, libraries and a few other city facilities. The unspent $7 million rolled over into the current fiscal year, which includes an additional $20 million for sidewalk repair.
The city is now deciding how to spend $27 million this year.
Some councilmembers have called for spending limited sidewalk repair dollars to target specific areas: lawsuit locations, 50/50 programs, innovative paving materials, even Mayor Garcetti's Great Streets initiative. For better or for worse, though, it was pretty clear that the current $27 million will continue last year's program of repairing only city facility sidewalks.
CAO Santana testified that, so far, there are 87 city facilities identified that need sidewalk repair, and that the total cost of just city property repair is expected to be greater than $27 million. Committee chairs Krekorian and Buscaino favor a city-facility-first approach; Buscaino stated that the city "needs to lead by example."
So what was the final outcome of Sidewalk Day? Wait another couple months for city staff to report back with recommendations on how to spend this year's wholly-inadequate $27 million, and how to implement a long-term sidewalk repair program. Yawn.
At least Councilmember Jose Huizar provided cake on Complete Streets Day.
One potentially promising development, not announced at Sidewalk Day but noted on a schedule in a CAO handout [PDF], is that the city appears to be narrowing in on settling the Willits lawsuit. Willits is a class action lawsuit over L.A.'s failure to make the public pedestrian right-of-way accessible to disabled people. According to the CAO's handout "Willits settlement discussions conclude" in October-November 2014.
CAO Santana blames Willits for city inactivity on sidewalk repair; he stated that lawsuits "complicated the rollout" of sidewalk repair solutions. But I think it's probably the other way around. From the 1970s until Willits was filed in 2010, the city has dragged its heels on fixing sidewalks. There were some 50/50 programs, some asphalt repairs, some capital projects, but mostly sidewalks were just allowed to fall apart. Since 2010, the city has at least begun to allocate some funding, while longer term strategies are being discussed.
What might action look like? One worthwhile option would be for the city to implement a point-of-sale sidewalk repair requirement, as recommended by UCLA's Don Shoup in an editorial published at the L.A. Times this week:
Broken sidewalk make the city inaccessible for people with disabilities, especially those who are blind or use a wheelchair. Accessibility has emerged as an important legal issue because the Americans with Disabilities Act requires cities to make all public facilities, including sidewalks, accessible. Several lawsuits have been filed asserting that L.A. has failed to ensure its sidewalks are accessible. Riverside and Sacramento have already lost similar lawsuits. If L.A. also loses in court, where will it find the $1.5 billion needed for repairs?

As the City Council weighs options, here's one solution that's been successful. Some California cities, such as Pasadena and Piedmont, have adopted a repair strategy that costs them nothing: They require owners to fix their broken sidewalks when they sell their property. This strategy is called a point-of-sale program, and it has good precedents. For example, L.A. requires owners to install low-flush toilets before selling a property.

How does a point-of-sale program work? Before a property is sold, the city inspects the sidewalk fronting the property. If the inspector finds a broken sidewalk that is unsafe, the owner must fix it before the sale is final.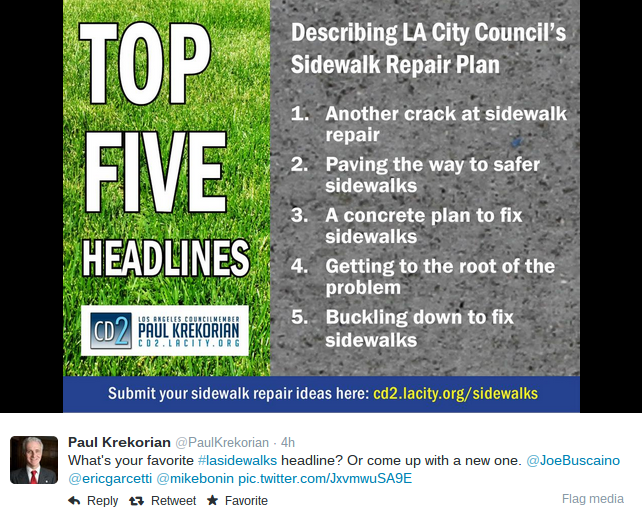 Read the full Shoup L.A. Times editorial here.
Read more Sidewalk Day coverage at the Daily News, L.A. Times, and KPCC.
Stay tuned to Streetsblog for more #lasidewalks news as the city's sidewalk repair program waits and inches forward. Watch where you step out there.
Stay in touch
Sign up for our free newsletter