streetsr4families
#StreetsR4Families – Back to School Advice for Walking Biking
12:11 PM PDT on August 12, 2014
I just returned home from a life-changing experience: dropping my kid off at kindergarten for their first time. The bucket bike stayed home (today) and my wife and I walked him the roughly quarter mile to school.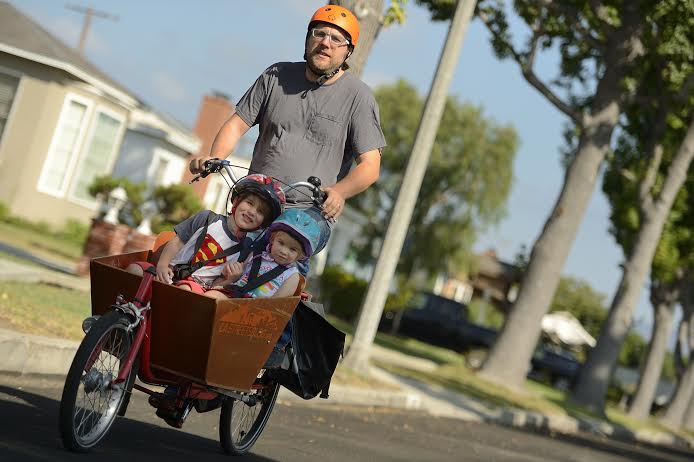 It was exhilarating. I'm fortunate enough to be in a position where we could afford a house within walking distance of a good school. Despite being nestled in an exurban community, it was pretty clear not all of the parents had that option, or were aware they had that option. There were plenty of kids being dropped off by car.
Ok, I would say the majority of them were. The vast majority.
Obviously, I've been thinking about my child's school commute for some time. I often sermonize to other parents that the school day starts when the child leaves the house, not when he or she arrives at school. The choices we make on their behalf on how they get to school matter and educate.
But with this piece, I want to give people some advice that is not from their local Gen-X hippy-wanna-be, so I asked the experts. What advice would you have for someone wanting to walk, bike or take transit with their kid to school? or, if they're older than mine, for the students to do so on their own?
The first to respond was Jim Shanman, the executive director of Walk n Rollers. Walk n Rollers, a non-profit dedicated to making it easier and safer for kids to ride bikes or walk for their transportation choices. Shanman makes the case that the best commuting education is one where students experience different options before they reach the age to make their own decisions.
"Walking or biking to school does not necessarily mean door-to-door or even every day," he writes.
Every block and each day makes a big difference in reducing traffic and pollution around schools and teaching children the value of non-motorized transportation. We recommend starting slow, maybe one day a month is committed to walking or biking to school, building to once a week. Or take the 5 block challenge. Instead of driving all the way to school, try parking 5 blocks away and walking the rest. Spending an extra 10 minutes with your kids and avoiding the drop off crush is an excellent - and rewarding - way to start your day.
Shanman is also a big believer in walk and bike to school days. Even though the Los Angeles Unified School District just opened its doors today, we're only 57 days away from the National Walk and Bike to School Day on October 8. If you're looking for help organizing one at your child's school, or are a student looking to start one, there's a website with tips on how to get the ball rolling at WalkBiketoSchool.org.
The Safe Routes to Schools National Partnership runs a separate but related program called Fire Up Your Feet, which also encourages physical activity for students before, during and after the school day. October is their "fall activity challenge" and schools that participate can earn up to $5,000.
"More and more research shows the critical role of daily physical activity to increase brain performance and wellness - walking and biking to school is a great way to do that," writes Jessica Meaney, the regional director for the Safe Routes to School National Partnership.
Currently 34% of L.A. County students walk and bicycle to school - we hope to see that percentage grow and grow as more communities encourage their local cities, transportation agencies and school districts to do more to ensure its safe and enjoyable for all students to walk, bicycle and catch Metro to and from school.
Of course, a major hurdle for parents when planning for a people-powered trip to school is the fear of other parents and their cars. While distracted parents in large vehicles are a concern, the good news is that every child who walks or bikes to school reduces by one the crush of cars swarming the local school.
In the South Bay, San Fernando Valley, and other places, we've seen communities fight bicycle lanes that would connect to schools because the accompanying road diet would "worsen traffic." This kind of cynicism robs students of a safe way to get to their local school and is the worst kind of backwards logic. The best way to fight it is to build a coalition of parents that want safer access for the kids and parents that don't need to fire up the old combustible engine to get to and from the campus.
But that isn't to say that your child's immediate safety shouldn't be the top concern. LADOT 's Active Transportation Group encourages both parents inside and outside of cars to be extra cautious near schools.
LADOT would like to encourage all Angelenos to remind kids to make eye contact with drivers before crossing the street and to watch out for cars that are turning or backing up whether they are on a bike or walking to school. In addition, when driving, please be especially alert in residential neighborhoods and school zones and be on the lookout for bikers, walkers or runners who may be distracted or may step into the street unexpectedly.
If anyone out there is on the fence about walking or bicycling with their kid to school, send me an email at damien@streetsblog.org and we'll see what resources might be available to make your decision easier. Hashtag your bike or walk to school stories "#streetsr4families" and we'll share them.
Stay in touch
Sign up for our free newsletter