Air Quality
Exide's Third Application for Permit to Handle Hazardous Waste Found Deficient
4:59 PM PDT on June 18, 2014
Just after I got word yesterday that the Department of Toxic Substances Control (DTSC) had determined that Exide Technologies' third application for a formal permit to handle hazardous waste at their lead-acid battery recycling facility in Vernon was deficient, an email popped into my inbox from State Senator Ricardo Lara's office.
Lara's press release touted yesterday's advancement of his bill, SB 712, from the Assembly Environmental Safety and Toxic Materials Committee. The bill requires that Exide, which has operated in Vernon for 14 years with an interim permit from the DTSC, achieve compliance with federal and state hazardous waste laws by December 31, 2015 or be shut down.
The need for such a bill seemed strange -- did we really need a bill to ask a corporation to comply with laws already on the books?
According to Lara, yes.
In the bill first presented before the Senate Committee on Environmental Quality this past January, he notes that, "There appear to be no repercussions for a facility that does not have a current and up-to-date permit [to handle hazardous waste] in place. In fact, there seem to be advantages to the facility by having the process continued for as long as possible under an interim or previous permit because a new permit is likely to require more stringent conditions and/or mitigation measures."
It's hard to argue with that reasoning.
Exide took over operations at the Vernon site from Gould-National Battery (GNB) in 2000, but apparently didn't begin to draft an application for a formal permit until 2006. Meanwhile, they had already been fined by the DTSC in 2003 and 2004 for improper storage of the batteries, a lead-contaminated drainage channel, and failing to clean up public areas (sidewalks, etc.).
And, while their draft permit application seemingly went nowhere until it was submitted in 2011, Exide continued to violate air quality and other standards, even being charged with "contribut[ing] through deposition approximately 424 lbs. of lead in both 2004 and 2005, and 712 lbs. of lead in 2006 to the watershed."
In 2011 and 2012, both of Exide's formal applications to the DTSC for a finalized permit to handle hazardous waste were found to be deficient.
Yet, aside from fines, Exide's operations continued unhindered until April of last year, when corroded storm water pipes posing a danger to environmental and public health prompted the first of several shutdowns and much greater public scrutiny over the course of 2013.
Exide's third application for a formal permit (filed this year) has been under review while the plant has been shut down. Normal operations were finally halted at the plant in mid-March so it could undergo maintenance and upgrades to comply with the stricter emissions controls imposed by the Air Quality Management District in January.
The deficiencies found in the permit application raise questions about whether Exide will have the opportunity to resume operations any time soon.
According to the DTSC, Exide fails to paint an accurate picture of the amount of lead-contaminated waste on the site, the sites and containers in which it is be located, the safety assessments of tanks holding hazardous waste to withstand earthquakes, the costs of or proper methods to be used in cleaning up the site after it is shut down, or the sampling that would need to be conducted after-the-fact to ensure the site was properly cleaned up.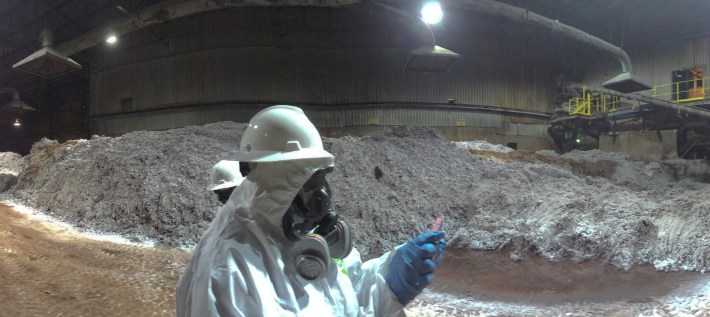 These are not minimal concerns, as the good people of Frisco, Texas, can attest. Exide was forced to shut down operations there two years ago and the post-closing clean-up of the area has been fraught with problems (including the disappearance of a bucket of potentially contaminated waste off the back of a truck).
The rejection of Exide's third application means they have 30 days to resubmit a revised version. State law requires that DTSC begin a permit denial process if an applicant does not submit a complete permit application package after the Department's third "Notice of Deficiency."
The "Notice" sent to Exide is helpful, in theory, in that it carefully details how the application should be corrected, including estimates of costs, timelines, and potential contamination.
Even with that aid, Exide's applications have continued to fall short of the DTSC's standards.
Those fearful of having been affected by more than a decade of lead and arsenic emissions have their fingers crossed that Exide will come up short once again.
To see the full "Notice of Deficiency" (and lots of horrifying pictures of the plant), please click here. For a timeline of Exide events/violations/etc., see KPCC's page, here, or that in Sen. Lara's bill, here. For more DTSC documents on Exide, please click here.
*This post has been updated to note that, if Exide is denied a permit, it would nullify their current permit's interim status, and they would lose the authority to operate a Hazardous Waste facility in California.
Sahra is Communities Editor for Streetsblog L.A., covering the intersection of mobility with race, class, history, representation, policing, housing, health, culture, community, and access to the public space in Boyle Heights and South Central Los Angeles.
Stay in touch
Sign up for our free newsletter