LongBeachize
The New(est) Urbanist Mayor of Long Beach
11:02 AM PDT on June 6, 2014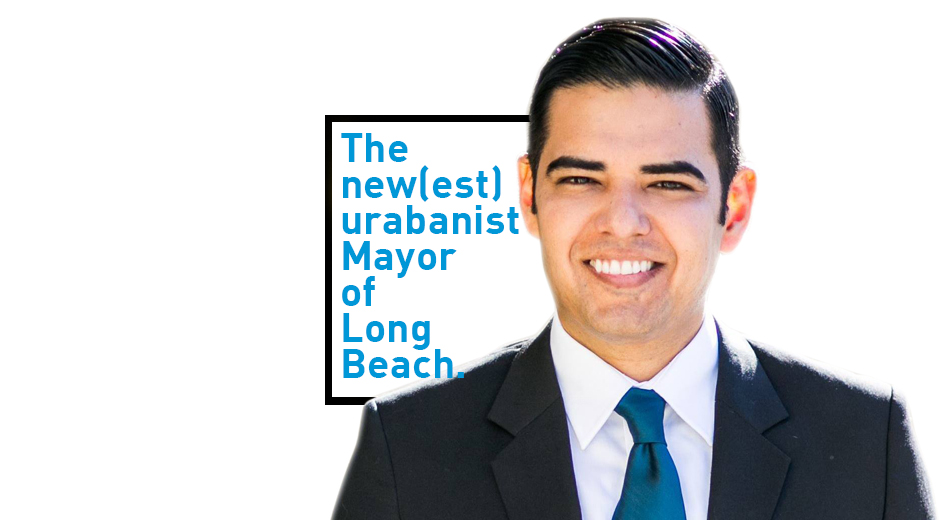 Disclosure: Mr. Addison is and has been a personal friend of Mr. Garcia for nearly a decade.

If there was anything to be said about the election of Long Beach's next mayor, it was that it showed a city divided—but not in the sense one would think.
On the one hand, there was a Long Beach that—at least for me—was a Long Beach I had never seen, one which opened its arms (quite widely) for someone whom was largely a newcomer to the city with endorsements (not to mention a former OCer—hey, Damon, we all make mistakes but this commentary still stands). Despite his opponent leading over him by almost five percent, Damon Dunn's efforts should not be dismissed: he defeated multiple Long Beach political veterans in the primaries (efforts that ultimately provided the seemingly-unstoppable Lowenthal dynasty with their first ever loss given Bonnie third-place ranking in said primaries).
That being said, I am personally thrilled—not just as a friend but as an avid supporter of urban livability—that the other Long Beach, the one I know so well and, well, given there is no other way to put it, the Long Beach that puts Long Beachers first, ended out on top with the election of current Vice Mayor RobertGarcia. This isn't to downsize Damon's approach to urbanism; he was an outspoken proponent of bikes, less cars, green technologies, more parks, and less pollution. He's very well in tune with what Long Beach wants.
But Robert is unquestionably going to be Long Beach's most adamant new urbanist.
"I want more cops on bikes," Garcia said, one of the many points he'll happily make without the bat of an eye. And what about horses? He notes that the LBPD had horses nearly a decade ago. But he emphasizes bikes are better because they engage on a more human level: it's easier to stop cops on bikes and citizens feel less fearful of approaching.
If anything, Robert doesn't need the ideas—only the funding. While this sounds like the typical political struggle, it's actually not because, well, bluntly put: no mayor (or Long Beach politician) has been so driven toward ideas that, even if outrageous in the name on dollar signs, are downright innovative.
Robert also notes the plans in place already, such as the (long-dreamt of) greenbelt that will connect Drake Park in Wilmore to Cesar Chavez park, with plans to install soccer fields, a skate park, wetlands restoration, a river park, in addition to the upgrades which have already happened.
This isn't to say we're (entirely) lost financially.
"All of phase one [of the aforementioned greenbelt] is funded and is moving forward," Robert said. "But there's still other phases to do—the skate park and river walk phases and what not are still to be funded. So it's about putting together money and that means to work with the County and the State, which is how we funded the first phase."
Foster, for lack of more eloquent but not more appropriate words, had the balls to 
say the following aloud in a public forum
: "It is very hard for me intellectually to accept that you value the life of a kid on this side of the city border more than you do a kid in my city."
Bob, you're my kinda man (don't get that twisted—you know what I mean).
The 
cheery, bullshit "overview" video
 accompanying the campaign of SCIG was something that surely set Foster off: y'know, a happy, anthropomorphically animated sun looking over a supposedly less-crowded freeway and boasting of reduced truck traffic… Y'know: "GREEN!"
Robert, outside of distancing himself as a Foster 2.0, stands by Foster's lead in the matter: "On the SCIG project, we've been clear: 
we're suing
. On the other hand, I want to balance growth and modernization."
For Robert, modernization isn't synonymous with pollution—and he makes that clear by pointing out that growth can occur without incurring a massive cost on the environment. The Middle Harbor project, he points out, is one of the Port's most green projects.
Of course, SCIG—and its subsequent lawsuit—has to do with the fact that the project is part of Los Angeles, approved not in any way by Long Beach—whose West Side citizens are most affected by SCIG—but by both the Port of Los Angeles and the City of Los Angeles. Hence the lawsuit.
Which is why the very public bonding of LA Mayor Eric Garcetti and Robert, both of served as former councilmembers of their respective cities, is significant. Garcetti is no Villraigosa, who never appeared at an election night in Long Beach as far as I know—and that moment, which Garcetti himself described as the end of a rivalry, marks for a promising future. Keyword: promising—because, much like his support of the SCIG suit, Robert echoes the dog-headed Foster more than he knows when it comes to being backed against wall.
"Together, we are the nation's largest port complex—which means we have to work together when we're able to," Garcia said. "At the end of the day, I am always going to support the Port of Long Beach and my responsibilities to Long Beach. Obviously, if there's a period where we need to be competitive, we will be."
If LA and LB have any match, even if coincidentally rather than policy-wise, it would be this: they both love biking and they love park space. And much like Garcetti—who is, at least in my opinion, far more
innovative
 (thought not 
without criticism
) in his approach to bicycling than was the let's-jack-the-style-of-other-
cities-and-try-and-make-it-
work way of Villraigosa—Robert is not looking to the Old Guard of Long Beach bicycling. Proof of this is his appointment of April Economides (an outspoken and powerful yet under-appreciated proponent of bicycling) and Brian Ulaszewski (the silent but influential urbanist) to his transitional committee.
These types of choices are pertinent since, as more bicyclists actively (and sometimes: 
very stupidly
) engage in riding on the streets, the divide between drivers and bicyclists—check out this comment section—grows in frustration.
"We're America's most bike friendly city—in progress," Robert said. "We have to make sure it's safe for everyone… When there's more people, there's going to be tension. When you're growing, you're going to have growing pains; what we're experiencing is becoming this place that is more open to bicycling."
For Robert, that means educational and behavioral challenges: he staunchly believes that the future of most urban centers will be more bikes—not less.
"That ultimately means planning our streets better," he said. "We need to plan our streets for the future. If you think about the past, we've built our streets completely centered around the car: 'What's best for the car?' And when you think about the public space owned as a city, almost all of it we have turned over to our cars… How do we take that space and use it more efficiently? We have to think about pedestrians, our seniors, how can we make it safe for bicyclists, for cars, for everyone."
In the end, Robert stands by his new urbanist attitude: "[In four years at the end of my term,] I see a greener port… I see us moving in the direction of becoming a technology leader… I see a government that is more open, with data and information online that residents can use to innovate from… I see a city that has put itself on a more global stage when it comes to business and attracting jobs… And I see a city that continues to see itself as progressive on issues such as equality, supporting people, and reaching out to foster creative ideas."
I think that deserves an, "Amen."
Stay in touch
Sign up for our free newsletter