Air Quality
Exide Cited for String of Lead Emissions Violations by EPA
5:55 PM PDT on May 23, 2014
I receive my fair share of press releases regarding environmental happenings and community events, but few are more morbidly amusing than Exide Technologies' efforts to paint itself as the good guy every time it is slammed with a massive violation.
The most recent one from the embattled Vernon lead-acid battery recycler is in response to an Environmental Protection Agency notice that Exide was in violation of lead emissions standards more than 30 times since September of last year and that it may be forced to pay fines of up to $37,500 per day/violation or be potentially subject to criminal penalties, should there be continued willful violations (below). [NOV Exide 05-22-2014 w Company Letter by jedskimkpcc]
A normal person might find the string of violations troubling, particularly since the plant ceased normal recycling operations in mid-March and the only on-site activity has been related to maintenance or upgrades to equipment. [Apparently, the maintenance efforts managed to kick up so much lead dust that the facility was a source of excessive lead emissions every single day between March 22nd and April 19th.]
Not Exide.
Taking a subtle dig at the EPA in its response to the report, the press statement noted that Exide was "dedicated [to] investing the time and money needed to improve the Vernon facility so it can resume recycling more than 9 million batteries per year while complying with the strictest emissions standards in the nation."
As always, at the bottom of the statement, the company reminds readers of the "important role" Exide has played in "fostering California's green economy and promoting environmental sustainability," as one of only two west coast plants that recycles car batteries.
True as it may be that lead-acid battery recycling is incredibly important -- approximately 97% of battery lead gets recycled -- Exide's claims to be preventing materials from being "disposed of in harmful ways or shipped overseas where regulations are lacking" ring a little hollow considering its recent track record.
Nowhere does it mention, for example, Exide's penchant for getting around proper permitting procedures (it has been operating on a temporary permit since 2000) or for taking advantage of lax oversight both here and in places like Frisco, Texas, where it was finally forced to shut down operations two years ago and the post-closing clean-up of the area has been fraught with problems (including the disappearance of a bucket of potentially contaminated waste earlier this week).
Nor does it refer to its February lawsuit against the South Coast Air Quality Management District seeking a variance that would allow it to continue regular operations while upgrading its pollution control systems and to extend the deadline for compliance with the AQMD Hearing Board ruling regarding the upgrade beyond April 10th (see text of amended Rule 1420.1 here).
The ruling, requiring that Exide install new "negative pressure"* equipment, came on the heels of last year's health risk assessment, which found that arsenic emissions from the plant posed an elevated cancer risk to as many as 110,000 people living in surrounding areas.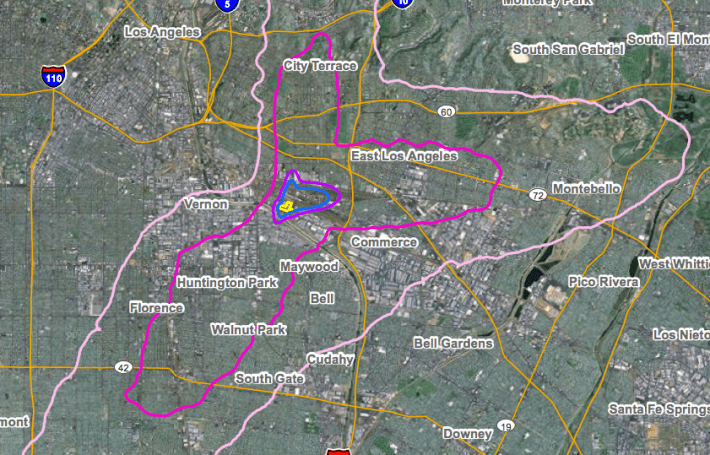 The findings angered many in the community that had been battling the corporation (and the AQMD) over emissions issues for a decade or more.
As a result, few were pacified by Exide's response to the Superior Court judge's rejection of its lawsuit claiming that it had "only sought relief" from strict and costly standards and that at least it had had the decency to "not challenge the emissions limits in the new rule."
More recently, revelations of lead contamination in 39 of the 39 soil samples taken at homes and schools in the communities surrounding the plant have left residents in a panic, worried about the effect of lead on their families' health and their children's development.
Their fears were not assuaged by the Department of Toxic Substances Control's (DTSC) requirement that Exide formulate plans for further soil sampling and action aimed at mitigating harm.
And, as you might imagine, Exide's press release patting itself on the back for having "timely submitted two work plans, including detailed action measures" to the DTSC was of little consolation to anyone. Especially because it left out the most important aspect of their plans -- the proposal to test for other potential sources of lead contamination.
In short, Exide was hoping to use the opportunity to do supplemental testing to show that the lead found in the area was due primarily to lead-based paint and gasoline, not their stack emissions.
The DTSC roundly rejected that notion in its comments, and requested the plans be revised.
Within 60 days of the new plans being approved, residents should begin to receive notices about sampling in the community or the commencement of mitigation activities (i.e. blanketing contaminated soil with a layer of healthy soil). You can find the plans Exide submitted for mitigation and further soil sampling here.
In the meanwhile, the state continues to review Exide's application for a new operating permit.
*Negative pressure furnaces capture particles (and their toxic compounds) released during the smelting process.
If you are a resident in the area and would like your blood tested for lead contamination, please call the Department of Public Health at (844) 888-2290 for more information.
Sahra is Communities Editor for Streetsblog L.A., covering the intersection of mobility with race, class, history, representation, policing, housing, health, culture, community, and access to the public space in Boyle Heights and South Central Los Angeles.
Stay in touch
Sign up for our free newsletter