fares - hikes, fareless
Metro Fare Increase Modification Motion by Garcetti, Zev, and MRT
12:53 PM PDT on May 20, 2014

Just when it looked like this Thursday's Metro board meeting would just see its high-stakes up-or-down vote on proposed fare increases, a new wrinkle emerges: a new Metro board motion [pdf] by Mayor Eric Garcetti and Supervisors Zev Yaroslavsky and Mark Ridley-Thomas. The bottom line on the motion is that a 25-cent fare increase would go forward for September 2014, but with some relatively positive strings attached.
From the way the new motion is written, it's not procedurally an alternative to the fare increase, but instead a sort of tag-along modification that comes after fare increases. The Garcetti-Yaroslavsky-Ridley-Thomas motion more or less assumes that the fare increase gets approved. While there are worthwhile modifications in the motion (see below), the implication here is that the fare increase itself appears likely to pass, given that the mayor controls four Metro board votes and the two other sponsors are likely to vote for it as well.
Here are excerpts from the motion, with SBLA analysis and commentary interspersed.
The preamble section of the motion emphasizes three issues:
Minimizing the ways that fare increases "hurt ... Los Angeles County's working poor"
Minimizing the "criminalization of fare evasion amongst youth riders"
Ensuring that Metro staff give the Metro board "a range of options, with quality analysis and modeling" in order to get "fare structures [that] optimize ridership" including a need for "outside expertise" and a "Rider's Advocate" within Metro. This analysis would include:
• Evaluating the efficacy of merging the 30-day pass with the EZ Pass;• Modifying fare increases for the 7-day and 30-day passes in order to mitigate impacts on low-income riders;• Charging for parking at MTA stations;• Evaluating opportunities to create additional operational cost savings and new revenue opportunities;• Developing multi-day passes to encourage tourists to use the public transit system; and• Adjusting MTA fares annually consistent with the Consumer Price Index instead of stand-alone fare increases.
Though there are some non-binding wiggle-words like "should," the preamble generally comes down on the side of livability, equity, and organizational efficiency.
That's just the preamble, though; now on to the binding actions in the motion:
A. Direct the Chief Executive Officer to take the following actions related to the Fare Subsidy Program:1. Update the eligibility for participation based on the United States Department of Housing and Urban Development's 2014 Poverty Guidelines and adjust eligibility annually based on updates to the guidelines;2. Report back to the Board in September 2014 with recommendations on how to expand outreach and enhance marketing for the program; and3. Report back to the Board in January 2015 with assessments regarding whether additional funding should to be allocated to meet growing demand.
Hmmm. What is the Metro "Fare Subsidy Program?"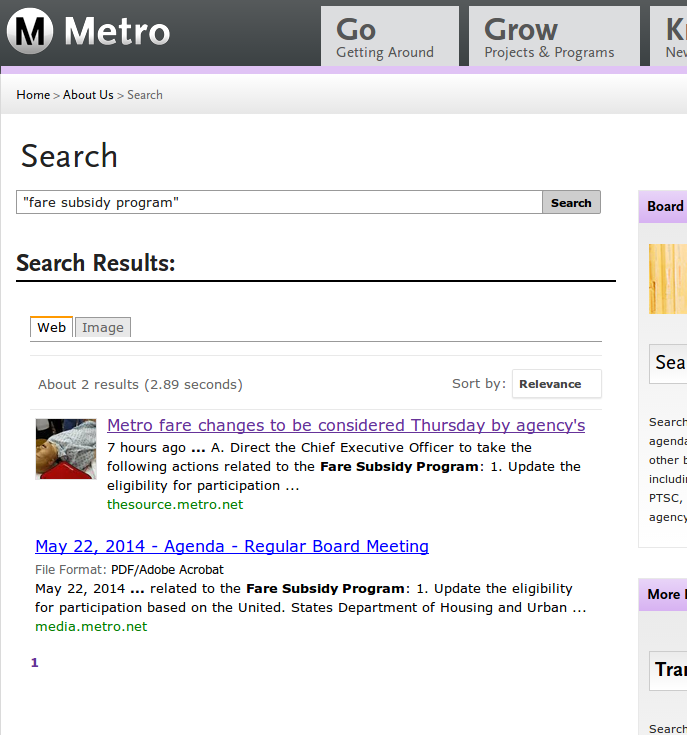 It's not always easy to figure out what Metro is talking about in Board Motions, especially when projects and budget lines have different names. For example, a search for "Fare Subsidy Program" on the Metro website provides links only to articles about, and a copy of, this motion.
After the first publication of this article, SBLA staff confirmed that this program, called RRTP, for "Rider Relief Transportation Program," is basically a subsidy program for people of lesser means... although oftentimes it is not enough for them to buy a monthly pass.
B. Direct the Chief Executive Officer to temporarily freeze student fares at their current pricing levels until further evaluation by the Transit Ridership Best Practices Task Force.
The Metro fare increase proposal would raise student fares over time, proportionally faster than base fares. Freezing the student fare is a step in the right direction - much preferable to an increase. This freeze is probably the single most important aspect of the motion, with far-reaching implications on the future of Los Angeles youth.
It would, however, maintain the current status quo--which has been criticized (including in the language of the motion's preamble)--for criminalization of youth. The county's Education Coordinating Council has called for free student transit fares. 
The motion further directs Metro to establish a "comprehensive diversion program" including an "online educational diversion program and/or [participation] in community service in lieu of fines and court appearances." The devil will be in the details on how comprehensive and effective these programs will be. Online programs may not be easily accessible to this population. Metro would need to invest resources to make diversion effective. Perhaps some up-front investments would be even more effective. Instead of diversion after fare evasion citations, Metro could provide easy-to-obtain free (or very affordable) student transit passes, reducing the need for diversion.
Even with a student fare freeze, more steps would need to be taken to ensure that Metro adequately serves L.A.'s student population.
D. Postpone implementation of the proposed 2017 and 2020 fare increases until after the Chief Executive Officer convenes a Transit Ridership Best Practices Task Force, in coordination with the American Public Transportation Association, to provide guidance on fare structuring strategies that optimize MTA's financial performance while minimizing the burden on the system's lowest income riders. The panel should be asked to consider alternative revenue generation strategies as well as provide recommendations on opportunities to expand ridership; and report back to the Board by July 2015 with their recommendations.

E. Direct the Inspector General to immediately establish, within her office, a Rider's Advocate that would serve as an independent advocate to monitor and assess customer service related issues and evaluate future fare structuring strategies.
Examination of agency best practices is welcome. SBLA often raises examples of how other cities and regions are implementing facilities and practices that would make sense in Los Angeles. There are things Metro does right, but there is more to learn. Again, the devil will be in the details. Will this be a rubber-stamp task force, or a far-reaching reform process? Will Metro invest the resources needed to make the Task Force effective? Or would Metro be better off investing those resources, in, say, cheaper fares?
The "postponing" of 2017 and 2020 increases until a "2015" committee is convened rings hollow.  Is this actually a postponement, or is that just rhetoric? Once the current fare increase heat subsides, will Metro board leadership ensure that this process leads to results?
All in all, while it rounds a few sharp edges off the fare increase, this motion, like many, aspires to more than it actually commits to. While the Garcetti-Yaroslavsky-Ridley-Thomas motion throws just a few worthwhile bones to the critics aligned against the fare increase, it doesn't appear to portend any major re-alignment of Metro's proposed fare increase.
The fare increase, this addendum motion, and more will all be decided at this Thursday's 9:30am Metro board meeting. Follow the proceedings at @StreetsblogLA on Twitter.
Stay in touch
Sign up for our free newsletter