bicycle lanes
North Figueroa Bike Lanes: Public Safety Reps Against Public Safety Project
2:20 PM PDT on May 16, 2014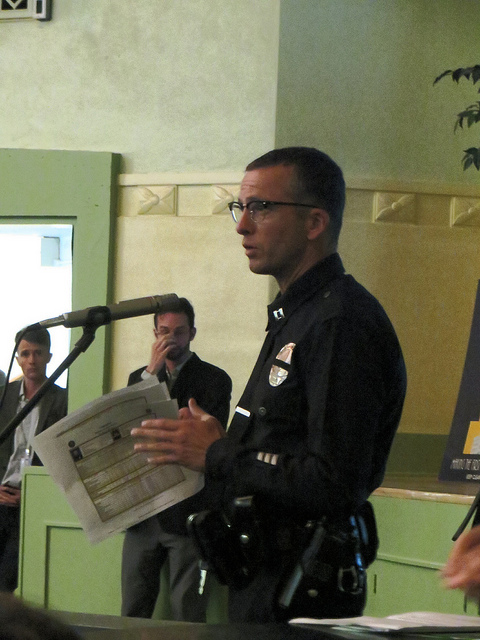 At last week's North Figueroa Street bike lane meeting there was a contentious debate. Cyclists are urging installation of road diet bike lanes to improve safety for all. Bike lanes were approved in the city's 2010 Bike Plan; L.A.'s Transportation Department (LADOT) studied the lanes extensively, and appeared to be on the verge of installing them. Then a new L.A. City Councilmember was elected.
Though Councilmember Gil Cedillo expressed verbal support for the lanes during his election campaign, he subsequently stepped away from that commitment and is nixing the bike lanes and instead proposing to install sharrows on a circuitous bike route that roughly parallels some portions of North Figueroa.  

Councilmember Cedillo summarized the meeting in his email newsletter, stating:
On Thursday over 350 residents attended a spirited community meeting hosted by Councilmember Cedillo at Nightingale Middle School in Cypress Park to hear input on LADOT's proposed bike lanes for North Figueroa Street (from Avenue 22 to Avenue 52, in Cypress Park, Sycamore Grove and a portion of Highland Park). The proposal would remove one of two southbound traffic lanes ("a road diet") on North Figueroa Street.

Councilmember Cedillo heard thoughtful input from stakeholders. Testimony was also provided by Captain Ed Elguea, LA Fire Department Fire Station 44, Captain Jeff Bert, LAPD Northeast Station, Sergeant Luciano Meza, LADOT Traffic and R. Scott Page, LA Metro Operations Planning Manager, Service Planning. These Los Angeles City Department representatives expressed concerns of increased traffic congestion if the southbound traffic lane is removed as proposed by LADOT.
While it's common for bicycle, and other transportation, facilities to be subject to political pressures, cyclists were disturbed that representatives from the city's police (LAPD) and fire departments (LAFD) expressed opposition to the bike lane project. 
Here's an example of the public safety testimony, which has been posted on YouTube: LAFD, LAPD. Los Angeles Fire Department Captain Elguea stated:
From a professional opinion, this [North Figueroa bike lane project] will slow down our response time.
City public safety officers spoke in opposition to a public safety project.
What's the evidence? Do bike lanes actually pose a threat to public safety? Do road diets threaten public safety?
Thanks to L.A. City Bicycle Advisory Committee chair Jeff Jacobberger for tracking down relevant city documents. See the full text of Jacobberger's communication to Cedillo posted here. 
LADOT studied the North Figueroa bike lanes extensively, and concluded that they "would not impede emergency access." As part of its Environmental Impact Report (EIR) documentation, LADOT studied the project and stated:
"The implementation of the proposed projects would not impede emergency access. Bicyclists would follow the same protocol as vehicles in surrendering the right of way to emergency vehicles. The design of all bikeway facilities will be governed by the Technical Design Handbook and applicable federal, state and local guidelines. The proposed projects would comply with all City of Los Angeles fire department requirements. Less than significant impacts to emergency access are anticipated." (Initial Study [PDF], page 25.) [emphasis added by Jacobberger]
LADOT spent time and money analyzing how North Figueroa bike lanes could impact emergency response. During that process, LAPD and LAFD were notified, and neither LAPD nor LAFD expressed any official concerns. The final approved LADOT study documents concluded that there weren't any significant adverse impacts.
There are numerous examples from elsewhere, too. 
LADOT has done several road diet bike lane projects, including 7th Street, Spring Street, Main Street, Rownena Avenue in central Los Angeles. Road diets have been implemented on Colorado Blvd and York Blvd in North East Los Angeles. Many of these projects have been done on streets that are home to LAPD and LAFD stations. Neither LAPD nor LAFD have raised response time concerns with any of these on-the-ground improvements.
NYC bikeway opponents predicted an emergency response crisis, but response times there improved.
In the discussions over implementing road diet bike lanes on Colorado Boulevard, Walk Eagle Rock posted a very apt analysis of the emergency response time issue. Below is an excerpt:
Bike Lane Concern #5: "Reducing the number of lanes available to motorists to create bike lanes will hurt emergency response times!" and "We need to maintain the number of lanes available to motorists so that we don't delay emergence responders!"
Naturally nobody wants to delay emergence responders and potentially risk losing lives because people can't get medical attention quickly enough. It is very understandable and commendable to have safety be a prime consideration. However, perhaps this concern is a little overstated, let's explore why. Firstly, the local Los Angeles Fire Department (LAFD) Station on York Boulevard has not raised concerns to the LADOT about being able to respond to emergencies. In Downtown LA, at the request of the Los Angeles Police Department (LAPD), the LADOT will remove a bike lane on 1st street. If there were a significant impact on the ability for emergency responders to reach their destinations because of bike lanes on York Boulevard, the LADOT would remove the bike lanes immediately.
Also, as noted by Tom Vanderbilt, author of Traffic: Why We Drive The Way We Do and What It Says About Us, generally speaking any time saved by emergency responders by not implementing a traffic calming measure is negligible. In fact, Vanderbilt notes the status quo is likely more dangerous– as he succinctly puts it "speeding cars have surely claimed more lives than speeding responders have saved." If we turn to York Boulevard again, we see what bike lanes may mean for Colorado Boulevard. The number of crashes on York Boulevard went down following the implementation of a "road diet" that reduced the number of travel lanes available to motorists. Part of York Boulevard went on a "road diet" in 2006 and utilizing traffic collision data available through UC Berkeley's Traffic Injury Mapping System one will note that from 2002 to 2005, there were 92 crashes on the section of York Boulevard that would eventually go on a "road diet." From 2006 to 2009 that same stretch of York Boulevard saw only 61 crashes. Comparing pre- and post- "road diet" data on York Boulevard show additional safety benefits. The number of misdemeanor and felony hit-and-runs are on a decline and as are the collective number of visible, severe, and fatal injuries. Collision data from York Boulevard suggests there is reason to believe that reducing the number of lanes available to motorists will make Colorado Boulevard safer and reduce the need for emergency responders to go to the scene of preventable crashes.
Lastly, the Federal Highway Administration has studied road diets and found that they are a "proven safety countermeasure." While bicyclists generally focus on the inclusion of bike lanes as a proven safety feature, the FHWA study shows that road diets make streets safer for all road users. Pedestrians get fewer traffic lanes to cross. Road diets' biggest safety gains are from eliminating blind spots for drivers turning across two lanes of oncoming car traffic.
There may well be legitimate reasons to oppose road diet bike lanes on North Figueroa Street.
These reasons may be political. These reasons may have to do with throughput for cars. These reasons may have to do with comfort with the existing status quo.
The evidence is clear that public safety is not a legitimate reason.
(Earlier this week, Streetsblog Los Angeles contacted the LAPD and LAFD for clarification on official departmental policies regarding emergency response times, and clarification on whether departmental representatives were speaking personally or on behalf on their departments. To date, no response was received. Updated 18 May 2014: SBLA received this response from LAFD shortly after the article was published.)
Stay in touch
Sign up for our free newsletter