City Planning
Editorial: Five Changes To Make A Better Los Angeles Mobility Plan
10:18 AM PDT on May 7, 2014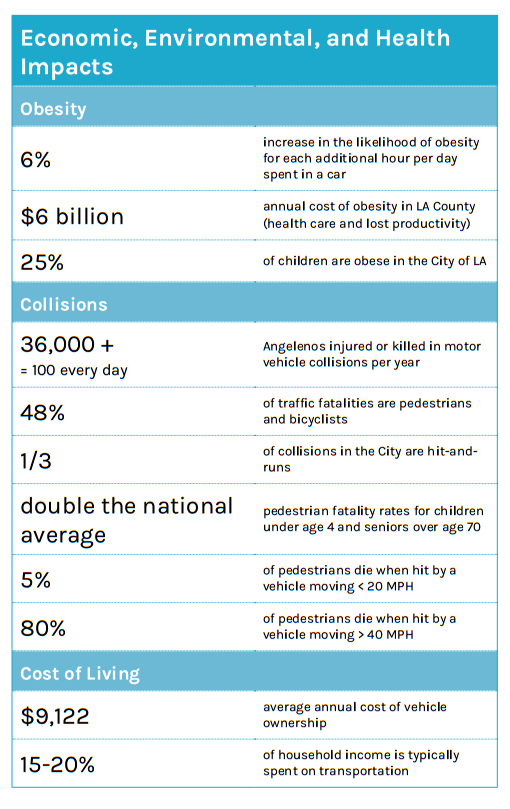 It's time to roll up your sleeves and finalize your comment submissions for Los Angeles City's draft Mobility Plan. To learn about the plan, read through plenty of SBLA coverage and review source documents at the project website. Perhaps also read Flying Pigeon's scathing critique of the plan as a "morally bankrupt symbol of a crumbling society."
Mobility Plan Comments are due next week: Tuesday May 13th, 2014.
Commenting is important, because I expect that L.A.'s car-centric mainstream will be asking to just keep widening roads and adding more parking spaces. To approve a plan that actually embraces L.A.'s livable future, the city needs to hear from lots of people who want to bike, walk and ride transit. Even if you just comment that you're a cyclist and you want a plan that keeps you safe, please submit a comment! Submit your comments various ways, probably easiest via email to my.la [at] lacity.org.
Here are five changes I'd like to see made to the plan.
1 - Explicitly Prioritize Mobility Equity Investments In Low Income Areas
As emphasized by Multicultural Communities for Mobility's Betty Avila, the new mobility plan needs some equity. Transportation investments need to improve mobility, health, and quality of life for Los Angeles' under-served low-income communities of color.
Advocates fought for inclusion of equity in prioritization of bicycle facilities in the 2010 Bike Plan. On Chapter 4, page 97, the Bike Plan includes a "Bicycle Funding Priority Grading System" which prioritizes bicycle transportation investments in low income areas and also, though less fleshed-out, areas with greatest traffic fatalities and injuries. Though this prioritization system hasn't been front and center in the mostly-opportunistic bike plan implementation, today it is Los Angeles City policy.
With the proposed Mobility Plan overlaying the approved bike plan, lots of bike-specific programs are being lost, including deletion of this policy to prioritize equity. The new draft Mobility Plan appears to attempt to create a seemingly neutral level playing field. All transportation modes, from walking to bicycling to transit to driving, are upheld together. All L.A. neighborhoods are weighted equally. In the past, this one-size-fits-all approach has led to plenty of car-centric investment privileging haves and degrading have-nots.
The draft Mobility Plan maps out investments in improving conditions for walking, riding transit, and bicycling. Though there are needs for safer and better streets in all L.A. neighborhoods, it makes more sense for the city to spend more of its scarce pedestrian safety dollars in pedestrian-oriented areas, such as Boyle Heights and MacArthur Park, and less in car-centric areas, such as Pacific Palisades.
The plan needs to explicitly prioritize transit, bicycle, and pedestrian investment in under-served areas. The plan needs to include some sort of equity lens, at a minimum like the Bicycle Funding Priority Grading System, preferably something even more effective.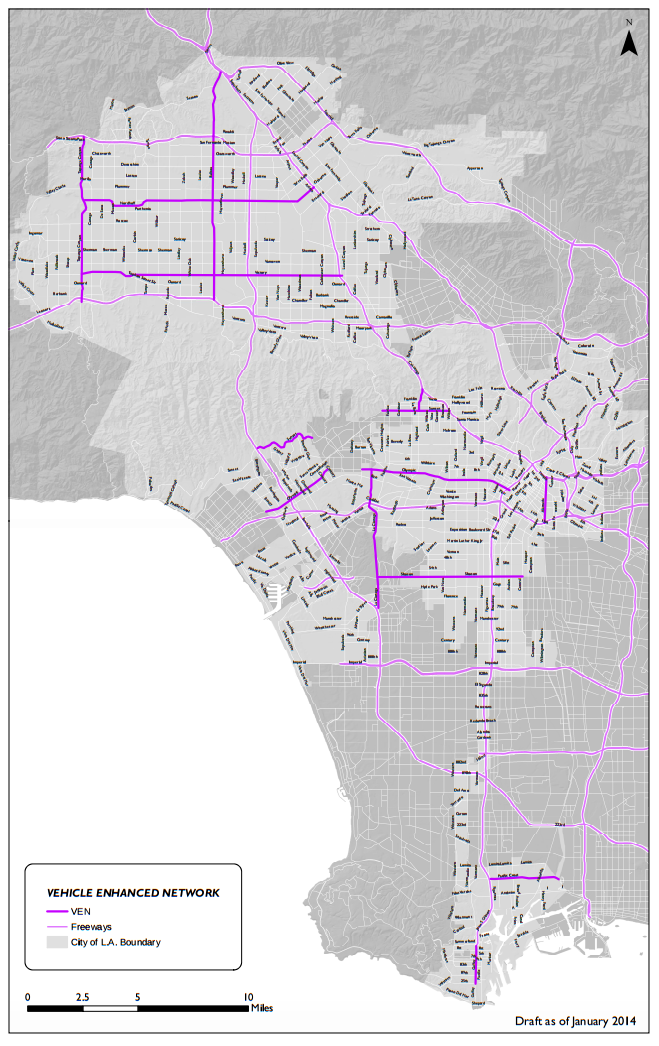 2 - Delete the Vehicle Enhanced Network
On page 66 of the draft Mobility Plan, after a preamble that laments how poor little Los Angeles didn't quite build enough freeways, there's an assertion that a handful of Los Angeles streets actually do need even more cars. Really.
The draft plan calls these streets a "Vehicle Enhanced Network" or VEN. These streets would get features including: more turning restriction, more peak-hour parking restricted lanes, and reverse flow lanes.
VEN streets, mapped on page 29 of the plan's Mobility Atlas, include Sunset Blvd, Gaffey Street, Victory Boulevard, La Cienega and even Alameda Street in downtown L.A.
The VEN, in one form or another, has been a staple of Los Angeles City transportation planning since roughly the 1920s. After a hundred years of death, injury, smog, greenhouse gas emissions, and erosion of the quality of life in our neighborhoods, do L.A.'s city planners still believe the lie that shoehorning a few more cars onto any of our streets will make anything better or healthier?
Los Angeles spent the last century enhancing its vehicle network, and even drivers aren't so happy with the results. It's time to set that failed idea aside.
Sadly, even if the Mobility Plan doesn't call for continuing to upgrade L.A.'s car capacity, momentum from lots of other forces in play will continue L.A.'s century-long more-cars-everywhere project into the foreseeable future. Car-centric priorities remain embedded in plenty of funding, policy, and "technical" specifics at the city, county, region, state, and federal levels. They don't need to be in this vision plan, too.
3 - Explicitly End Road Widening
On page 111, the draft Mobility Plan states:
[W]ider roads can result in adverse environmental, public health, and fiscal impacts. Wider roads are more expensive to maintain and enable driving at faster speeds in the short term, which leads to more pollution, noise, and higher risks to bicyclists and pedestrians in the long term.
Many cities, including Pasadena, have explicitly abandoned the expensive and deadly practice of continually reflexively widening roadways. The city of Los Angeles has ended widening downtown, but still continues the destructive practice throughout the rest of the city. 
Though the new mobility plan pays some lip-service to preserving existing road-widths, the devil is in the details. The plan adds a new "Avenue III" category which is used very sparingly to "maintain roadway width in some of the older, more historic parts of the City." That's a worthwhile small step in the right direction.
Unfortunately, though, the draft plan continues to designate many streets at much greater width than exists today. This means that wherever new development occurs, the street automatically gets widened, unless the project undergoes a cumbersome process to grant an exception called a variance. This means less housing, less retail, fewer historic buildings, and more dangerous streets.
For example, Beverly Boulevard immediately west of the Vermont/Beverly Metro Red Line Station has a 56-foot wide roadway, with 11-foot wide sidewalks, for a total right-of-way of 78 feet. According to the draft plan, this stretch of Beverly is designated as a "Boulevard II," meaning it will be widened to an 80-foot wide roadway with 15-foot sidewalks for a total right-of-way of 110 feet. Does transit-rich, pedestrian-rich, population-rich Koreatown really need 24 more feet of roadway here? Certainly not.
The Mobility Plan is re-writing Los Angeles' archaic street standards. As the city did downtown, it's time to turn the tables and reflexively preserve existing street width everywhere. Instead of making preservation cumbersome, all proposed street widening should be subject to the cumbersome variance process. Ideally, some day, we will get around to narrowing our over-wide streets.
4 - Remove Non-Committal Language
As I stated in this earlier article, the plan is full of non-committal language: full of "should," "may," and "consider." When the city was planning the car-centric streets, there weren't too many "maybes" and "shoulds." When the city is planning a livable future, it must be just as clear. Take out the "shoulds."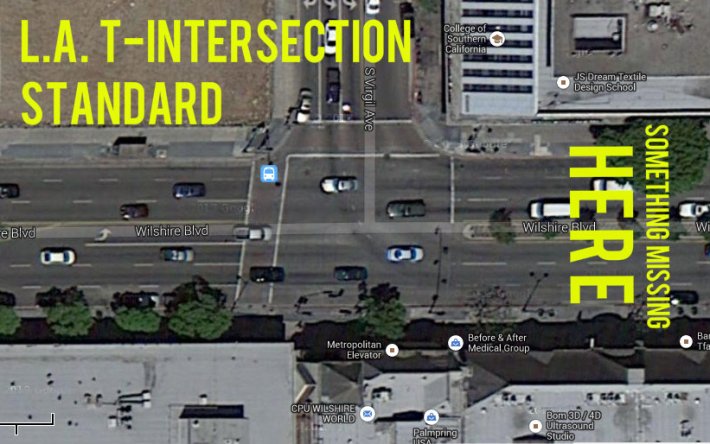 5 - Crosswalks At All Legs of Intersections
This one is a bit less broad than the above systemic critiques, but it's a personal pet peeve of mine. Too many of the places where I walk are missing crosswalks, mostly due to the city's misguided current practice of striping only two crosswalks instead of three at T- intersections. None of the city's standards force drivers to backtrack and take indirect routes; forcing pedestrians to do this is unfair and unsafe.
The plan states that the city will "[c]onsider [...] crosswalks at all legs of the intersection" for its designated "PED" pedestrian areas. Same as road widening above, the plan needs to explicitly state that, city-wide, crosswalks go at all legs of all intersections.
These five changes don't necessarily make for an in-my-opinion perfect Mobility Plan, but they would go a long way toward removing some of the plan's poison pills that continue dangerous and destructive city policies.
Stay in touch
Sign up for our free newsletter