Bicycling
Federal Changes Causing Metro to Withdraw Previously Approved Funding for Bike and Ped Projects
4:32 PM PST on March 6, 2014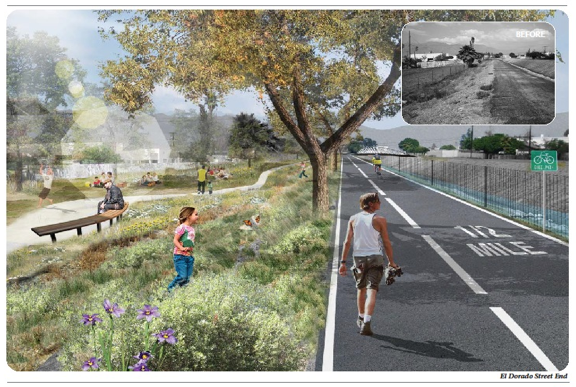 At last week's board meeting, Metro weighed the future of its commitment to funding active transportation: walking and bicycling. Changes in federal government funding are leading Metro to withdraw from its past bike and ped programs.
Right now, 49 projects, totaling over $90 million, are on Metro's list for "transition." Metro had approved funding for these, but is now requiring project sponsors to seek other monies.
For a couple of decades, Metro's every-other-year Call for Projects (Call) has been the major source of funding for bike and pedestrian projects throughout L.A. County. Federal transportation funding passed to Metro. Local cities applied to Metro to receive funds. Relatively expensive bike/ped transportation projects, including completed portions of the L.A. River bike path, received Metro Call funding.
In 2012, the federal government passed its new transportation bill, called Moving Ahead for Progress in the 21st Century, or MAP-21. The feds changed the rules for funding bicycle and pedestrian projects. Funding used to be through a program called Transportation Enhancements (TEA), which was eliminated. Now bike and ped funding is channeled through Transportation Alternatives (TA), which funds more types of projects with less money than was available under TEA. These federal changes have taken a while to work their way into California's rules. In response to the federal changes, the state consolidated and retooled its bike and pedestrian funding into a new Active Transportation Program (ATP.) The ATP has a few pots of money (more on that in future articles), with the largest share being a statewide competitive process.
Metro, through its Call, had already approved funding for projects scheduled well into the future--through the year 2019. Federal and state changes have eliminated funds that Metro anticipated would pay for these future projects.
At the February 27th Metro Board meeting, Metro staff presented a report and presentation regarding transitioning to the state Active Transportation Program. In essence, Metro is looking to withdraw its previously-approved Call funding for 49 bicycle and pedestrian projects in various local cities. These projects (listed below) total $90 million in projected Metro funding. The 49-project list only represents around half of the Metro Call's future bike and pedestrian project obligations--the ones that appear most likely to get state funding. So, there will likely be more hand-offs still to come.
In place of the no-longer-available Call funding, Metro would require cities to apply directly to the state for ATP funding. To effect a somewhat smoother hand-off, Metro would provide grant writing assistance. Applications to the statewide competitive ATP process are due May 21st, 2014.
Re-applying for project funding is not a trivial process. For many cities, including Los Angeles, this will likely require approval of the city's Transportation Committee and full City Council. Additionally, the applications may need to be re-worked and local match funding reassigned via budget approval processes.
There appears to a little bit of wiggle room in somewhat vague references to "available alternate funds from Metro" and exemptions for projects that would experience "substantial delay."
Metro's proposed transition alarmed local advocates, including the Los Angeles County Bicycle Coalition and the Safe Routes to School National Partnership. Those two groups submitted this joint comment letter, and posted this alert, urging that Metro "take a leadership role" in making sure that bike and ped projects are funded and built. At last week's Metro board meeting, advocates from Pacoima Beautiful, Bike SGV, Mountains Recreation and Conservation Authority, C.I.C.L.E., L.A. River Revitalization Corporation and the board of the Azusa Unified School District joined the LACBC to testify in favor of Metro stepping up its commitment to walking and bicycling. 
Instead of adopting the recommendations in the staff report, boardmembers Eric Garcetti, Zev Yaroslavsky and Mike Bonin put forth a substitute motion that helps Metro do a somewhat better job of supporting its bike/ped obligations. Bonin describes the substitute motion:
The Metro [staff] proposal to fill this funding gap would give a leg up to projects that were stale and outdated. This motion is designed to give active transportation projects a better leg to stand on when competing for these [state ATP] funds, especially projects in disadvantaged communities.
The Garcetti-Yaroslavsky-Bonin motion doesn't restore any Metro funding for withdrawn projects. It does direct staff to report back to the board in April (one month before state ATP applications are due) with an updated project list. The substitute motion was approved by the Metro board.
Overall, though, with Metro transitioning away, the current trajectory of bike and pedestrian funding in L.A. County doesn't look so promising. In the past, these projects have been meagerly funded. Going forward, there's even less federal funding to go around. Instead of competing locally, projects in L.A. County will have to compete with projects throughout California. State funding will likely be even more administratively cumbersome than locally-awarded monies. Active transportation projects are likely to see delays, and possibly cancellations.
The future could be different if the funding processes are different.
Safe Routes to School National Partnership's Jessica Meaney describes one funding solution this way:
At the heart of the challenge with Metro's ATP transition proposal is the lack of any local dollars going to walk/bike investments.

Metro has relied on state and federal funds only to support walking and bicycling in L.A. County, and that doesn't get us very far in addressing the need, demand, and safety issues. One percent of all Los Angeles County Transportation Funding is going towards walking and bicycling projects, that is incredibly small, and last week's Board action, I hope, begins important conversations to change that, and begin ways to grow those investments, especially using easier to spend local dollars.
The current federal funding brings large federal administrative burdens; federal processes are geared toward multi-billion-dollar highway projects. Local dollars, under Metro control, are more flexible and much easier to spend for the relatively inexpensive projects that are needed to make walking and bicycling safe and convenient.
Metro's continuing transition process (including reporting back at the March board meeting, and the unfolding state ATP processes) will give the public a continuing chance to weigh in on the importance of supporting active transportation.
Below is the list of Metro projects listed in the February staff report (available as a spreadsheet here.) With the motion passed by the Metro board, the list is in flux and a new list will be presented in April. The projects listed below had been approved for Metro Call funding (in the dollar amount listed), but Metro is now facing a shortfall and requiring municipalities to instead seek state funding.
City of Arcadia, Arcadia Gold Line Station Pedestrian Linkage Project ($1,546,000)
City of Burbank, San Fernando Bikeway ($6,595,000, $5,834 remaining)
City of Covina, Covina Bike Network, Phase 2 ($827,000)
City of La Cañada Flintridge, Foothill Blvd. Link Bikeway & Pedestrian Greenbelt Project ($1,366,000)
City of Los Angeles, Imperial Hwy Bike Lanes ($1,506,000)
City of Los Angeles, San Fernando Bike Path Phase 3A ($8,370,000)
City of Los Angeles, LA River Bike Path, Phase 4, Riverside - Forest Lawn ($1,827,000)
City of Los Angeles, W. 3rd Street Ped Improvements, La Cienega ($486,000)
City of Los Angeles, Boyle Heights Chavez Avenue Streetscape/Ped Improvements ($2,788,000)
City of Los Angeles, Central Ave Ped/Transit Improvements, Slauson-Wash ($1,697,000)
City of Los Angeles, Beverly Blvd Ped-Transit Improvements, Vermont-Beaudry ($1,099,000, $992,000 remaining)
City of Los Angeles, LA River Bike Path, headwaters, Owensmouth-Mason ($2,815,000)
City of Los Angeles, Hollywood/Western Ped & Streetscape Improvements ($2,222,000)
City of Los Angeles, Expo Line Ped Improvements, Crenshaw-City Limit ($2,311,000)
City of Los Angeles, Figueroa Corridor Bike Station & Enhancements ($1,105,000, $1,006,000 remaining)
City of Los Angeles, Sunset Junction Transit Plaza ($1,337,000, $1,108,000 remaining)
City of Los Angeles, Solano Canyon-Zanja Madre-Chinatown-Broadway Bus Stop Improv ($892,000, $739,000 remaining)
City of Los Angeles, Cesar Chavez Transit Corridor, 110 Fwy to Alameda ($1,692,000, $1,409,000 remaining)
City of Los Angeles, Bicycle Wayfinding Signage Program ($403,000, $283,000 remaining)
City of Los Angeles, Expo Line Stn Streetscape Project- East Crenshaw to Jefferson ($2,609,000, $2,151,000 remaining)
City of Los Angeles, Vermont Avenue Stormwater Capture & Greenstreet Transit Project ($1,145,000)
City of Los Angeles, Main Street Pedestrian Enhancements ($827,000)
City of Los Angeles, Western Ave Expo Line Station Linkage Project South ($686,000)
City of Los Angeles, Menlo Ave/MLK Vermont Expo Station Pedestrian Improvements ($1,687,000)
City of Los Angeles, Eastside Light Rail Pedestrian Linkages, Phase II ($1,075,000)
City of Los Angeles, San Fernando Rd Bike Path, phase IIIB construction ($8,571,000)
City of Los Angeles, Arts District Little Tokyo Gold Line Station Linkages ($869,000, $783,000)
County of Los Angeles, Willowbrook Area Bikeway Improvements 10s-049 ($457,000)
County of Los Angeles, Florence Blue Line Station Access Improvements ($695,000)
County of Los Angeles, North County Bikeways, near Santa Clarita ($1,274,000, $820,000 remaining)
County of Los Angeles, Eastside Light Rail Bike Interface Project ($941,000)
County of Los Angeles, San Jose Creek Bicycle Trail, Phase 2 ($1,243,000)
County of Los Angeles, Vermont Ave Bike Lane, Manchester-El Segundo ($2,671,000)
County of Los Angeles, Willowbrook Area Pedestrian Improvements 10s-049 ($3,439,000, $2,889,000 remaining)
City of Long Beach, Market Street Pedestrian and Streetscape Enhancements ($3,234,000)
City of Pasadena, East Colorado Blvd Pedestrian Improvements phase 2 ($603,000)
City of Pasadena, North Fair Oaks Ave Pedestrian Improvements ($624,000)
City of Pasadena, Cordova St Bike & Ped Improvements, Arroyo Pkwy-Hill ($2,881,000)
City of Racho Palos Verdes, Bike Compatible Roadway Safety and Linkage on Palos Verdes Dr ($630,000, $574,000 remaining)
City of Racho Palos Verdes, Pedestrian Safe Bus Stop Linkage ($1,117,000, $975,000 remaining)
City of Redondo Beach, Redondo Beach Bicycle Transportation Plan Implementation ($1,559,000)
City of San Fernando, San Fernando Pacoima Wash Bike Path ($1,513,000)
City of San Gabriel, San Gabriel Blvd Streetscape, Fairview-Grand ($583,000)
City of San Gabriel, Las Tunas Drive Streetscape Enhancements ($641,000)
City of Santa Monica, Colorado Pedestrian Promenade: LRT Station to Pier/Beach ($3,284,000)
City of Temple City, Las Tunas Complete Streets Improvement Project ($1,277,000)
City of Temple City, Las Tunas Drive Bicycle Improvements ($2,722,000)
City of Temple City, Las Tunas Drive Improvements and Safety Enhancement Project-Ped ($2,910,000)
City of Torrance, Downtown Torrance Pedestrian Improvement Project ($793,000)
Stay in touch
Sign up for our free newsletter