Bicycling
Locals Nominated for National Bike Advocacy Award
9:17 AM PST on March 3, 2014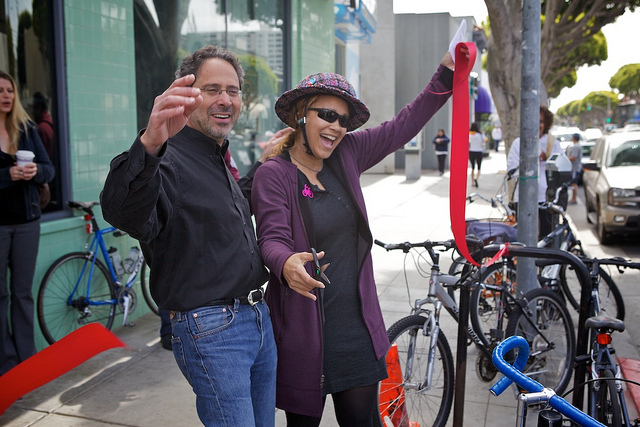 Congratulations to Cynthia Rose, founder and director of Santa Monica Spoke, and Samantha Ollinger, Executive Director of BikeSD in San Diego. These two local activists are among the ten finalists for the 2014 Advocate of the Year Award to be given by the Alliance for Biking and Walking today.
The award is for an individual leader at a bicycling and/or walking advocacy organization "who has shown tireless commitment to promoting active transportation at the state and/or local level" and who goes "above and beyond the call of duty" with the "highest standard of excellence."
Cynthia Rose founded Santa Monica Spoke, the first local chapter of the Los Angeles Bicycle Coalition, five years ago. "My mission is to make the LACBC local chapters program a reality," she said, "to make sure that those connections and that collaboration happens."
She sees her job as one of connecting people: local to regional to statewide to national advocates working on similar issues. "Everything else I do is regional," she said. "My job is to work with our elected officials to make projects that we hope will be models for others." She was particularly excited about the MANGo project, which will turn Michigan Avenue into a greenway to connect the beach with the new Expo line.
"We have so many talented people who want to give their time to make the world better," she said, then laughed at the way that sounded. "But I mean it. We can give people an avenue to be engaged and be involved. That is the biggest problem in any level of government– getting people engaged. With everything we have to do in our daily lives, there's so little time for getting involved in government issues."
Rose is proud of her work with Santa Monica and with city staff, and of the support that has gone both ways. "Getting our Bike Action Plan passed in less than twelve months is quite an achievement," she pointed out. "And it's not just a bike plan that's going to sit on a shelf. In fact, right after it was passed they were already doing some of the things outlined in the plan."
She is now turning her attention to Santa Monica's pedestrian action plan, which she says is about halfway through its process. "The difficult part is engaging people," she said. "People don't self-identify as pedestrians. But with Expo coming in a year and a half or so, we have a lot to do."
Rose was nominated for the award by three people, including Streetsblog's own Damien Newton.
BikeSD started out as a blog in 2009, and when Sam Ollinger's fellow bloggers moved away, other friends convinced her to incorporate as a nonprofit. The blog and website still serves as the main window into what the organization is doing, and provides resources and a calendar of bicycle events in the city, but Ollinger spends more of her time now working on policy change at the city level as a member of various advisory groups.
She is currently working on getting the city to lower its dependence on Level of Service as a performance measure in bicycle and pedestrian projects. "We convinced them that LOS needed to be updated," she said. "We just talked about LOS as a detriment at every opportunity."
Another current project is getting an implementation plan into the city's bike plan, which is moving through the city bureaucracy. "We didn't want to go through another update without having this in place," she said. Her efforts have resulted in a soon-to-be-incorporated local bicycle advisory committee.
She's enthusiastic about the support BikeSD has received. "When we incorporated I did a mini fundraising effort…I just sent an email to some friends, but then they sent it out. We raised about $2400, and it kind of blew my mind, because I thought people would only be able to donate $10 apiece."
Even though BikeSD hasn't done a lot of work to expand its membership, it has grown anyway. "People have been incredibly generous with their time, and with advice. This groundswell keeps growing."
One of her proudest achievements was when she started collaborating with organizations that had nothing to do with transportation or mobility, but could see where their goals matched up with the goals BikeSD was working. For example, she's worked with affordable housing advocates and labor organizations, and with a variety of groups interested in understanding the city's minimum parking policy.
She offered some advice to people who might want to become involved in advocacy but are intimidated: "When I started I was overwhelmed with thecomplex issues, with the amount of what I needed to learn. Don't worry about it," she said. "You learn as you go along. If you don't try you never know where you're going to go. And even if you fail, it's not really that big of a fail; it's just a learning experience."
The award winner (but really, they're all winners) will be announced today at a ceremony in conjunction with the National Bike Summit. Other awards from the Alliance for Biking and Walking will include the Susie Stephens Joyful Enthusiasm Award, Advocacy Organization of the Year, Winning Campaign of the Year, Business Advocate of the Year, and Bicycling Magazine's People's Choice Award.
Streetsblog California editor Melanie Curry has been thinking about transportation, and how to improve conditions for bicyclists, since her early days commuting by bike to UCLA long ago. She was Managing Editor at the East Bay Express, and edited Access Magazine for the University of California Transportation Center. She also earned her Masters in City Planning from UC Berkeley.
Stay in touch
Sign up for our free newsletter