California State Senate
Senate Hearing Highlights Report on Caltrans' Car-Centric Ways
4:22 PM PST on February 13, 2014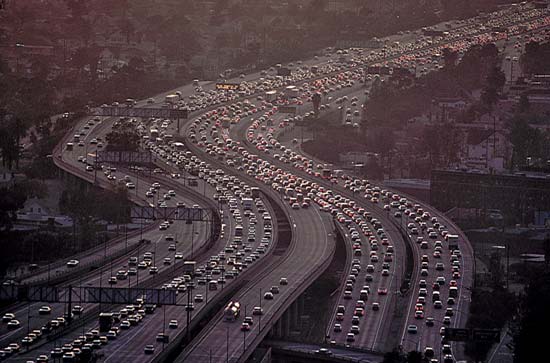 With a recent report calling out the need for Caltrans to focus less on building highways and more on letting cities build people-friendly streets, state legislators have an eye trained on the agency's progress towards reform.
The California Senate's Transportation and Housing Committee held a hearing yesterday to discuss the new report [PDF], conducted by the State Smart Transportation Initiative and commissioned by the California Transportation Agency (CalSTA), which was formed by Governor Jerry Brown and CalSTA Secretary Brian Kelly last year to oversee all of the state's transportation agencies.
The report is sharply critical of Caltrans' "archaic" practices when it comes to imposing automobile-centric design standards on city streets, and says the department should reform its risk-averse culture, which often prevents local city planners from implementing modern designs for bicycle- and pedestrian-friendly streets.
Two of the report's authors, Joel Rogers and Eric Sundquist of SSTI, presented their findings to the committee, arguing that the way Caltrans is currently structured prevents it from helping meet state goals like reducing greenhouse gas emissions, improving transit networks, and building complete streets. A complete, systemic reorganization of the agency is their recommended solution.
The report asks a series of questions on whether the agency has the right tools "to help it achieve the mobility, safety, and environmental stewardship goals that are expected from California's transportation system." The answer, the authors conclude, is a resounding "no."
"Caltrans' operative mission and goals are out of step and work at cross purposes with the transportation needs and policy framework of the state," Rogers told the Senate committee. "The skills and technical expertise of its staff are not congruent with modern demands."
The report criticizes the "rule-bound" culture at the agency that causes employees to focus on avoiding risk rather than streamlining projects that provide cities better transit and safe streets for walking and biking. And, Rogers told the committee, "You, the Legislature, have a heavy hand in making Caltrans as dysfunctional as you now find it."
James Coffman, a contractor who has worked with Caltrans for many years, described an agency culture of "counterproductive denial and manipulation" that promotes the wrong people and rewards academic training over experience in the field. "Education isn't a bad thing," he said, "but a lot of engineers at Caltrans don't know one thing about building a road."
Committee Chair Mark DeSaulnier (D-Alameda/Contra Costa) expressed alarm at Coffman's assertion that few suppliers and contractors are willing to bid for Caltrans jobs because they don't trust the agency. "That says to me that the quality of the bids we do receive is probably not very good," he said.
This is not the first official report recommending major changes at Caltrans, and it's unclear whether this one will garner results or sit on the shelf with the rest. The fact that several committee members wandered in late and some didn't show up at all could raise some doubt about the legislature's commitment.
Senator Jim Beall (D-Santa Clara) was skeptical about whether Caltrans would be able to change because there is little incentive for it to do so. "When we build transportation infrastructure," he said, "the value of that infrastructure is not captured by the transportation system, but by local jurisdictions."
Rogers called himself "cautiously optimistic" that Caltrans can change, for several reasons. CalSTA now provides unprecedented oversight by the governor and Secretary Kelly, who appear committed to bringing substantial change to the agency. There is a "collective hunger among Caltrans staff to modernize the department's mission and clarify the vision and goals to meet that mission," Kelly said.
Rogers also said other states have successfully reorganized their DOTs under similar circumstances. "All Caltrans has to do," said Rogers, "is be humble enough to admit there's maybe something to learn from others."
Asked what the legislature's role could be in reforming Caltrans, Rogers recommended reducing the number of written reports it requires Caltrans to produce every year. "This endless reporting is probably not the best use of resources," he pointed out.
The SSTI report lists 46 recommendations for Caltrans reform, including an "Early Action Plan." We'll be keeping an eye on the department's progress on these steps:
1. Develop a new mission statement, vision statement, and goals. The authors say this can be done in the first month. Skepticism rears its head upon hearing this, but according to Secretary Kelly, work has already begun on this.
2. Organize teams to develop action plans and performance measures, which should supersede or absorb other similar initiatives such as ongoing strategic and long-range planning efforts. The authors give this a timeline of two to six months.
3. Work to ensure the success of CEQA reform rulemaking for SB 743, including the removal of Level of Service, a car-centric transportation planning metric. "SB 743 could do more to advance state planning goals than anything else Caltrans has done," the report says, and a "successful rulemaking, leading to a predictable developer fee based on transportation system use...would put California and Caltrans back at the leading edge of modern transportation practice." A timeframe of between one and five months is assigned to this one, with a July 1 deadline for draft guidance to be completed.
4. Modernize state transportation design guidance. Of course, this isn't necessarily a short-term effort, but the authors urge the agency to remove the "archaic" rule that imposes state standards on local streets for bike lanes. The report suggests adopting modern standards such as the NACTO Urban Street Design Guide within a few months.
Streetsblog California editor Melanie Curry has been thinking about transportation, and how to improve conditions for bicyclists, since her early days commuting by bike to UCLA long ago. She was Managing Editor at the East Bay Express, and edited Access Magazine for the University of California Transportation Center. She also earned her Masters in City Planning from UC Berkeley.
Read More:
Stay in touch
Sign up for our free newsletter