Air Quality
Vernon Battery Recycling Plant Sues to Overturn New Air Quality Rule
12:05 PM PST on February 11, 2014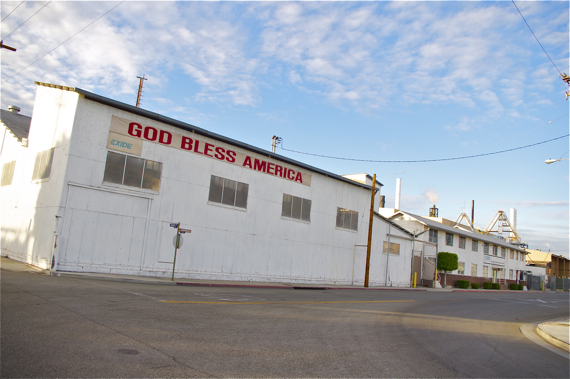 Exide Technologies – the embattled battery recycling facility in Vernon -- has been given a lot of breaks over the years, but apparently they feel they haven't had it easy enough.
Last Friday, they filed a lawsuit in the Los Angeles Superior Court asking a judge to set aside the South Coast Air Quality Management District's (SCAQMD's) recent amendments to Rule 1420.1. They were particularly concerned about their ability to comply with new rules governing arsenic emissions.
Specifically, new amendments to rule 1420.1 establish requirements for the reduction of arsenic emissions and other key toxic air contaminant emissions, set requirements for ambient air concentration limits for arsenic, as well as hourly emission limits of arsenic, benzene, and 1,3-butadiene (all known carcinogens), and contain additional administrative, monitoring, and source testing requirements for stack emissions at lead-acid battery recycling facilities.
The Governing Board of SCAQMD voted 10 – 0 in favor of these amendments this past January 10th in response to concerns over Exide's repeated violations of emissions limits and the potential damage the exposure to the toxins could cause for more than 100,000 residents of Boyle Heights and surrounding communities.
The ruling came the same week that Exide both sent put out a press release boasting of a 95% drop in arsenic emissions and compliance with other air contaminant rule limits and was forced to cut production because it had once again exceeded lead emissions – the third such violation within 12 months.
Interestingly, Quemetco (located in the City of Industry), the other battery recycler affected by these amendments, has not contested the stricter regulations.
Instead, by the time the AQMD had first ruled the facilities would need to meet the U.S. Environmental Protection Agency's (EPA) outdoor air quality standard for lead of 0.15 micrograms per cubic meter back in 2010, Quemetco had already invested $18 million in state-of-the-art emissions technology. Thus, they welcomed the controls, citing the danger that lead could pose to the environment and surrounding communities over the long term and openly supporting the push to limit lead emissions "to the lowest possible levels."
The more recent ruling regarding arsenic and other toxins, it appears, will not significantly affect their operations as, thanks to those prior investments, they had largely managed to keep emissions of all toxins well beneath the previous standards.
Exide never made commensurate investments in monitoring and other emissions-reduction technology. So, it was not surprising to hear representatives at the Jan. 10th hearing complain that the equipment installed at Quemetco's facilities was inappropriate for the kind of facilities Exide ran. Being forced to install costly and ineffective monitoring equipment, they claimed, would threaten their economic viability and push them to consider expanding their operations elsewhere.
For Exide-watchers, that last claim likely rang rather hollow, given that Exide had finally shuttered its facility in Frisco, Texas at the end of 2012.
Neighbors there had complained that the EPA had never properly followed up on decades' worth of concerns about strong odors and negative health effects or blood tests in the mid-1990s that showed residents had elevated levels of lead in their systems. Now, more than a year on, it appears taxpayers are going to be the ones who will pay for the clean up of toxins at the abandoned site. Exide's bankruptcy means they will likely be unable to foot the estimated $135 million it would cost to dig up the toxic earth, haul it away, and rebury it in a special landfill.
While the Department of Toxic Substances Control has taken some hits for moving too slowly to address Exide's failings at the Vernon site, they are finally taking steps to crack down on the plant and other violators. Specifically, wrote the times, the DTSC "is seeking $4.5 million in increased funding to fix the state's hazardous waste tracking system, its permitting program and the way it collects money from polluters who have walked away from contaminated land."
The SCAQMD also appears determined to attack the problem on several fronts. At the end of last year, they began the lengthy process of seeking an order from the Hearing Board that would require Exide to stop its smelting operations until it can improve its air pollution control systems to reduce arsenic emissions.
Just last month, they filed a lawsuit in Los Angeles Superior Court seeking up to $40 million in penalties from Exide Technologies for numerous air quality violations.
Finally, the SCAQMD has required Exide to develop a risk reduction plan after having rejected Exide's first risk reduction plan under Rule 1402 and the state's Toxic Hot Spots law. Based on the assessment that the facility was the source of an unacceptably high cancer risk to neighboring communities, the SCAQMD required Exide to strengthen and resubmit a risk reduction plan to reduce its arsenic emissions.
On another front, Sen. Ricardo Lara (D-Long Beach) is seeking to force Exide to go through the proper permitting process while Kevin de Leon (D-Los Angeles) has proposed legislation which would set strict deadlines for the timely renewal of permits for hazardous waste facilities.
Shockingly, the plant has been operating on temporary permits since being purchased by Exide in 2000. It is the only such hazardous waste facility to do so. Lara's bill would require that the plant be shut down if the permitting issue is not resolved by the end of next year.
Sahra is Communities Editor for Streetsblog L.A., covering the intersection of mobility with race, class, history, representation, policing, housing, health, culture, community, and access to the public space in Boyle Heights and South Central Los Angeles.
Stay in touch
Sign up for our free newsletter