Bicycle Boulevards
Bike Advisory Committee: Stop Wasting Time and Money Stalling on Bike Projects
10:44 AM PST on February 7, 2014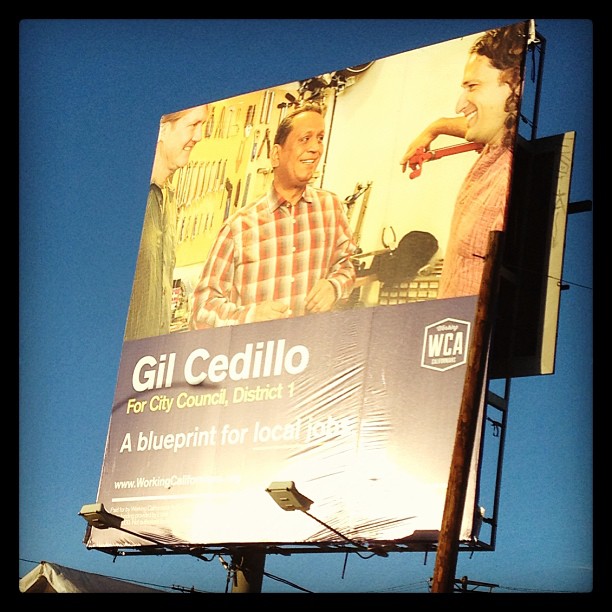 In March of 2011, then-Mayor Antonio Villaraigosa signed into law the city's Bicycle Plan, a list of some 1,600 miles of bicycle lanes, routes, friendly streets and paths scheduled for the next 30 years. In some ways, implementation is going exceedingly well. The pace at which new bicycle lanes are being added exceeds even that of New York City. In other ways, the plan seems stalled as many of the projects that make up the "Backbone Bicycling Network" connecting neighborhoods, are being delayed or canceled as nervous City Councilmembers put up roadblocks to bicycle progress.
And bicyclists aren't going to stand for it much longer.
On Tuesday night, the city's official Bicycle Advisory Committee, a body of advocates appointed by individual City Councilmembers and the Mayor's Office, passed two resolutions (text not available) basically telling the city it's wasting time and resources by studying and stopping bicycle projects that are already studied and funded.
"In some cases, the City has identified key corridors for bicycle infrastructure and pursued funding for improvements on those corridors, such as the $20 million Proposition 1C grant for the My Figueroa project or Highway Safety Improvement Program (HSIP) funds," writes Jeff Jacobberger, a lawyer who chairs the Bicycle Advisory Committee.
"Often, those funds must be spent on that specific street, and cannot be transferred to other projects. When funded projects do not go forward, the money spent on planning and design has been wasted. Moreover, the City's poor track record of seeing projects through to completion means that it has a harder time competing for future funds."
The two motions single out proposed bicycle lanes on North Figueroa Street and on Westwood Boulevard, but they could easily apply to projects on Lankershim Boulevard or South Figueroa.
Thus, when Councilmember Paul Koretz killed a study of the Westwood Boulevard bike lanes that would provide an important connection to UCLA and a future Expo Line station, it wasn't just bad policy; it was a waste of money. In its motions, the BAC points out that these proposed bike lanes had already been funded.
In Northeast Los Angeles, Councilmember Gil Cedillo hasn't come out against bike lanes on North Figueroa, but he is requesting another round of public outreach. This outreach would duplicate efforts completed by LADOT while his predecessor, Ed Reyes, was in office. The popular proposed bike lanes (they even have their own #fig4all hashtag) are opposed by a very vocal minority in the community and a small tabloid newspaper. Cedillo promised support for these bicycle lanes in a candidates forum broadcast on Streetsblog TV last year.
In this case, the city isn't just wasting money; it's wasting important manpower.
"The people that work for the city are actually the scarce resource," argues Herbie Huff**, who was appointed to the BAC by Councilmember Eric Garcetti and re-appointed by Mayor Eric Garcetti.
"We can win funds for asphalt. We can win funds for paint. We can win funds for signs. But what the federal government isn't going to fund is people, and that's what we're wasting when we don't build the projects that are planned and funded."
In the case of North Figueroa, precious city staff and overtime hours will be spent on the next round of community outreach — to say nothing of the time spent by advocates for and against the lane repeating past efforts. The Los Angeles County Bicycle Coalition's Ride Figueroa campaign and even Northeast L.A. Critical Mass (which starts in front of Cedillo's field office) will spend hundreds of hours working to bring out crowds to these public meetings.
But while City Councilmembers push for more meetings, or outright kill projects, based on immediate political concerns; they are also damaging the backbone of the city's future bicycle network. North Figueroa, South Figueroa, Westwood, Lankershim Blvd. These are all streets that are an important part of the city's bicycle plans, and delay or cancellation of projects approved in the bike plan, studied by LADOT and funded through state or local sources undermines that plan and public safety.
"It is important to create a complete network of bikeways that provides safe, convenient access to important destinations or across major barriers. Most BAC members were appointed by individual councilmembers, and we acknowledge the important role that councilmembers have in overseeing proposed projects in their districts," finishes Jacobberger.
"However, deference to councilmembers should not be absolute.  All Angelenos should be able to bike safely to places like UCLA, the Hollywood Bowl, Exposition Park and LA Live; all councilmembers have an interest in ensuring that their constituents can safely bike to the places that their tax dollars support."
 ** - Fun fact. Huff replaced Joe Linton on the BAC when he moved to Jersey City last year.
Stay in touch
Sign up for our free newsletter