MyFigueroa!
Garcetti Has Skin in the Game on My Figueroa!
1:14 PM PST on January 27, 2014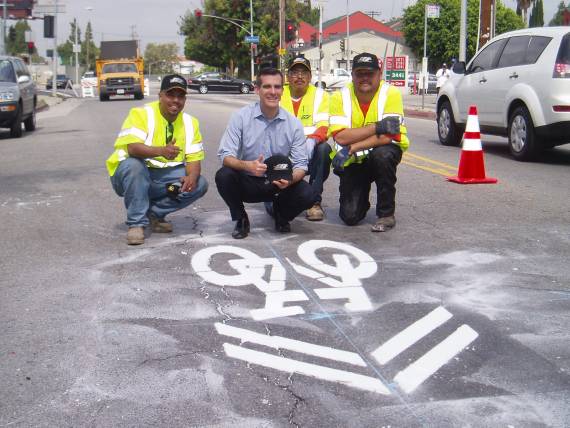 Earlier this month, the City of Los Angeles wrote to the Green Lane Project, seeking to be a partner city in "Green Lane Project 2".
If selected, L.A. would be one of six American cities that would work with People for Bikes to receive a suite of technical, financial and strategic resources, opportunities to network with peers on the development of protected lanes (aka cycletracks, aka separated bike lanes), and national recognition as a leader in the rapidly evolving practice of building better bike lanes.
This is a bold move for Los Angeles, but a popular one with city leadership. Mayor Eric Garcetti stands fully behind the application and the potential program. Jose Huizar, the City Councilmember who chairs the City Council Planning and Land Use Committee (PLUM) also wrote a letter in support of L.A.'s application.
There's just one small catch.
In order to show the city's dedication to building a series of separated bike lanes throughout Downtown Los Angeles and beyond, city staff pointed to the city's commitment to completing the MyFigueroa! project within this calendar year. While the city promises another mile and a half of protected bike lanes by the end of 2015 in addition, MyFigueroa! is the clear centerpiece of the city's existing plan for cycletracks.
The document states:
MyFigueroa is significant because it will connect the extensive downtown bicycle network to one of the city's largest bicycle hubs, the University of Southern California. This cycle track, and its complementary streetscape improvements, will ensure increased ease of movement between the two and greatly improve safety for bicycle riders along the corridor. This will be the most transformational for the city because it will be very visible to both locals and visitors. It provides a needed north-south connection that makes it easier and safer for those living in South Los Angeles to commute to jobs in Downtown. It is also the longest cycle track currently planned for Los Angeles. MyFigueroa will "prove" the cycle track concept in Los Angeles, and will make it easier for cycle tracks to proliferate across the city, our long-term vision.
For those of you just joining us, MyFigueroa! is a plan to bring cycletracks, pedestrian improvements and a road diet to South Figueroa Street between Downtown Los Angeles and South Park near USC. The project is popular with safe street advocates and residents. There is also work being done to modernize the road configuration on some of the streets connecting to South Figueroa, including MLK Boulevard.
However, the environmental documents that clear the project are being challenged by Darryl Holter, owner of the Shammas Auto Group which includes the famous "Felix the Cat" dealership. Some other power players, such as AAA and the California Science Center, wrote letters opposing the road diet. A delay in the project that could come from a new environmental study could endanger the project's funding, even as the project team is ready to put construction out to bid.
The City Council is expected to hear the appeal in the next several weeks, with two City Council committees holding hearings first.
With the local Councilmember, Curren Price, trying to please both sides, someone else needs to assume a leadership role. The appeal will be heard by both the Transportation and PLUM Committees, each of which are likely to support the project if Price doesn't take a stand against it. As mentioned, PLUM Chair Jose Huizar wrote a letter in favor of L.A. becoming a leader in separated bike lanes. Transportation Committee Chair Mike Bonin has also repeatedly talked about the importance of separated bike lanes.
A staffer in the Mayor's Office likes to tell me that during his first weeks and months in office, "Garcetti wasn't trying to cure cancer, but put together a team that could." While speaking metaphorically, the time for Team Garcetti to step up and lead on a potentially controversial transportation reform issue is now. If MyFigueroa! isn't important enough on its own for the Mayor to step in and lead on a local project, by placing it in the center of an application to the Green Lane Project, it's now in the entire city's best interest that MyFigueroa has a smooth path to implementation.
Basically, L.A. and Garcetti have said that they want to lead on creating separated bike lanes. Their proof is MyFigueroa. If MyFigueroa is delayed or stopped for political reasons, it shows their words are hollow.
But for now, all eyes turn to the City Council PLUM Committee tomorrow afternoon. Are city leaders serious about making Los Angeles a leader on bicycle planning? We'll get a good idea tomorrow afternoon.
Stay in touch
Sign up for our free newsletter