cap and trade
Governor's Budget Earns High Marks, But Active Transportation Shutout from Cap and Trade Funds
2:04 PM PST on January 10, 2014
Yesterday, Governor Jerry Brown officially unveiled his budget after days of speculation and leaked reports to newspapers. One of the highlights of the budget is how Brown proposes to spend the "Cap and Trade"* funds. Last year, the state borrowed against these funds to fill a gap in the general operating budget. This year, with $100 million "borrowed" from last year returned, the Cap and Trade allocation was a cool $850 million for projects that will improve air quality through green energy initiatives.*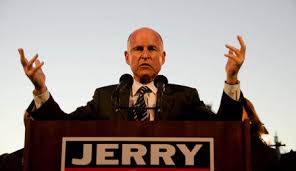 "This budget makes an important down payment on repairing our aging transportation network, upgrading public transportation and investing in walkable, sustainable communities," said Stuart Cohen, Executive Director of TransForm and a member of Secretary Kelly's California Transportation Infrastructure Priorities workgroup.
The Natural Resources Defense Council was similarly excited by the proposed budget. In a post entitled "Carbon Pollution Funds Poised to Deliver on Clean Energy in California" on the Switchboard blog site, Alex Jackson praises the budget for spending Cap and Trade funds in a variety of ways that will reduce pollution and the state's carbon footprint.
While conversations in the capitol will continue on the best way to maximize the benefits associated with spending cap-and-trade proceeds (and ensure each expenditure comports with legal requirements), the Governor deserves praise for putting forth a budget plan that recognizes the importance of investing cap-and-trade proceeds as a key strategy to keep California on pace toward achieving its long-term climate and clean energy goals.
But not everyone was thrilled with the budget. Despite spending the Cap and Trade funds on promoting clean energy, the cleanest forms of transportation, walking and bicycling don't have their own budget line in the Cap and Trade allocation. True the overall proposed state budget includes a $9 million allocation for the Active Transportation Program, but when it comes to Cap and Trade, bicycle and pedestrian programs will compete for a slice of the $100 million for "Implementing Regional Sustainable Communities Strategies" with housing, planning, land-use, transit oriented development and other worthy livability programs.
"The Transportation Agency has worked productively with statewide walking and biking organizations to create a new Active Transportation Program that is prepared to invest in these modes at a scale never seen before in California," writes Eric Bruins with the Los Angeles County Bicycle Coalition. "It is disappointing that no cap-and-trade funds are allocated to the ATP, despite everyone's work to set it up for that purpose.  Hopefully the Legislature will again support walking and biking by directing significant cap-and-trade revenues to the most cost-effective, green transportation modes."
There are three possible strategies to help close the bicycle and pedestrian gap in state funding. A paltry $9 million of a $1.7 billion seems like an awfully minor investment for a state with 60 million documented residents. Sadly, the $9 million is actually an increase from past budget proposals.
The first would be to create a budget line for active transportation projects in the Cap and Trade allocation. This is the preferred option for many bicycle and pedestrian advocacy groups as it locks in these funds which are often a lower priority for decision makers at the state level.
 The other option is to increase the funding to the "Implementing Regional Sustainable Community Strategies" budget line. Not all of the funds "borrowed" last year for the general fund were returned, and the state still owes the Cap and Trade programs a $400 million. Returning those funds would make a huge difference in the state's eventual bicycle and pedestrian program for the next fiscal year.
A third option would be to move funds from another Cap and Trade Budget line in to the Implementing Regional Sustainable Community Strategies from somewhere else. Here is a breakdown of how Brown wants to spend those funds, again from the NRDC:
Sustainable Communities and Clean Transportation ($600 million): As the largest contributor of both carbon and criteria air pollution in California, the transportation sector receives the largest allocation, with investments in three primary strategies:
Implementing regional Sustainable Community Strategies ($100 million): including funding for public transit and integrating land use and transportation planning to develop walkable, mixed-use communities.  These investments will cut greenhouse gas emissions in accordance with SB 375 , California's historic Sustainable Communities and Climate Protection Act;
Low carbon transportation ($200 million): including incentives for clean freight equipment and rebates for heavy and light-duty zero emission vehicles; and
Rail modernization ($300 million): with $250 million earmarked for funding to begin construction of High Speed Rail in California, with an additional $50 million set aside to meet rising demand for rail service throughout the state.
Energy Efficiency and Clean Energy ($140 million): The expenditure plan focuses on capturing energy efficiency opportunities in residential and public buildings, agricultural and industrial operations, and water system and use efficiency. Two-thirds of the funding in this category will go toward expanding weatherization programs for low-income households.
Natural Resources and Waste Diversion ($110 million): The final piece of the plan invests in strategies to reduce and sequester emissions from effective natural resource management, including forest health, composting and recycling.
The largest pot of funds is the "rail modernization" budget, a quarter of a billion of which is set to go to High Speed Rail implementation. At the independent California High Speed Rail Blog, Robert Cruikshank is happy to see the state stepping up for High Speed Rail and is angry at some of the pushback, he writes:
So why on earth would environmentalists help their enemies attack a major method of reducing carbon emissions? Why would they hand the right and climate deniers a new line of attack, that it's somehow inappropriate to use cap-and-trade funds for anything that lasts beyond 2020 when the entire point of AB 32 and cap-and-trade is to achieve long-term reductions?

I am truly stunned at this. California environmentalists should be smarter than this. They need to abandon these claims that it's somehow wrong for cap-and-trade funds to be used on HSR. And Governor Jerry Brown needs to stick to his guns on this, because he is absolutely right.
While Streetsblog has never been interested in dividing sustainable community and high speed rail advocates, there is a valid argument that High Speed Rail shouldn't absorb so much funds to the detriment of local programs. Earlier this week Niall Huffman addressed this issue in an op/ed published by Streetsblog.
To have HSR stifle potential increases in bike, pedestrian and transit funding would be a missed opportunity, because HSR generally doesn't serve the neighborhoods and jobs corridors where we do the vast majority of our daily travel. According to a report (pdf link) by Safe Routes to School National Partnership, about half of all trips in Los Angeles County are three miles or less. Shouldn't we be putting at least as much of our resources into shifting these trips away from driving as we are into providing another option for the occasional LA-to-San Francisco haul, which for most people is a once- or twice-a-year proposition?
In the end, there is little argument that the current proposed budget, with Cap and Trade Funds restored with some payback from past raids and an increased Active Transportation Program is a step forward from previous efforts. However, with the state facing self-ipmosed deadlines to reduce greenhouse gas emissions by 2020, the question is whether it made a big enough step and if it's moving in the most efficient direction.
* The "cap" in "cap and trade" sets a limit on emissions, which is lowered over time to reduce the amount of pollutants released into the atmosphere. The "trade" creates a market for carbon allowances, helping companies innovate in order to meet, or come in under, their allocated limit. The less they emit, the less they pay. Cap and trade theoretically  creates an economic incentive to pollute less and creates a new revenue stream that California uses to promote other green energy programs.
Stay in touch
Sign up for our free newsletter