Air Quality
Governing Board of the AQMD Adopts Amendment Imposing Stricter Emissions Controls on Lead-Acid Battery Recyclers
3:14 PM PST on January 10, 2014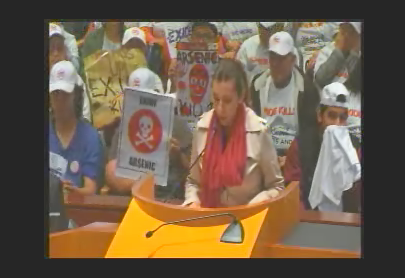 "Se me murió mi señora, se me murió mi cuñado... yo no quiero que muera más gente. Esto es lo que pido de ustedes."
"I have lost my wife and my brother-in-law... I don't want more people to die. This is what I ask of you."
The statement came from a visibly unwell Maywood resident named Marcelo Hernández.
Hernández was one of the many concerned citizens from Maywood, Vernon, Bell, Cudahy, Huntington Park, Boyle Heights, and surrounding communities who attributed their cancers, asthma, learning disabilities, auto-immune diseases, and other chronic health problems to Exide's history of excessive toxic emissions.
They, together with a number of representatives of elected officials and non-profit organizations, had traveled to Diamond Bar today to ask the Governing Board of the AQMD to both vote in favor of an amendment directed at curbing emissions from lead-acid battery recycling plants and shut the the plant down.
Some did it more humorously, with one man saying he was willing to take his clothes off to demonstrate just how ill his body was (Board Chair Dr. William Burke politely declined). Others pointed at the 14 emissions and notification violations Exide has had over the past 10 months -- including the most recent one just last week which forced the plant to curb production yesterday -- and asked if it was fair that they should have to endure those toxins on top of all the other pollution their communities already had to absorb. Almost all implored the Board to think about the health of the children and other vulnerable populations.
It appears they needn't have worried.
Just about two hours ago, the Board voted 10 - 0 in favor of proposed amendment rule (PAR) 1420.1, which
...establishes requirements for owners or operators of large lead-acid battery recycling facilities to reduce arsenic emissions and other key toxic air contaminant emissions...[and]...includes requirements for ambient air concentration limits for arsenic, as well as hourly emission limits of arsenic, benzene, and 1,3-butadiene. PAR 1420.1 also contains additional administrative, monitoring and source testing requirements for stack emissions.
Perhaps surprisingly to those that worry about lead emissions -- the limits of which Exide always seems to be testing -- the rule does not assign new limits on lead.
Under current rules, lead emissions may not cause the ambient (outdoor) air concentration of lead to exceed 0.15 micrograms per cubic meter (ug/m3), averaged over 30 consecutive days. It is a stricter standard than that of the National Ambient Air Quality Standard, which sets the limit for 0.15 ug/m3 over 90 consecutive days. But is also a major improvement over the prior limit of 1.5 ug/m3, which was the standard until 2008.
Through their feasibility assessment, SCAQMD staff determined that changes implemented to meet new, lower emissions standards for arsenic, benzene, and 1,3-butadiene (an industrial compound, known carcinogen, and suspected teratogen) should result in concurrent lead emission reductions.
This confidence seems to stem from enhanced enforcement mechanisms in the new amendment, including better monitoring and heavier curtailment provisions (i.e. third-party monitoring in some cases, requirements to curtail feedstock to the reverberatory furnace for at least 30 days when exceeding lead and/or arsenic point source emissions or ambient air concentration limits, and a punitive sliding scale that assigns a greater curtailment period for greater exceedance), among other things (see the full 544 page proposal here).
But to underscore the notion that they still have concerns about lead emissions, the Board also adopted a related item that requested staff develop a proposal to further reduce allowable lead emissions from both Exide and Quemetco, a rule that will likely be created via a public process later this year.
Some of the Exide workers and representatives on hand were understandably unhappy with the amendment.
Based on their previous emissions, as presented in their 2013 Health Risk Assessment, Exide will be forced to reduce arsenic, benzene, and 1,3-butadiene emissions by more than 95 percent. Which means they will have to  make some plant modifications and install new equipment, including a wet scrubber, regenerative thermal oxidizer, and two pressure monitoring devices. The SCAQMD estimates that the installation, operation, and maintenance of this equipment could cost up to $1.83 million a year.
Men in suits protested they were good neighbors with only the best interests of the community in mind and who were already taking appropriate steps forward. They also felt it was unfair to require they uphold the same standard as Quemetco, Inc., the battery-recycling facility in the City of Industry that uses a different kind of furnace.
Steelworkers and long-time employees made pleas for their jobs, saying that such jobs were few and far between and, for better or worse, the salaries of workers living in the affected communities were what helped keep those struggling communities afloat. The higher costs Exide would incur to meet new standards, they feared, would drive up the costs of running the plant and cause them to lose their jobs.
A thirty-year employee who claimed he'd never been ill asked how the communities could point the finger at Exide when there were railroad yards and other heavy polluters in the area that were probably more dangerous to them than the battery plant.
They just have the idea that Exide is the culprit stuck in their minds, he told the Board in Spanish.
Dissatisfied with that analysis, a young woman proclaimed they were all part of the same community, and that by protesting the costs of implementing changes (thereby indirectly threatening employees' jobs), Exide was asking them to choose between their health and their livelihoods.
"It's unfair," she said. "We are all community."
Another speaker agreed, charging that it was Exide who was truly against its own workers by refusing to take the necessary steps to curb violations, not the community.
As the session came to a close, the Board members thanked the community members and their supporters for their commitment and time. They said they, too, cared about the health of the community and wanted to put that above all other concerns.
But the concerns voiced by a couple of Board members hinted that the real work in understanding what, if any, damage had been done to the community was just beginning.
Although the January 31st deadline for community members to file health complaints with Exide is fast approaching, few people have undergone testing for lead or arsenic exposure.
The blood-lead testing, to be conducted on as many as 250,000 residents by the Department of Health, will not begin til later this year. And, as Dr. Joseph Lyou, Board member and President of the Coalition for Clean Air noted, the test will only pick up recent, not chronic, lead exposure (and, of course do nothing to test for other toxins, such as arsenic). He called for the Board to continue to consult with health experts on the best way to measure health impacts.
How that issue will be resolved remains to be seen.
In the meanwhile, the other, albeit slower, avenue the SCAQMD is pursuing -- an order from the SCAQMD Hearing Board that would require Exide to stop its smelting operations until improvements could be made to its air pollution control systems -- may yet bear fruit. As several more days of testimony are required before a decision can be made, and those hearings are only conducted on a monthly basis, it could be that the required improvements are made before the ruling is handed down. It all depends on how quickly Exide moves to implement the necessary changes the new amendment requires.
For more on the AQMD's dealings with Exide, please click here. For more on the story of Exide in the community, see here, here and here.
Sahra is Communities Editor for Streetsblog L.A., covering the intersection of mobility with race, class, history, representation, policing, housing, health, culture, community, and access to the public space in Boyle Heights and South Central Los Angeles.
Stay in touch
Sign up for our free newsletter