Long Beach
Long Beach: There's Nothing More Toxic than Nihilism
11:36 AM PST on November 18, 2013
A handful of folk—some environmental experts, some local health advocates, some urban designers, some regular ol' citizens—stood in the Century Villages at Cabrillo, a small neighborhood lining the Terminal Island Freeway. They were directly across from where BNSF Rail wants to build their massive Southern California International Gateway (SCIG) rail yard and just south of Hudson Elementary. As people chatted, a small, heavy contraption was passed around, a number on its facade that was continually bouncing between 23,000 and 35,000.
The P-TRAK was measuring ultrafine particulate matter (PM), the minuscule particles that is given off from the exhaust pipes of cars and trucks or carried by the winds from the pollution given off by port complexes, auto body shops, power plants, or factories or, or, or… The common range we want to aim for in order to prevent respiratory problems? Somewhere in the range of 3,000 particles per square centimeter.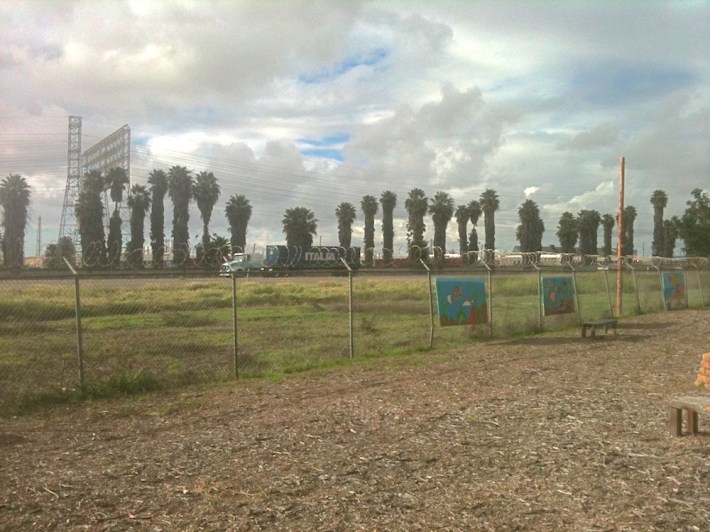 When handed to me, I stared down at the number as a diesel truck roared by some 40 feet away: 33,800. Perhaps it was an unconscious reaction, but I coughed—and continued to do so. Walking over to a patch of foliage, the number then dropped again: 12,400.
It is one thing to know, through general environmental science knowledge, the effects of pollution, of the way in which the goods movement industry contributes creates incompatible land sources—that is, polluting to such an extent that the radius surrounding is unable to escape the pollution. This is one thing. Even with backing, the knowledge itself remains abstract and very "up here." But when you stare at a quantifiable measure of just what is precisely happening every second in real time—and the fact that you're breathing in tens of thousands of PM with every inhalation—I find it hard-pressed to not become overwhelmed.
While I am tempted to make a joke about my fellow gay guys jumping on a bus while playing Britney Spears and traipsing around the Long Beach, the Toxic Tour last week of Long Beach was anything but glittery. After all, California is home to more than half of the nation's dirtiest cities—and Long Beach and Los Angeles are two of the worst, largely thanks to the fact that the two cities' port entries are responsible for taking in more than half of the nation's goods.
And though it is hard to downplay the depressing nature of the tour—site after site was a showcase of the ways in which marginalized communities are the ping-pong board of the the back-and-forth between industrial advancement and its corresponding effects on the environment—it also offered hope because of the simple fact that there are people who are attempting to show directly the effects of what we are doing to our environment.
Take, for example, being handed the thin, red cocktail straws one commonly stirs their drink with. While passing through near the trash-intake facility where Route 47 and the southern tip of the 710 meet—40% of the trash it intakes coming from Long Beach alone—we are handed such a straw. Then being asked to plug our noses and use only the straw to breathe through, we experienced the physical stress and disability that is asthma. I became panicked while breathing (the fact that I am claustrophobic exacerbated it) and all the scenes from TV and film where an asthmatic loses his or her inhaler and anxiety strikes became an all-too-real reality.
If the straw exercise wasn't enough (I encourage readers to do it), I was reminded of my many conversations with Dr. Andrea Hricko, a preventative medicine professor at USC whose studies have altered the perspective on living near freeways and port complexes in Southern California: not only were children who lived near corridors struck with perpetual traffic stunted in their growth by 20%, children who lived within a quarter of a mile from a freeway had a staggering 89% higher risk of asthma. And the school, Hudson, sitting directly next to the proposed SCIG project? 250 of their 1,100 students already have asthma and if the SCIG project is built, will bring 1.5M more truck trips passing by Hudson every year.
The oddest sensation—the fact that, though I see these things every day, I truly don't see them—happened along Anaheim, one of Long Beach's key arterials. It dissects one of my favorite Long Beach neighborhoods, Cambodia Town, which also houses the world's largest concentration of Cambodians and Cambodian-Americans outside of Cambodia itself. For me, this neighborhood is nothing short of a cultural gem, my hangout for the best Cambodian food around, odd jewelry shops and thrift stores… And never once had I noticed the plethora of auto body shops.
I am not being superlative when I say plethora: as we scuttled along Anaheim, auto shop after auto shop—with some plastics industry warehouses thrown in—plagued every single corner for blocks. Oftentimes, houses and parks sat side-by-side, despite health agencies suggesting a 1,000 foot radius surrounding such businesses.
These points might be seemingly redundant for the active advocate for healthy communities—but I considered myself that and realized how often I have an auto-cognitive blinder. I knew of these toxic sites, of course; but that continually altering number on that P-TRAK never really left me. And though bits of historical humor would cause me to chuckle—East Yard Communities for Environmental Justice co-founder Angelo Logan pointed out the THUMS oil islands in Long Beach were designed by none other than the same designers who created Disneyland's iconic, whited-out Tomorrowland aesthetic—they were chuckles out of discomfort and the inability to express much else when faced with the gravity of it all.
Exasperated and towards the tail end of the tour, a friend texted and asked what I was doing. I informed him to receive the following response:
"I'm right there at heart with the environmentalists but I'm just too cynical about it. I feel like there's no motivation there to make people care about making huge changes in our waste, so I'll do what I can but I know it doesn't matter much… So basically, I just sit at home waiting for lung cancer[.]"
It was this that shifted my exasperation into a deep-seated anger: it may all seem overwhelming—passing by the ports, seeing the P-TRAK's number drop dramatically as we go to the more affluent East Side of Long Beach, hearing tales of teenagers who can't even be active because they suffocate—but there is one thing we should never be and that is nihilistic about it all.
There is motivation and there are people who are changing things and your actions do matter. If that gives me the moniker of Utopian Optimist, the only thing I can do is shrug my shoulders. After all, I've been called way worse.
For those interested in a Southern California Toxic Tour, contact Gisele Fong, Ph.D., Executive Director of EndOil / Communities for Clean Ports at gfong@endoil.org or call 562-424-8200.
Stay in touch
Sign up for our free newsletter