Eastside
Eastside Access Project Takes Another Step Forward, Experiences Growing Pains
4:24 PM PDT on September 27, 2013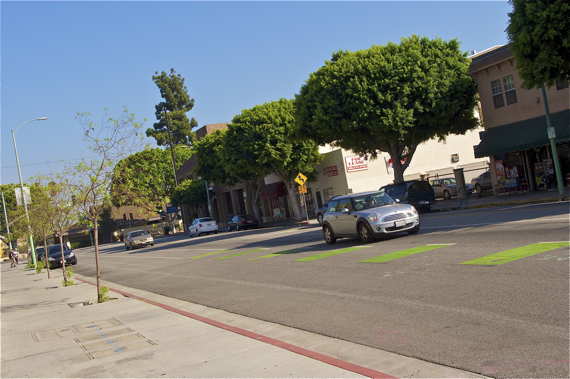 As I walked along 1st St. last week, I came across a gentleman standing outside a storefront, staring at the square of dirt where a huge ficus tree had once stood.
The sudden launch of tree-cutting operations along the corridor a few weekends ago took many by surprise (and some dismay).
While the ficus trees were not necessarily beautiful, they had sported sizable canopies that offered shoppers shelter from the sun and made the sidewalk feel a little more intimate. Now, it felt like they had never been there, their previous square homes carefully filled in with dirt, no trace of tree debris left behind. Yet that section of street felt oddly naked and exposed.
Like a number of folks from the area, the gentleman was unhappy that he hadn't had any advance warning about the operations (notices had been taped to trees for some time, but they did not contain information about dates of removal). He was also suspicious of how funds were being used.
They did it on a Saturday, he said in Spanish. So, it costs more -- that's more of our tax money.
He knew that it was part of some sort of improvements going on in the area and had heard the 91 trees would be replaced. But he didn't like that it would take years for the trees to reach maturity and offer the community shelter and cleaner air. Or that it might be some time before the new trees were even planted.
He shook his head.
It's a shame.
As I walked up and down 1st looking at the trees slated to meet their doom, I pondered the challenge of bringing investment to an area.
There's a lot of excitement around what's in store for the 1st Street Corridor and the Boyle Heights Arts District as part of the Eastside Access project.
The $12 million project, funded by Measure R, promises new, decorative sidewalks, 180 new trees, more street lighting, and street furniture that reflects the character of the community. At a groundbreaking yesterday, they even announced the intention to bring on 9 local muralists to paint utility boxes (located between Boyle and Soto) with original works.
But there's also a lot of concern.
The interventions are focused on improving pedestrian and bicycle access to stops along the Gold Line corridor. Specifically, the project focuses on (see here for project boards):
Garden Street on Bailey: will serve as an extension of Mariachi Plaza through enhancements of the pedestrian experience, including lighting improvements, shade trees, seating areas, and two small gardens at corner of Bailey and Pennsylvania.
1st and Cummings Plaza: will connect two important stations and the commercial district, currently separated by the freeway. Small plazas and more greenery will enhance the environment.
Arts and Civic Streetscape (1st St.): will transform the walking environment between Mariachi Plaza and Soto Street stations, with all new sidewalks (and potentially colored concrete), new trees, better lighting, and the painted utility boxes and other decorative elements.
Bike friendly streetscape on Mott St.: will enhance the bike-friendly environment of Mott with more streetscaping, parkways, and neighborhood circles.
Healthy Streets at Evergreen Jogging Path: will enhance the health of the environment with more plantings along parkways, exercise equipment, a new crosswalk, and the removal of underutilized parking.
Pico/Aliso and Mercado Streetscapes (1st St.): will see improvements in wayfinding around the stops, including more trees (where possible), trash receptacles, and improved decorative panels
Improved Bike Network: will see the extension of lanes, enhancement of bike friendly streets, and placement of wayfinding signs.
And, while many of those improvements are welcome, some residents have raised questions about who the improvements are for. Designed to enhance the transit experience, they improve the areas in the immediate vicinity of Metro facilities (i.e. for folks coming in to explore the area), but do little to improve whatever lies beyond a short radius of the stations.
Many of the complaints I've heard revolve around the sense that the improvements privilege outsiders and leave key streets used by residents – Cesar Chavez, in particular – to fend for themselves.
Some complain that bus riders got short-shrifted. Elderly folk whose bus routes were moved around to accommodate the Gold Line further east, for example, now have longer to walk to a bus stop and still have no shelter from the elements.
Others ask if the enhancements will make it easier to bring in big-box stores and de-emphasize (or demolish) affordable housing. Or whether there will be enough of the right kind of assistance to local businesses so they don't get pushed out as the area flourishes. Since many business owners don't have easy access to capital or credit, own the properties, or even have proper leases, according to the LISC Institute, they struggle to make upgrades to their stores. Which means that pairing street investments with more programs that facilitate business owners' access to assistance may be key to preventing them from getting steamrolled.
Some residents ask if these are even the right investments for the area at all. As trees began coming down, Nico Avina and folks from Espacio 1839 held a PoeTree event, both to highlight the environmental impact of removing trees in an area with very poor air quality and "the lack of investment in art spaces for youth in [the] community." Using the streetscape as their canvas, participants attached poems to trees and spoke of their aspirations for the area, for the preservation of sites like Wyvernwood, and for investment that would benefit all residents.
The complaints and concerns of residents are not unusual. Any time a massive project is slated for a historically underserved community, the list of grievances that have been unaddressed for years tends to be quite long.
However valid an observer might feel the complaints to be, they do speak to the challenge of finding ways to invest in lower-income minority communities in ways that benefit the entire area, not just the transit-oriented or other targeted sites. They also speak to the need for investments to be multilayered – such as having small business components, liaison organizations that work with communities, and allotments for affordable housing – so that the improvements don't result in the kind of turnover that destroys the fabric of the original community they were intended to enhance.
At the same time, I thought as I strolled the corridor, we would literally kill to have some of these improvements in South L.A. A major problem there is that, without investment in infrastructure, developers are unwilling to invest in development projects. Without development, the city is unlikely to make investments in infrastructure. It's a vicious cycle that has kept parts of South L.A. in a state of relative disrepair for decades. Even with regard to the Crenshaw Streetscape Plan (linked to the Crenshaw Line), there isn't the same single chunk of money available to implement all of the streetscaping that Metro or the city would like at once. Some improvements will hinge upon development being attracted to the area, which means enhancements may be more piecemeal and come together only over the long term.
In short, it's complicated.
Areas like Boyle Heights really need the investment and many people welcome the changes along 1st St. with open arms. At the same time, many people (some of whom are the very same folks who welcome the investment) want to know that the benefits of such projects will be distributed throughout the entire community so it can flourish and grow stronger as a whole.
Metro and the city have been working with residents and stakeholders (via a Community Advisory Committee) to try to mitigate some of the community's concerns. But, as issues raised by residents illustrate, they may still have a long way to go in finding the right balance.
So, what say you about the project? How do you feel about it? How will it affect you or your neighborhood? Sound off below.
Need more information on the project to make an opinion? Find all the docs about it here.
Sahra is Communities Editor for Streetsblog L.A., covering the intersection of mobility with race, class, history, representation, policing, housing, health, culture, community, and access to the public space in Boyle Heights and South Central Los Angeles.
Stay in touch
Sign up for our free newsletter