Downtown LA
Spring Street: A Park(ing) Day Success Story.
9:40 AM PDT on September 20, 2013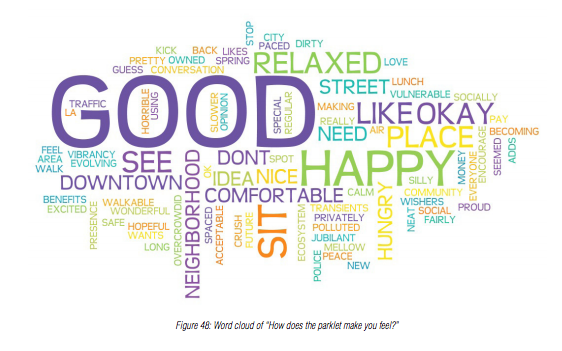 "Over the past few years, the  community along Spring Street has  become much more tightly woven.  The 'bump' factor happens all the  time now. If not daily, then at least  several times a week, I will happen across not only people that I know but  that occasional person that I forgot I even once knew! … As a place that brings people together, Spring Street has become a thriving neighborhood spot and an attractive regional destination for other Angelenos seeking a brief reprieve in our little small-town urban oasis we like to call DTLA."
– Will Wright, AIA-LA Government  and Public Affairs Director and Spring Street Resident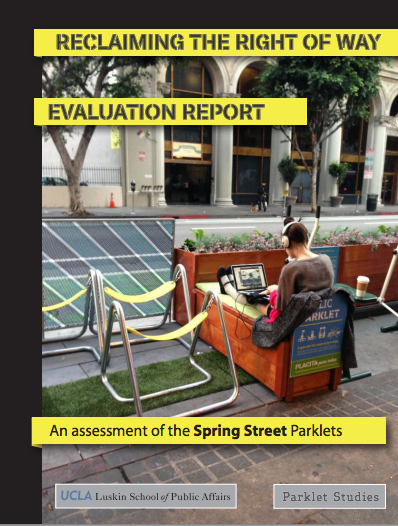 In 2011, City Council Members Jose Huizar and Jan Perry used Park(ing) Day to announce a pilot program to make everyday Park(ing) Day in Northeast and Downtown Los Angeles. The duo announced that four parklets would be built, two of them on Spring Street in Downtown Los Angeles, as part of a pilot program. The parklets are now the only ones of their kind in city limits, although Long Beach built a couple of them too.
Park(ing) Day is an annual worldwide event where artists, designers and citizens transform metered parking spots into temporary public parks. A parklet is basically a permanent Park(ing) Day space.
Thanks to UCLA  and Parklet Studies, there is hard data on how the two Spring Street Parklets are performing. In short, they're doing pretty well. The parklets were opened to the public in February of 2013. Researchers conducted their interviews a month later, and their report was released late last month. Both Downtown parklets are on the 600 block of South Spring Street.
"More and more, Downtown Los Angeles is becoming an increasingly vibrant and dynamic place to live, work, shop and entertain. The Spring Street parklets will add to Downtown's unique urban atmosphere, encouraging and supporting a pedestrian-friendly, local experience…we are creating a model that can be used throughout the city," promised Huizar at the parklets opening.
Reclaiming the Right of Way: Evaluation Report, is a 52 page report based on surveys and first-hand observations by researchers. Huizar must be pretty happy, because the data proves his words from last year to be true. The report looks at everything from how people use the parklets to how people perceive the parklets. For example, people feel that Spring Street is cleaner, they feel that their neighborhood is something special, and they're more likely to start a conversation with someone they don't know as a direct result of four parking spaces being turned over to the public.
Foosball and exercise bikes make people feel better about their community. Who would have guessed?
Research can't put a dollars and cents value on such feelings, but even if that is the measure of success, the Spring Street Parklets are doing well.
Businesses along Spring Street, even those supportive of the parklets, were concerned about the impact that losing four street parking spaces on one block would have on their bottom line. However, the study shows that there was virtually the same amount of empty parking spaces before the parklets were put in than afterwards. When you consider that more and more people are walking on Spring Street every year, and the parklets are just one reason that is true, even businesses that weren't seeing more business one month after the installation believed they would soon. The concerns of 2012 proved to be gone shortly after the parklets were put in.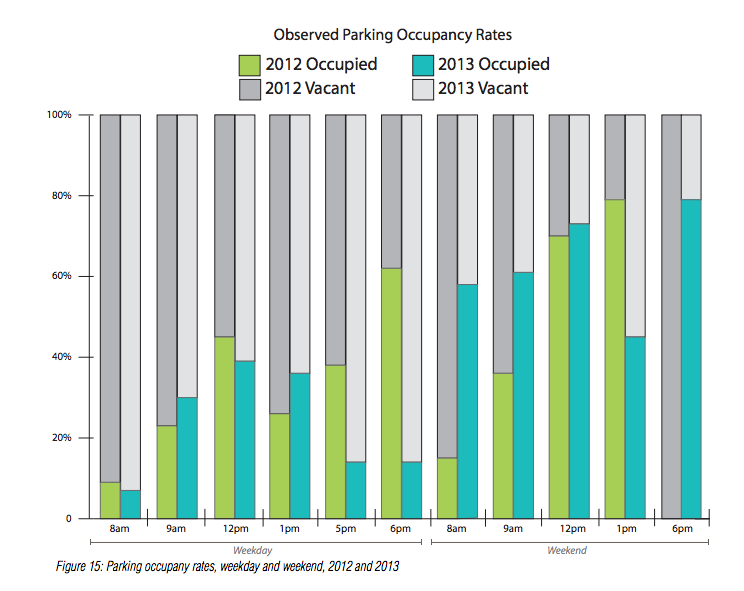 Overall, business along Spring Street would recommend parklets to other communities looking to improve customer flow, although not everyone was keen on having the parklet outside their front door. Of the two businesses that did, at least one enthusiastically recommended it to anyone looking to increase their customer base.
Some other findings and recommendations from the study:
The majority of the people in the parklets and on the street live in the area, and the highest rates of parklet use and pedestrian volumes are during weekend afternoons.
One common concern is that parklets may attract more nuisance activities to the area. This was not found to be the case on Spring Street. While pedestrians' concerns concentrated mostly around pet waste, this was not found to be a real issue at the parklets themselves. Additionally, incidents of public drunkenness, panhandling or public sleeping were more present on the street than in the parklet.
The quality of maintenance and the perception of safety in a public space can influence its use. The Spring Street parklets are perceived to be well-maintained and safe, and these feelings contribute to their appeal and use.
Pedestrians, parklet users, and business operators interviewed for this study emphasized the importance of locating parklets on streets that are already well-visited by pedestrians and cyclists.
A number of interviewees referred to the good quality of parklet materials. Maintenance and up-keep in the parklets is therefore important for their continued and increased use since their materials will age over time.
The study found an over-representation of young, white, and male users in the Spring Street parklet. It is important that parklet initiatives emerge from diverse stakeholders, who develop design and programmatic elements that are appropriate to the local context.
Stay in touch
Sign up for our free newsletter