co-ops
And So It Gets Put on Hold… Co-op at Watts Cyclery Postponed Until After Owner's Tour of Duty
3:25 PM PDT on June 21, 2013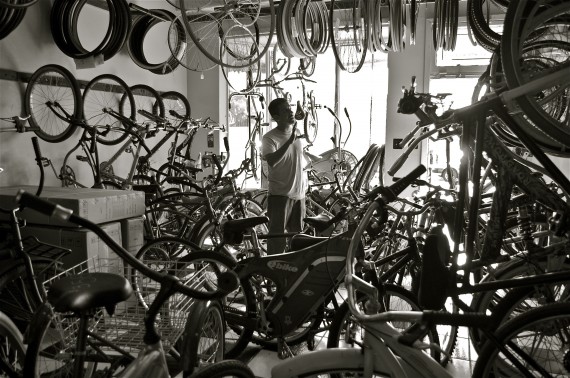 "Stalin tells me you have helped him cut costs," I said to the brother of Stalin Medina, owner of the Watts Cyclery. He has been helping manage the shop for the past several months because Medina has been tied up with Army trainings in preparation for a tour in Afghanistan that begins in July.
"Nah," his brother half-laughed, shaking his head. "I know my brother. He would never say something like that."
That's not true -- Medina would indeed say something like that. But it is possible he might not say it to his brother's face.
Over the past several months he's been working with his brother to get him ready to help take over the shop while Medina is in Afghanistan and it hasn't been much fun for either of them.
Medina has his own stubborn method of managing his business affairs and it tends not to follow a typical business model. He does what he can to assist those most in need first, prioritizing service for the youngest, poorest, or those for whom the bicycle is their only means of transit. Sometimes that entails giving them special discounts and sometimes that means making others who are bit better positioned in life wait a little longer to have their bikes serviced. There's no set formula -- unless you count the convoluted accounting system Medina keeps in his head of the relationships he has built with people in the community over the past eight years.
His brother comes from a business background and runs a very tight ship by the books.
They've disagreed on just about everything regarding how the shop should be run and were even afraid that, while the business might survive Medina's tour, their relationship might not.
That said, if there is one thing they have been able to agree on, it is that the shop is not just a business for Medina. Instead, it's a labor of love and a community service built on the idea that if you offer kindness, it will eventually come back to you.
His dedication to that idea, Medina says, is the reason that he is able to have the relationships with the customers and wider community that he does. Which apparently came in handy recently, when an addict came into the store and stole a bike pump in order to exchange it for drugs.
When Medina tracked down the crack dealer and explained the pump was used by the people to fill up their tires at the shop, the dealer handed it back over without asking for compensation.
Those small indications of community were what Medina had hoped to nurture and grow as part of the co-op he wanted to establish near his shop.
Once we dedicated ourselves to the idea of building one last year, he began floating the idea past the youth and the customers he thought might benefit the most from having such a place to get free help with their bikes.
Everyone he talked to was thrilled with the idea, agreeing that the area was long over-due for such a place.
Within a few months of deciding to go ahead with it, however, Medina got the news that he would be sent to Afghanistan as part of the contingent bringing the troops home and everything got put on hold.
As I detailed in the article previewing the co-op here, Medina had joined the Army Reserves in 2009 to keep the shop afloat.
In the first years after he opened the shop, he recounts, he really struggled to keep it running in a community where people had a high level of need but very little in the way of extra income to spend on their bicycles. Medina made personal sacrifices -- like creating a living space in the shop for himself -- to help cut his expenses, but he still couldn't make ends meet.
Re-joining the Army via the Reserves (he had previously served as a soldier in Iraq) helped provide the shop with the extra boost it needed to stay afloat. But it's come at a cost -- this will be his second tour abroad in the Reserves and his third overall.
Having to put the co-op on hold has come as a major disappointment for him.
He's been an active participant in many of the community rides and activities over the past year and has often talked about being heartened to see a bike movement to build and advance community flourishing in Watts. Leaving all that behind now, just as he could really contribute to something that he has been hoping to see for years, seems especially troubling to him.
"Well," I've said hopefully on more than one occasion during our many conversations about his pending departure, "You'll have a lot of time to think about the plan of how the co-op is going to work? How we're going to recruit and retain volunteers? How it's going to be run...?"
It doesn't elicit much more than a grim smile from either of us. He's not exactly going to a resort town to kick back, after all.
I've promised to help look for funding and other resources in exchange for a promise that he come home safely and soon.
He says he'll do his best.
I hope so. He's a very dear friend to me and a great asset to the community, and I know I'm not the only one that wishes him well and a safe and speedy return.
Sahra is Communities Editor for Streetsblog L.A., covering the intersection of mobility with race, class, history, representation, policing, housing, health, culture, community, and access to the public space in Boyle Heights and South Central Los Angeles.
Stay in touch
Sign up for our free newsletter