health
Residents Rally Today to Protest Closure of Yet Another Grocery in South L.A.
4:35 PM PDT on June 13, 2013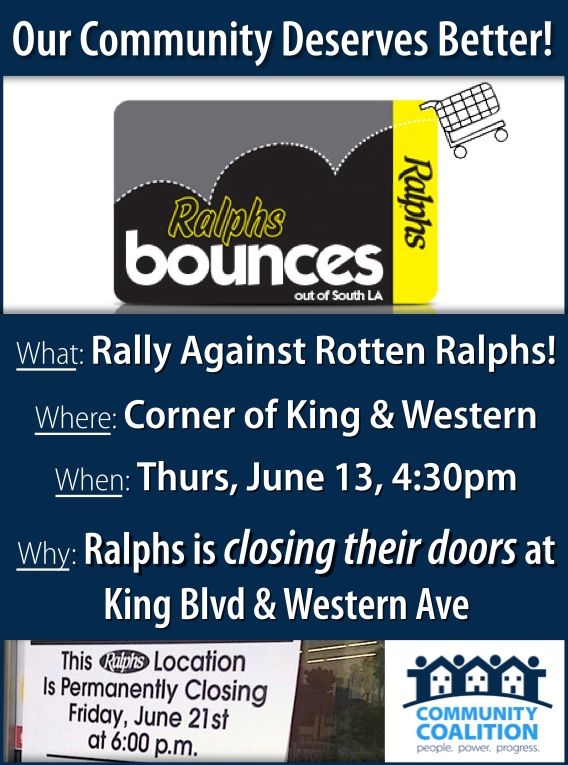 While Central Ave. celebrates a ground-breaking ceremony for a new Northgate supermarket today, residents in another part of South L.A. will gather to protest the closing of yet another Ralph's.
The shuttering of the supermarket located at King Blvd. and Western Ave., scheduled for June 21, marks the second loss of a Ralph's in the area in just a few months' time. Perhaps most maddeningly for residents, it came without much notice or effort to work with the community.
Where Ralph's has held community meetings in other areas of town where stores were scheduled for closings, the only notice residents appeared to have was a sign on the store itself saying the doors would close for good at 6 p.m. on June 21st. There's not even mention of it in the weekly circular ad particular to that store, despite the fact that the prices listed there are good til just two days prior to the closing.
This is not the first time Ralph's has shown itself to be a poor neighbor, Jung Hee Choi of Community Coalition (one of the groups organizing the protest today) told me.
Several years ago, CoCo had worked to bring representatives of Ralph's together with the community to hear residents' complaints about the quality of the products sold in the store. Meats offered at the time were expired or were leftovers that hadn't sold in other stores in wealthier parts of town. Produce offerings were not in much better shape.
While things had improved after that intervention -- at least for a little while -- products that are supposed to be "fresh" still appear to doing their best to stretch the definition of the word, a notion supported by the strong and not particularly pleasant smells that greet shoppers as they step through the front door.
"The quality is even less than that at the Food-4-Less" (also owned by Ralph's parent company, Kroger's) down the way, resident Celia Castellanos told me.
Produce bought one day would go bad a day or two later.
For her family, that meant they had to drive to find healthier options instead of being able to walk to the store in their neighborhood.
And it's not like they were looking for hard-to-find health food products, she said.
They just wanted "things that would not rot."
Why, she wanted to know, had the Ralph's not taken the opportunity to work with the community to find a way to provide them with better products? It could have been a mutually beneficial endeavor, she felt. Especially now, when many within the community are really attuned to the need for healthier food and willing to organize around the issue.
Instead of investing in communities, she said, "they're pulling out of lower-income areas" and "going in the opposite direction."
They're "just going after the almighty dollar," long-time resident and occasional shopper at the store Isaac White told me, and this particular store just hadn't found a way to be very cost-effective.
The poor quality and smaller size meant it hadn't attracted too many people besides those that had limited transportation options. Meanwhile, the Food-4-Less had many of the same products discounted even further, he said, attracting people on a budget who couldn't be choosy if products were damaged, discolored, or edging toward expiration dates.
The closing of the store, he half-joked, was probably going to win somebody in management a raise for saving money through consolidation. The good products, he said, would be sent off to the better stores while the poorer ones would be dumped in the Food-4-Less.
They don't fear people complaining the way they do in other parts of town, he said, because they know people don't always have the luxury of choice.
That would change with the rally today, long-time resident Pam Licavoli said.
While not much can be done about a store that is closing, she and others agree, the fact that the parent company retains a number of Food-4-Less stores in the area means that it is still important to get the message out that residents deserve to be treated with the same dignity and respect shown to customers in wealthier communities.
For that reason, Licavoli said, there probably wouldn't be too much in the way of speeches by organizers at the rally. Instead, it will be an opportunity for the community to have its say about what a poor neighbor Ralph's turned out to be.
She chuckled a little, anticipating how colorful some of the commentary might get at the event.
"It will be good for the community to sound off."
Join residents and concerned community members TODAY at the Ralph's located at Western and King beginning at 4:30 p.m. For more information visit cocosouthla.org
Sahra is Communities Editor for Streetsblog L.A., covering the intersection of mobility with race, class, history, representation, policing, housing, health, culture, community, and access to the public space in Boyle Heights and South Central Los Angeles.
Stay in touch
Sign up for our free newsletter