Bill Rosendahl
Major Blowback from City Council Members Over Leimert Park Funding Plan
1:04 PM PDT on June 12, 2013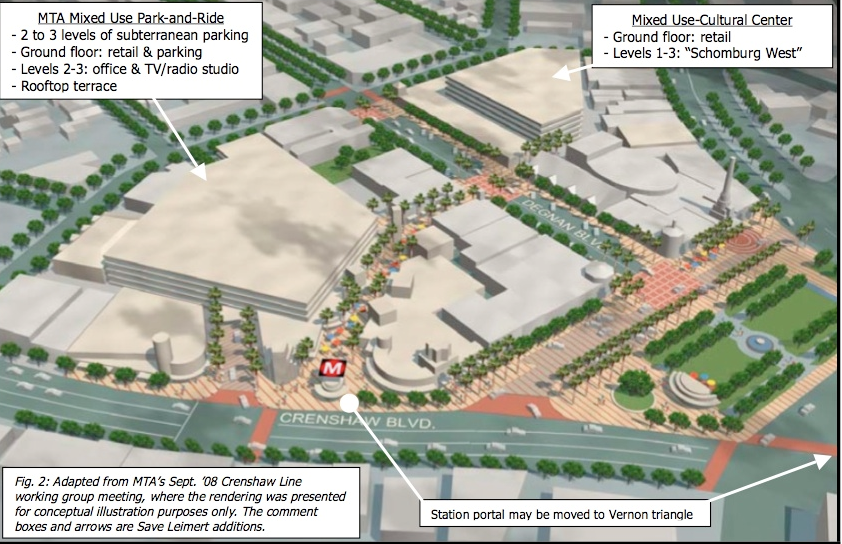 A new Metro Board report released to the public on Monday details where Metro found the $120 million needed to build the Leimert Park Station for the Crenshaw Line, and many people aren't happy. In fact, Los Angeles City Council Members Paul Koretz and Bill Rosendahl are so unhappy, they introduced a motion yesterday that could force a new showdown over the oddly controversial light rail station. (The full motion is available on our Sribd account and available after the jump.)
The staff report recommends funding the station by moving Measure R funds from the Metro Call for Projects ($62 million), LAX airport connector ($48 million) and Wilshire Bus Only Lanes ($10 million) to pay for the station. The Call for Projects has traditionally been a place where "traffic reduction" projects including local bicycle and pedestrian projects are funded, as well as some less useful projects such as left-hand turn lane widening and other stealth capacity enhancements.
According to City Council staff, the report hit like a lightning bolt. They were never given a heads up from Metro that projects inside their districts could lose a large portion of their Measure R funds.
"I was totally blindsided by this, and we discovered this proposal not by a phone call from Metro but rather by reading the staff report," writes Bill Rosendahl, the Council Member representing the LAX airport area and a portion of the Wilshire Bus Only Lane Corridor.
"The City of Los Angeles and Metro are here to serve the public and the public is not being served when a unilateral decision is made to deobligate $118 million in City of LA projects without so much as a phone call.  It's my hope that Metro will step up and open a dialogue with my office and the rest of my Council colleagues so we can reach an agreeable solution."
Last month, Mayor Antonio Villaraigosa and Supervisor Mark Ridley-Thomas announced that funding had been "found" to build a train station in Leimert Park as part of the soon-to-be-constructed Crenshaw Line. The community and many transit advocates rejoiced. Two years earlier, the dream of a Leimert Park Station seemed denied when the Metro Board of Directors surprisingly passed a budget for the project that did not include the station.
For many transit and community advocates, the report raises new questions about whether the new station is worth the trade-off. The harshest condemnation of the report comes from someone who might, at first, seem an unlikely source.
"The Crenshaw Subway Coalition does not support the staff's proposed financial plan," writes Damien Goodmon, the executive director of the Crenshaw Subway Coalition. "It has become clear over the past few weeks that Art Leahy and staff have made several illogical and indefensible decisions that have gotten the project to this point, and the financial plan is just the latest. We do not think our friends in the South Bay or Wilshire bus riders should be forced to compensate for the professional incompetence of Art Leahy and his staff."
But not every transit advocate agrees.
"As a champion of Wilshire BRT, I am sorry about the $10 million being taken from it. Ditto $48 million from the Airport Connector," writes Dana Gabbard, a steering committee member for Southern California Transit Advocates and Streetsblog contributor, speaking only for himself.
"But looking long-term as we create a regional network of rail and BRT, having a station at Leimert Park will have social and economic benefits both for the Crenshaw Community and the overall region."
Goodmon and Gabbard's full written statements can be found here.
While Rosendahl is termed out of office in three weeks, he still has one more meeting as Chair of the Transportation Committee and could, theoretically, move this quickly to the City Council floor. He will be replaced on the Council by his Chief of Staff, Mike Bonin, who would presumably be of similar thought on this matter. For the record, Streetsblog has not spoken with Bonin about this issue. Paul Koretz was just re-elected to office.
The Metro Board of Directors is scheduled to vote on the funding plan at their June 27 meeting, the same meeting which marks the end of eight years of Antonio Villaraigosa's time as a Board Member. Metro spokesperson Mark Littman says the blowback to the report has not changed Metro's mind about moving ahead with what could be a final vote, assuming the report clears committee.
"Staff still plans on bringing the Crenshaw construction contract action item to the Board this month," writes Littman. "It includes staff's recommendation to add $160 million to the project's contingency budget through various fund transfers. It's up to the Board to decide if it concurs with the staff recommendation."
Given the sometimes tumultuous nature of Villaraigosa's term as member of the Metro Board, it seems somehow fitting that a Metro Board battle marks his true public going-away party.
But, as much fun as it is to speculate on Metro Board politics, it's important to remember that the issue of whether Leimert Park gets a transit station, as the community demanded and fought over two years for, is a personal one for many people in South L.A.
"It never should have been left out in the first place. It would be like leaving out Little Tokyo or other important cultural neighborhoods," writes Streetsblog's community editor, Sahra Sulaiman. "Leimert is the cultural beating heart of the Black community. African-Americans from all over the city come there to connect with others in the community, connect with and celebrate their heritage, find artistic inspiration, experiment in artistic expression, and feel at home. The Black-themed book stores, events, and salons make it a unique sort of Black public square. A visitor to the artwalk or one of the many cultural events there is immediately aware of how much it feels like a genuine community in the way few places in LA really do. Leaving it out says that we don't place any value on Black culture or its contributions to L.A.'s richness."
Stay in touch
Sign up for our free newsletter