Freight Rail
Harbor Board Unanimously Approves SCIG Freight Rail Yard Project; Community Groups Outraged
9:34 AM PST on March 8, 2013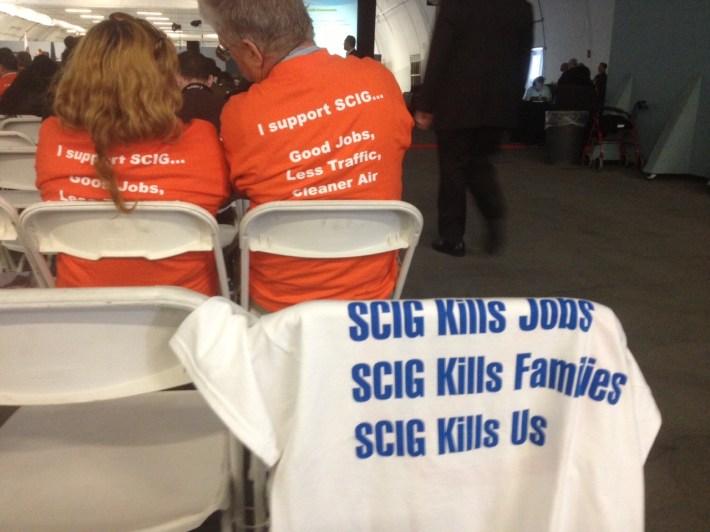 In what is undoubtedly a controversial decision--not to mention an utterly disheartening one as well for the multitude of community groups and leaders who opposed the project--the Harbor Board of Commissioners for the Port of Los Angeles voted unanimously to approve the building of the $500 million Southern California International Gateway (SCIG) rail yard. It will now go before the Los Angeles City Council for final approval.
The project has been years in the making (it was proposed in 2005) and the reasoning for the opposition is clear--ultimately unproven and outright disregarded aspects of the final EIR distributed discovered by respected researchers throughout the L.A. region--and makes the vote rather egregious in nature.
For example, BNSF--the rail giant responsible for creating and managing the yard--praised the decision. Matthew Rose, Chairman and CEO of BNSF, stated that the vote "validates that building SCIG is the right choice for green growth in Los Angeles and will be a new model for the rest of the country."
However, a multitude of groups and people--including Long Beach Mayor Bob Foster, Long Beach 7th District Councilmember James Johnson (whose district is most affected by the project), the East Yard Communities for Environmental Justice, Communities for a Better Environment, Legal Aid Foundation of L.A., Long Beach Alliance for Children with Asthma, Natural Resources Defense Council, Long Beach Community Action Partnership, Coalition for Clean Air, and Physicians for Social Responsibility--claim otherwise. And came to the meeting packed with documentation.
Mayor Foster was blunt in his language, insinuating that the issue had little to do with the fact that it affected a community, but it affected a non-Angelino community: "If you understand California law and the politics surrounding the EIR report process, [what the EIR really says is] we're gonna wait 'til you sue us until we pay any attention to you... It is very hard for me intellectually to accept that you value the life of a kid on this side of the city border more than you do a kid in my city."
Perhaps the largest failure within the final EIR's documentation is its lack of future considerations within the trucking industry itself, specifically transloading. This trend--brought up in Streetsblog months ago as a factor within increased pollution--is vastly growing. It involves transporting three 40-foot containers, the size of containers in which international goods arrive in, into two 53-foot containers, the size of local container shipments, in order to save money.
BNSF claims SCIG will divert more than a million trucks off the 710 freeway. Instead of traveling the additional miles to the northern Hobart yard, they'll comfortably harbor themselves at the closer SCIG. However, BNSF fails to note that they have explicitly stated that SCIG will handle international containers only. This means they'll be transloading, which then in turn means they'll actually still be going to Hobart which handles domestic containers (and also explains the planned expansion of Hobart). While trucks from the Port itself might be lowered, trucks from SCIG will reach high volumes, with an estimated 5,500 additional truck trips and 16 train trips daily.
The transloading of containers, according to a study conducted by the Port of Los Angeles itself, is at 29% of total cargo while another study by Cambridge Systematics puts it at 27%--three times higher than admitted within the DEIR.
The implications of such was succinctly pointed out by USC Professor of Clinical Preventative Medicine Andrea Hricko when she noted the lack of reference to reduced lung functioning amongst children near freeways, rail yards, and areas of heavy traffic.
"None of the environmental documents produced by the POLA even mention the words 'lung function,'" she said, "even though reduced lung function is one of USC's key findings in a study that includes hundreds of children from Long Beach schools."
Councilmember Johnson pointed out, echoing Foster's sentiment, a comparison to TraPAC, the $245 million 2009-approved container terminal expansion that was also in conflict with a neighboring community: "There, the Port of LA built a $55 million, 30 acre buffer park to protect residents, and set aside $12 million in community mitigation funds. Here the proposal is 0 acres and $0 for a buffer park and $0 in community mitigation funds. There is one simple reason for this disparity: TraPAC affected LA residents, and SCIG affects Long Beach residents. The Port of Los Angeles has placed this project on the border with Long Beach so the negative effects all spill over into our community, and now refuses to mitigate those affects on our community."
Contrarily, many of the supporters of the SCIG project simply echoed Rose's praises but typically backed it with an economic substantiation. This included Carson Mayor Jim Dear, who touted the need for jobs given his city's 11% unemployment; LA City Councilmember Joe Buscaino who talked of competitiveness; Harbor Vice President and former longshoreman David Arian, who also discussed competitiveness with the Panama Canal in his vote; Board President Cindy Miscikowski who boasted of growth now that certain environmental efforts are in place...
But for many, it doesn't erase the long-term impacts of the project. Angelo Logan of the East Yard Communities for Environmental Justice was blunt in his assessment: the vote is nothing short of environmental racism.
"Even with the decision of the Harbor Commissioners, we will not give up," Logan said. "Residents of Long Beach and Wilmington know their lives, homes and children's future is worth fighting for. And we do too. We will take our opposition to the next level and on Monday, our group of local residents will release details of that."
Stay in touch
Sign up for our free newsletter