LADOT
Blast from the Past? Report from "New LADOT" Looks at Benefits of Removing Speed Humps
1:12 PM PST on February 14, 2013
From the, "what the heck?" file.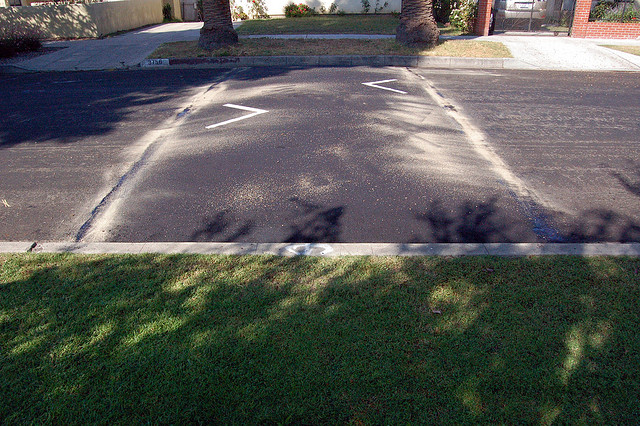 On Tuesday afternoon, the City Council Transportation Committee posted a "special agenda" for yesterday's meeting. Special agendas are added when an item is so important, that regular public notice is pushed aside so that this important report/ordinance/piece of legislation can be heard immediately.
So what was yesteday's special item? An LADOT report examining the value of removing traffic calming devices commonly known as speed humps and banning their use in the city. Apparently, some in the city are worried that the humps are slowing down emergency response vehicle times endangering us all.
The report was requested by an unnamed member of the transportation committee  but city staff admitted surprise that the memorandum "included recommendations  and another commented that "it reads like a report they would have written six years ago...now don't start hating LADOT again!"
Mercifully, the Committee delayed a vote so that outreach can be done to Neighborhood Councils and other stakeholders, including the Los Angeles County Bicycle Coalition, Los Angeles Walks, and pretty much everyone that reads Streetsblog.
There's several problems with the report that LADOT presented.
First, it talks about the "public health" issues created by speed humps without once mentioning the benefits of slower traffic for bicyclists, pedestrians, people playing in their front yards, people living in their houses, and pretty much everyone except the driver that wants to go faster. Also never mentioned is the time saved for emergency vehicles by the traffic reduction on local streets caused by drivers choosing faster, non-calmed, routes on other streets. That alone should be enough to disqualify the report as a serious examination of the program.
According to a recent study at Iowa State focused on speed humps, the benefits of correctly installed humps is slower traffic and safer streets.
Research has shown that speed humps, when designed and installed properly, reduce vehicle speeds to 15-20 mph when traversing speed humps and 25-30 mph in between properly spaced speed humps. When traversing a speed hump, the vehicle experiences a gentle rocking motion that increases with speed. This enables the speed humps to be self-enforced because the vehicle occupants will experience discomfort when passing over a hump at higher speeds and a jolting when passing over at excessive speeds.
So what danger do speed limits hold to those relying on emergency vehicles? The LADOT report does the math:
Comprehensive studies published by cities and transportation organizations around the world indicate that emergency service vehicles can be delayed by speed humps. Delays typically range from two to 10 seconds per speed hump. The time of delay varies depending on the vehicle type, weight, horsepower, wheel-base, onboard equipment, and driver discretion...

The survival rates from cardiac arrest and severe trauma diminish for every minute that passes without appropriate medical intervention. Similarly, safety threats and damage caused by fire can expand rapidly if emergency response is delayed. The proliferation of speed humps throughout the City may have already contributed to a cumulative slowing effect on emergency response time goals.
Second, the report has two options for the Council to continue with the speed humps already on the street, to ban the creation of future humps or to destroy current speed humps. The City discontinued its speed hump program in 2009 due to budget cut backs. So where is the option to reconstitute the speed hump program?
Council adopted the speed hump program in 1994. Over the next 15 years more than 3,700 speed humps were constructed at roughly 1,450 requested locations. The program was funded by annual budget appropriations that ranged from $330,000 to $1.1 million. In 2009, the program was discontinued as a result of permanent budget reductions in the city's Fiscal Year 2008-09 Adopted Budget. The lack of funding support led to the elimination of dedicated staff and related contractual services.
"Traffic calming measures like speed humps enhance the safety of roadways 24 hours a day, seven days a week.  In comparison, emergency responses into neighborhoods with speed humps are infrequent," argues Kent Strumpell, a long time bike advocate and representative on the city's Bicycle Advisory Committee. "Policy makers need to carefully consider the significance of very occasional delays caused by speed humps compared to the constant safety benefits that traffic calming measures provide."
However, if the city is going to go forward with the formal elimination of its humps program, or even if it finds the funds and courage to reconstitute it, Strumpell would like to see a more robust traffic calming program that includes.
1. Speed "cushions" as used in some areas of LA County. These are speed humps with channels spaced widely so that large emergency vehicles' wheels can span the raised portions. In practice, they resemble cushions. Lighter vehicles are still impacted by the raised area so must slow down, but large vehicles are unaffected.

2. Road diverters that reduce cut-throgh traffic but which have "filters" that allow emergency vehicles to pass through. These may be deflectable bollards that emergency vehicles can roll over with no damage but which prevent the public from passing through.

3. Modern roundabouts. If designed optimally, they can reduce speed without requiring the severe speed reduction of humps and may include a roll-over curb on the center island so that they are forgiving to large vehicles that are less maneuverable. Obviously, these are more costly than speed humps.
But the first step is to make certain the city doesn't reverse itself on traffic calming and declare war on the 3,700 humps already in place on L.A. streets. If you don't have contact information for your Neighborhood Council or City Council Member, leave a comment below and we'll make sure it gets to the right people.
Stay in touch
Sign up for our free newsletter